There are many different rice cookers on the market these days, so it can be difficult to determine which one is best for you. That's why we've put together this list of the best Japanese rice cookers available today.
We've based our selection on factors such as features, versatility, quality, and customer reviews. So whether you're looking for an affordable option or a top-of-the-line model, we've got you covered!
Check out our top 6 picks for the best Japanese rice cookers below.
💡
We participate in the Amazon Associates Program, if you buy a product with the links that we provide, we may receive a small commission from Amazon. There is NO additional cost to you!
Catchy Finds' 6 Picks In The Spotlight






---
Zojirushi 5.5-Cup Neuro Fuzzy Rice Cooker
What Makes It Catchy
If you're serious about your rice, and in the market for choosing an advanced rice cooker that can cook different types of rice, then you need the Zojirushi 5.5-Cup Neuro Fuzzy Rice Cooker. This stainless steel machine is equipped with Micom (microcomputer) technology, can also handle multiple functions, making it the perfect tool for anyone who wants to make perfect rice.
The Micom chip does all the thinking for you, adjusting cooking times and temperatures according to a different type of rice you're cooking. It also times pre-soaking the raw grains and the final "wait" period. So you can make rice on your own terms, but with some very smart technological assistance!
With 10 different cooking functions, you can make any kind of rice you crave. The menu screen allows you to choose between different kinds of rice, including white traditional rice, sweet rice, semi-brown and brown rice. Also, various ways to cook rice (harder, softer).
The black thick spherical pan ensures even heating for perfectly cooked rice every time. The cooker comes with two different measuring cups, while the amount of water necessary for each type of rice is clearly on the inside of the cook pot.
Things In The Spotlight
The stay cool side handles make it simple to carry your rice from the kitchen to the table. A programmable melody or beep audio signal will also notify you when the cooking cycle is finished.
Just add water and rice, select the cooking cycle, and let it do its thing. The advanced Neuro Fuzzy logic technology adjusts cooking time and temperature automatically for perfect results every time.
A few of its best features are the detachable and washable inner lid, large color LCD display control panel, automatic keep rice warm function, extended keep warm cycle, and reheating cycle.
Plus, the delay timer with two settings allows you to have your rice ready when you want it. And for added convenience, there's even a built-in retractable power cord. The spherical inner cooking pan and heating system ensures even heating for perfectly cooked rice.
There are many rice cookers, but Zojirushi Neuro Fuzzy Logic is the type of Japanese rice cooker that has established Japan as a leading developer and producer of quality rice cookers.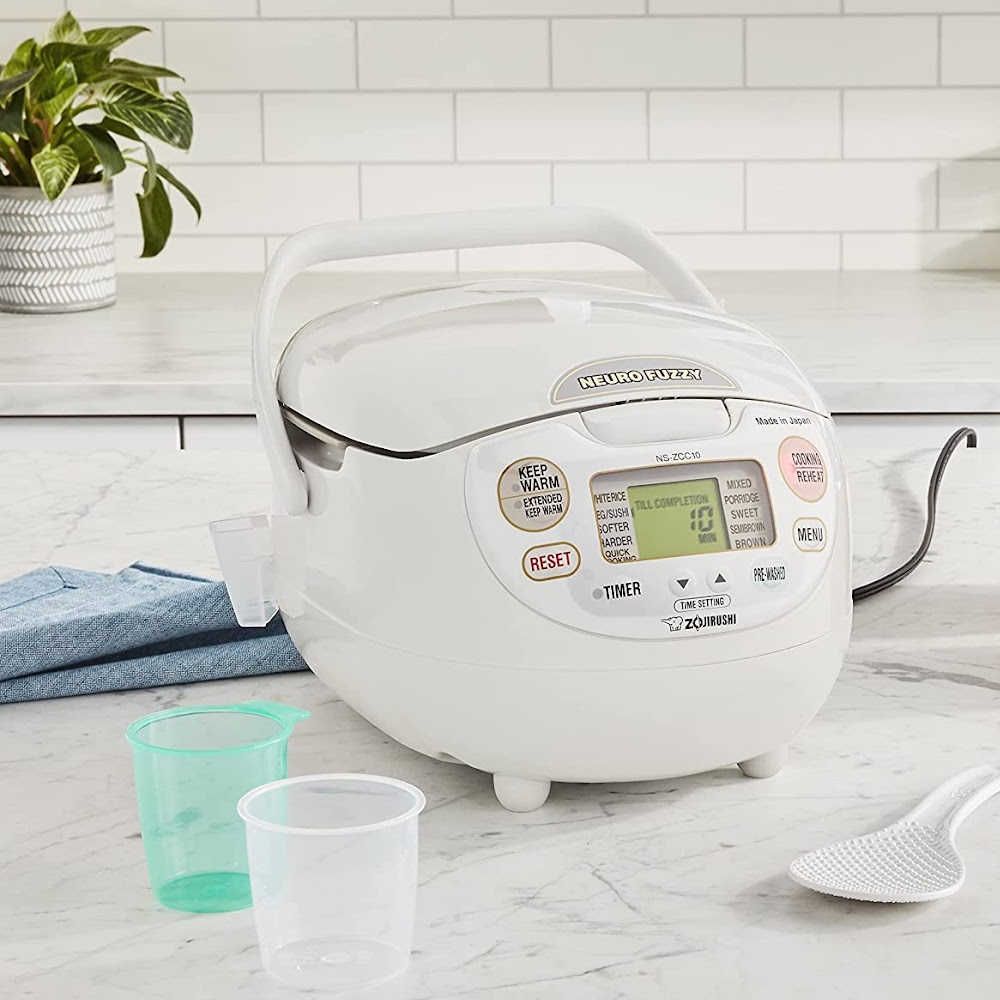 ---
Zojirushi 3-Cup Standard Single Switch Rice Cooker
What Makes It Catchy
Looking for a simple and effective, small yet great rice cooker to give you perfect rice every time? This user-friendly rice cooker is another example of "without all the bells and whistles"; it cooks small and large grain white rice, 3 cups of rice at a time and it has a single switch control that makes it a breeze to use.
The see-through glass lid with stay cool knob lets you monitor the cooking process without having to open the lid and let heat escape. The durable nonstick inner cooking pan cleans easily, and the stay cool handles make it easy to transport.
Whether you're cooking for one, or a small family of three, the Zojirushi 3-Cup Standard Single Switch Rice Cooker is the perfect solution for delicious, perfectly cooked rice.
Things In The Spotlight
With this handy appliance, you'll be able to cook, from 1 cup of rice up to 3 cups of uncooked rice, for a result of 2 to 6-ounce cups of well cooked rice with just the push of a button. Fit for busy small families, this stainless steel rice cooker is easy to handle and takes the guesswork out of cooking rice.
Simply add your desired amount of rice and water, select the cooking time, and let the rice cooker do the rest. It will just cook rice and won't burn it. So you'll never have to worry about overcooked or burnt rice again!
The Zojirushi 3-Cup Standard Single Switch Rice Cooker is delivered with a special measuring cup and nonstick rice spatula for serving, so you can enjoy your delicious rice without any fuss.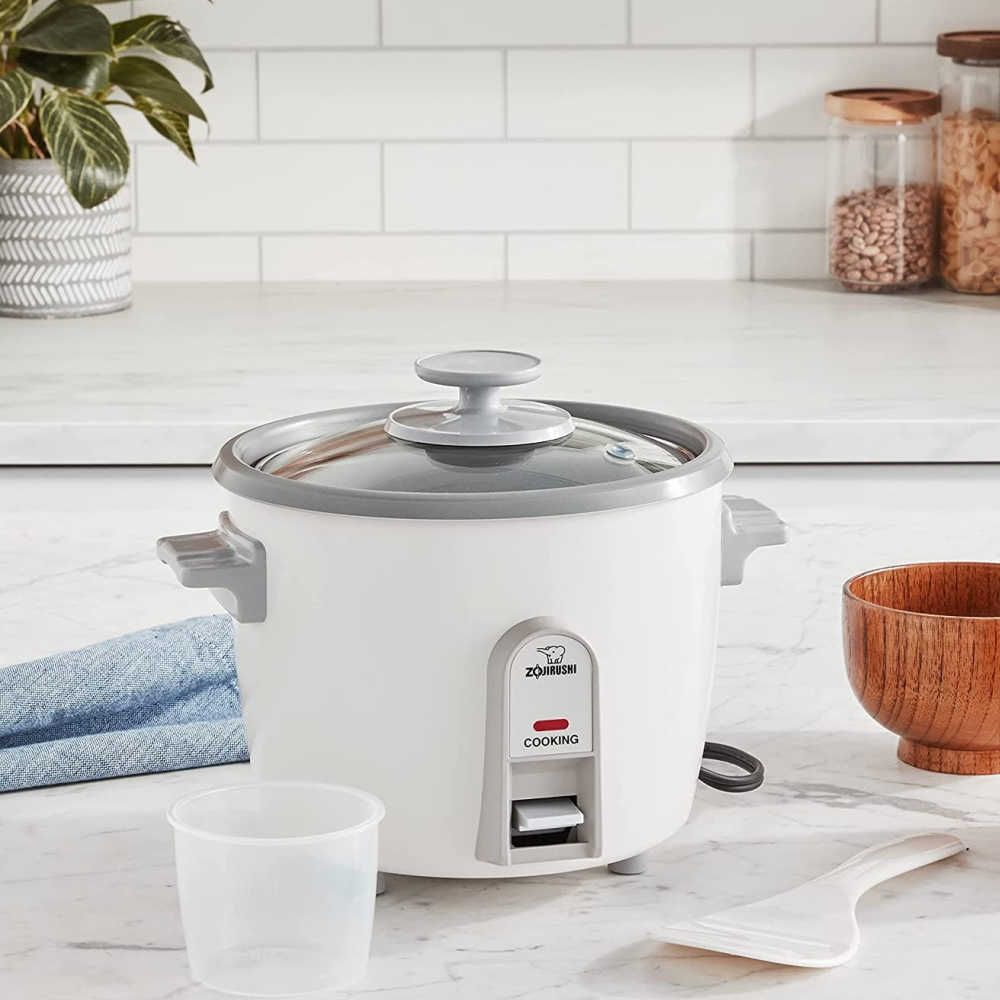 ---
TIGER 5.5-Cup Micom Rice Cooker With Food Steamer Basket
What Makes It Catchy
Looking for a versatile and reliable rice cooker? Look no further than the TIGER 5.5-Cup Micom Rice Cooker With Food Steamer Basket!
This nifty little appliance is not only great for cooking white and brown rice, and keep your rice warm. But you can also use it for cooking your favorite recipes, as this micom rice cooker and warmer features a steamer basket.
With the push of a button, the Tiger's Automatic Cooking Logic system kicks into action, monitoring cooking temperatures to create a perfectly cooked meal every time.
This powerful appliance is packed with features to make your life easier in the kitchen. With four cooking menu settings (white or brown rice, synchro or slow cooking), you can make perfect rice every time, no matter what type of rice you're using. This machine cooks rice perfectly, but can also be used as a slow cooker, making it perfect for preparing all your favorite recipes.
Things In The Spotlight
The automatic cooking logic system ensures that your food will always come out perfectly cooked, while the tacook cooking plate prevents flavors from transferring between dishes.
And because the cooking plate is specially designed, the flavors from your food won't seep into the rice, keeping it tasting delicious. The BPA-free cooking plate ensures healthy meals, while the automatic keep warm function keeps your food hot and fresh until you're ready to eat.
Brown rice was developed with increased water absorption in mind, which ensures that you get the most desirable cooking outcomes. And when you're done, the easy-to-clean non-stick inner pot and detachable inner steam cap make cleanup a breeze. So if you are looking for a rice cooker but want to use for more than cooking rice, consider this Tiger 5.5 cup.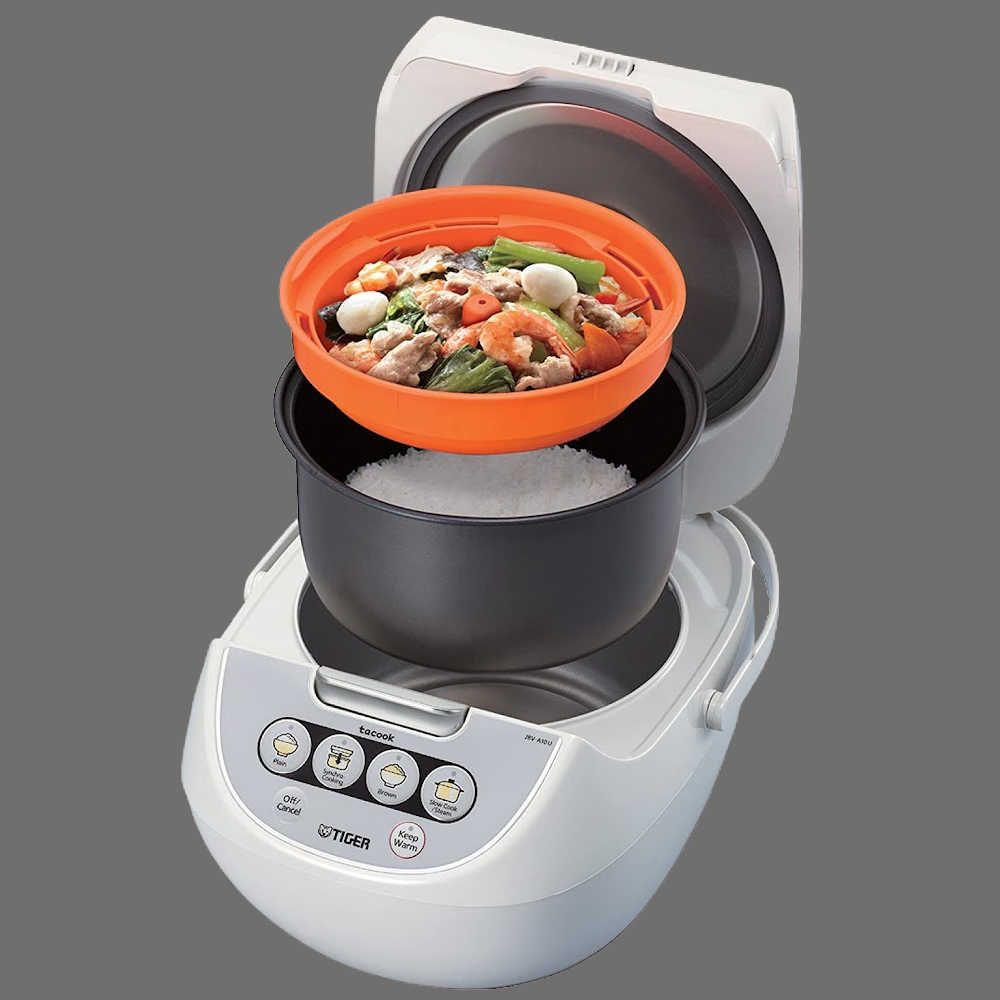 ---
Tiger 3-Cup One-Push Operation Rice Cooker
What Makes It Catchy
Looking for a small, top quality and durable, plain rice cooker that will make your life easier? Look no further than the Tiger 3-Cup One-Push Operation Rice Cooker!
This model has a long history of being one of the best Japanese rice cookers on the market, and it's easy to see why. The simple, durable design and high quality craftsmanship make it a winner in any kitchen.
Of course it cooks perfect white rice in just a short amount of time and automatically switches to 'keep warm' mode for up to 12 hours once cooking is complete.
Things In The Spotlight
This cooker can instantly make up to 6 cups of delicious, fluffy rice from 3 cups of raw rice, with just the push of a button, in a matter of 20 minutes. It features a non-stick inner pan for easy cleaning, and a retractable power cord for compact storage.
Plus, it comes with a spatula and rice measuring cup for your convenience. The lid handle also makes it easy to remove the lid, and its capacity is perfect for small families or single servings.
The removable dew collector and washable steam vent make this rice cooker truly easy to use and easy to clean. So when all you want is white rice cooked perfectly, and to be sure rice doesn't get burned, choosing a rice cooker is a no-brainer. This 3 cup Tiger will be your best buddy.
---
Toshiba 6-Cup Rice Cooker
What Makes It Catchy
With this 6-Cup rice cooker, you'll be able to whip up perfect rice every single time! This cooker features industry leading 3D cooking technology and an intelligent 6-step cooking process that guarantees perfectly 12 cups capacity of cooked rice, which is perfect for medium size family.
The steam valve and inner nonstick pot work together to preserve steam and heat, so your rice will always be fluffy and delicious. Plus, the quick rice feature cooks rice in just 30 minutes, making it a great time-saving option.
With 7 pre-programmed settings, you can cook white rice, brown rice, mixed rice, short or long-grained rice, oatmeal, or porridge perfectly every time.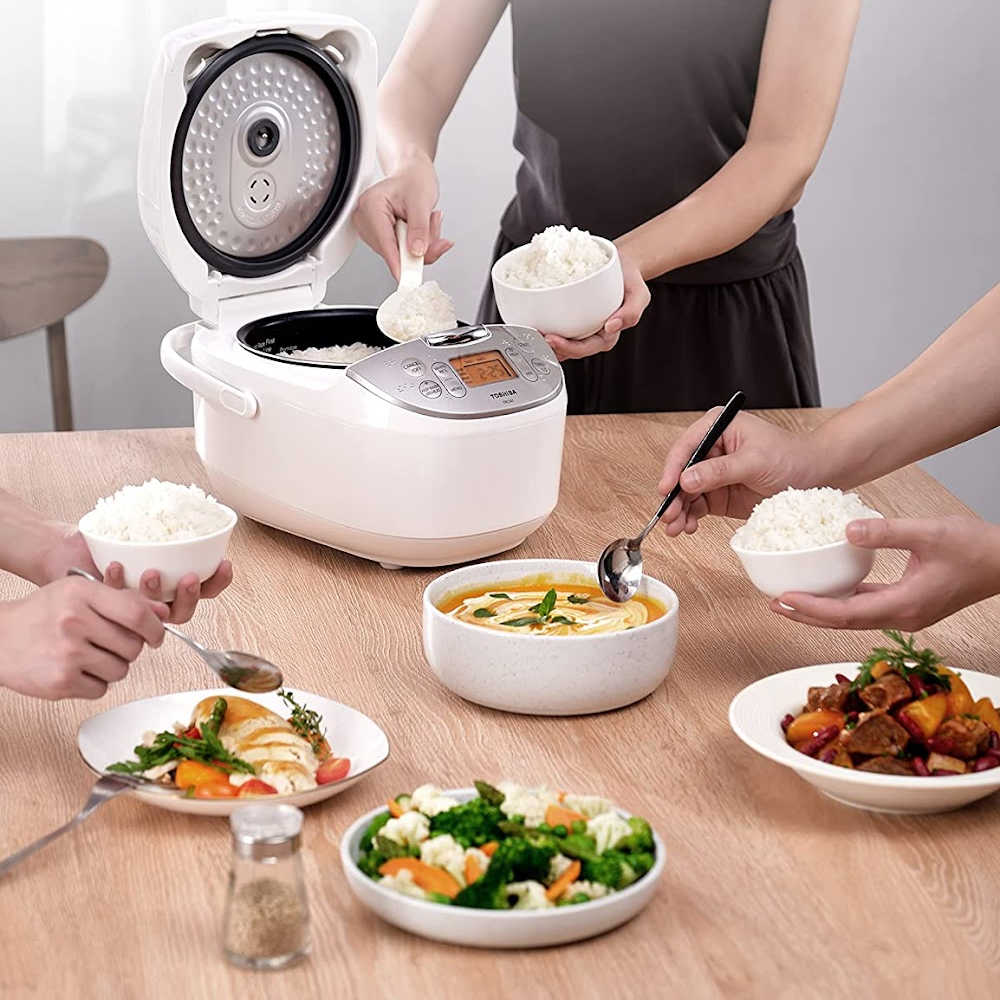 Things In The Spotlight
Features digital control buttons and an easy-to-read LCD display, this cooker is super simple to use. Plus, the keep warm feature means your rice will be nice and hot for up to 24 hours.
And if you're in a hurry, no worries! The 2 programmable delay time features mean you can set the timer and have your rice ready when you need it. Just add rice and water in the morning and come home to deliciously cooked rice.
Furthermore, the large steam vent means no messy overflow, makes cleaning simple. It's easy and safe to move the rice cooker from the counter top to the table without risk of injury.
---
Toshiba 3-Cup Digital Programmable Rice Cooker
What Makes It Catchy
The Toshiba 3-Cup Digital Programmable Rice Cooker is perfect for small families. This stainless steel mini rice cooker has 8 pre-programmed settings to cook white rice, brown rice, mixed grain, quick rice, slow cook, porridge, and egg perfectly in terms of texture, flavor and aroma.
The advanced fuzzy logic technology is perfect for making single servings of rice with triple heating function (bottom, side and lid) generating heat all around for even heating.
The programmable 24-hour delay timer is great for families on the go, delivering hot and ready dishes. This compact-size rice cooker is just the right size for a small family and provides easy storage and use.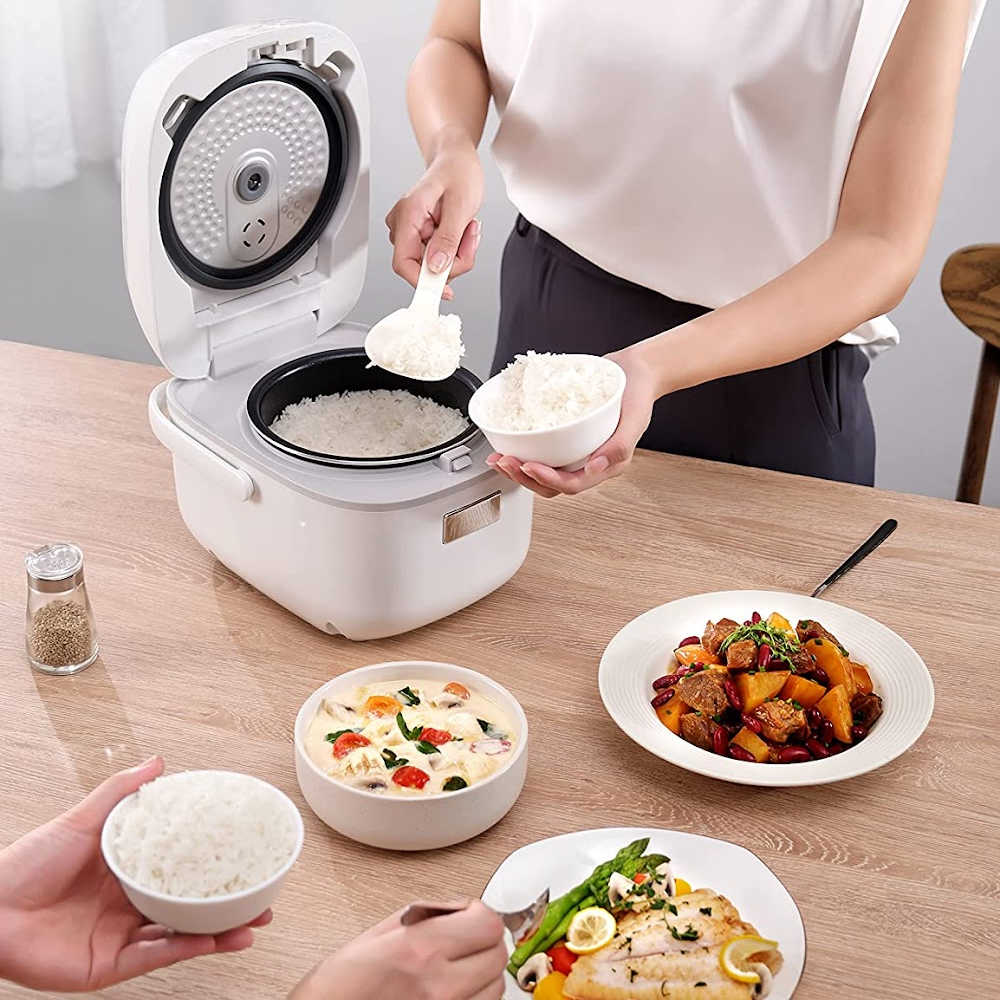 Things In The Spotlight
With a LED smart digital panel display, non-stick inner pot, and detachable steam vent and inner lid, this rice cooker is a powerhouse. The inner pot is dishwasher safe and features measuring markings for the perfect water to rice ratio.
The slow cooker function is perfect for soups, stews, and more.  A special feature of this rice cooker is its cake setting. This is a new way to cook a sweet cake without an oven. And with the egg cooking setting, you can have breakfast ready in no time.
With these features on top of cooking rice perfectly every time, you have a reliable and versatile little kitchen appliance that will serve you for years to come. So if you're looking to buy a rice cooker that cooks rice with just a touch of a button "start", this is the one.
---
Japanese Rice Cooker FAQs
Are you thinking about getting a Japanese rice cooker? If so, you probably have some questions. Some would like to know what varieties of Japanese rice cookers exist, what it means when someone tells you about rice cookers that use "non-contact heating", or if a rice cooker can cook anything else than rice. Here are the answers to some Frequently Asked Questions (FAQs) about Japanese rice cookers, so you can make an informed decision. Read on!
What is the function of a rice cooker?
A rice cooker is a kitchen appliance that is used to cook rice. It typically consists of a heating element, a cooking pot and a lid. The rice cooker cooks the rice by boiling water, which in turn produces steam. The steam then cooks the rice.
Some models of rice cookers also have a timer, so that the cooking process can be automated. If you plan to use the rice cooker to make other dishes, always check if your model is fit for this purpose.
Do I need a rice cooker?
When you like rice, frequently serve it as a main or side dish, you will know that cooking rice in a pan with boiling water, can be tricky. It take time, if you don't add enough water it will burn, and so on.
A rice cooker makes cooking rice convenient, so you can concentrate om more demanding dishes. A small warning: using the rice cooker regularly will most probably result in the cooker becoming a major staple in your kitchen.
What is the difference between a rice cooker and a pressure cooker?
They look similar, and they both work with steam. But that's where the similarity ends. In a pressure cooker the steam is contained, and the pressure can make tough foods tender and the cooking process go faster. A rice cooker is primarily meant for cooking rice, although some models have a steamer basket for preparing cut vegetables, and tender meat or fish.
What is an induction rice cooker?
Induction rice cookers that use non-contact heating are the latest development in the world of rice cookers. This is why induction rice cookers are currently expensive. The first results show that their temperature-sensing may be more accurate.
Their heat distribution area includes the complete inner cooking pan. The heat is not just going upwards from below, but from the sides as well, resulting in more evenly cooked rice. In that sense, induction may be seen as the next step after fuzzy logic.
Which rice cooker is best in Japan?
There is no definitive answer to this question, as what the best rice cooker in Japan may be, depends on the individual's preferences and needs. Some people might prefer a smaller, more compact rice cooker that is easy to store, while others might prefer a larger model with more features.
That said, to find the best Japanese rice cooker brands, check out Zojirusho, Tiger, Toshiba and Panasonic. These brands make the best and best-selling rice cookers in Japan.
Their capacity ranges from 3 cups to 18 cups of raw rice. Some only cook white rice, others various rice types and allow you to cook rice in different ways, and others include a steamer basket.
What are some types of Japanese rice cookers?
Japanese rice cookers have come a long way, since the first rice cookers were introduced, with just one white rice setting.
Some varieties of Japanese (and Korean) rice cookers:
"Fuzzy logic" is a system, which lets the rice cooker notice variables in rice type and moisture, resulting in a cooker that can handle different types of rice.
Induction has introduced non-contact heating of the complete inner pan.
"Micom" stands for microcomputer: micom cookers are often combined with a fuzzy logic system to allow precise monitoring.
A "pressure induction heating rice cooker" combines elements of induction, pressure cooking and fuzzy logic.
In other words, as there is a huge market for rice cookers in Asia, manufacturers try to "out-develop" each other, and are constantly coming up with new and "smarter" rice cookers. Japanese, but also Korean manufacturers are leading the pack.
Is a Japanese rice cooker worth it?
If you eat a lot of rice, and want to have a choice of various types of rice, a Japanese rice cooker is definitely worth it. They're known for their quality and functionality, and they make preparing rice much easier and more consistent.
There are a lot of rice cookers in the market. They come in all shapes and sizes, but the most important thing to look for is one with a good inner cooking pot made from either stainless steel or aluminum. It's also important that the cooker has a good automatic shut-off function so that your rice doesn't overcook.
Finally, make sure to get a cooker with a capacity that matches how much rice you usually cook at once. If you're not sure, start with a smaller size cooker and work your way up as needed.
Do professional chefs use rice cookers?
The answer ultimately depends on the chef's personal preference. Some professional chefs use rice cookers, while others find them unnecessary.
If you're thinking of becoming a professional chef, or are already working in the industry, it might be worth trying out a rice cooker to see if it makes meal prep any easier for you.
Many home cooks find that rice cookers help them achieve perfect results every time, which can be especially helpful when cooking for large crowds. Plus, they're fairly inexpensive and easy to use, so they're definitely worth considering if you're looking for ways to streamline your cooking process.
What rice cooker do Japanese use?
There are two kinds of Japanese rice cookers: the electric rice cooker and the microwave rice cooker. The electric rice cooker is the most popular type because it is reliable and easy to use.
It can be programmed to cook the rice at a specific time, so you don't have to worry about it being overcooked or burnt. The only downside is that it takes longer to cook the rice compared to the microwave method.
In recent years the microwave rice cooker has become more popular because it is a bit more convenient and faster. You can just pop the rice into the cooker, set the timer, and wait for it to be done. Most Japanese use rice cookers made by Japanese brands, such as Zojirushi, Tiger, Toshiba, and Panasonic.
How do Asians cook rice?
Traditionally, Asians cook rice by bring the water to a boil, adding the rice, then reducing the heat to low and simmering until all of the water has been absorbed. Some people add a small amount of oil or butter to help keep the grains separate.
You have to know the amount of rice to be cooked. as for proportions, the golden rule is 1 cup of raw rice results in a bit over 2 cups of cooked rice. So 5 cups of uncooked rice will produce about 11 cups of cooked rice.
Another method is to rinse the rice in cold water several times before cooking. This helps remove some of the starch, which can result in rice getting sticky. The rice is then boiled in a fresh batch of water. White rice usually takes about 20 minutes to make. When all water is absorbed, the rice rests for a few minutes. Then it's time for stirring and serving rice.
During the past decades, many Asians have turned to electric rice cookers. They recognized a long time ago that a rice cooker is the best solution to get well cooked and fluffy rice.
Is Japanese rice better than jasmine rice?
Japanese rice is one of the most popular types of rice in the world. It is known for its stickiness, which makes it ideal for sushi and other dishes where sticky rice is desired.
Jasmine rice is also a popular type of rice, and it is known for its fragrant aroma and nutty flavor. There really isn't a definitive answer as to whether Japanese rice or jasmine rice is better - it really comes down to personal preference.
Why is Japanese rice so sticky?
Japanese rice is sticky because it is a short-grain variety of rice. Compared to long-grain rice, short-grain rice has more starch and less fiber. This high starch content makes the grains cling together, resulting in a stickier texture. Other terms for sticky rice are sweet rice, and glutinous rice.
Short-grain rice is also higher in glycemic index (GI) than long-grain rice, meaning that it causes a more rapid rise in blood sugar levels after eating. This is why Japanese rice is generally eaten as a side dish rather than as the main course.
Should I soak Japanese rice before cooking?
There are a few schools of thought on this matter, and ultimately it comes down to personal preference. Some folks swear by soaking rice before cooking it, as they feel it results in a more evenly-cooked, fluffy final product. Others find that skipping the soaking step doesn't make much of a difference in the end.
If you do decide to soak your rice, the general consensus is that you should rinse the grains thoroughly first. Then, add enough cold water to cover the rice by about an inch or so. Let it soak for 30 minutes to an hour before draining and cooking as usual.
Why do Japanese rinse rice before cooking?
There are a few reasons.
It removes the surface starch, which can make the rice difficult to cook and cause it to stick together.
Rinsing the rice gets rid of any dirt or impurities that may be on the surface.
Rinsing the rice before cooking helps to soften it and makes it less sticky.
Should I rinse rice after cooking?
No, it is not necessary to rinse rice after cooking, although some people prefer to do so. Rinsing rice before cooking can remove any dirt or impurities that may be present, and it also helps to soften the rice so that it cooks more evenly.
Some people also find that rinsing rice after cooking helps to remove any residual starch that may be present, making the rice less sticky. Ultimately, whether or not you rinse your rice is a matter of personal preference.
What is the highest rated rice cooker?
The Zojirushi Neuro Fuzzy 5.5 Cup Rice Cooker is a high-rated rice cooker that has a 5-star rating on Amazon. It has a capacity of 12 cups and can cook various types of rice, including white, brown, GABA, and sushi rice. It also includes a slow cooker function and features an LCD display with timer.
Is the Zojirushi rice cooker worth it?
If you cook a lot of rice, then the Zojirushi rice cooker is definitely worth it. It cooks rice evenly and consistently every time, which can be difficult to achieve when cooking rice on the stovetop.
Additionally, the Zojirushi rice cooker comes with many different settings. This rice cooker includes a delayed timer so that you can have your rice ready whenever you want it.
Is Zojirushi a Japanese brand?
Zojirushi is a Japanese brand, but it's also the most popular brand of rice cookers in the United States. The company was founded in Osaka, Japan, in 1918 and moved its headquarters to Tokyo in 1933. Zojirushi now has production facilities all over the world, including in China, Thailand, and Vietnam.
Are Panasonic and Tiger rice cookers made in Japan?
Yes. Panasonic and Tiger both make their rice cookers in Japan. Panasonic has been making rice cookers since 1955, and Tiger since 1971. Both companies are highly respected for both their quality and durability.
Is Japanese rice healthy?
Yes. Japanese rice is a type of short-grain white rice. It is stickier than other types of rice, and it has a high starch content. It is relatively low in calories and contains no cholesterol or fat. It is a good source of thiamine, niacin, and vitamin B6. Rice is also a good source of dietary fiber.
How long does Tiger rice cooker last?
Tiger rice cookers are built to last. With proper care and maintenance, your Tiger rice cooker should last for many years.
How do I keep my rice cooker in good condition?
Here are some tips to help keep your rice cooker in good condition:
Wash the inner pot and lid with warm, soapy water after each use. Be sure to rinse well and dry thoroughly.
Do not use harsh cleaning agents or abrasive scrubbers on the inner pot or lid, as this can damage the nonstick coating.
To clean the outside of your rice cooker, simply wipe it down with a damp cloth. Avoid using harsh cleaners or steel wool pads, as this can damage the finish.
If your rice cooker has a removable cord , unplug it and wrap it around the base for storage. This will help prevent the cord from getting tangled or damaged. With proper care and maintenance, your Tiger rice cooker should last for many years.
Does Japanese rice have arsenic in it?
Though there are no federal guidelines in the United States for maximum arsenic levels in rice, the FDA has released guidance that recommends that rice products sold in the US not exceed 10 micrograms of inorganic arsenic (the more toxic form of arsenic) per serving.
Arsenic is a naturally occurring element in soil and water and can be found in rice at elevated levels due to its ability to absorb the element from these sources. However, elevated levels of arsenic in rice are not unique to Japan and can be found in rice grown around the world, including the US.
There are no health effects associated with eating Japanese rice with elevated levels of arsenic. However, it is important to keep in mind that consuming high levels of arsenic over a long period of time can increase your risk for certain health conditions, such as cancer.
The best way to reduce your exposure to arsenic in rice is to cook it with plenty of water and drain the water before eating. This will help to remove some of the arsenic that has been absorbed by the rice.
You can also cook rice in a rice cooker, as this appliance is designed to automatically remove excess water during the cooking process. If you are concerned about your exposure to arsenic, you can talk to your doctor or a registered dietitian.
Does a rice cooker use a lot of electricity?
A typical rice cooker uses between 50 and 200 watts of electricity, which is similar to the power consumption of a coffee maker. Depending on the model, size and features, a rice cooker can cost as little as $0.50 per month to operate.
The most common type of rice cooker is an electric model that uses indirect heat to cook the rice. These cookers typically have a warming element in the bottom and a heating element in the lid. Many also have a steam vent to release excess steam and prevent overcooking.
Are all Tiger rice cookers made in Japan?
No. Not all Tiger rice cookers are manufactured in Japan. Products are designed in Japan; Tiger is a Japanese brand. However, their products are made in China and in Thailand.
Are all Toshiba rice cookers made in Japan?
No, not all Toshiba rice cookers are made in Japan. The products are designed in Japan and Toshiba has manufacturing plants in Japan. But many of their products are also made in other countries, like China, Thailand and Vietnam.
Are all Zojirushi rice cookers made in Japan?
No. Not all Zojirushi rice cookers are made in Japan. Some models are made in China and some in Thailand. However, the quality control and engineering is done in Japan, so the Japanese standard is maintained no matter where the rice cooker is manufactured.
What does spherical inner cooking mean?
A spherical inner cooking pot is one that is shaped a bit like a sphere - a round ball, but with an opening at the top and a flat bottom. This type of pot is often used for cooking stews and soups because it allows for even heat distribution. Additionally, the spherical shape helps to prevent food from sticking to the pot's surface.
What "Synchrony-cooking" function mean?
Synchrony-cooking is a function that allows you to cook multiple foods at the same time, and have them all come out perfectly cooked.
There are a lot of different ways to use synchrony-cooking. You can use it to cook multiple sides dish at the same time, or to cook multiple dishes that have different cooking times all at once.
It's also great for cooking large quantities of food, since you can cook everything all at once and not have to worry about it being overcooked or undercooked.
Synchrony-cooking is an amazing time saver, and it's a great way to make sure your food comes out perfect every time.
The Best Japanese Rice Cooker For You
Now that you know more about Japanese rice cookers, we hope you'll consider picking one up for yourself. We hope you enjoyed this post and that it was helpful in your quest to find the perfect Japanese rice cooker.






Be sure to check out some of our other posts on kitchen appliances while you're here.
Thanks for reading! Happy cooking!
Catchy Finds