It's the season to decorate your home with festive decorations—and why not include some delicious cookie carnival in the mix? If you're looking for a fun and delicious way to get into the holiday spirit, why not try making some Christmas tree sugar cookies? These cookies are easy to make and look adorable on any central table. Let's get baking!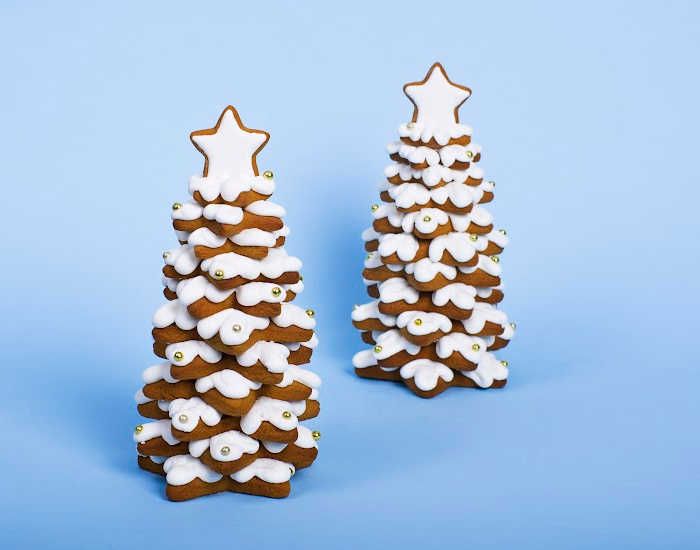 How To Make Christmas Tree Sugar Cookies
Ingredients
1 and 3/4 cups (275 grams) all-purpose flour
2 teaspoons cinnamon
2/3 cup (100 grams) dark brown sugar
1 small teaspoon baking powder
1/3 cup (75 grams) unsalted butter, chilled and cubed into small pieces
1 egg
3 tablespoons (50 grams) dark brown syrup or maple syrup
For the Brown Sugar Syrup:
30 milliliters of water
30 grams of dark brown sugar, cooked over medium heat for 5 minutes and cooled.
For the Royal Icing:
25 milliliters of egg white
15 drops of lemon juice
Combined with 1 cup (120 - 130 grams) of confectioner's sugar.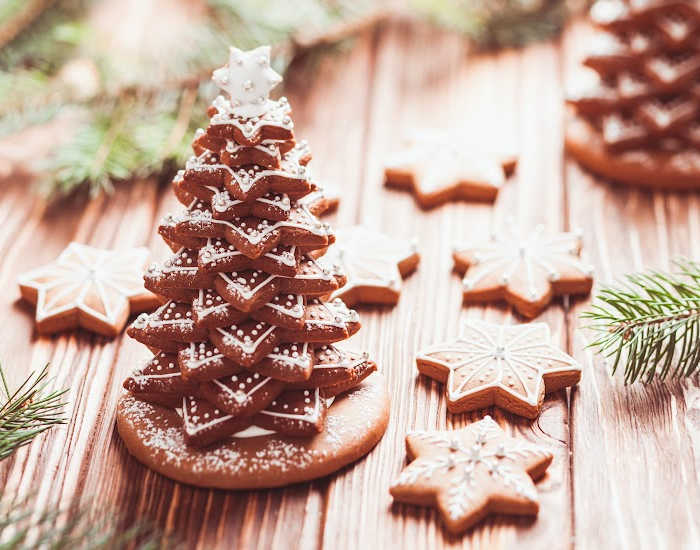 Making Cookie Base Instructions:
Gather all the necessary ingredients and tools: cookie dough, star-shaped cookie cutters of different sizes (or templates made out of stiff paper to make your stars), a baking sheet, baking paper, and a wire rack.
Preheat your oven to 350°F (175°C).
In a medium bowl, combine the flour, cinnamon, sugar, baking powder, and butter with your hands until you form a sandy mixture.
If desired, you can use a food processor to mix all the ingredients for about 2 minute on the pulse setting (don't overmix).
Add the egg and brown sugar syrup and mix them with your hand or with the paddle attachment of your mixer until a dough is formed.
Roll out the cookie dough on a lightly floured surface to ¼ inch (0.5 cm) thickness using either a rolling pin or your hands.
Cut out star shapes from the cookie dough using whichever cookie cutters or templates you have prepared. Make sure to cut 3-4 cookies for each size of the star shape.
Place the stars on a baking sheet lined with baking paper, then roll any scraps back into a ball and repeat step three until you have used up all the dough.
Bake the cookies for 8-10 minutes, depending on their size, or until they are lightly golden brown around the edges and just slightly golden on top.
Allow your stars to cool completely on a wire rack before attempting to remove them from the baking sheet so they don't break apart.
Leave the cookies to cool completely before decorating them with custom frosting ice sugar and designs.
Making Powdered Sugar Instructions:
In a medium-sized bowl, whisk together the egg white and lemon juice.
Add the powdered sugar gradually, stirring with a spatula until you reach a stiff consistency (the mixture should form peaks that hold their shape).
Decorate your Christmas tree cookies with royal icing by filling a piping bag fitted with a no. 1.5 round tip.
Add squeezing the icing onto each cookie in desired patterns or designs, such as strips, swirls, etc.
Wait approximately two hours for the product to dry before using or giving it away.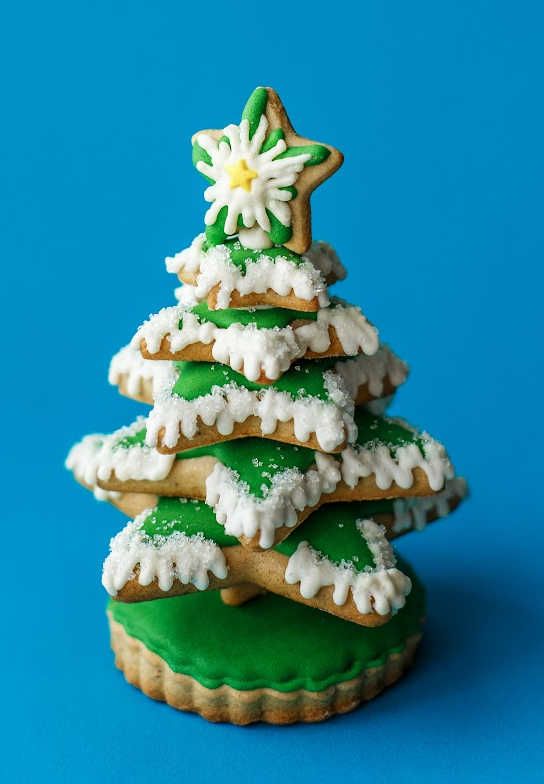 Decorating Cookies Instructions:
Now start building your Christmas tree! Begin by arranging some of your largest stars as the base.
Arrange the stars on the plate from largest to smallest, with the biggest star in the middle and its two mates (the other large stars) offset so that their tips are pointing in different directions.
Then continue adding more stars in decreasing size towards the top to create a tree shape, ending with a single large star at the peak of your Christmas tree shape.
If desired, you can even use icing or sprinkles to decorate your tree! You can use anything you have at home like candy sprinkles, silver dragees, colored sugar or even crushed candy canes. Get creative here!
Tips & Tricks
If you don't have cookie cutters, you can use any other objects to create stars from the dough. For example, a cap of a bottle or even a star shape sauce bowl will do just fine! Just be creative with what is at your disposal.
If you are not very confident in your icing skills, you can always use pre-made icing or melted chocolate and just drizzle it over the cookies.
If your stars come out too thin and start cracking when you try to take them off the baking sheet, it's possible that your oven was too hot. Try using a lower temperature and watch out for any signs of burning!
If the dough is too sticky, add a bit of flour to it and mix it in with your hands. This will help you achieve the perfect consistency for rolling out and cutting your stars.
After you've enjoyed your Christmas tree sugar cookies, don't forget to save the leftovers in an airtight container. They make a great snack for days to come! Enjoy!
There you have it–Christmas tree sugar cookies that will bring joy and sweetness to your holiday table this year! Not only are these cookies tasty, but they're also incredibly cute–perfect for gifting or decorating your home during the holidays!
Need a food processor for baking cookies? Check out the blog post below. We have picked out 5 best processors for dough and more!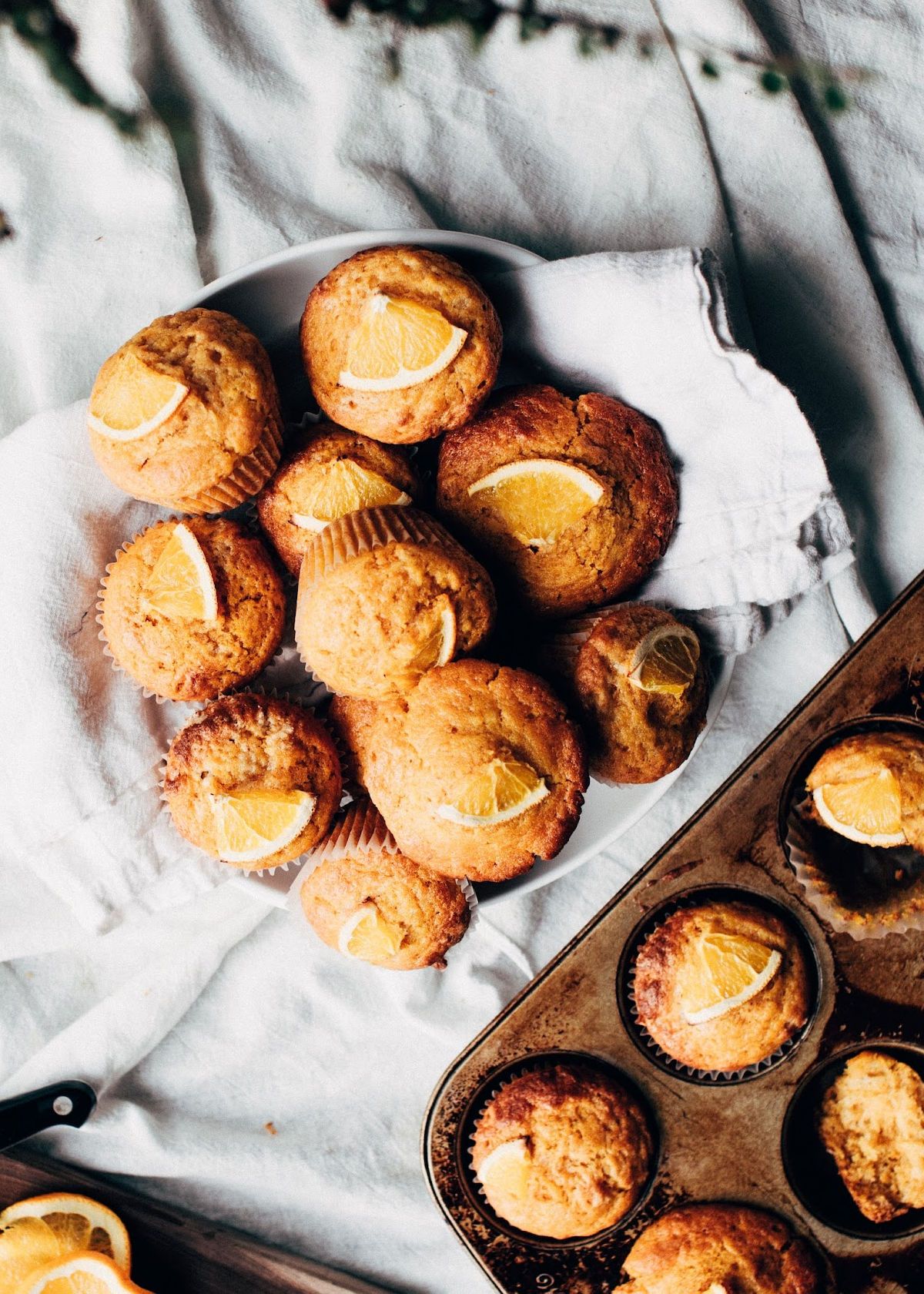 Get baking and spread some holiday cheer with these fun and festive treats! Happy Holidays from our kitchen to yours!
Catchy Finds