Wine is delicate and sensitive, which is why it needs to be stored at a specific temperature and in a specific environment. For this reason, many wine enthusiasts invest in wine refrigerators to store their wines correctly.
But how do you go about choosing the right fridge for your needs? This doesn't have to be a daunting task.
We will guide you through the basics of wine fridges, and provide you with an 18-point checklist to help you choose the right one for you.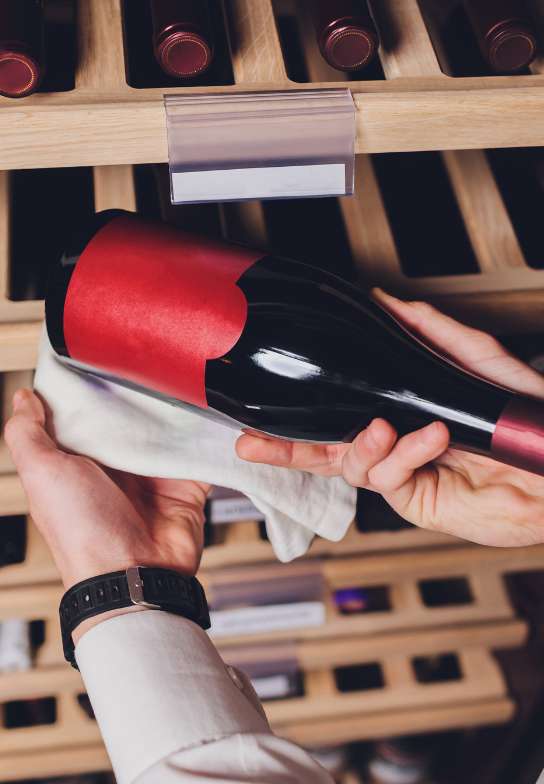 Wine Fridge Basics
Before we dive into the details of how to choose the perfect wine refrigerator, it is important to understand the basics.
A wine fridge is an appliance designed to store wine at the ideal temperature, humidity, and ambient light level. The optimal temperature for wine storage is between 50-60 degrees Fahrenheit (10-15 degrees Celsius). Humidity levels should be kept at around 60-70%.
Wine fridges are different from regular fridges as they are designed to provide the best temperature and humidity to store and age wines. Regular fridges are much colder and drier, which can damage the quality of the wine.
These coolers come with two different types of cooling systems: using thermoelectricity or compressors. Thermoelectric models are great for small and quiet spaces, while compressor models are ideal for larger spaces.
Wine coolers come in different sizes, shapes, and designs to suit your needs and specifications. From a built-in to the freestanding wine cooler, from a single temperature zone to dual temperature zones.
They can cater to the needs of wine collectors, aficionados, and casual drinkers alike.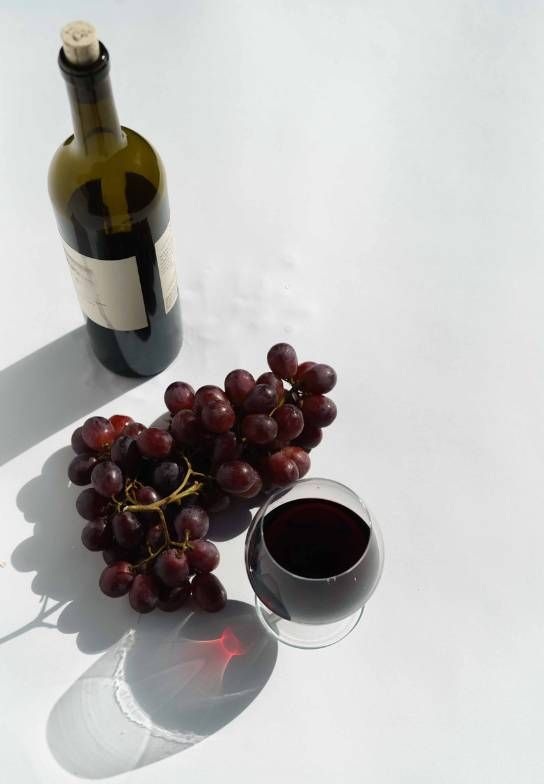 How To Choose A Wine Fridge
When choosing a wine fridge, NewAir advises you need to consider several factors so you can pick the best wine fridge for your needs and budget. We break it into further details:
1. Size
Consider the size of your available space and choose a fridge that fits. Measure the area in your home where you plan to put your wine fridge.
2. Capacity
Determine the bottle capacity you need. Choose a wine fridge that has enough storage space to accommodate your current collection and any future growth.
3. Humidity Control
Wine storage requires the right humidity levels to prevent cork drying, oxidation, or mold growth.
We've written a detailed blog post about wine fridge humidity level, so you can have a better idea of this topic.
4. Temperature Control
Temperature fluctuations can significantly alter the taste of your wine. It is essential to purchase a wine fridge that offers consistent temperature control. Many models integrate thermostats into their design to ensure the desired temperature is consistent.
We've published a related blog post about wine fridge temperatures, you can check it out.
5. Thermoelectric or Compressor Cooling
Determine what type of cooling system you want for your wine fridge. Thermoelectric coolers use less energy and are quieter, while compressor cooling provides more aggressive cooling.
We've written a detailed blog post about what are the differences between a thermoelectric vs compressor wine fridge, so you can have a better idea of this topic.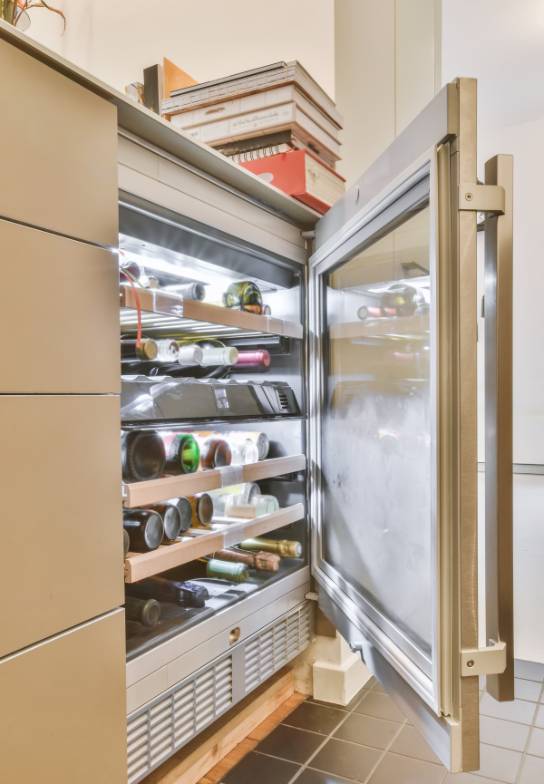 6. Dual Zone or Single Zone
If you have both white and red wines in your collection which you want to keep at their optimal serving temperature, it might be wise to invest in a wine cooler with 2 temperature zones to control the different settings for each type.
This is called a dual-zone wine cooler or fridge. If you only have one type of wine, a single-zone wine fridge will suffice.
We've published a related blog post about what are the differences between a dual-zone wine fridge and a single-zone model, you can check it out.
7. Built-in or Freestanding
This decision will depend upon the space available and the visual appeal that you're going for.
We've written a detailed blog post about what are the differences between a built-in wine cooler and a freestanding model, so you can have a better idea of this topic.
8. Lighting & Interior Design
Choose a model with an aesthetic that blends well with your decor. Some wine fridges come with LED lighting, while others feature a darker interior to better preserve the quality of your wines.
9. Door Material & Insulation
A wine refrigerator comes with a glass door. Look for doors with double or triple panes, and UV protection to block light from affecting the wine. Thicker insulation also means better temperature control. Go for a wine cooler with high-quality build materials to ensure its durability.
10. Automatic Defrost
Wine fridges don't freeze; their temperature is always higher than the freezing point. However, due to a malfunction ice build-up does happen. Therefore, it helps to have a wine fridge with an automatic defrost feature to prevent temperature fluctuations.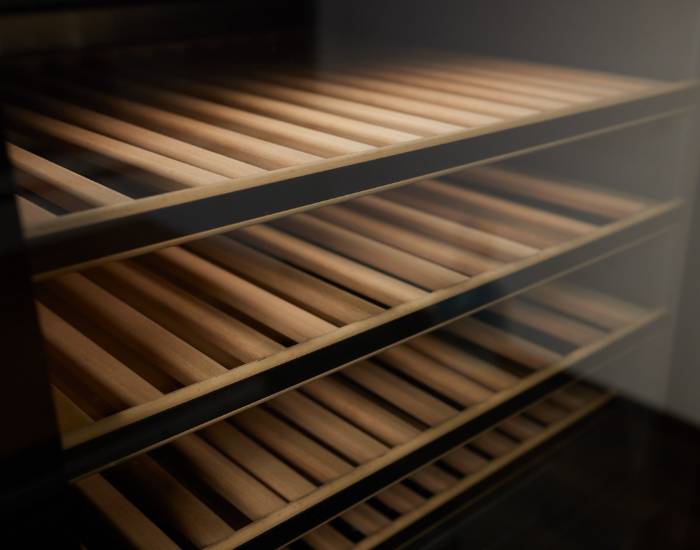 11. Shelves & Compartment
Consider wood, metal, or slide-out shelves. Adjustable and slide-out shelves make it easier to organize, store wine bottles, and have access to them.
12. Ease Of Use
Choose a wine fridge with an easy-to-use control panel to adjust the temperature, humidity, and other settings.
13. Noise Level
Check the noise level of the wine fridge. Choose a wine fridge that operates quietly to prevent disruption and vibration that can affect the quality of the wine.
14. Energy Efficiency
Look for wine fridges with energy-star certification to save on your utility bills.
We've published a related blog post about wine fridges' electricity consumption, you can check it out.
15. Brands & Reviews
Research different brands and choose one with a good reputation. Read online reviews from other wine lovers to learn from their experiences.
16. Price
Wine fridges range in price from 400 dollars to 2,000 dollars. There are more high-end models available with additional features and higher price tags. Set your budget beforehand and compare various models across different brands to find one that offers the best value.
17. Delivery & Set-Up
Check for ease of delivery and setup to prevent any issues or damage to the fridge.
18. Warranty
Check the warranty, repair, and maintenance service. Go for a manufacturer that offers a solid warranty and after-sales care.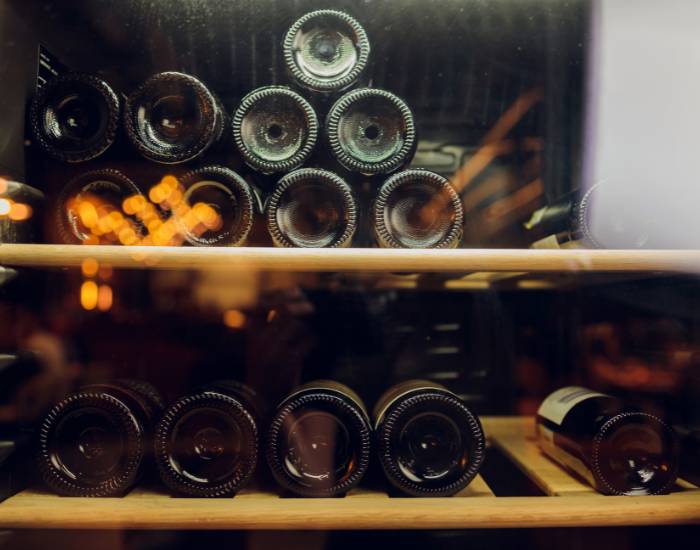 Choosing A Wine Fridge FAQs
Here are some frequently asked questions when selecting a wine fridge.
What size wine fridge do I need?
Wine refrigerators come in different sizes, from small ones that can fit 7-12 bottles, to medium ones that can store up to 24-48 bottles and larger ones with a capacity of 96 bottles.
Large-capacity wine fridges can hold up to 200 bottles. Hotels and restaurants often have many wine fridges.
So, depending on how many bottles you plan to store and the dimensions of your space, you can choose the right size for your wine fridge.
Do wine fridges make a difference?
Wine fridges make a difference in preserving the quality and taste of your wines. The temperature, humidity levels, and other features of the wine fridge are designed to protect the wines from spoilage or oxidation.
If you're a wine enthusiast, investing in a good wine fridge is an excellent way to ensure proper wine storage, so your wines will not only last a long time but also stay flavorful and delicious.
Why is a wine fridge so expensive?
Wine fridges are usually more expensive than standard refrigerators due to their advanced features and advanced insulation.
The higher price tag is also due to their capacity to effectively maintain the temperature, humidity, and other conditions for both short-term and long-term storage of fine wines.
Should I put a wine fridge in my kitchen?
A wine fridge is a great addition to any kitchen. Not only can it store and age your wines properly, but it also adds a chic touch to the decor. It's a great way to keep your wine collection organized and easily accessible.
Avoid placing it close to the oven, stove, or heat areas, as it will expose your wines to excess heat. It's advised to place your wine fridge in a cool, dry place away from direct sunlight.
Does a wine fridge need ventilation?
A wine fridge needs to be properly ventilated for it to work correctly. Make sure that the back and sides of the fridge have enough space for proper air circulation. If the ventilation is not adequate, your wine fridge will not cool properly, which may cause a loss of quality.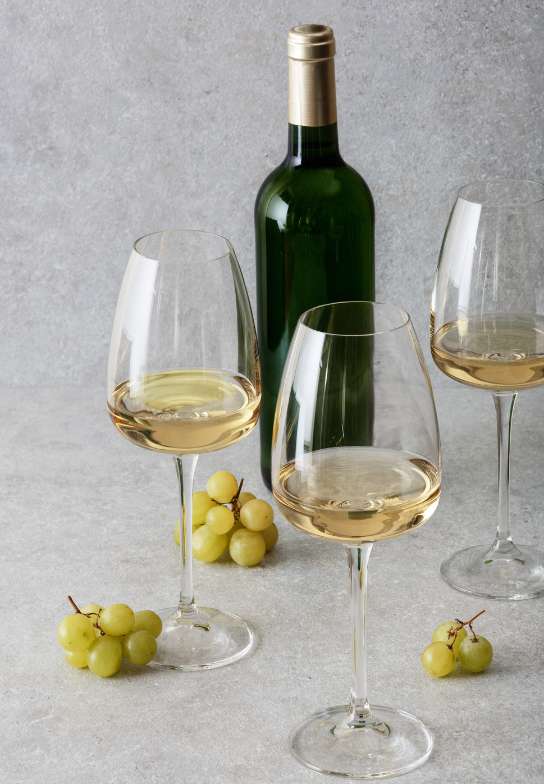 Tips & Tricks
Make sure to measure the space you have available before purchasing.
If you plan on stocking a large number of wine bottles, then look for a larger-capacity wine fridge.
Place your wine cooler in an area with stable temperature and humidity levels (away from direct sunlight, heat sources, or cold drafts).
Monitor the temperature of your wine cooler regularly to keep your wines stored in optimal conditions.
Avoid vibration and noise by keeping it away from traffic areas.
Regularly clean the interior and exterior of your wine fridge for better performance.
Last but not least: as you shouldn't use a beer fridge to store wine or food, don't use your wine fridge to store beer and food.
By keeping the basics in mind and using our 18-point checklist as a wine refrigerator buying guide, you can confidently make an informed decision that fits your wine collection and budget.
Investing in a quality wine fridge is an excellent way to ensure your wine collection ages and develops correctly. Need our help with some best product picks? Check out the below links and find yours.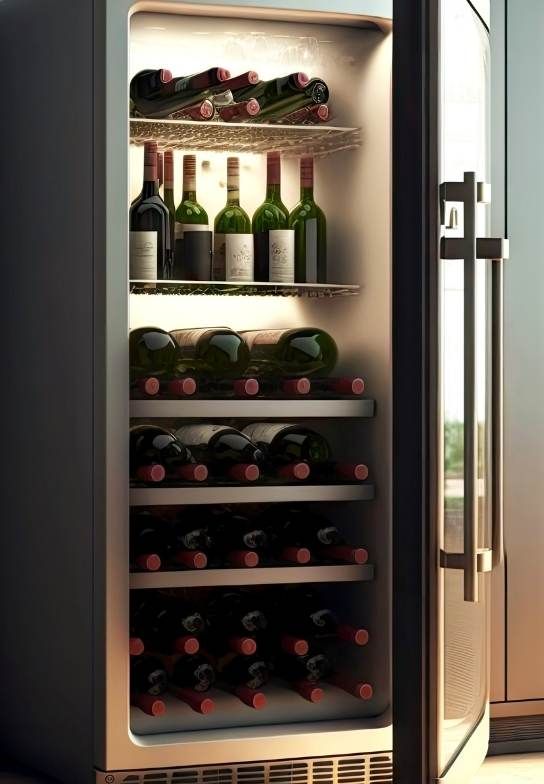 Happy wine collecting!
Catchy Finds