When it comes to pasta, there's an endless variety of shapes and flavors. Rice-shaped pasta or orzo is the perfect way to add some excitement to your dinner table without compromising on flavor. Let's explore this intriguing food craze.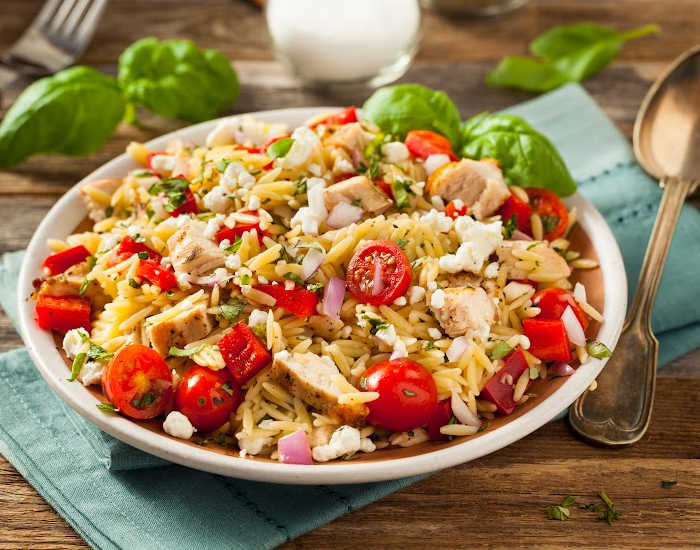 Introducing Rice-Shaped Pasta
What Is A Rice-Shaped Pasta?
Pasta-rice is exactly what it sounds like—a type of short-cut pasta that is shaped like rice grains. The great thing about rice-shaped pasta is that it cooks faster than rice and is flavorful.
Since it's made with regular durum wheat semolina flour, it is a healthier choice for those watching their waistlines. You can use it in all kinds of recipes—from salads to soups to stir fry—and they always turn out delicious.
Risoni Is The Real Deal
This pasta-rice is an affectionate nickname for the pasta known as risoni, or "little risotto". It can also be called by its Italian name - risi (meaning "rice") or referred to as pasta a riso; although universally beloved under its alias 'orzo'.
It's especially popular in Italian cuisine and can be used to make a variety of dishes—from soups and pasta salads to main courses as similar to risotto. The pasta absorbs liquid just like ordinary rice, so it can be cooked in a variety of ways.
Risotto vs. Orzo?
Risotto is a type of Italian rice dish that is cooked slowly in broth, often with the addition of vegetables, cheese and other ingredients.
Orzo pasta, on the other hand, is a pasta that is shaped like grains of rice and can be used in place of regular pasta. While risotto is creamy, orzo pasta dishes are light and flavorful.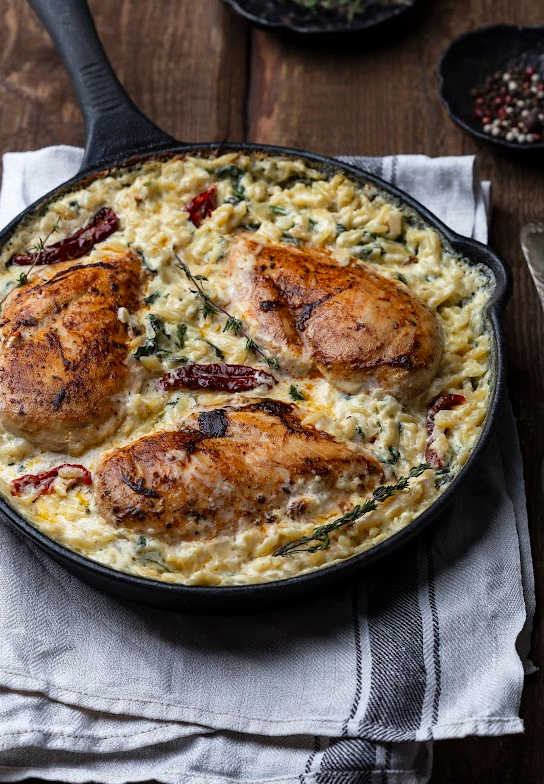 Chicken Orzo Recipe
This flavorful Mediterranean-style dish combines the sweetness of orzo pasta with stirred fired chicken thighs, vegetables, tomatoes, oregano, paprika and more. This one-pot recipe is easy to make and full of bold flavors!
Chicken Orzo Ingredients
For The Chicken
2 teaspoons (10ml) of dried oregano
1 teaspoon (5ml) of sweet paprika
1 teaspoon (5ml) of coriander (dried or fresh)
1 teaspoon (5ml) each of kosher salt and freshly ground black pepper
1 1/2 pounds (680g) boneless, skinless chicken thighs
Juice from 1/2 lemon
Extra olive oil
For The Orzo
Extra olive oil
2 cups of cored and round sliced green bell pepper
1 cup of cored and chopped red bell pepper
2 cups of yellow onion, diced
6 cloves of garlic, finely chopped
2 cups of canned plum tomatoes, drained and roughly chopped
2 cups of chicken broth
1 teaspoon of dried oregano
1 teaspoon of sweet paprika
1 teaspoon of each of kosher salt and black pepper to taste
2 cups of whole grain dried uncooked orzo pasta
How To Cook Chicken Orzo
Start by prepping the bell peppers - core them both before slicing the green one into round slices and chopping the red one into small pieces.
Then dice up your yellow onion before finely chopping the garlic cloves.
In a large Dutch oven pan, sauté (stir fry) the chicken thighs in some extra olive oil over medium to high heat with the oregano, paprika, coriander, salt and pepper.
When the chicken is cooked through, add the green bell pepper, onion and red bell pepper. Sautee for a few minutes until the vegetables are softened.
Add the canned tomatoes, chicken broth, oregano, paprika and salt and pepper to taste.
Bring the mixture to a boil and add the pasta. Stir to combine and reduce heat to a simmer. Be sure to stir every few minutes to avoid pasta sticking and burning.
Cover the pot with a tight-fitting lid and transfer to a preheated oven at 350 F.
Cook for about 15-20 minutes.
When the pasta is cooked through, squeeze half a lemon over the pasta and stir to combine. Taste and adjust seasoning if desired.
Serve warm with a sprinkle of fresh parsley or Greek cheese for garnish. Enjoy!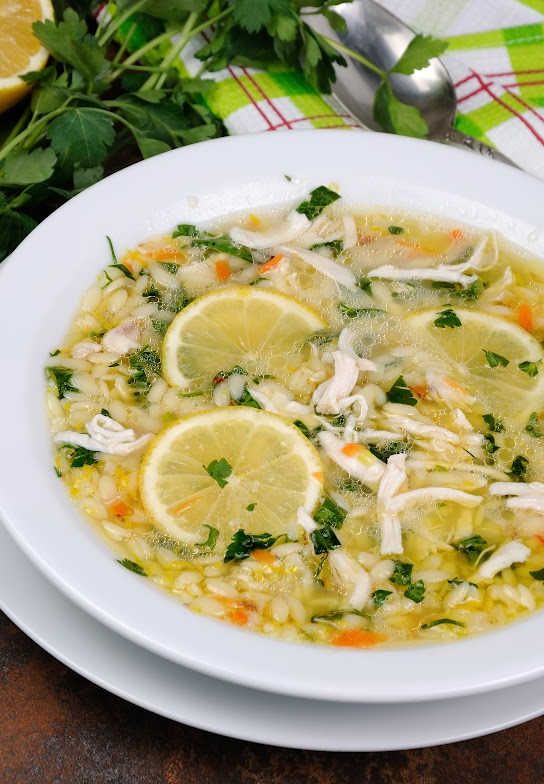 Avgolemono: Greek Chicken Soup With Orzo
Avgolemono is a classic Greek dish that combines chicken, orzo pasta and an egg-lemon sauce. This delicious soup is a great way to get a hearty and healthy meal in minutes.
Ingredients:
2 tablespoons of extra-virgin olive oil
2 boneless, skinless chicken breasts
1 large yellow onion, diced
3 cloves of garlic, minced
6 cups of low-sodium chicken broth
1 cup of pasta-rice
3 large eggs, lightly beaten
Juice from 1 lemon
Salt and pepper to taste
Instructions:
Heat the olive oil in a large pot over medium heat.
Add the chicken breasts and cook for about 8 minutes, flipping once.
Once the chicken is cooked through, remove from the pot and set aside to cool.
Add the diced onion and garlic to the pot and cook for 4 minutes until softened.
Pour in the chicken broth and pasta-rice, bring to a boil and reduce the heat. Simmer for 10 minutes, stirring occasionally.
Meanwhile, shred the cooked chicken into small pieces and set aside.
Once the pasta-rice is tender, mix in the eggs and lemon juice. Stir until the eggs are fully incorporated.
Add the chicken and adjust the seasoning with salt and pepper to taste.
Simmer for an additional 4 minutes.
Serve the avgolemono with some freshly chopped parsley leaves and grated Parmesan cheese, if desired. Enjoy!
Tips & Tricks
You can serve pasta-rice as a side dish such as salad, or soup, or as part of a main course. It pairs perfectly with all kinds of sauces, from light pesto to rich tomato sauce.
For a vegan option, you can omit the chicken and replace the chicken broth with vegetable broth.
You can replace bell peppers with spinach, mushrooms or zucchini for a different flavor.
For an even creamier soup, add some full-fat Greek yogurt or heavy cream to the pot at the end of cooking.
There are so many ways you can use pasta-rice to create unique dishes. Get creative with different sauces and ingredients—with pasta-rice, anything goes!
Need a cookware set for cooking your pasta dishes? Check the reviewed blog post below and pick your favorite set of pots and pans for gas stove.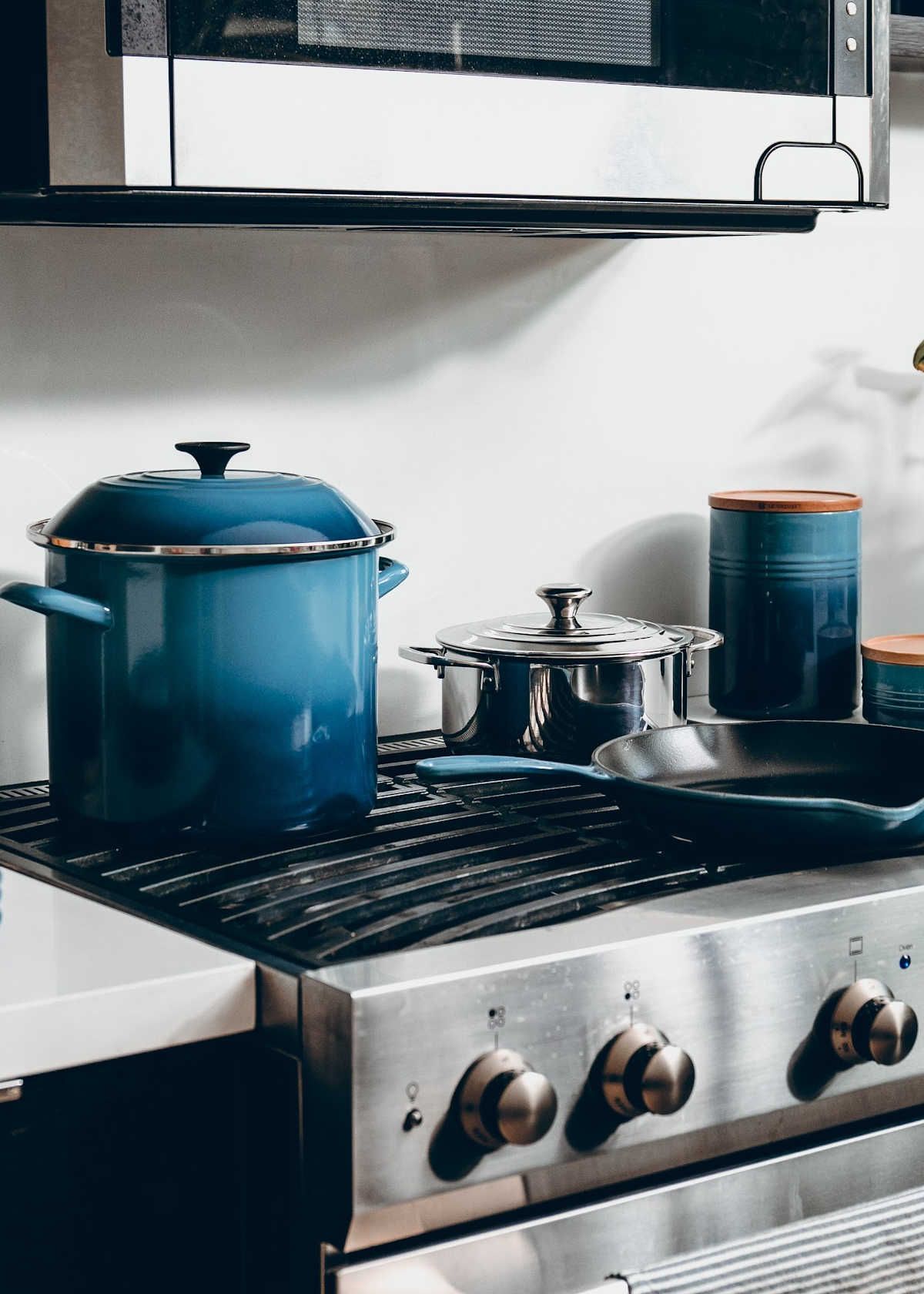 Get creative with pasta-rice and enjoy a fast, healthy and tasty meal today!
Catchy Finds