Are you in the mood for something sweet and creamy? If so, panna cotta with raspberries is just the treat you're looking for! It's a light, creamy Italian dessert that's perfect for any occasion.
This panna cotta recipe is sure to please even the pickiest of eaters! The combination of panna cotta and raspberries gives the perfect balance of sweet, creamy flavor.
Read on to learn more about tips & tricks and how to make this dessert.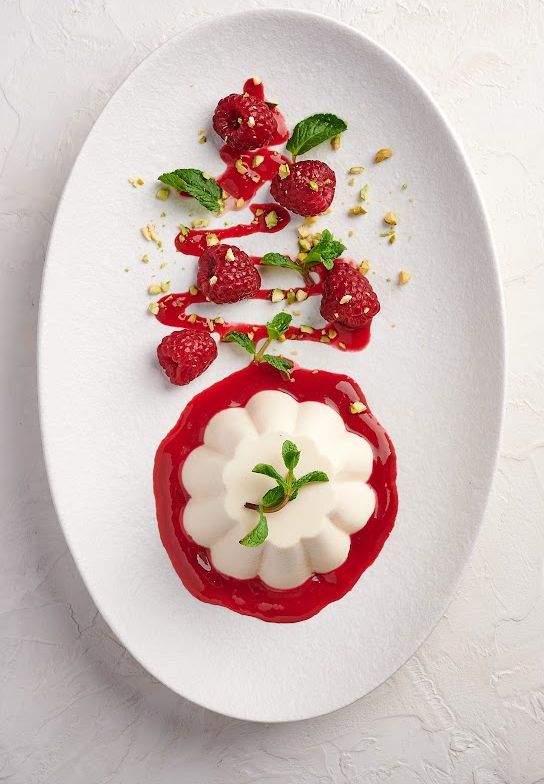 What Is Raspberry Panna Cotta?
Raspberry panna cotta is a classic Italian dessert made with creamy panna cotta and tart raspberry sauce. "Panna" is the Italian word for cream. Panna cotta literally translates to 'cooked cream' in English, which is exactly what this sweet treat is - cooked cream that's set with gelatin.
It's sweet and silky, easy to make and utterly delicious. Serve it for special occasions or simply as an after-dinner treat - either way, your guests will be impressed!
Raspberry Panna Cotta Recipe
For The Panna Cotta:
2.1 cups (500g) of fresh liquid cream, such as heavy whipping cream or double cream
1 vanilla pod, split down the middle and scraped to remove the seeds inside
6.5 tablespoons (85g) of white sugar
1/2 oz (8g) of leaf gelatin
For The Raspberry Sauce:
4 ounces (100g) of fresh or frozen raspberries
1 3/4 tablespoons (20g) of white sugar
1/2 tablespoon of water
3/4 tablespoon of freshly-squeezed lemon juice
How To Make Raspberry Panna Cotta
Making your panna cotta: (Method 1: Low Heat Cooking)
Pour the cream into a medium-sized saucepan
Add the vanilla pod and its seeds, as well as the sugar. Stir to combine.
Then place over low heat and bring to a low boil for 5 minutes.
Meanwhile, soak the gelatin in cold water for 10 minutes.
Once the mixture is ready, take it off the heat, add the gelatin.
Stir to combine with a spatula to ensure even distribution and fully dissolved of the gelatin throughout the mixture.
Now, divide the panna cotta among 8 small ramekins or glasses (or 4 bigger ones).
Place in the fridge to chill for at least 4 hours, preferably overnight.
Making your panna cotta: (Method 2: Steaming)
Preheat the steamer with water.
Soak the leaf gelatin in cold water for 5 minutes.
In a large bowl, combine the cream, vanilla pod and sugar.
Mix until all ingredients are well combined.
Add the gelatin. Stir to combine until the gelatin has fully dissolved.
Now, divide the mixture among 8 small heat-proof ramekins or small bowls (or 4 bigger ones).
Cover them all individually with foil.
Place the panna cotta ramekins inside the preheated steamer.
Cover the steamer with a lid and steam it over medium-high heat for about 15 minutes.
Remove the cooked ramekins from the steamer and let it cool for about 30 minutes before putting them inside the fridge.
Let them cool in the refrigerator for about 4 hours, preferably overnight.
Making the raspberry sauce:
Place the raspberries in a small saucepan.
Add the sugar, water and lemon juice.
Bring to a low boil over medium heat for 10 minutes or until everything has reduced down to a thick syrup.
Let cool before serving. Enjoy!
How Do You Serve Panna Cotta?
Panna cotta should be served chilled. To serve, run a knife around the bowl to loosen it from the ramekins and then it turn out onto a plate. Drizzle with raspberry sauce, top with more fresh raspberries (or other fruits) or a sprinkling of crushed nuts, and enjoy!
Should You Boil Panna Cotta?
No, panna cotta shouldn't be boiled. Boiling panna cotta will cause it to curdle and won't set properly. Instead, panna cotta should be cooked over low heat or steamed until it thickens.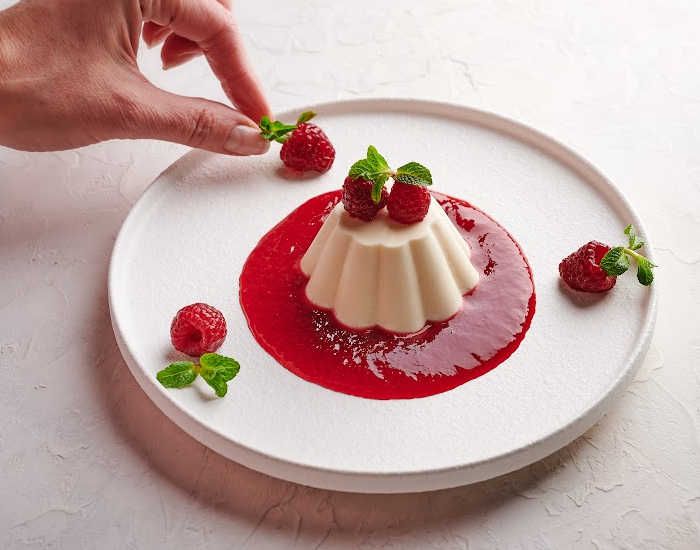 What Are Panna Cotta Variations?
You can play around with different flavors - some popular panna cotta variations include mango, blueberry, strawberry, coffee, coconut, and even dark chocolate panna cotta. You could also add a splash of liquor or liqueur to the panna cotta mixture before chilling. The possibilities are endless!
What Can Go Wrong With Panna Cotta?
Ensure that you dissolve the gelatin completely in the panna cotta mixture and don't over-boil it, or else your panna cotta won't set. If your result doesn't set, you can place it back on the stove with a few more sprinkles of gelatin and stir until it sets.
If your panna cotta is too sweet, reduce the amount of sugar you use or make a tart raspberry sauce to balance out the sweetness.
Tips & Tricks
For vegans or vegetarians, panna cotta can be made without gelatin by using agar-agar instead.
For a smooth texture use whipping cream instead of double cream and allow it to cool for an extra long time.
For a firmer panna cotta texture use double cream instead of whipping cream.
To add more flavor, steep spices or herbs such as cinnamon sticks, vanilla beans or mint leaves in the cream for 1-2 hours before adding it to the panna cotta.
If the dessert needs extra sweetness, add some honey or maple syrup instead of sugar.
You can also add nuts (almonds, pistachios, hazelnuts) to your panna for an extra crunch.
To make panna cotta extra special, top it with chocolate shavings or a dollop of cream.
Panna cotta made with raspberries is a tasty treat that will make you feel pampered and special! With this easy panna cotta recipe, you'll be able to recreate a delicious panna cotta with raspberries in the comfort of your own home.
Need a steamer to assist you with making your dessert? Check out our steamer guide & top picks of 3 best food steamers for more information on which steamer to buy.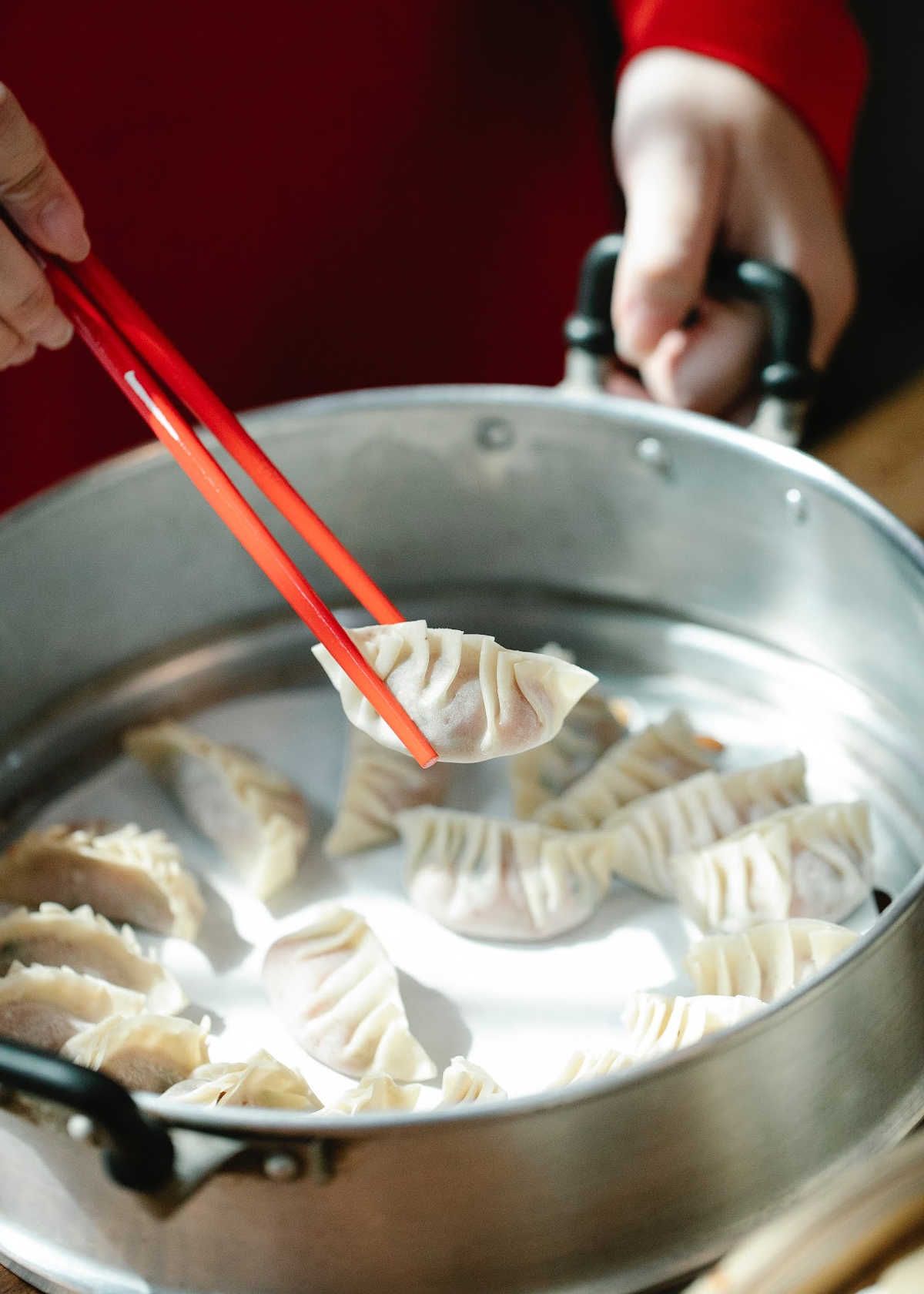 There you have it – everything you need to know about how to make raspberry panna cotta! Enjoy this delicious dessert - buon appetito!
Catchy Finds