Fall is in the air, and that means it's time to start roasting all the root vegetables! But if you've never roasted a vegetable in your life, don't worry - we've got you covered. Keep reading for a step-by-step guide on how to roast root vegetables, as well as a delicious roasted root vegetables recipe that your whole family will love.
Root Vegetables - Ingredients:
Approximately 5 pounds of root vegetables (freely choose from an assortment of carrots, potatoes, turnip, rutabaga, parsnip, radishes, beets, celeriac, sweet potato)
a few sprigs of fresh thyme
a few sprigs of fresh rosemary
1 bulb garlic: half smashed, half left whole
1 tsp salt
1/2 tsp black pepper
3 tbsp olive oil
Roasting Vegetables
1. Preheat oven to 400 degrees Fahrenheit.
2. Wash & peel & cut all your vegetables into uniform pieces. This will help them cook evenly.
3. In a large bowl, toss together all of the ingredients until the vegetables are evenly coated with oil and seasonings.
4. Spread the vegetables out on a baking sheet/ roasting pan and roast for 15 minutes. (Be careful not to layer the chopped vegetables on top of each other in the pan, so they won't get those nice crispy edges.)
5. Now it's half way roasting, take the pan out, stir them well, return to the oven for another 10-15 minutes, or until they are fork-tender and lightly-browned.
4. Enjoy!
If you want more inspiration of another recipe, watch the below video.
We hope you enjoyed this roasted root vegetables recipe and tutorial! If you are searching for a perfect pan to roast vegetables, check out this blog post. We have done all the research and picked 5 best pans for roasting vegetables. You can quickly find your best roasting tool and start making healthy daily dishes for the whole family!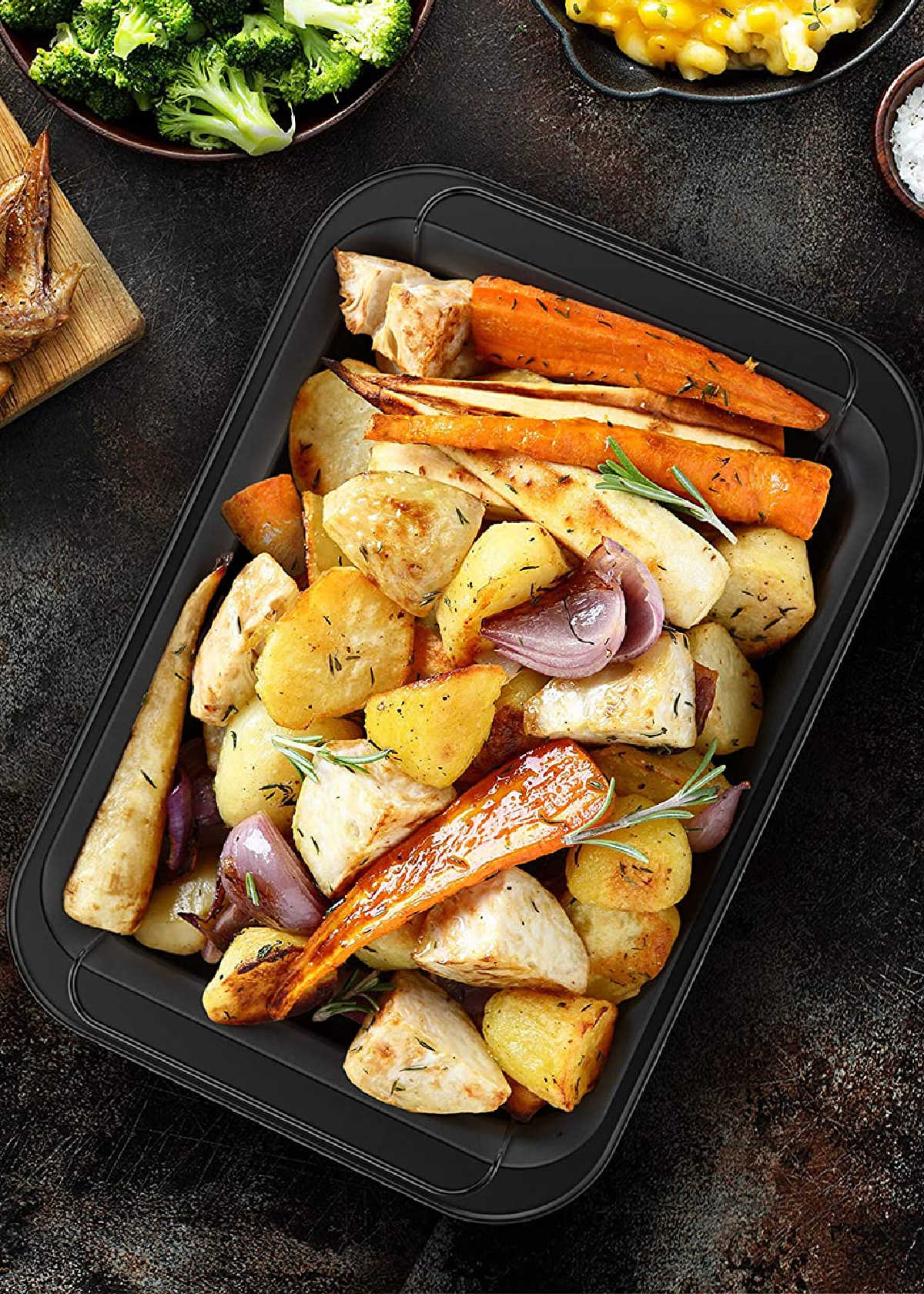 Happy roasting!
Catchy Finds