Are you a tea or coffee connoisseur? You don't want an electric coffee or tea machine, but be the master of brewing your own tea or coffee? If so, then you know it all starts with boiling water, and that having the best electric gooseneck kettle with variable temperature control is crucial for brewing coffee or tea, and making the perfect cup.
But with so many different kettles on the market, it can be tough to choose the right one. You're not alone. Fortunately, we've done the research for you and have compiled a list of the best electric gooseneck kettles available.
So whether you're looking for the perfect cup of tea or coffee, be sure to check out our list! These kettles are all the rage these days. Keep reading on our top 7 picks and find your best one!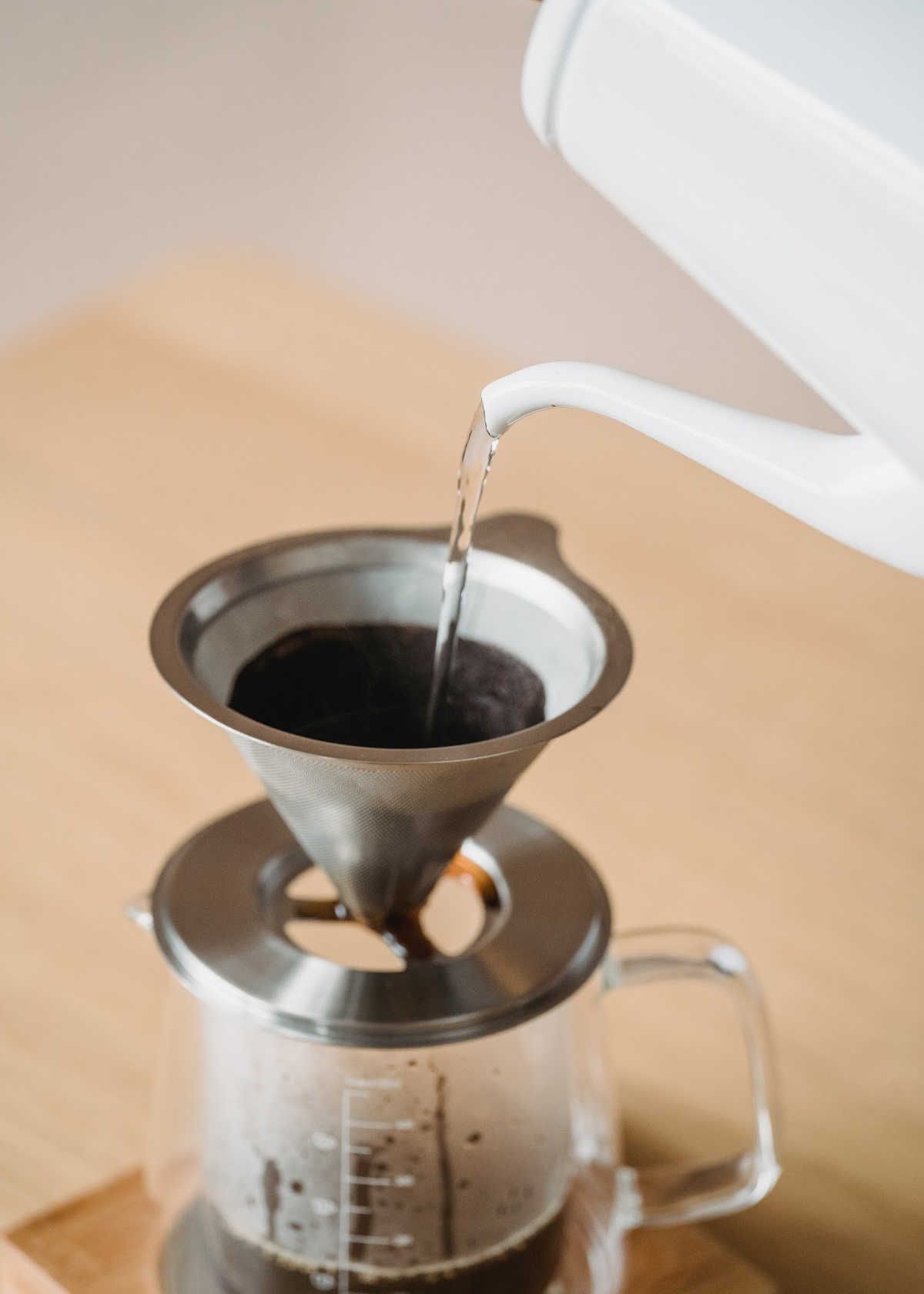 💡
We participate in the Amazon Associates Program, if you buy a product with the links that we provide, we may receive a small commission from Amazon. There is NO additional cost to you!
Catchy Finds' 7 Picks In The Spotlight







---
Fellow Stagg EKG Electric Pour-Over Gooseneck Kettle
What Makes It Catchy
Looking for an electric kettle that looks as good as it works? Meet the Fellow Stagg EKG Electric Pour-Over Gooseneck Kettle. This 0.9 Liter boiling capacity is sleek, minimalist design. It is made of high-quality 304 food grade stainless steel and features a simple modern LCD display.
The set temp & real-time temp feature lets you brew your perfect cup of coffee or tea, while the built-in brew stopwatch ensures perfect extraction every time.
And if you need to keep your water hot for extended periods of time, simply engage the hold toggle and the Stagg EKG will maintain your desired temperature for up to 60 minutes.
Things In The Spotlight
With its precision spout and quick-heating element, this kettle makes it easy to get the perfect pour-over every time. Plus, the counterbalanced handle provides a steadier grip for slowly and accurately pouring.
And its "to-the-degree" temperature control means you can perfectly customize your cup of coffee or tea – whether you like it piping hot or refreshingly cool.
Fellow is a San Francisco-based company in love with coffee and obsessed with product design, which was founded on Kickstarter in 2013. The brand has innovated and evolved within the specialty coffee market to assist clients make their finest cup. This Fellow kettle is among the best gooseneck kettles currently available.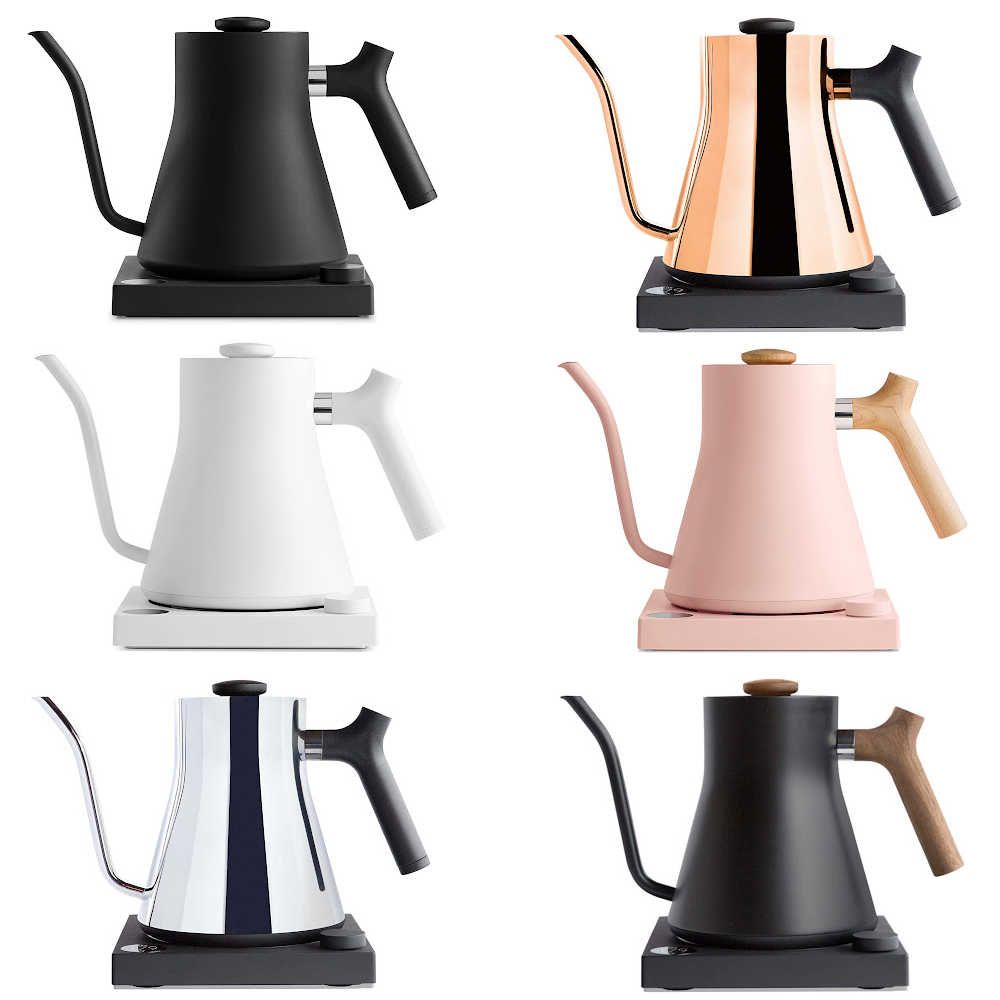 ---
KitchenAid Precision Gooseneck Digital Kettle
What Makes It Catchy
Looking for a kettle that's easy to use and provides precision pouring? Look no further than the KitchenAid Precision Gooseneck Digital Kettle.
The gooseneck spout, coupled with three easily-adjustable flow rate settings, gives you the confidence to pour your unique brew. Also, the on-lid brew-range thermometer lets you know if the water is within your preferred brewing temperature range.
Things In The Spotlight
This kettle allows you to select your desired brewing temperature from 140˚F  - 212˚F, in 1 degree increments. You can also choose to hold your selected heat for up to 30 minutes.
The sleek, compact design is perfect for small or large batches of water, and the polished, durable stainless steel body is easy to wipe clean.
Whether you're making tea, coffee, or hot chocolate, the KitchenAid Kettle is the perfect choice for making your favorite hot beverages. Deservedly a "best gooseneck kettle"!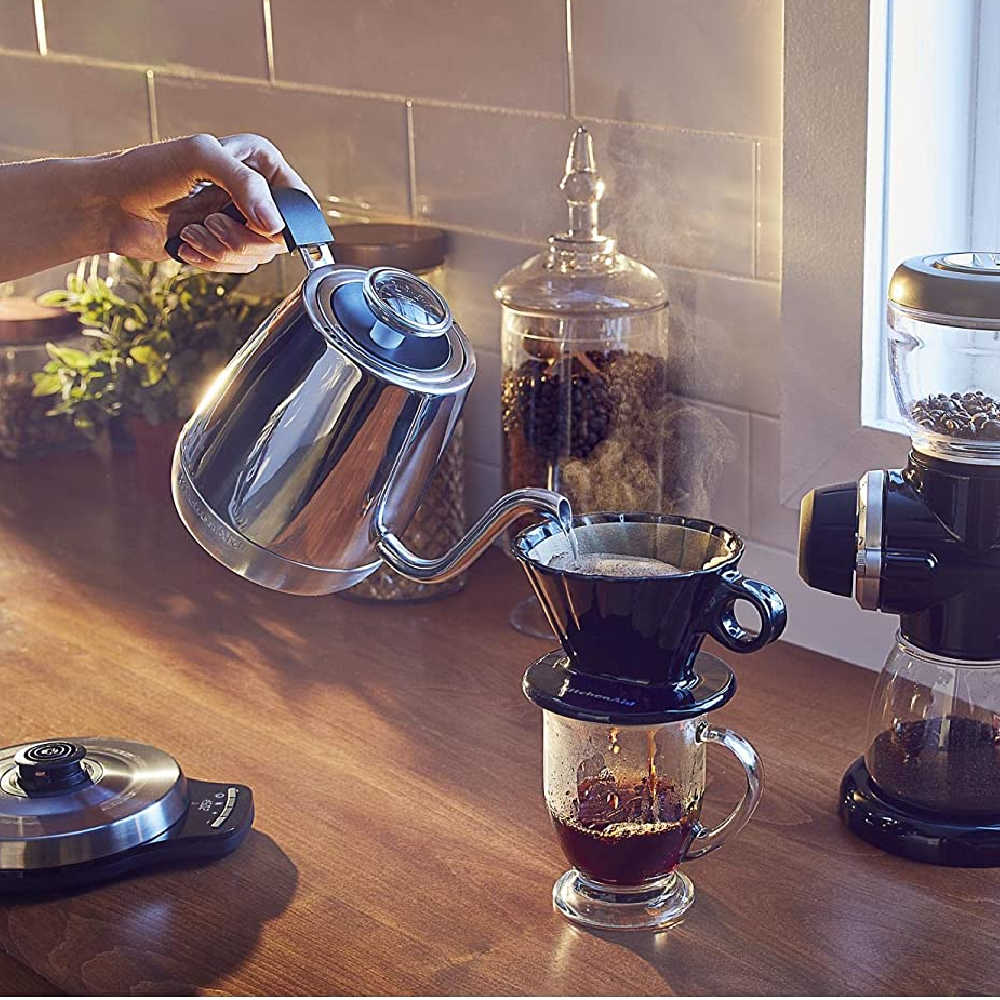 ---
Bonavita Digital Variable Temperature Gooseneck Kettle
What Makes It Catchy
Looking for an electric stainless steel kettle with precise temperature control? The Bonavita Digital Gooseneck Kettle is perfect for tea and coffee lovers who want to bring out the best flavor in their favorite brew.
With temperature control within one-degree increments between 140°F - 208°F, this kettle lets you choose the perfect temperature for green, white, oolong, black tea, pour over coffee or filter coffee.
There's even a 60-minute heat-and-hold function, so you can keep your water warm all day long. Plus, the real-time temperature display makes it easy to keep track of the water temperature.
Things In The Spotlight
This 1.7L kettle is easy to use, with a preset button that lets you scroll through common temperatures for tea and coffee brewing.
The long, slender gooseneck spout on this kettle gives you greater control as you pour hot water, making it ideal for delicate tea and coffee brewing.
The kettle also features a count-up timer, so you can keep track of the brewing process. With 1000 watts of power, this kettle heats up quickly, so you can enjoy your favorite beverage in no time.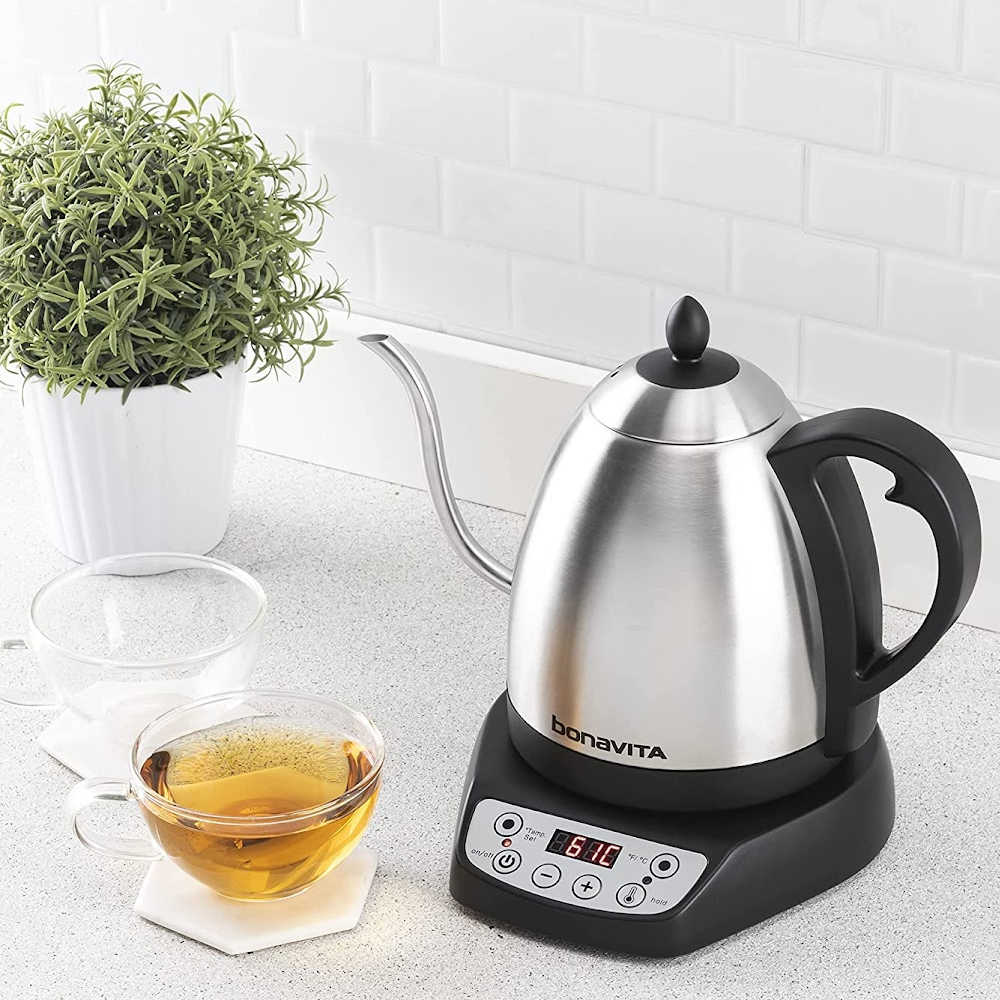 ---
OXO BREW  Electric Pour-Over Gooseneck Kettle
What Makes It Catchy
The Oxo Brew Gooseneck Kettle is a great choice for anyone who wants complete comfort in control over the temperature of their water.
With the ability to customize the temperature in one-degree increments from 140˚F - 212˚F / 40˚C - 100˚C, you can be sure that your water will be heated to the perfect temperature for any drink type.
The fast heating elements allow you to boil 1 quart (1 liter) of water in a matter of minutes. The kettle also includes a keep-warm function that keeps your water at the desired temperature for up to 30 minutes after boiling.
The kettle will turn off automatically after a set period of time for safety. In addition, the kettle's elongated spout and curved opening allows you to comfortably pour hot liquids more steadily and with greater control.
Things In The Spotlight
The Oxo Brew Gooseneck Kettle is ideal for the tea or coffee connoisseur. You can regulate the water flow to guarantee a constant pour-over brew thanks to its precise gooseneck spout.
The built-in temperature indicator on the base ensures that your water is at the correct temperature for a variety of beverages. The cordless design makes it easy to move the kettle when it's removed from its 360° swivel base.
The handle and lid knob allow for a firm grip and stay cool to the touch. The brushed stainless steel finish is an elegant addition to your kitchen countertop.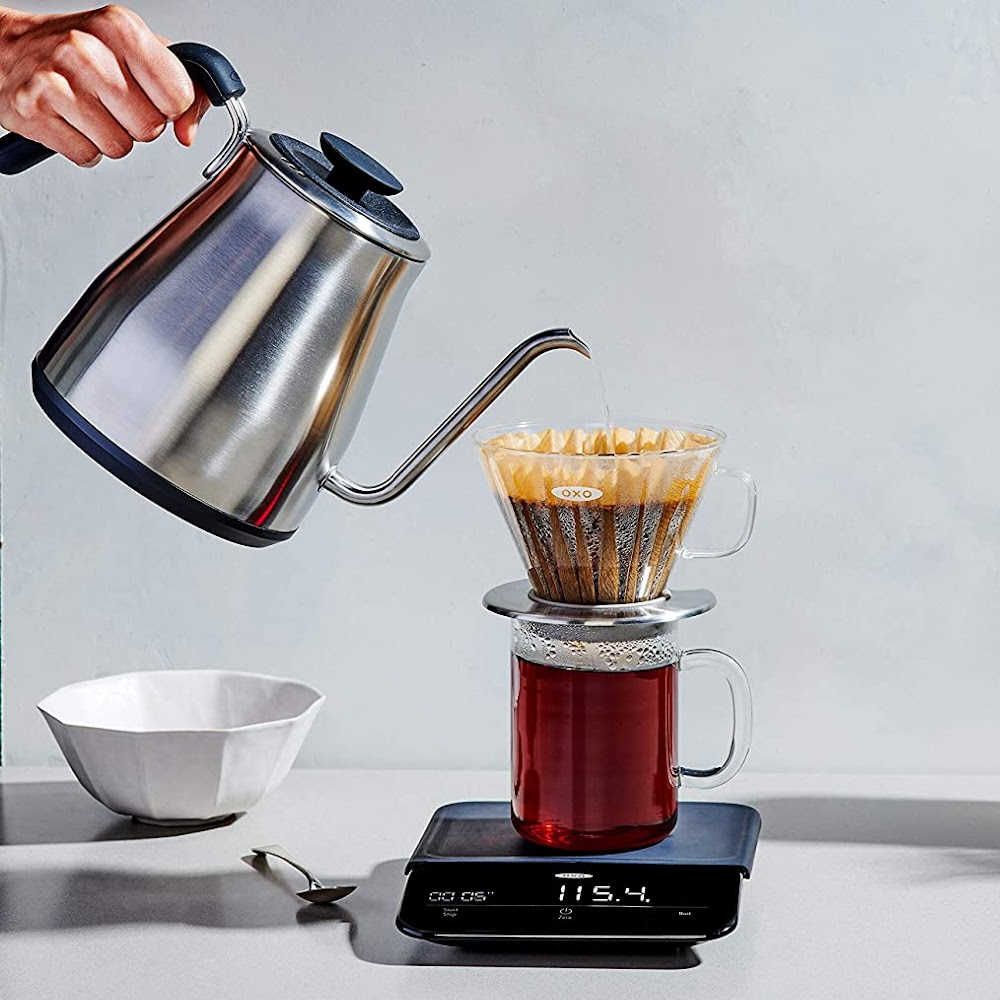 ---
COSORI Smart Bluetooth Electric Gooseneck Kettle
Best In Precision
COSORI Smart Bluetooth Electric Temperature Control Gooseneck Kettle
CHECK PRICE ON AMAZON
What Makes It Catchy
Looking for an electric kettle that provides precision pouring and temperature control? Then check out the COSORI Electric Temperature Control Gooseneck Kettle.
The VeSync app lets you do more with your kettle than ever before: easily connect to Bluetooth, set the desired temperature, schedule heating times and much more. The "Hold Temp" function keeps water warm for up to one hour, while the precision spout and counterbalanced handle help you pour steadily and easily.
This kettle features 4 precise temperature presets, ensuring that your coffee or tea leaves are never burned. The high precision temperature control maintains the water's temperature at a precise level of within ±5°F.
Things In The Spotlight
This kettle can boil up to 0.85 quarts of water in 1-5 minutes with 1200W power, making it perfect for all your hot water needs. The kettle's interior, lid, and spout are all constructed of food-grade 304 stainless steel, so you won't get a "funny" flavor.
Plus, the electric kettle features a ready tone that beeps 3 times when the water reaches the preset temperature. And if you need to, you can turn the beep alert off by pressing and holding "Hold Temp" for 8 seconds.
And with STRIX Thermostat Technology, you can enjoy safety features like auto shut-off and boil-dry protection. Once the water reaches a boiling point, Baby Formula Mode at "My Brew" preset will cool it down to a set temperature for safely heated baby formula.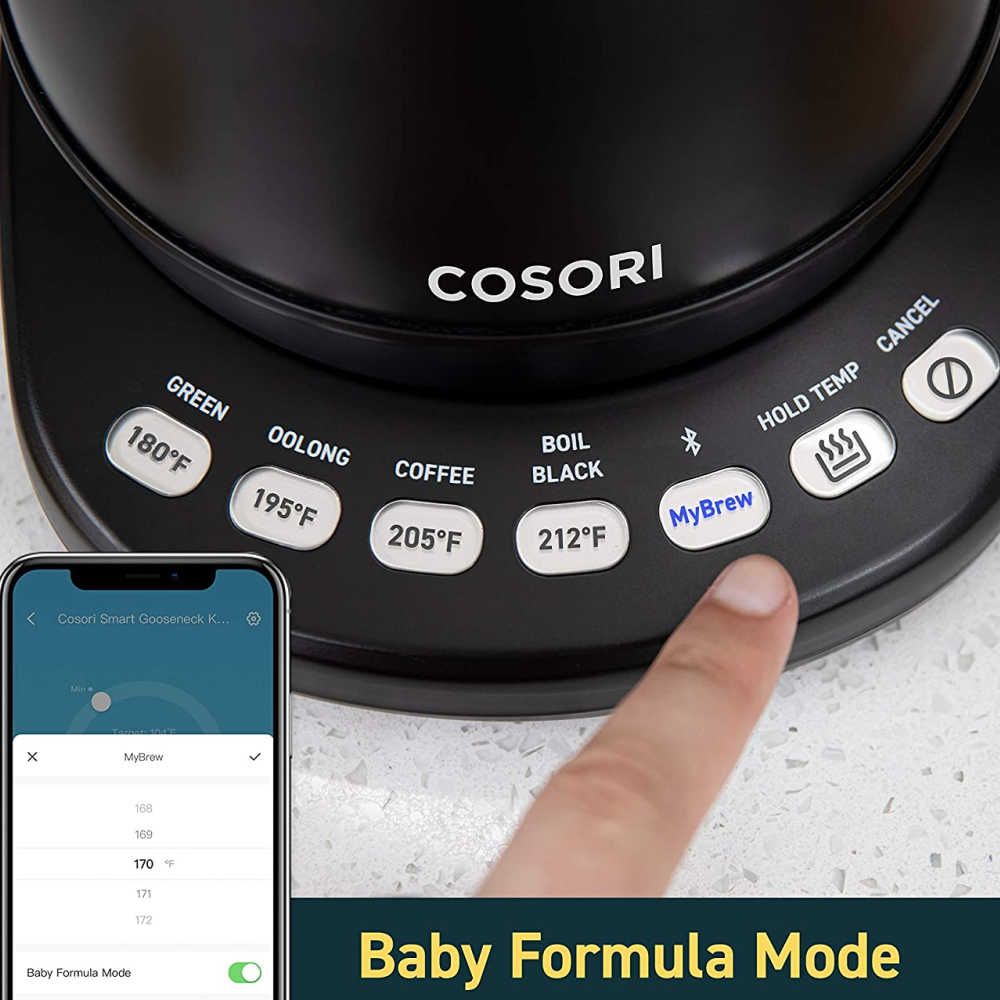 ---
Hario Buono Drip Electric Gooseneck Kettle
What Makes It Catchy
Looking for an elegant and minimalist way to make your morning coffee? With its sophisticated Japanese design, the Hario Electric Gooseneck Kettle is the perfect addition to any kitchen.
This sleek and stylish kettle is crafted from premium stainless steel and features a slender spout for precise pouring.
The ergonomic design makes it easy and safe to use, while the cordless design and quick heating function make it ultra-convenient. Plus, the auto-off function ensures that your kettle will never overheat.
Things In The Spotlight
This kitchen essential features a maximum capacity of 800mL and minimum capacity of 150mL, so you can easily boil water for manual tea or coffee brewing, or for other hot water-based beverages.
The controlled pour feature allows for a slow, steady and controlled pour, making it great for pour over coffee brewing. Plus, the ergonomic handle and the slender gooseneck spout enable precise pouring.
The Hario Buono Drip Electric Gooseneck Kettle is an essential appliance for any coffee lover who wants to make the perfect cup at home.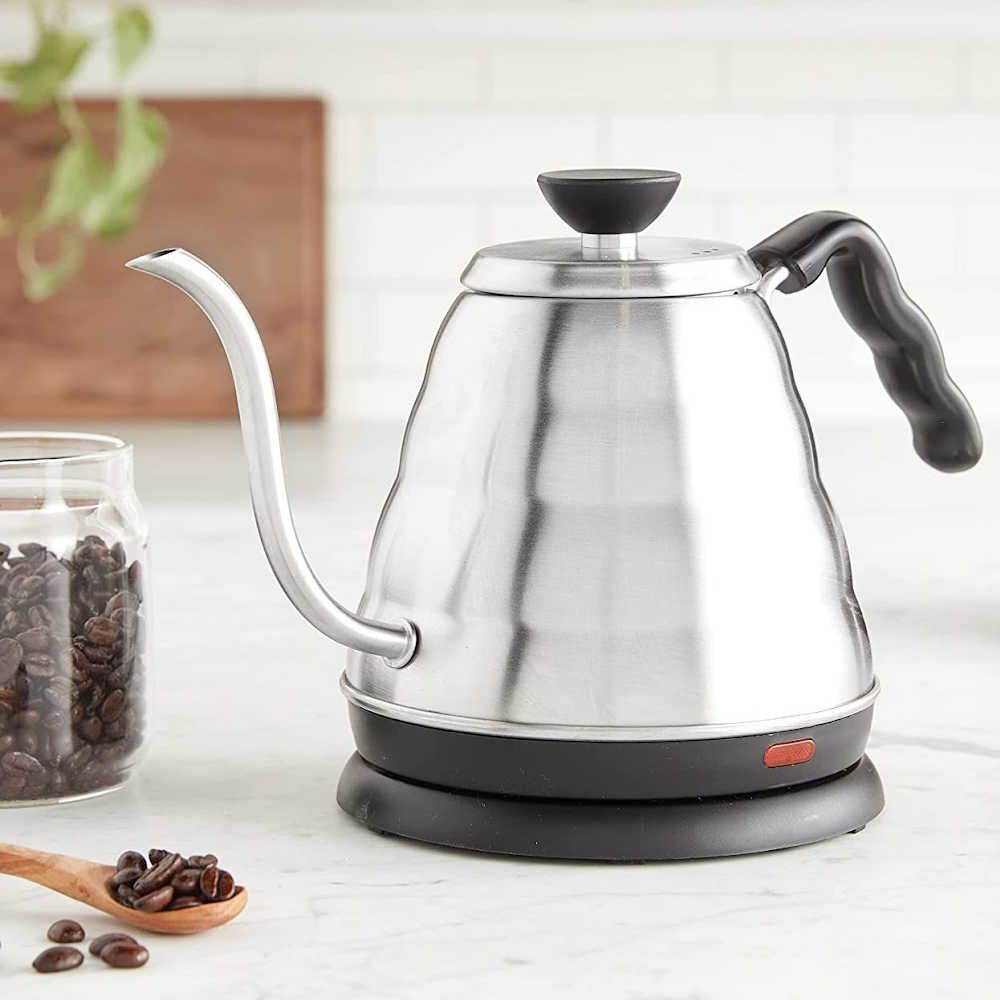 ---
Bodum Melior Electric Gooseneck Kettle
What Makes It Catchy
This budget-friendly kettle features a gooseneck spout for precise pouring, and a 360˚ swivel base. It's an ideal bet for those who want to make a perfect cup of tea or coffee at an affordable price.
You may easily regulate the speed and consistency of the water flow, ensuring that your ground coffee beans are properly extracted and giving wonderful taste and fragrance.
The specially shaped spout allows for optimum water flow control, making it easy to get the perfect ratio of water to the ground coffee. Plus, it pairs perfectly with Bodum's pour-over coffee makers.
Things In The Spotlight
The sturdy stainless steel and natural, long-lasting cork of this 27-ounce kettle make it stylish and long-lasting. European cork is used to make the handle as well as the knob, which is both natural and environmentally friendly.
The comfortably designed handle and knob protect your fingers from heat, while the precisely formed shape provides a pleasant grip. The safe, robust base boils water at the touch of a button and includes an indication light and automatic shut-off for added protection.
Whether you're a coffee aficionado or simply looking for an easy-to-use kettle, the Bodum Melior is your great choice.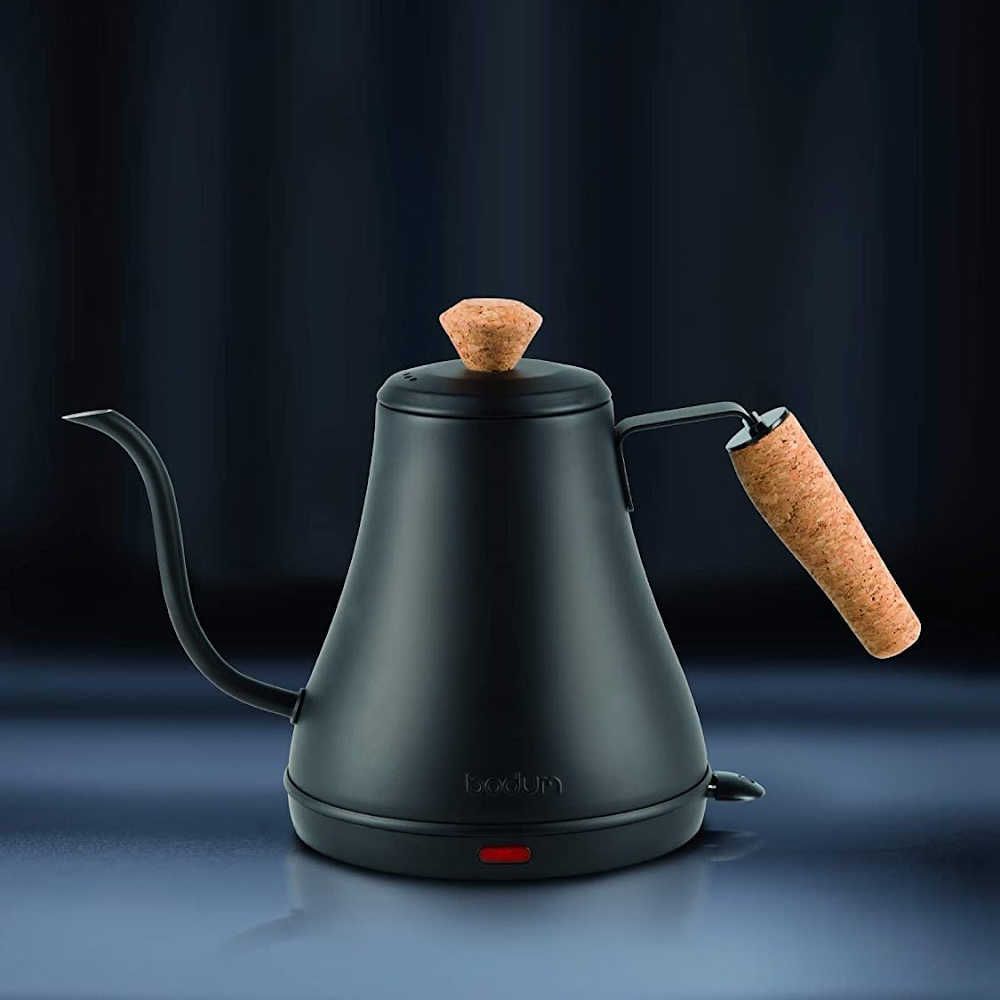 ---
Electric Gooseneck Kettle FAQs
Thinking about purchasing an electric gooseneck kettle? Before you take the plunge, though, you probably have some questions. Here are answers to some Frequently Asked Questions (FAQs) about Electric Gooseneck Kettles. Read on!
What are different types of gooseneck kettles?
There are many different types of gooseneck kettles. Some of the most popular include:
Stovetop gooseneck kettle: a stovetop kettle is the most common type of gooseneck kettle. These kettles are made from a variety of materials, including stainless steel, cast iron, carbon steel and aluminum. Some have a built-in thermometer (or temperature gauge), to help monitor the water temperature.
Electric gooseneck kettle: an electric kettle has a base, that connects to a power source, so no need for a stove. These kettles are usually made of stainless steel. They come with variable temperature control or preset temperatures, and a LED screen.
Tea kettle: some people like to keep their tea warm in a stovetop gooseneck kettle, or a gooseneck-shaped tea pot. But a tea kettle is basically a gooseneck kettle, that the owner uses exclusively to boil water for tea.
Coffee kettle: like the tea kettle, some coffee lovers like to use a stovetop gooseneck kettle to keep their coffee warm. But basically, a coffee kettle is a gooseneck kettle, that the owner uses exclusively to boil water for brewing coffee.
No matter what your needs are, there is a gooseneck kettle out there that is perfect for you!
What is the difference between an electric gooseneck kettle and an ordinary electric kettle?
There are a few key differences between gooseneck kettles and ordinary kettles.
The most apparent difference is that gooseneck kettles have a long, slender neck that allows for more precise pouring. This design makes them ideal for controlled boiling and steeping of tea, as well as other careful uses like pour over filter coffee, melting chocolate or making French press coffee.
Another distinguishing feature of gooseneck kettles is their heating element.
Ordinary electric kettles use resistive heating elements that get hot and produce heat in direct contact with the water. Gooseneck kettles, on the other hand, use induction heating elements. These work by generating a magnetic field in the kettle that produces heat indirectly in the water. This results in more even heating, which can be helpful when trying to avoid hot spots or scorching.
Finally, electric gooseneck kettles often come equipped with additional features like temperature control. This can be helpful if you want to maintain a specific temperature for your beverage or if you want to avoid boiling over.
Overall, electric gooseneck kettles offer a more precise and controlled way to boil water, making them ideal for those who want the perfect cup of coffee or tea.
What are the best electric kettles on the market?
There are a lot of different electric kettles on the market, and it can be tough to decide which one is the best for you. Some factors you may want to consider when choosing an electric kettle include price, materials, capacity, features, and brand.
Price is always important, and you'll want to find an electric kettle that fits your budget. Materials play an important role. Stainless steel is common, but there are other options as well. Capacity is of course important – you'll want to make sure the kettle can hold enough water for your needs.
If you're looking for a model with extra features, there are plenty of options out there with different bells and whistles, from determining the exact temperature for drip coffee to ensuring your morning coffee ritual is not disturbed by different tasting coffee.
And finally, brand is always important – some people prefer well-known brands while others are more likely to go with a lesser-known brand if it means getting a better price. One aspect of brand is that well-established brands usually provide professional customer service, repair and spare parts.
Why? Their brand reputation is their no. 1 success (read: survival and profit) factor. This is mainly determined by the way their customers exchange their experiences with the brand, including their customer service.
Nowadays, online, in users' or consumers' platforms. So, we coffee drinkers and tea drinkers are now a force to be reckoned with.
What is the best electric gooseneck kettle?
The best electric gooseneck kettle is without a doubt the Fellow Stagg EKG Electric Pour-Over Gooseneck Kettle. Fellow is a new kid on the block, but succeeded in learning the best from the best, and add some more.
This kettle has settings for boiling and keeping warm, an automatic shut-off function, it often has a built-in timer, quite often you'll see a variable temperature kettle, and it will always feature a stay-cool handle and knob.
The goose neck allows for precise pouring, while the water level indicator window ensures that you don't overfill the kettle.
Not to mention, besides its top performance, it looks great on any kitchen counter!
What is the point of a gooseneck kettle?
There are a few key benefits to using a gooseneck kettle for coffee or tea.
First, the narrow spout provides more control over the pour, which is important when trying to achieve a consistent result with pour, whether it's over a coffee filter, or tea leaves.
Second, the gooseneck kettle heats water more evenly than a standard kettle. When pouring with a gooseneck kettle, the water temperature decreases a little bit, preventing hot spots that can scald the coffee or tea leaves.
Finally, many coffee and tea aficionados believe that the shape of the gooseneck allows for a smoother pour, resulting in a richer flavor. And you know what? They are right!
Is a gooseneck kettle worth it?
There is no simple answer to this question since there are a lot of factors to consider when making a purchasing decision like this.
For some people, a gooseneck kettle is worth the extra money because it provides superior pouring accuracy and control during the brewing process.
This can be particularly helpful when making pour over coffee or tea. Gooseneck kettles also tend to have slimmer spouts which can help minimize splash back and cleanup later on.
On the other hand, some people may find that a regular kettle works just fine for their needs. Gooseneck kettles can be more expensive than traditional designs and may not offer enough of an improvement in performance to justify the added cost.
There is a factor at play which may be real for some, but hard for others to understand. To me, a gooseneck kettle brings me back to my early youth, when my grandmother would boil water on her kitchen stove with her old, beaten gooseneck kettle to brew tea. Delicious tea.
For others, as I've noticed, there seem to be "retro" or even aesthetic considerations at work, or both. Fact is, all over the world, goosenecks in this day and age are no longer old-fashioned, but have returned to the center-stage in the world of kettles.
Ultimately, it's up to you to decide whether a gooseneck kettle is worth the investment!
What is the difference between a coffee kettle and a tea kettle?
Actually, there is no difference. Both terms refer to a kettle with a gooseneck. Coffee lovers call this kettle coffee kettles, and tea lovers call it tea kettles. Lovers of both coffee and tea will usually call it just "coffee kettle", "tea kettle" or (correctly) gooseneck kettle.
And to make sure there is no confusion to the purpose of a kettle: you don't brew coffee in coffee kettles or tea in tea kettles. You use a kettle - any regular kettle - to boil water. You brew coffee in a coffee pot, and tea in a tea pot.
That's all there is to it!
Why are gooseneck kettles popular?
Gooseneck kettles are popular because they allow for a more precise pour, which is ideal for making coffee or tea. The gooseneck design on these kettles curves inward, which helps to create a more controlled stream of water.
This allows the user to easily achieve the perfect temperature and flavor when brewing their favorite beverage. And it all starts with your favorite gooseneck kettle!
Do I need gooseneck kettle for French Press?
A gooseneck kettle is not necessary for a French Press, but it can be helpful. The long, thin spout on a gooseneck kettle helps to pour water precisely over the coffee grounds, which is ideal for making a great cup of French Press coffee. If you don't have a gooseneck kettle, you can still make good French Press coffee by pouring slowly and steadily over the grounds.
Do I need an electric kettle for pour over coffee?
No, you don't need one for pour over coffee. You can use any type of kettle as long as it has a spout that is narrow enough to allow for controllable pouring. However, if you don't have an electric kettle and you're looking to buy one, then I would definitely recommend getting one.
They're not expensive, and they make the process of making pour over coffee much easier. Plus, they heat water faster than stovetop kettles, so you won't have to wait as long for your water to reach the desired temperature.
When you have decided to buy one, think about getting a regular electric kettle, or a one with a gooseneck. They both can do the job, but the gooseneck has advantages such as more control over the water temperature and the brewing process. Finally, try to find the best gooseneck kettle.
Can you make pour-over coffee without a kettle with a gooseneck?
Yes. Here's how to use a gooseneck to make pour-over coffee:
1. Boil water and let it cool for about 30 seconds. This will ensure that your coffee isn't overcooked.
2. Place your coffee filter on your pour-over coffee maker, wet it with hot water to preheat it, and get rid of any paper taste. Discard the water.
3. Add your coffee grounds to the filter. Start by pouring a small amount of hot water over the grounds, just enough to wet them. Wait 30 seconds for the coffee to "bloom" or expand. This allows the gases to escape and results in a better-tasting cup of coffee.
4. Now begin pouring the rest of the hot water in a slow, steady stream. The goal is to keep all of the grounds saturated without over-extracting the coffee. Once all of the water has been added, remove the filter and discard the grounds.
Pour your coffee into a mug and enjoy!
How do you use a gooseneck kettle for pour-over coffee?
Just follow the steps to brew great pour-over coffee:
Before you start, heat up the water to your preferred temperature.
Then, wet the coffee grounds in the filter with a little bit of water.
After that, place the gooseneck kettle over the filter with ground coffee on coffee pot or cup, and pour slowly in a circular motion.
Once all of it is poured over, wait for around 30 seconds so that brewing can occur. Be patient.
Remove the filter and enjoy!
Can you use gooseneck kettles for tea?
Gooseneck kettles are popular for tea brewing because they allow for a more precise pouring of water over the tea leaves. This is important because if too much or too little water is used, it can affect the flavor of the tea. In general, a gooseneck kettle is a good investment if you enjoy brewing tea often.
Does a gooseneck kettle whistle?
Yes, a gooseneck kettle whistles because the steam builds up pressure and causes the air to escape in a high-pitched whistle.
How do you clean a gooseneck kettle?
Fill the kettle with equal parts white vinegar and water. Bring to a boil, then turn off heat and let sit for 10 minutes. Rinse well with cold water. Avoid the dishwasher.
Are expensive kettles worth it?
If you're just looking for a standard kettle to heat up water for tea or coffee, then an expensive model probably isn't worth it.
However, if you're looking for a kettle with advanced features like temperature control or a built-in timer or a spout that enables a precise pour over, then spending more money may be worthwhile. Ultimately, it depends on your needs and budget.
If you're passionate about drinking tea or coffee, like to try out filter coffee recipes, and want to get the most out of each cup, then investing in a high-quality kettle is a good idea. There are many different types of kettles on the market today designed to cater to different needs and preferences.
Some of the high-end models can cost quite a bit, but most kettles in this category offer features and deliver quality that cheaper models simply can't match.
---
The Best Electric Gooseneck Kettle For You
We hope you found this post helpful and that it has given you a better idea of what to look for when shopping. Which one out of these 7 picks is your choice?







If you're still on the hunt for other kitchen appliances, be sure to check out some of our other posts. We cover everything from food processors to coffee makers and beyond.
Thanks for reading!
Catchy Finds