There are many manual coffee makers on the market these days, and it can be hard to decide which one is the best for you.
Many types: French presses, cold brew coffee makers, drip coffee pots using pour over technique, moka pots, and ingenious devices that make espresso-like coffee.
The coffee industry has evolved, the number of coffee products have exploded, but the manual brewers persist. Many believe it makes the best coffee, better than the most expensive, quality espresso machines.
That's why we've done dozen hours of research and put together a list of the top six manual coffee makers available today. We'll help you decide which one is the right coffee maker for you.
So whether you're looking for an inexpensive manual coffee and espresso maker or something a little more luxurious, we've got you covered!
---
💡
We participate in the Amazon Associates Program, if you buy a product with the links that we provide, we may receive a small commission from Amazon. There is NO additional cost to you!
---
Catchy Finds' 6 Picks In The Spotlight





---
Bialetti Brikka Moka Pot Espresso Coffee Maker
Best Choice For Its Flavor Retention
Bialetti Brikka Moka Pot - 4 Cups Espresso Coffee Maker
Check Price On Amazon
What Makes It Catchy
The new technology with silicone membrane, combined with the characteristics of the Bialetti Moka Express, ensures a result in the cup similar to the espresso in the coffee shop: full-bodied, intense and with a lovely cream.
Bialetti Brikka is the only stovetop coffee maker delivering an intense and crema-rich espresso coffee, with an unmistakable intense flavor.
The Bialetti Brikka is made in Italy by the firm whose founder invented the original moka pot, in 1933. Its iconic image is an elegant, moustachio'd gentleman.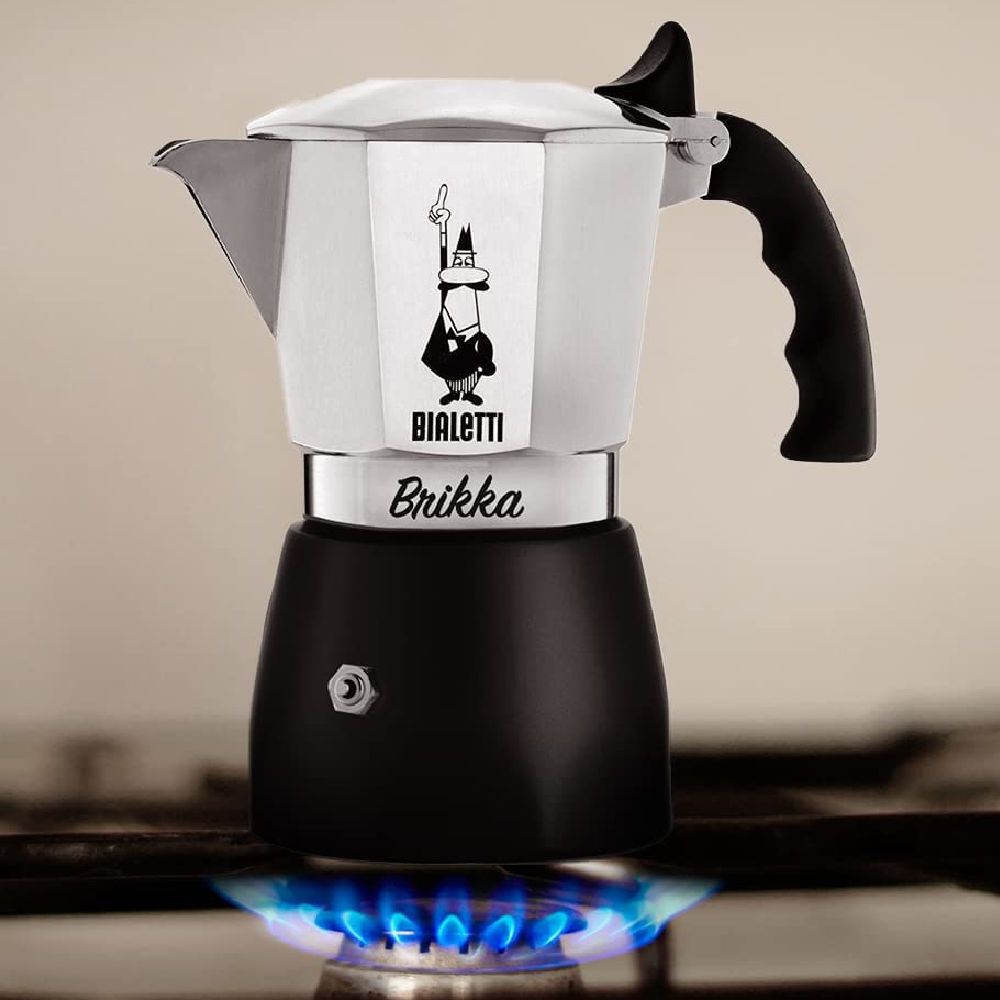 Things In The Spotlight
A moka pot offers the easiest way to prepare coffee: use the measuring cup to collect ground coffee, fill the boiler with water, put the filter back, add coffee, close the pot, place on the burner, start the fire, when it starts to gurgle, turn off the fire and wait for the coffee to be fully extracted.
The Brikka is available in 2 sizes: a 2-cup 3,4 oz espresso, and a 4 cup 5,7 oz espresso .
This pot is suitable for gas cooktops, electric stove top and propane camping stoves. If you have an induction cooktop, you will need the Bialetti adapter plate for induction (sold separately).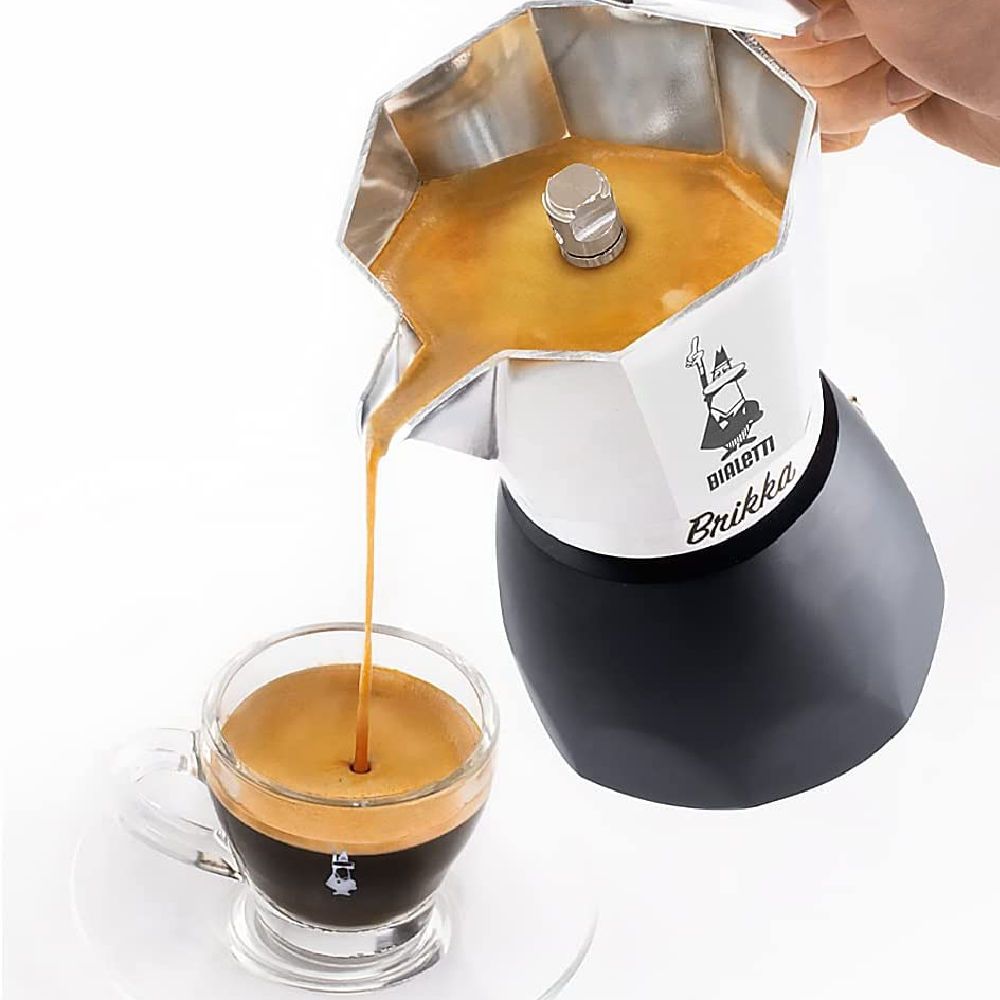 ---
Bialetti French Press 8 Cup Coffee Maker
What Makes It Catchy
Bialetti's Preziosa 8-Cup French Press provides the simplest method of making traditional, rich coffee. French presses are perfect for preparing a filtered coffee, but also ideal for the preparation of infusions and herbal teas.
You can make rich filtered coffee for 3 cups, 5 cups or 8 cups. It allows coarse ground coffee (and also, tea leaves) to infuse completely in heated water to ensure optimal flavor and oil extraction.
Its stainless steel filter system, the use of durable materials, and an anti-burn handle for a firm and safe grip make this Bialetti a must-have.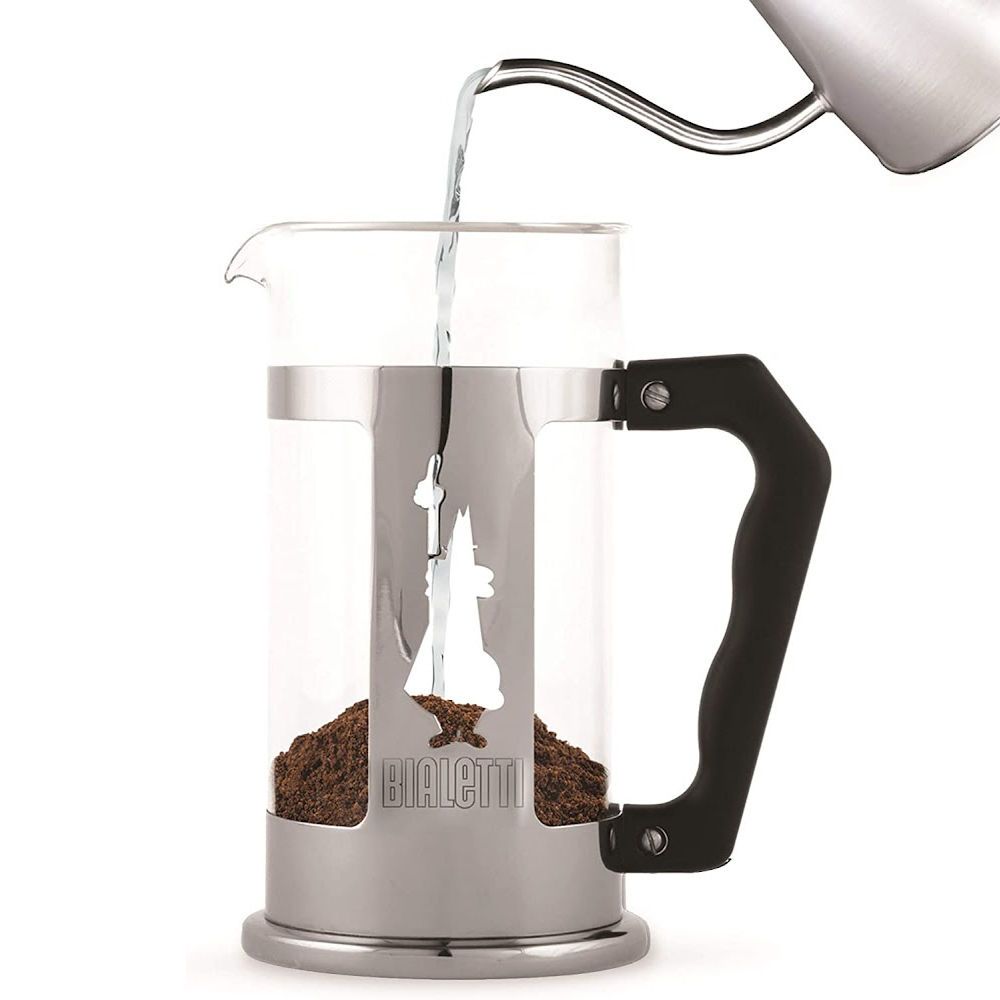 Things In The Spotlight
Made of 18/10 stainless steel and a 34 ounce glass cylinder, this Italian design French press is made of the highest quality materials.
The l'Omino (the little man) is featured front and center, world-widely recognized and Bialetti's original symbol of quality and authenticity.
The stainless steel fine mesh plunger and filter prevent grounds from getting into your cup. The borosilicate glass beaker can be removed from the stainless steel frame for easy cleaning, and it is dishwasher safe.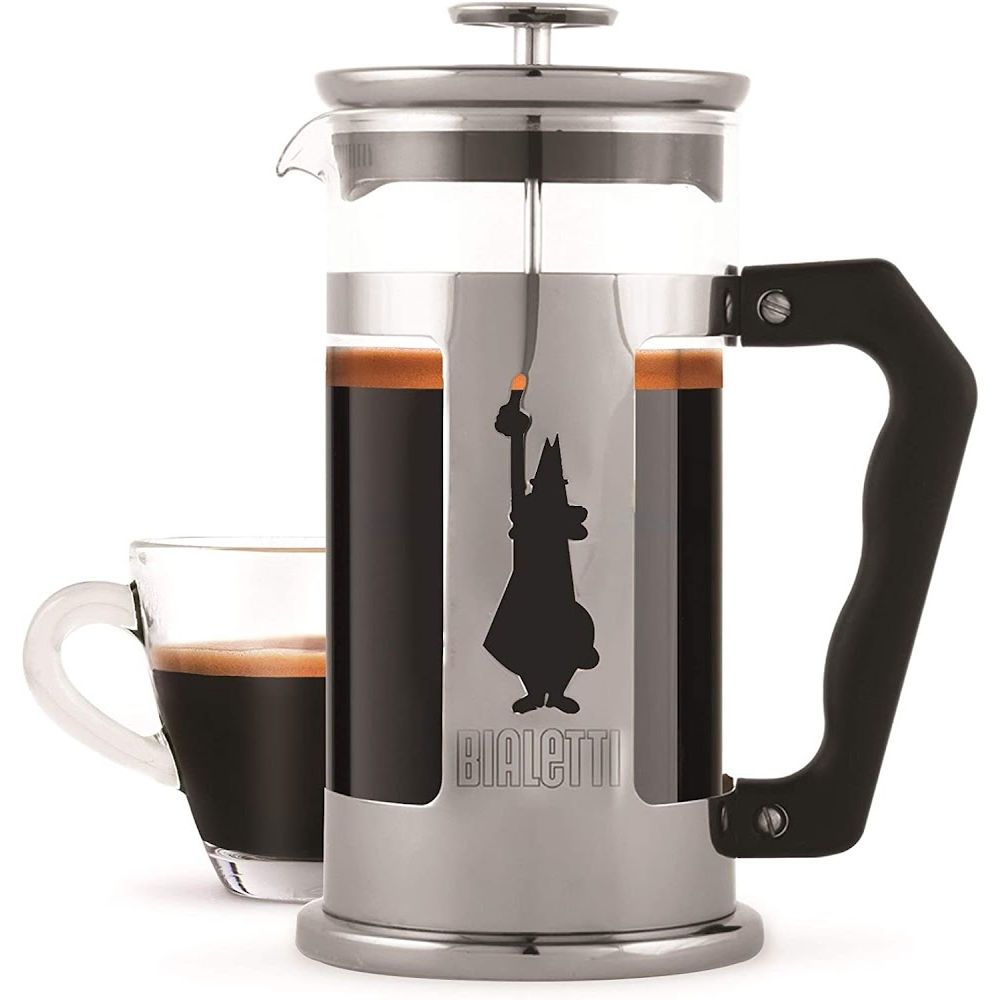 ---
Bodum Brazil French Press 12 oz Coffee Maker
What Makes It Catchy
This famous French press coffee maker is the simplest of all brewing systems, where coarsely ground beans meet hot water right off the boil.
The right temperature (92–96 °C, 195–205 °F) brings the optimal extraction power for the essential oils in the beans to develop their full flavor profile in just four minutes.
An easy press on the plunger locks the grinds at the bottom of the glass carafe and stops the brewing process.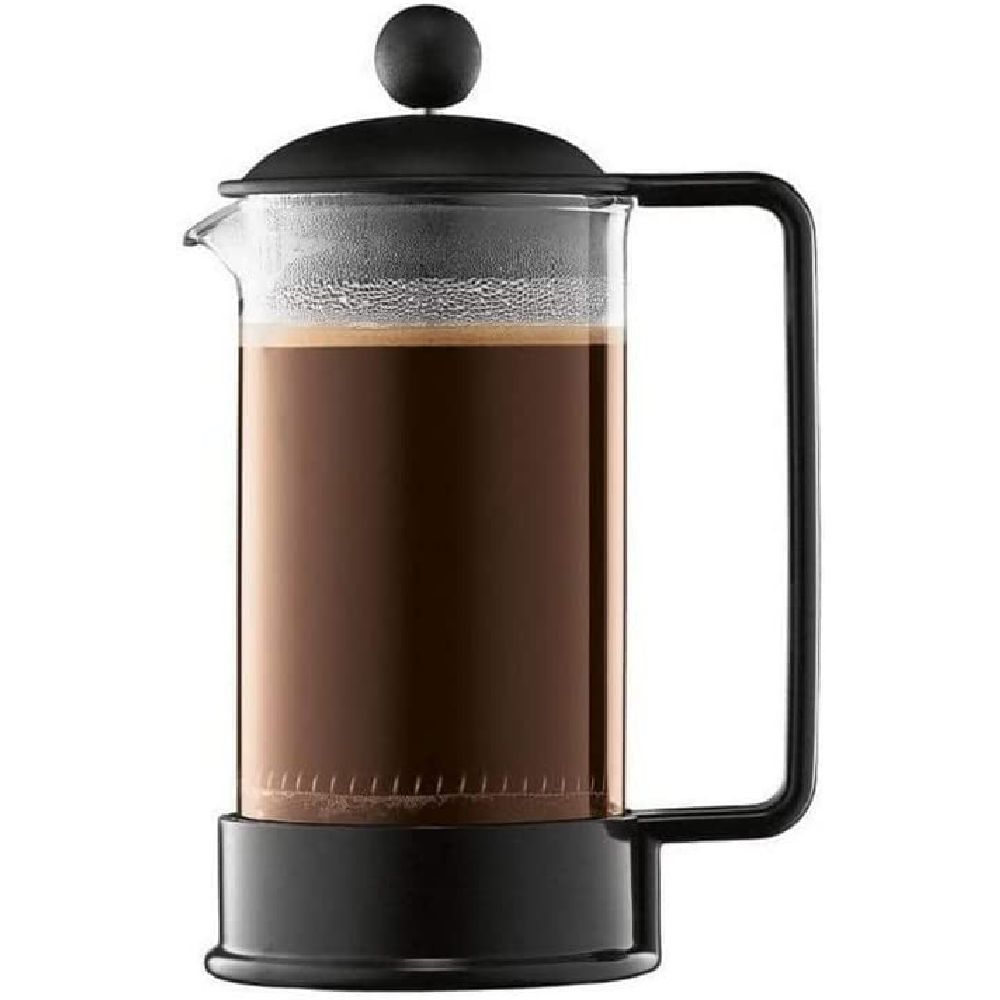 Things In The Spotlight
The beaker is made of heat resistant borosilicate glass, while filter and plunger - a key component to the Bodum coffee makers are made of stainless steel. The body, handle, & lid made of BPA free plastic.
This French press brews delicious coffee. It separates the ground coffee beans from the water after the brewing has stopped.
No need for paper filters and capsules; no waste. Just add coarsely grounded coffee, press the plunger, wait a few minutes, and enjoy!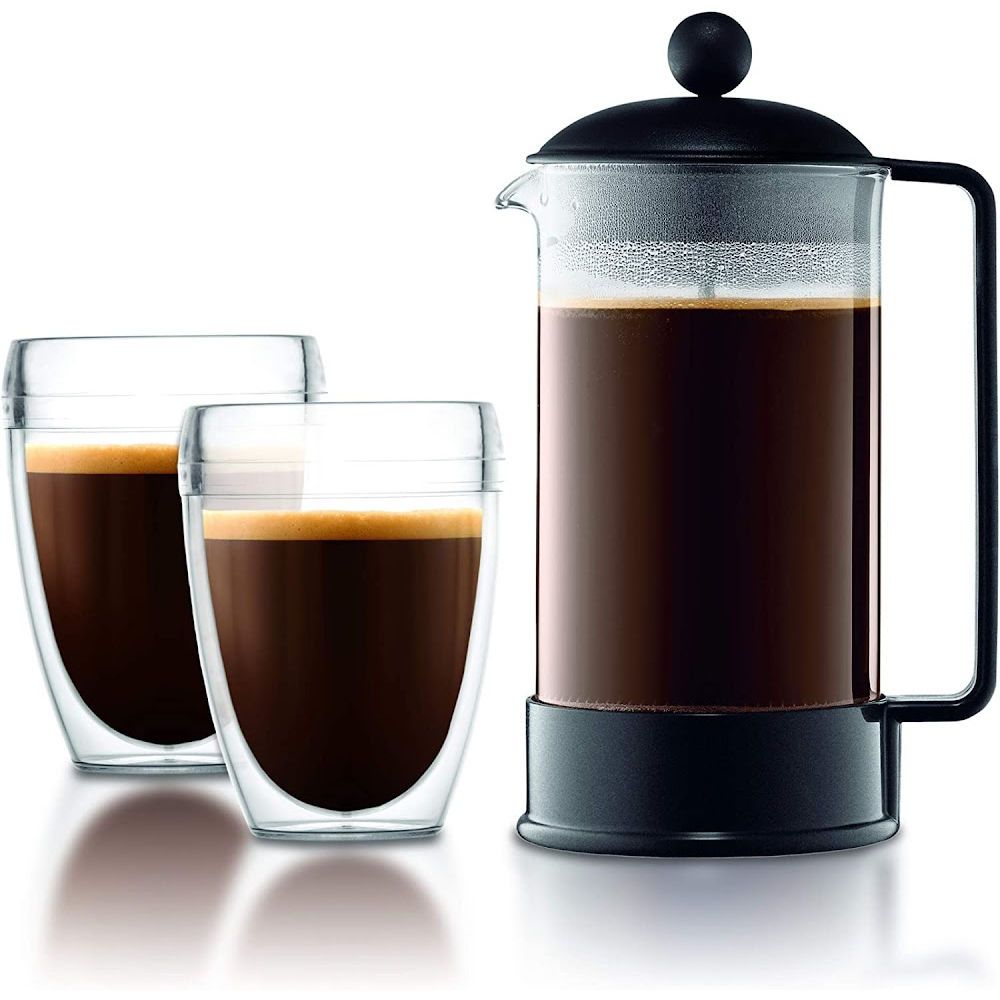 ---
Bodum 34 Ounce Pour Over Coffee Maker
What Makes It Catchy
The Bodum 34 oz. pour over coffee maker has a fine mesh stainless steel filter that eliminates the need for paper filters. This promotes the pure unfolding of the flavor - no more paper filters that trap the essential oils and flavors.
The carafe is made with borosilicate glass; which one the most temperature-resistant glass types you can buy. The cork band keeps your grip strong and your hands cool when pouring a delicious cup.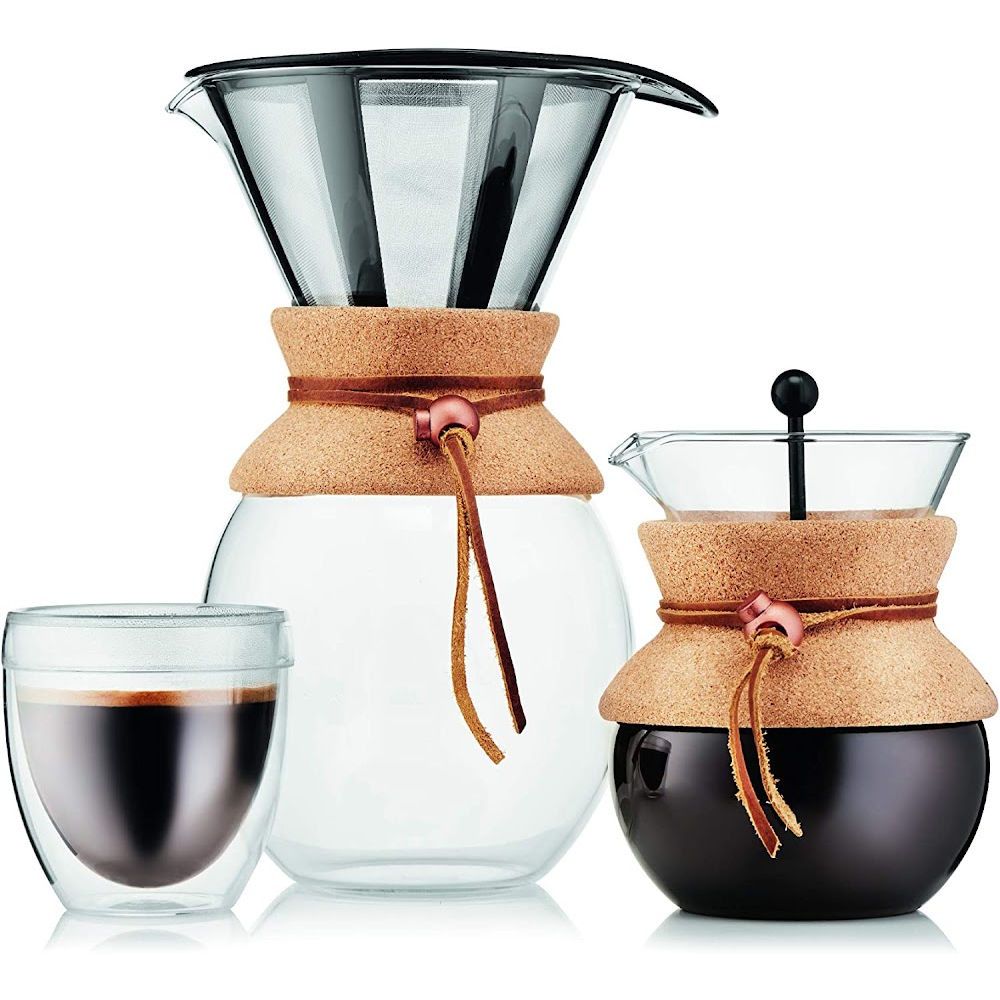 Things In The Spotlight
The included stainless steel permanent filter eliminates the need for wasteful paper filters and is dishwasher safe. It helps extract your coffee's aromatic oils and subtle flavors instead of being absorbed by a paper filter.
Brewing is quick and easy. Add coarse ground coffee to your filter, then pour a small amount of water in a circular motion over the grounds. Wait for the coffee to soak, then add the remaining water and let it drip through and brew.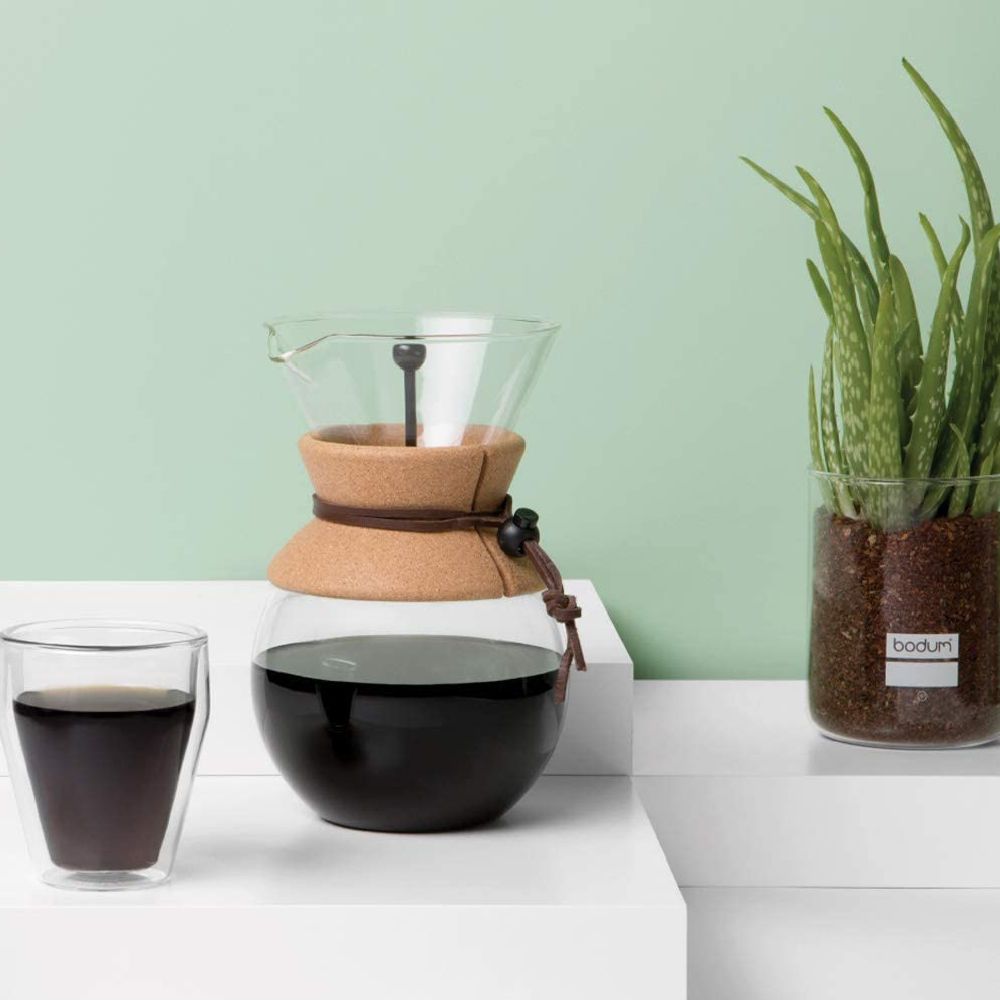 ---
AeroPress Original Coffee and Espresso Maker
What Makes It Catchy
The AeroPress Original Coffee and Espresso Maker, the best choice for coffee enthusiasts looking for a versatile and easy-to-use brewing system.
The patented AeroPress uses a unique total immersion brewing process to produce smooth, delicious coffee in just a matter of minutes.
Its brewing system quickly creates coffee that is free of the bitterness and high acidity often created by lengthy steeping times required by French press systems.
With the ability to make 1-3 cups of American coffee per pressing, as well as espresso-style coffee for lattes and cappuccinos, the AeroPress is the perfect all-in-one solution for all your coffee needs.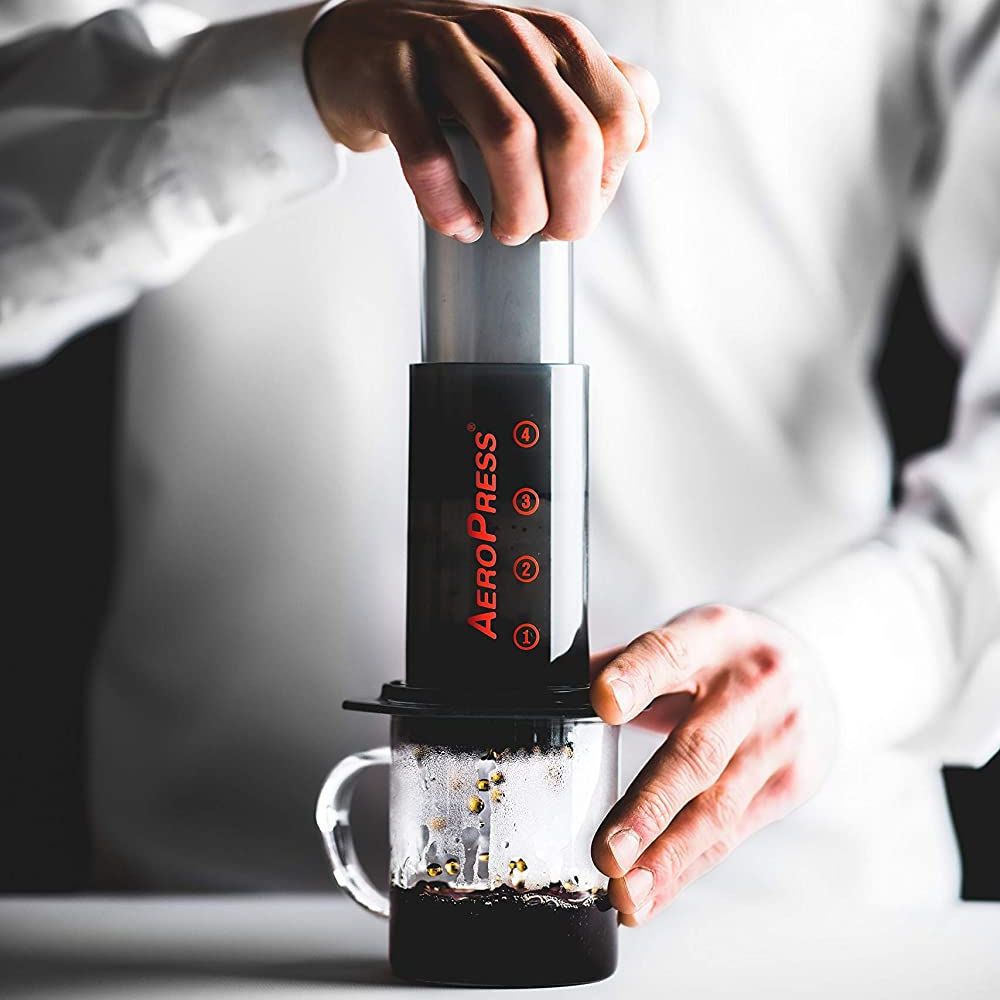 Things In The Spotlight
With a sturdy polypropylene construction, this coffee maker is built to last. The silicone seal and paper filters are also tough and durable, meaning you can enjoy your coffee for years to come.
Plus, all of the plastic materials used in this coffee maker are free of BPA and phthalates and made in the USA, so you can be confident enjoying your cup. Additionally, the AeroPress paper microfilter eliminates grit, making clean up quick and easy.
It's lightweight and compact, making this coffee maker suitable for traveling, camping, and backpacking thanks to its portable design. It will fill the room with lovely espresso smells - at home, or on the go, when you're travelling, in your tent!
---
Vietnamese 8oz. Coffee Press Filter Coffee Maker
What Makes It Catchy
Looking for an efficient and easy-to-use coffee maker? Look no further than the Vietnamese 8 oz Coffee Press Filter Coffee Maker.
Vietnamese coffee is often brewed using a phin, a small metal filter that helps to give the coffee its signature strength.
This small, simple-to-operate coffee maker creates a rich, strong coffee flavor. Perfect for hot or iced coffee, black or with condensed milk (cafe sua da), the slow dripper brews a perfect cup of Vietnamese coffee.
Just add Vietnamese coffee and pouring hot water makes a perfect single serve cup of coffee. Order yours today and enjoy the rich flavor of Vietnamese coffee!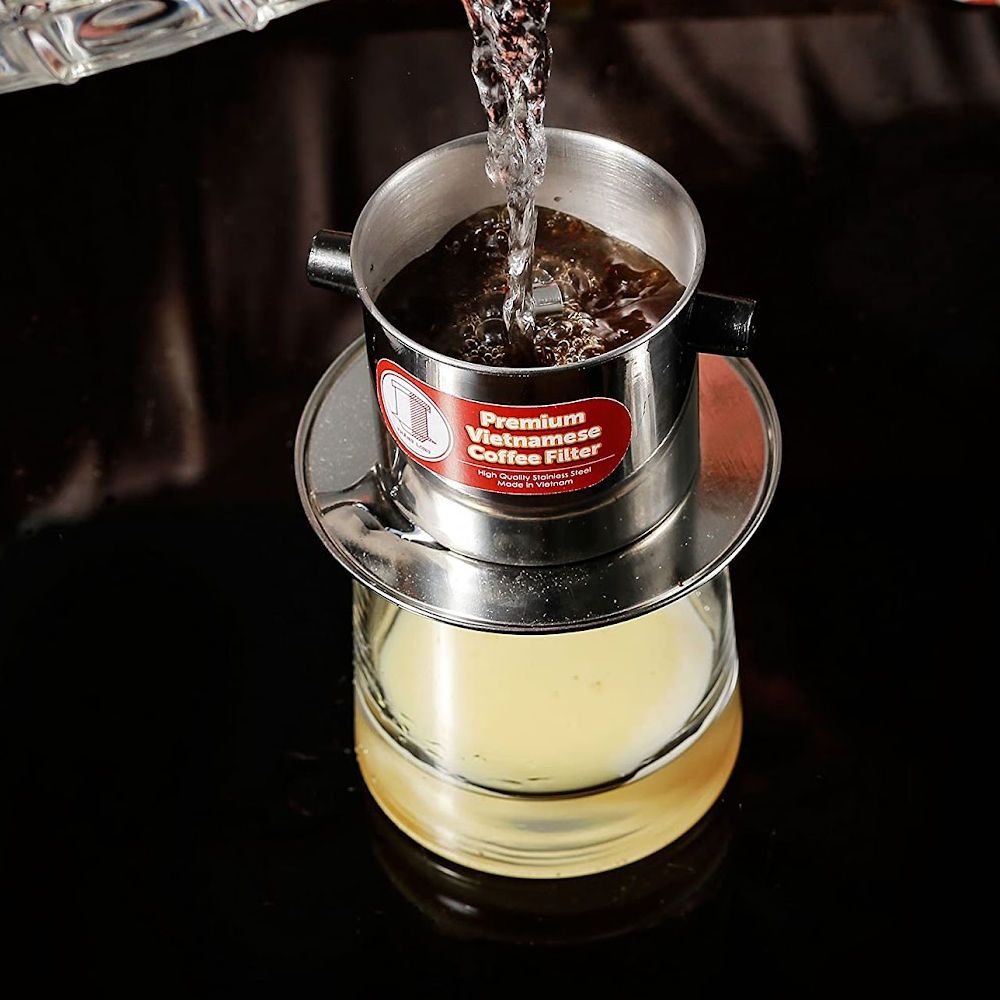 Things In The Spotlight
Made in Vietnam out of high quality stainless steel, this coffee brewer is the perfect way to make traditional ground Vietnamese coffee, like the Trung Nguyen brand.
The coffee beans used to make Vietnamese coffee are robusta beans. These have a higher caffeine content than other varieties of coffee beans. This results in a coffee that is both strong and flavorful. Vietnamese coffee is unique in both its flavor and its history.
The gravity insert on this Vietnamese coffee filter is easier than the screw down type, and it comes with pictorial instructions so you can enjoy your delicious cup of coffee in no time!
Looking for a delicious and authentic way to enjoy your favorite coffee? Look no further than the Vietnamese 8 oz coffee maker!
As a personal note: for the past 15+ years I have been brewing our morning cup of Vietnamese Trung Nguyen coffee. A sign? Perhaps.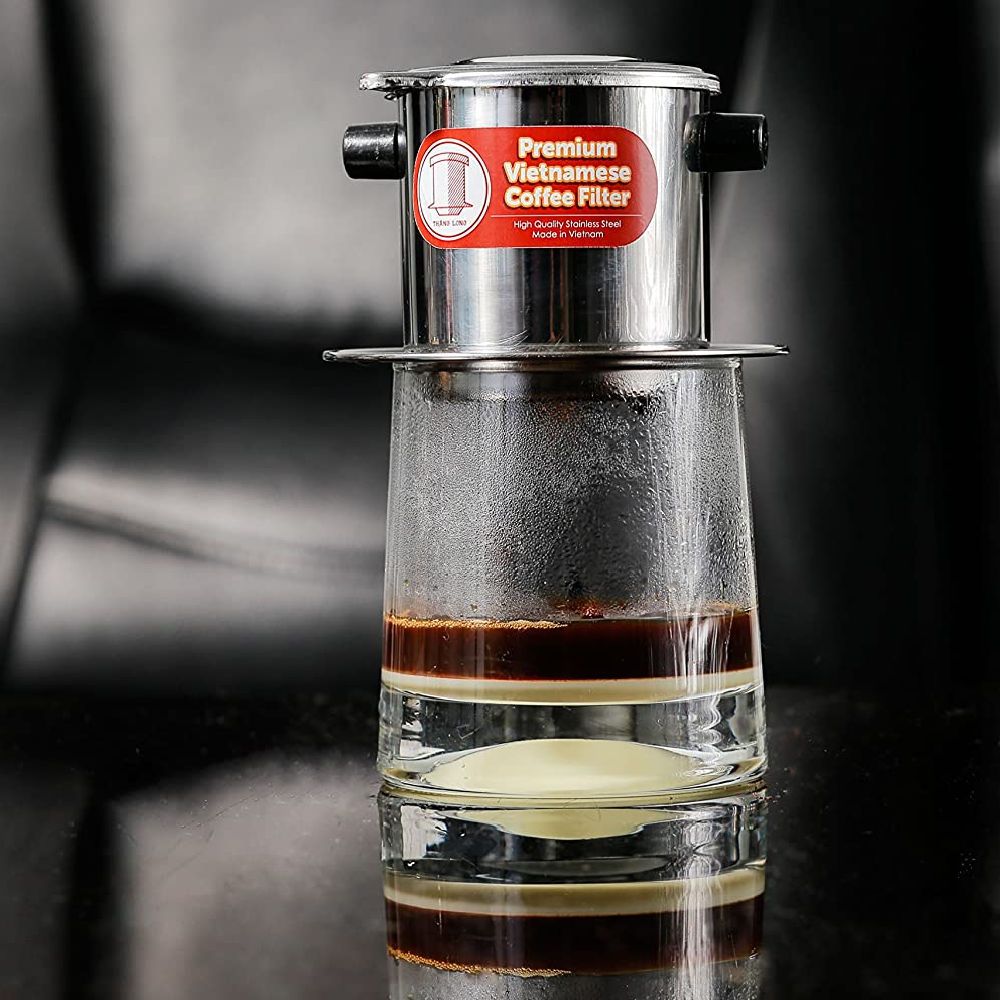 ---
Manual Coffee Makers FAQs
Did you know that coffee is the most popular drink in the world? It is estimated that over 2.25 billion cups of coffee are consumed every day.
Whether it's a morning ritual or an afternoon pick-me-up, chances are you are one of those people who love coffee. If that's the case, you should know about manual coffee makers.
Nowadays, most people find it easier to order products online than to look for them a store, that may not have what you want in stock.
These coffee brewers are becoming more and more popular because their final result is a superior cup of coffee when compared to automatic drip machines. We'll answer some of the most Frequently Asked Questions (FAQs) about manual coffee makers. Keep reading to find out more!
What are the best manual coffee makers?
The best are those that allow you to control every aspect of the brewing process, from grind size to water temperature. This means you can experiment with different beans and brewing methods to find the perfect cup of coffee for you.
For many coffee enthusiasts, manual brewing is the only way to go. It may take a bit longer than using an automatic machine, but the results, or should I say, rewards, are worth it. It's a great way to learn about the variables that affect your coffee's flavor. Of course they require coffee grinders to provide freshly ground coffee.
Is a manual coffee machine worth it?
Yes: they can be a great investment for coffee lovers. They offer more control over the brewing process, allowing you to make a perfect cup of coffee each time. They also tend to be more durable than automatic machines, making them a worthwhile investment for those who take their coffee seriously.
Of course, manual machines do require more work than automatic ones. But for many people, the benefits of having complete control over their coffee outweighs the inconvenience of having to grind the beans and froth the milk themselves.
How do you use a manual coffee maker?
To use this coffee maker, first add freshly roasted coffee beans to the grinder and grind them to a medium-fine powder.
Next, boiling water to a temperature between 195-205 degrees Fahrenheit and pour it over the coffee grounds in the filter.
Allow the bloom (the initial bubbling of the grounds when they come into contact with water) to occur for 30 seconds before stirring gently and then patiently waiting 3-4 minutes for all the coffee to drip into the carafe below.
This lengthy brewing process is unique to manual brewing methods and is what results in smooth, richly flavored coffees. Finally, manually pour your delicious cup of coffee, and enjoy!
What's the difference between coffee machines?
There are a few different types of coffee machines on the market, but the main two categories are automatic and manual.
Several automatic coffee machines grind the beans and brew the coffee for you with the press of a button, multiple or single serve, , while manual machines require you to do everything yourself, including grinding the beans, boil water and pour over the coffee grounds.
Another difference is whether or not the machine uses pods or filters. Machines that use pods typically come with a variety of pod flavors to choose from, while machines that use filters require you to buy your own coffee beans and filters.
Finally, some espresso machines have built-in milk frothers for making a cappuccino or lattes, while others do not.
What is a cold brew coffee maker?
When you brew coffee using cold or room temperature water, it's called "cold brew". It's a pour over method, so you pour water over coffee grounds. It usually takes a half to a whole day to brew a pot.
I like its description as a "set-it-and-forget-it method of making coffee". Cold brew makers are usually small (one cup), but some devices can produce multiple cups as well.
What is a French press?
A coffee brewing device, using pressure to force a filter through hot water to the bottom of a pot after a few minutes of brewing. The results are deep; dark and strong, depending on the type of coffee and the amount you put in the pot.
What is the difference between a percolator and a moka pot?
A moka pots uses high pressure to push water vapor through a filter with finely ground coffee. A percolator allows water vapor to slowly pass through medium-ground coffee.
There are similarities, but their coffees taste differently. While moka pot coffee is espresso-like, percolator coffee comes closer to a mild, regular drip coffee.
What is the difference between a moka pot and a French press?
A moka pot uses steam pressure to create an espresso-like, strong coffee. A French press uses a different method, where coffee grounds are steeped in water and decanted using a press.
What is the difference between manual and automatic coffee makers?
There are a few key differences between manual and automatic coffee makers that coffee drinkers should be aware of.
First, manual, non-electric coffee makers typically require more time and effort to use, to grind the beans, to measure the correct amount of grounds, and then brew the coffee using hot water. In contrast, automatic coffee makers generally have built-in grinders and can be set to automatically brew a pot of coffee at a specified time.
Second, these manual coffee brewers often allow for more customization in terms of the grind size, brew strength, and other factors that can affect the taste of the final product. Automatic coffee makers tend to be more limited in this regard, as they are designed to simplify the brewing process.
Finally, manual coffee makers are typically more durable than automatic ones, as they have fewer moving parts that can break down over time. For coffee drinkers who value quality and customization, manual coffee makers are the way to go.
Do automatic coffee machines make good coffee?
It really depends on the automatic coffee machine in question. Some automatic coffee machines are definitely better than others when it comes to making a good cup of coffee.
However, in general, automatic coffee machines tend to make pretty decent coffee. So if you're looking for a good cup of coffee from an automatic machine, you should be able to find one that suits your needs.
Are automatic or manual coffee machines better?
Automatic coffee machines are typically better because they produce a more consistent cup of coffee. Manual machines can be temperamental and tend to produce variables in the cup of coffee, such as inconsistent levels of bitterness or acidity.
Automatic machines also have features that allow you to customize your coffee, such as setting the strength and volume of the drink. Plus, they're easy to operate - simply place a mug below the spout and press a button.
Manual machines require more work on your part; you need to measure out the desired amount of coffee beans, grind them yourself, and tamp them down into the portafilter before brewing.
Which is better ground coffee or instant coffee?
There are pros and cons to both ground coffee and instant coffee. Ground coffee tends to have a more full-bodied flavor, while instant coffee is more convenient (and sometimes has a slightly stronger flavor). Ultimately, it's up to personal preference. Tip: never serve a coffee lover instant coffee. Just, don't.
How do you make coffee without electricity?
There are a few ways to make coffee without electricity. You need a heat source, though.
One way is to use a stove top coffee maker.
Another way is to use a percolator, or a moka pot.
You can also make coffee using a French press.
Lastly, you can also make coffee by boiling water, put ground coffee beans in a filter, and pour the water on the coffee grounds.
How do you use a coffee maker without a filter?
There are a few ways to use a coffee maker without a filter.
One way is to brew the coffee with a French press. This method doesn't require a filter, and you can actually control the flavor and strength of the coffee more easily.
Another way is to make cold brew coffee. This involves steeping ground coffee in water for 12 hours or more, and then filtering it out with a cheesecloth or other type of strainer.
If you mean, without paper filter, several coffee makers use reusable gold tone filters. They can be cleaned easily, and you don't waste the paper.
Finally, some people simply use their coffee maker without a filter, using an extra paper towel or cloth to strain the grounds out before drinking. This method is not recommended, as it can lead to a bitter cup of coffee.
How do you make coffee in a coffee press?
Although there are variations, a typical method for brewing coffee in a French press is as follows:
1. Boil water and let it cool for about two minutes. You don't want it too hot because that will burn the coffee.
2. Grind your coffee beans to a medium or coarse grind. The finer the grind, the more quickly the coffee will extract and the shorter the brew time will be.
3. Put about 2 tablespoons of ground coffee for each cup of water into the bottom of the press pot.
4. Slowly pour just enough of the boiled water over the grounds to wet them evenly, then give them a quick stir with a spoon (or use an Aeropress paddle). Some people like to wait 30 seconds or so at this point to let the coffee "bloom," but it's not necessary.
If you need a coffee grinder for french press or a best coffee ground, check out Marty Mentions' blog post to find your ingredients and brew your cup of coffee.
How do you use a manual espresso maker?
There's more to making a great cup of espresso than just pointing and shooting some hot water at some grounded beans.
In fact, using a manual espresso maker is something of an art form, one that requires careful attention to detail in order to create the perfect shot.
Here's a step-by-step guide on how to use a manual espresso maker, so you can start making your own amazing cups of espresso at home.
First, start with freshly roasted and ground coffee beans. This is where coffee grinders come in. Choose a dark roast if you want a richer flavor, or a lighter roast if you prefer a more delicately flavored espresso.
Next, put the desired amount of coffee beans into the espresso grinder and grind them until they're nice and fine - this is crucial for a good espresso.
Next, put the ground coffee into the portafilter and tamp it down gently. Tamping is important because it helps to create an even surface for the heated water to flow over, extracting all of the flavor from the coffee grounds.
Now it's time to actually brew the espresso. Place the portafilter into the espresso machine and turn it on. Slowly and steadily pour hot water into the portafilter until the espresso cup is full.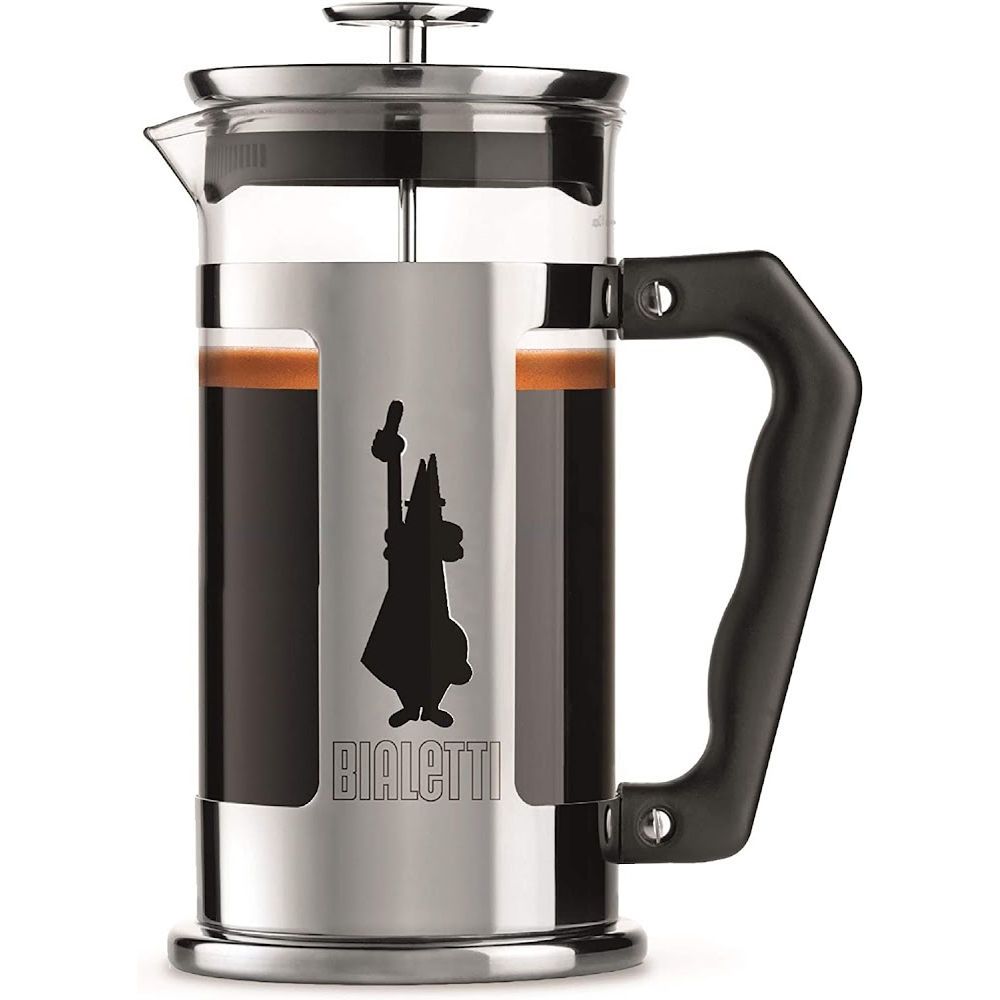 Best Manual Coffee Maker For You
We hope this blog post has been helpful in your search for the Best Manual Coffee Maker. Which one of the six picks is your favorite?
Be sure to check out our other coffee-related posts for even more ideas, such as how to make cold brew coffee at home or how to choose the right coffee beans.
As you make coffee on the go and while camping, manual coffee makers are the great tool to use. It's small and portable. Learn how to make coffee while camping from shared tips on Fadfindings.
Need an accurate coffee scale to help you measuring your coffee powder and make a perfect coffee cup? Check out top 6 picks of best coffee scales from Casa Catalog and find your best tool!
Thank you for reading! Happy brewing!
Catchy Finds