Cuban coffee is some of the best coffee available. If you're looking for a Cuban coffee maker, you're at the right place! In this blog post, we will review the best Cuban coffee makers on the market.
We'll talk about what to look for when buying one, and we'll give you our three top picks for the best Cuban coffee makers available.
If you're looking for the perfect cup of espresso, cafecito, cortadito, cafe con leche, then these stovetop brewers are guaranteed to give you authentic Cuban coffee shots. Check them out!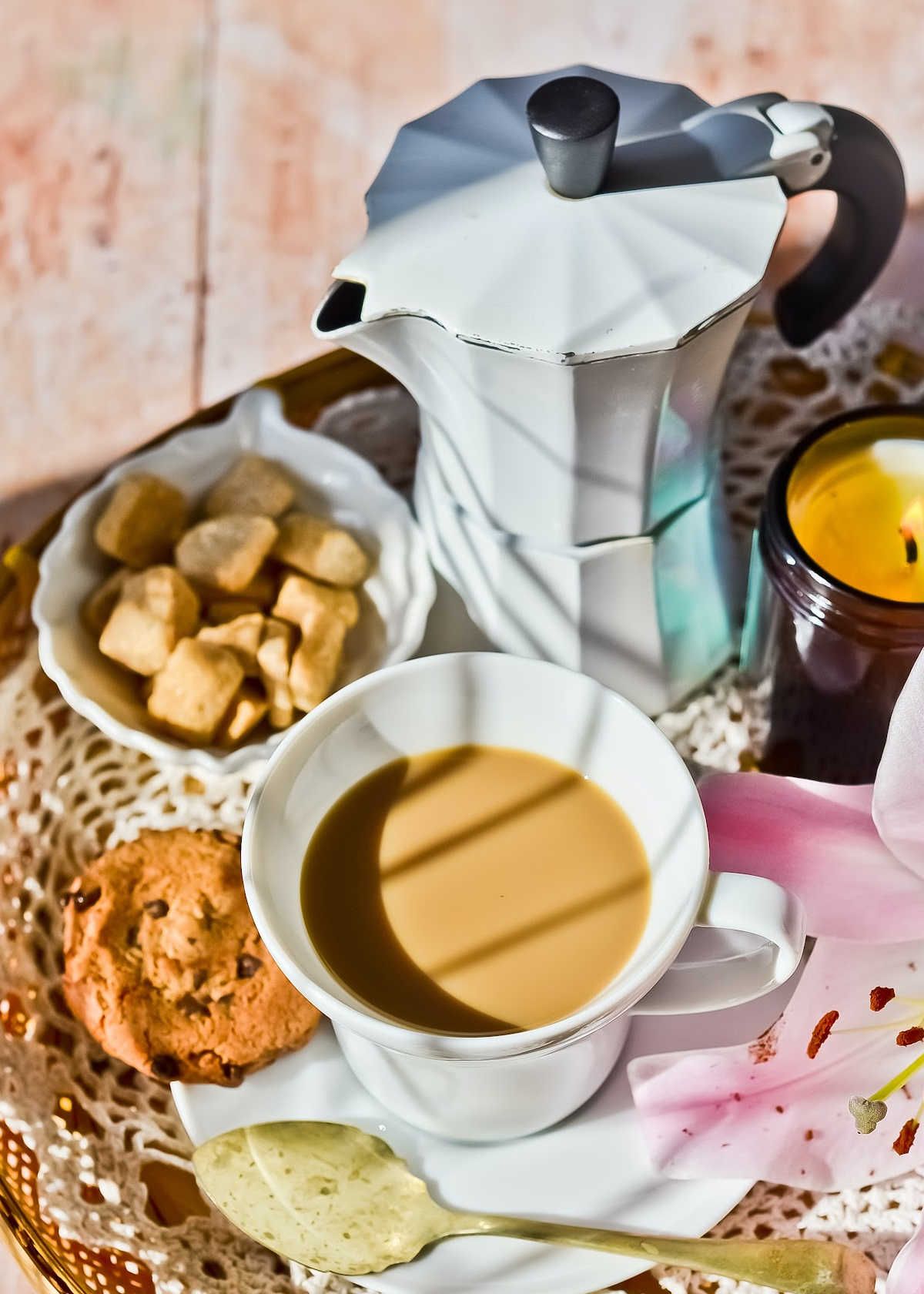 💡
We participate in the Amazon Associates Program, if you buy a product with the links that we provide, we may receive a small commission from Amazon. There is NO additional cost to you!
---
Catchy Finds' 3 Picks In The Spotlight



---
Primula Stovetop Espresso and Coffee Maker
What Makes It Catchy
This awesome little gadget is far easier to use than electric espresso machine, and it brews up six servings of rich and authentic espresso in just minutes.
The Primula Stovetop Espresso Maker features a traditional eight-sided aluminum moka pot design that diffuses heat perfectly and optimizes the flavor of your Cuban espresso.
The pot is made from strong cast aluminum for long-lasting durability, and it features thorough and even heat distribution for enhanced flavor and aroma.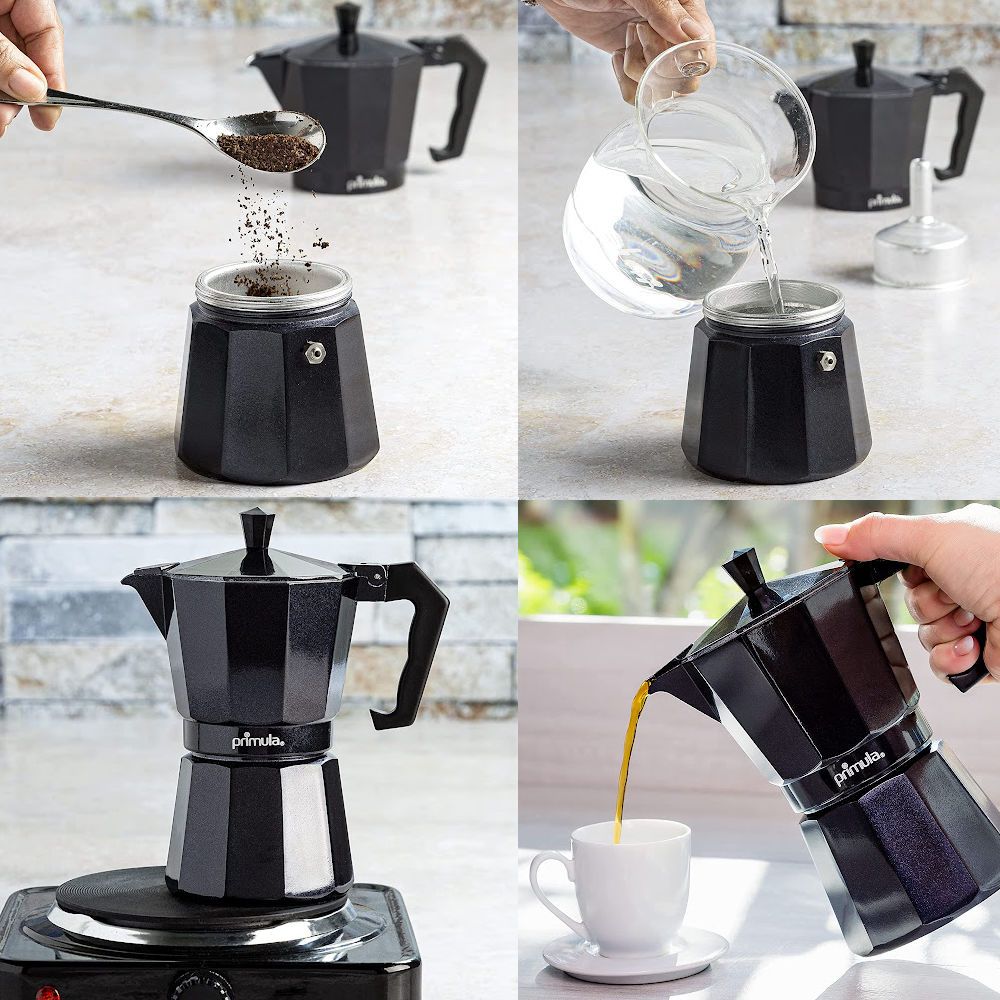 Things In The Spotlight
The espresso maker has a flip-top lid with a temperature resistant knob and handle for easy, safe pouring. The safety-release valve controls water pressure and delivery to make perfectly extracted espresso each time.
The Primula stovetop espresso maker is also easy to clean - simply rinse with warm water and allow to dry. It's also compatible with all stovetops, making it the perfect accessory for any kitchen.
Just add water to the lower chamber, add ground espresso to the filter, connect them tightly, and place it on your burner. Within minutes, you'll have bubbling cups of freshly brewed espresso!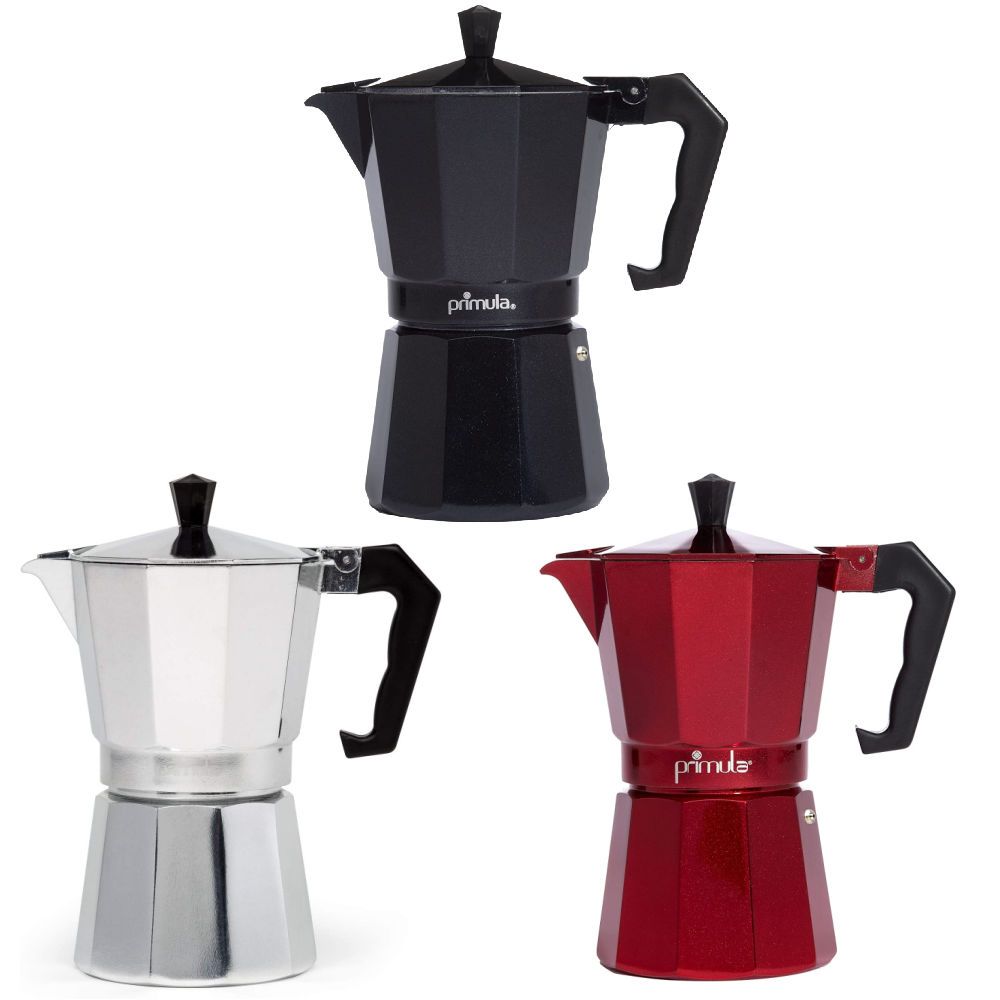 ---
Coffee Gator Cuban Moka Pot Stovetop Espresso Maker
Best Choice For Its Stylish Design
Coffee Gator Cuban Moka Pot Stovetop Espresso Maker
Check Price On Amazon
What Makes It Catchy
This coffee maker produces 6 cups of velvety espresso, perfect for enjoying on your own or with friends. Whether you're cooking with gas or on an induction hob, the Coffee Gator is a great choice for any coffee lover.
The elegant matte black design is sure to add a touch of class to your kitchen, and the easy-to-use design makes it a breeze to brew up a pot of fresh coffee.
Crafted from premium aluminum and featuring a steam safety valve and cool touch handle, this coffee percolator is both stylish and functional.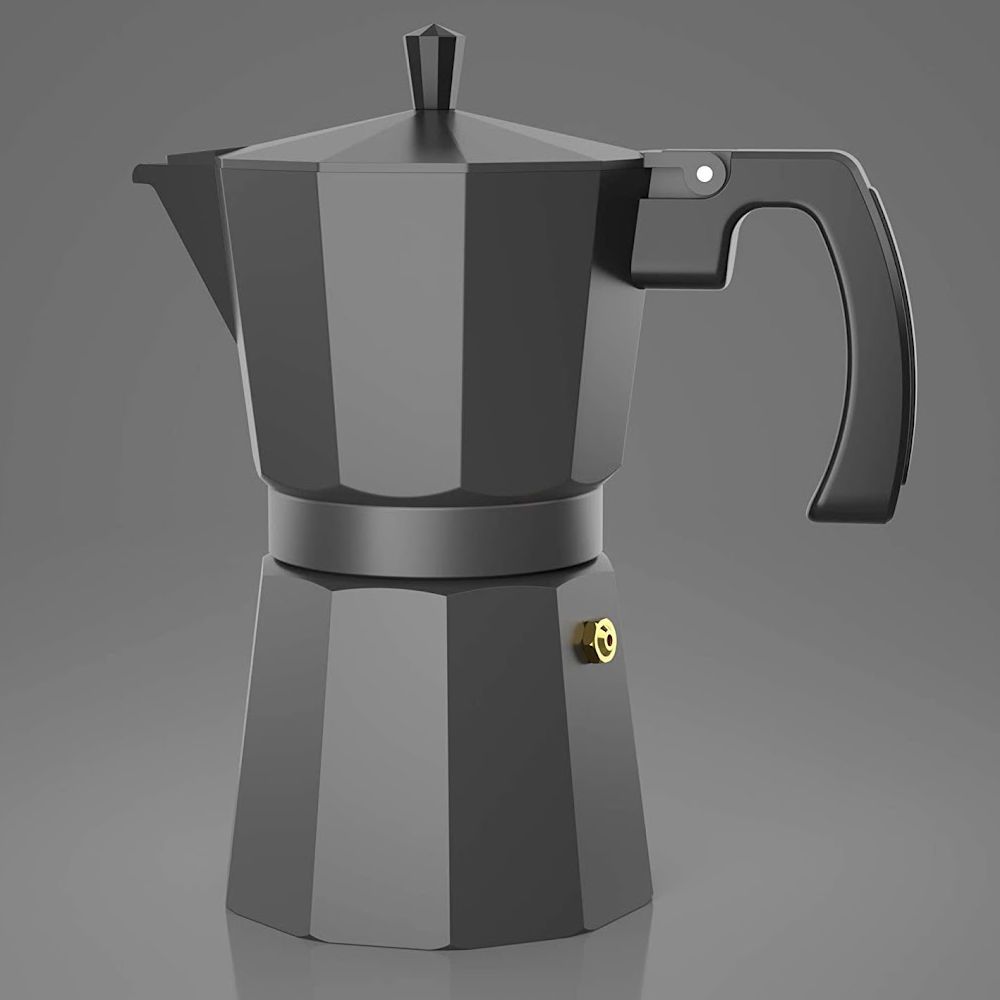 Things In The Spotlight
This easy to use coffee pot is great for making espresso. Just fill the base with water, insert grounds in the basket, screw on the top, and place on your stove! When done, serve immediately, with or without sugar. An effortless espresso!
It's also to wash, simply rinse to clean. This Cuban coffee maker is an ideal gift and comes with a bonus pair of sleek, stainless-steel cups - designed with a vacuum layer which helps keep your cuppa joe warmer for longer.
With the Gator, it's in the details. So make every morning special, share a brew and discover how amazing coffee can be with the Coffee Gator Cuban stovetop espresso maker today!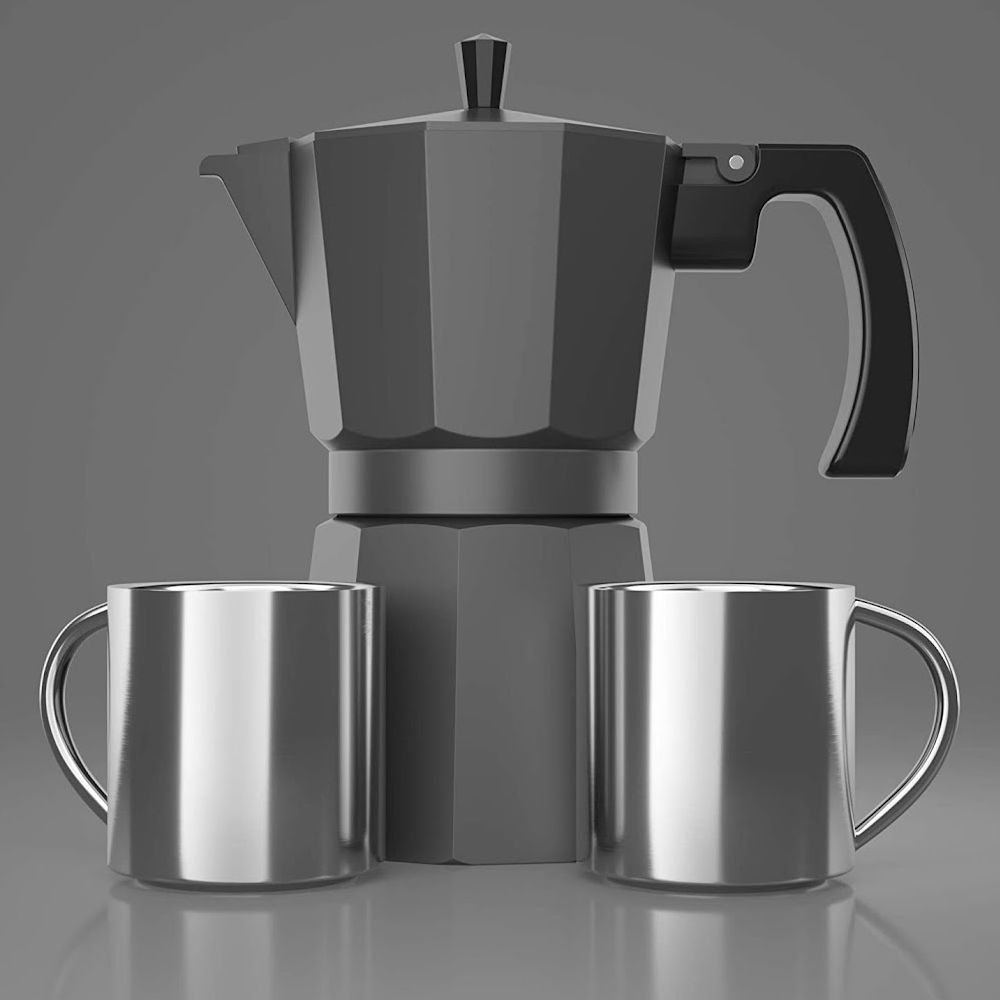 ---
GROSCHE Milano Stovetop Cuban Coffee Maker
What Makes It Catchy
Made in Italy with the highest quality materials, this coffee maker is designed to make your delicious café cubano every time.
The safety valve prevents high pressure buildup, while the larger soft touch handle with burn guard protects your fingers from getting burnt.
The Milano comes with a silicone gasket for a tighter seal, ensuring that your espresso is piping hot and full of flavor.
Available in several colors and styles, the Grosche Milano Stovetop Cuban Coffee Maker will enrich your kitchen.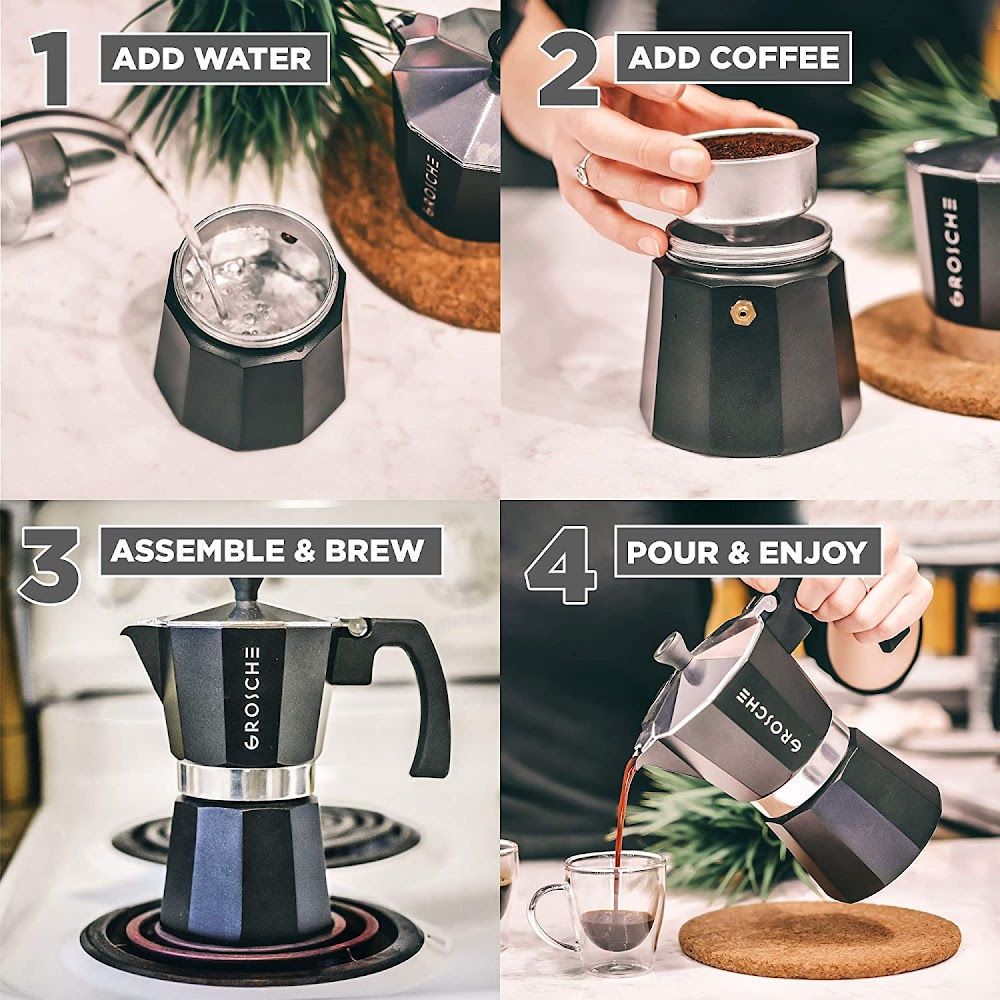 Things In The Spotlight
This coffee percolator is available in 3-, 6-, and 9-cup sizes, so you can make just the right amount of coffee for your needs. It's made of food-grade anodized aluminum, so you can be assured of both quality and durability.
The Milano is perfect for use on all gas and electric stovetops, as well as propane camping stoves. It even works on glass top induction stoves, though it will heat up more slowly due to the lack of magnetic properties. So no matter what type of stove you have, this moka pot can brew up a delicious cup of espresso.
Looking for a stovetop espresso maker that will give you rich, full-flavored espresso like a barista? Then check out the Grosche Milano Stovetop Cuban Coffee Maker.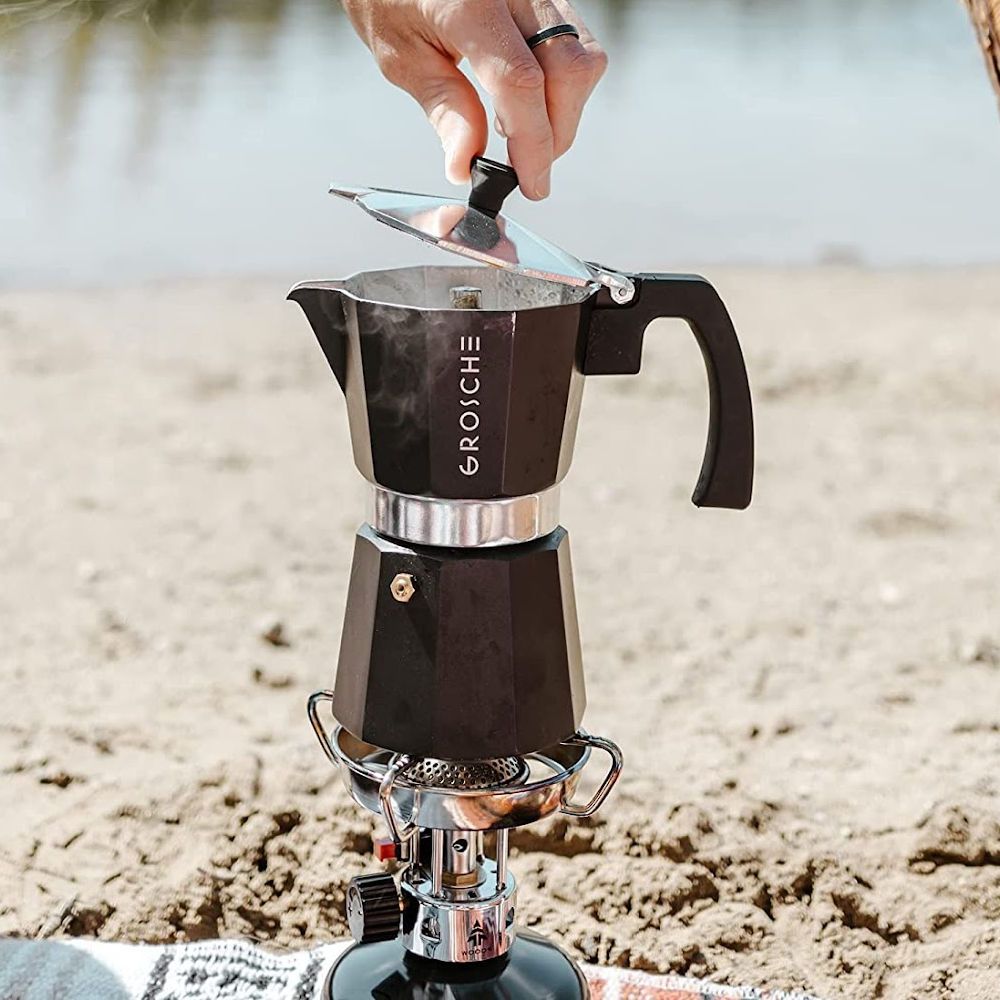 ---
Cuban Coffee Maker FAQs
Cuba is the birthplace of one the most popular coffees in the world - Cafecito, café cubano, or cuban coffee. If you are looking for a Cuban coffee maker, you may have some questions about this device. This FAQs section will answer some of most common questions, and help you to make decision. Read on!
---
What are Cuban coffee makers called?
There are many different types of coffee makers used in Cuba, but the most popular type is called a cafetera. This type of coffee maker brews a strong, rich cup of Cafecito that is perfect for mornings or after meals. First tried it in Miami, South Florida. It was love at first sip!
Cuban coffee makers usually have a metal filter that strains the grounds from the water, and they often have a spout for pouring the coffee into small cups.
The coffee maker sits on top of a stove, and boiling water is added to the brew basket. Let the coffee seep for several minutes before you pour it into either a glass or ceramic cup. (Don't use a styrofoam cup: unfit for hot drinks.)
Cuban coffees are typically served with sugar and milk, which help to balance out the strong taste.
What is the best Cuban coffee maker?
There are many different Cuban coffee makers on the market. When it comes to Cuban coffee makers, there is no one-size-fits-all answer.
Each coffee maker has its own identity and country of origin, so it comes down to personal preferences. However, there are a few things to keep in mind when you select a Cuban coffee maker:
First, what kind of brewed coffee do you like? If you prefer strong and bitter espresso shots like café cubano, or Cuban coffee, then you'll want a stovetop espresso maker.
Second, how much coffee do you drink? If you're a coffee enthusiast who drinks several cups a day, then you'll want a coffee maker that can brew large pots of coffee.
Finally, what is your budget? Choose one that fits your budget.
What makes Cuban coffee different?
Cuban coffee is different because it is stronger than other coffees. You'll find out with the first few drops: unique!
Whereas most American coffees are made with one type of bean, Cuban coffee is usually a blend of coffees from South America, Africa and Asia.
What is in a cafecito?
There are many different types of cafecitos, but the most common one is made with espresso coffee, sugar, and spices like cinnamon or anise. Sometimes condensed milk is added as well. A cafecitos is a small Cuban espresso, with a big flavorful punch!
Why is moka called moka?
Moka is an Italian word that originally referred to a type of coffee. The coffee was named for the Moka Express, a stovetop espresso maker made 90 years ago by Bialetti.
Are all moka pots the same?
There are a few different types of moka pots, and the quality can vary.
The main difference is in the material used for the pot and the filter. Cheaper pots are often made from aluminum, which may leak harmful chemicals into your coffee.
Stainless steel pots are a better option, but they can still corrode over time if not cared for properly.
The best moka pots are made from brass or copper, which do not corrode and create a high quality shot of coffee.
Another difference is in the size of the pot. Some pots make only one or two cups at a time, while others make up to six cups. Choose the size that best suits your needs.
Cuban coffee makers are great for brewing delicious and unique espresso-like coffee at home. There are a few things to consider before you buy one, such as what type of coffee you like, how much coffee you drink, and what your budget is.
Once you've taken these factors into account, you'll be able to find the perfect Cuban coffee maker for your needs.
How does a Cuban coffee maker work?
A Cuban coffee maker, also called a cafetera, is a stovetop pot that brews Cuban-style Cafecito coffee.
The pot is basically a metal cylinder with a perforated top and a spout. You put ground coffee in the bottom, fill the pot with water, close it tightly and place it on the burner. As the water heats up (use medium high heat), it forces the hot water up through the grounds.
This brewing process produces a strong, concentrated coffee that is usually served with sugar, condensed milk, milk foam, steamed milk, or cream. Before drinking, wait a few minutes, and stir.
Are moka pots healthy?
A moka pot is a type of stove-top coffee maker that produces a thick, potent coffee. It works by passing pressurized boiling water through ground coffee beans held in a filter.
The pressure of the steam causes the water to forcibly pass through the coffee grounds, brewing a strong, rich cup.
The idea that hot coffee can cause carcinogens to form in the coffee, is widespread, but as there is no scientific evidence, it's formally contradicted by the World Health Organization.
Does Cuban coffee raise blood pressure?
There is no definitive answer to this question as the effects of Cuban coffee on blood pressure may vary depending on the individual.
However, some studies have suggested that caffeinated coffee consumption may lead to a small increase in blood pressure.
Therefore, it is possible that Cuban coffee - as any coffee - could raise blood pressure in some people. If you are concerned about the effects of coffee on your blood pressure, speak to your physician or healthcare provider.
Is Cuban coffee the same as espresso?
Cuban coffee, Cafecito, is different than espresso. Some say, it's "espresso-like". It's typically a dark roast and has a more intense flavor.
Espresso is brewed by forcing very hot water through finely ground coffee beans, producing a thick, concentrated coffee. Cuban coffee is made with a percolator or moka pot, in which boiling water is circulated through a small chamber that holds the ground beans.
Is Cuban coffee stronger than regular?
It is said that Cuban coffee is stronger because it is made with a higher ratio of coffee to water. However, if you like your Cuban coffee to be weaker, you can always dilute it by adding more water. Taste is a matter of opinion; there is no guarantee two people share the same taste.
Is Cuban coffee the strongest coffee?
Many factors contribute to the overall strength of coffee. The type of beans used, roasting level, grind size, the brewing method: all play a role in determining how strong a coffee will be.
That said, Cuban coffee is typically made with very dark roasted beans, ground very fine and brewed using traditional methods.
This combination results in coffee that is stronger than your average cup.
What kind of sugar is used in Cuban coffee?
There are two types of sugar used in Cuban coffee: panela and demerara.
Panela is a type of unrefined sugar that is made from sugar cane juice. It is light brown and has a slightly molasses-like flavor.
Demerara is a type of raw sugar that is made from evaporated cane juice. It is light brown and has a caramel-like flavor.
Cubans like their coffee sweet; my Cuban friend tells me it "softens" the cafeine kick. He orders his favorite panela brand online from Havana.
Is Cuban coffee good for you?
Yes, Cuban coffee is good for you! It's made with 100% Arabica beans, which are known for their delicate flavor and aroma. Arabica beans are also low in acid, so they're gentle on your stomach.
Because Cuban coffee is lightly roasted, it retains more of its natural antioxidants than other coffees. These antioxidants help protect your cells from damage and may even help reduce your risk of cancer and other diseases.
So enjoy a cup of Cuban coffee today! It's not only delicious, but it's also good for you!
We recommend you to purchase MAYORGA COFFEE Café Cubano Roast, Espresso Ground Coffee for a perfect cup of Cafecito.
MAYORGA COFFEE Café Cubano Roast for a perfect cup of Cafecito
---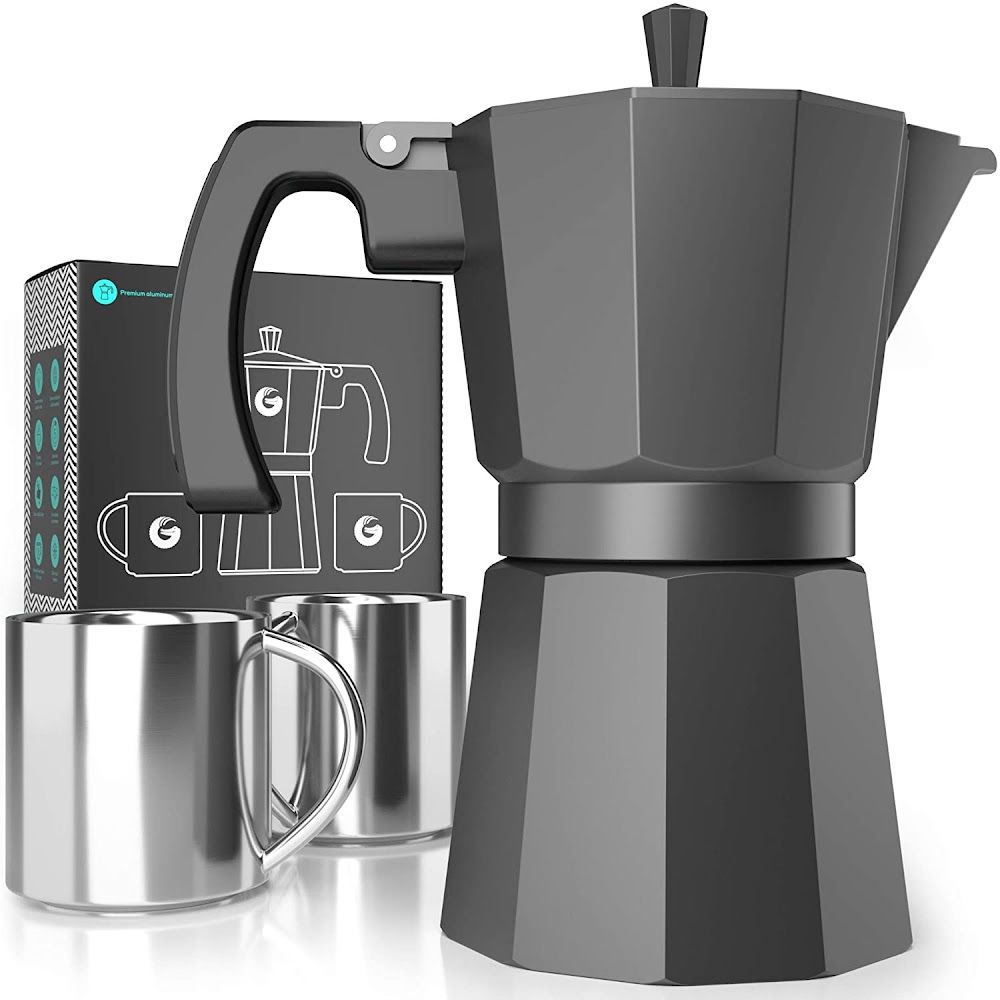 ---
The Best Cuban Coffee Maker For You
We hope this blog post has been helpful in your search for the Best Cuban Coffee Maker. Which one of these three picks is your favorite?
If you are still undecided, we recommend trying out all three of our picks to see which one you like best. They're very affordable and each one has it owns unique qualities.
Be sure to check out our other coffee-related posts for even more ideas on how to make your days brighter. Thanks for reading!
Happy brewing!
Catchy Finds