Get bored of drinking the same old coffee every morning? Spice up your daily routine by making a delightful and sweet coffee drink, a lavender latte!
It's time to close your eyes and imagine an aroma of fragrant lavender combined with a steaming cup of coffee, leaving you with a heavenly, uplifting feeling.
Even people who don't typically enjoy lavender or floral-flavored foods, can't resist the taste of a well-made lavender latte.
But what exactly is it, and what does it taste like? And more, how can you make one at home? Get ready to discover a whole new world of flavors because we've got all the details for you!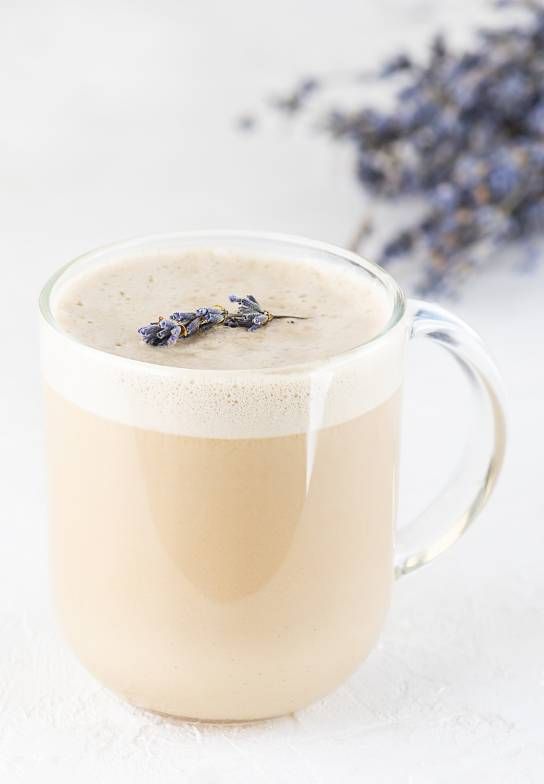 What Is A Lavender Latte?
A lavender latte is a sweet and creamy espresso-based coffee drink made with real or artificial lavender syrup. The syrup adds a floral fragrance and subtle sweetness that pairs perfectly with coffee.
This luxurious beverage usually consists of espresso, steamed milk, and lavender syrup, topped off with some frothy foam on top. It is often served over ice, making it the perfect summertime treat.
The ratio: one shot of espresso, one tablespoon of lavender syrup, and five ounces of steamed milk.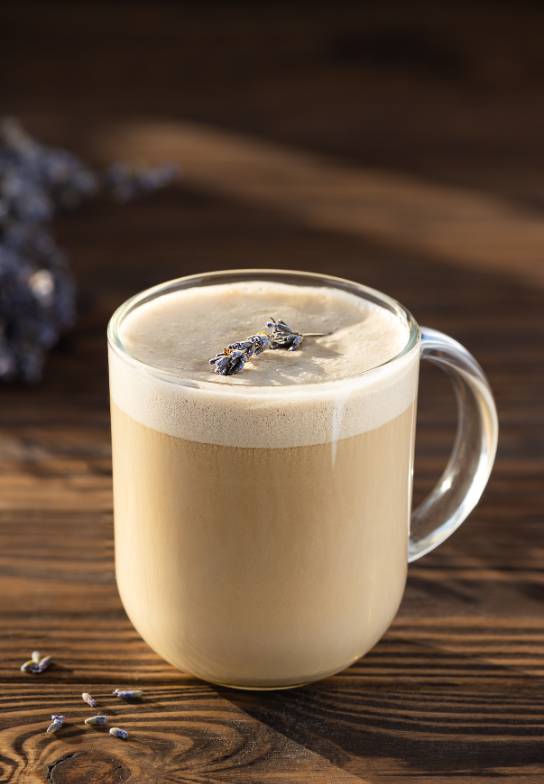 What Does A Lavender Latte Taste Like?
You might be hesitant to mix floral flavors with coffee, but read on. It's an unexpected pairing that works surprisingly well together.
A lavender latte has a complex flavor profile. This unique coffee drink is a delicate balance of sweet and floral notes. It combines the sweetness of lavender syrup with the bitterness of espresso and creamy milk for a balance between savory and sweet.
The lavender flavor is subtle, but it adds a distinct floral aroma to your coffee. When mixed with steamed milk, the flavor becomes creamier, while the espresso gives it a bold flavor. The steamed milk makes the whole drink smooth and creamy.
The delicate sweetness of the latte offsets the floral bitterness of lavender and coffee, making for an irresistible and smooth taste that you will want to try over and over again.
The Benefits Of Lavender Latte
Besides the delightful taste of lavender latte, this drink also has some health benefits worth noting.
Lavender has a calming effect, making it perfect for those who suffer from stress or anxiety.
Additionally, lavender has anti-inflammatory, and anti-fungal properties, potentially helping to fight against a range of illnesses.
Overall, a lavender latte is an enjoyable, refreshing, calming, light coffee experience that won't overwhelm your taste buds.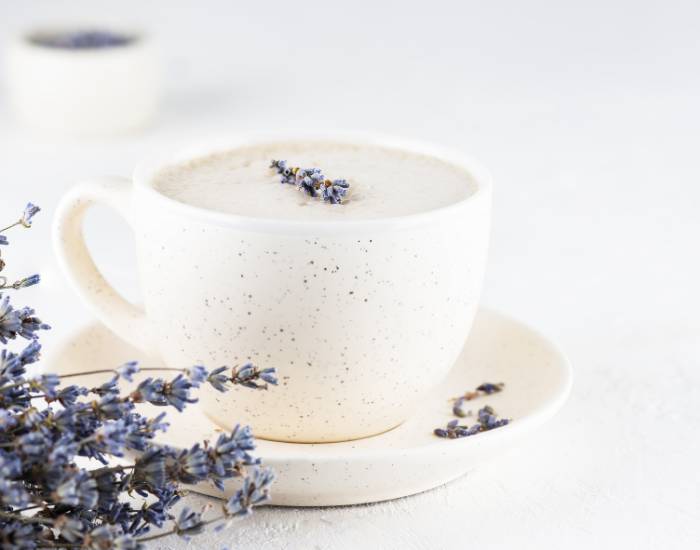 How To Make A Lavender Latte
Ingredients
(for 2 cups of latte)
2 shots of espresso
3 tablespoons of lavender syrup
1 cup of steamed milk (of your choice)
culinary-grade lavender buds (optional - for decoration)
1 tablespoon of vanilla syrup
1 tablespoon of sugar or honey (optional)
Ice cubes (optional)
Instructions
Brew 2 shots of espresso before adding it to a cup with 2 teaspoons of lavender buds. The heat will extract the flavor from the lavender buds, and you can then strain the mixture into another cup.
Steam the milk while making the espressos. Do not boil, just heat the milk in a saucepan at low heat on the stovetop or using an attached steamer of the espresso machine.
Add in some sugar (or honey) to taste, and a small handful of culinary-grade lavender buds.
Remove from heat and let it sit for a few minutes to steep the lavender.
Strain the lavender buds, and give the steamed milk a good whisk to create some froth.
Pour the steamed milk over the espresso, adding 1 tablespoon of lavender syrup and a teaspoon of vanilla syrup.
The next step is to add lavender-infused milk to the lavender-infused espresso.
Gently mix the flavors and then top it off with some frothy milk or whipped cream to give your drink a fun and exciting look.
Sprinkle some lavender buds on top for an Instagram-worthy latte art moment.
Voilà, you've got yourself a homemade lavender latte!
Alternative Choices
If you want to give your lavender latte an extra touch of pizzazz, you can add some honey or cinnamon for an added zing. Experiment with different ingredients to find the perfect formula that works for you.
If you're feeling adventurous, there are alternative lavender latte recipes you can try with various ingredients. You can use lavender tea instead of lavender syrup, or opt for lavender essential oil. Alternatively, use fully organic culinary-grade dried lavender buds if you don't have lavender syrup or oil instead.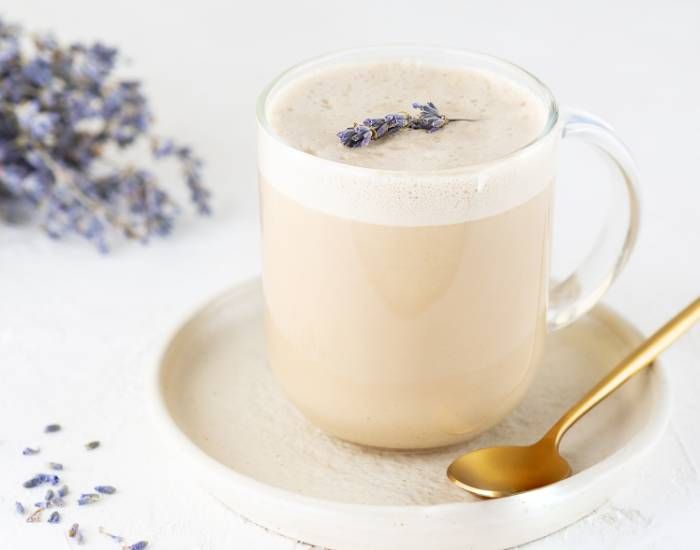 Tips & Tricks
Be sure to use culinary-grade lavender – not the lavender you find in a scented candle or lotion. These types of lavender aren't fit for consumption and could lead to health complications.
Don't overdo the lavender – a little goes a long way, and you don't want your latte to taste like soap.
Keep in mind that the quality of the ingredients will profoundly impact the taste of your lavender latte. Make sure to use high-quality, fresh, and organic espresso beans for the best flavor.
To get the most out of your lavender latte, consider adding a few drops of food-grade lavender essential oil before serving.
If you want to make it even sweeter, add a teaspoon of honey or agave syrup after brewing.
To make a vegan option, opt for alternative milk and sweetener. You can also experiment with different types of milk, such as almond milk, oat milk, or coconut milk.
This unique and delicious drink is perfect for any coffee lover looking for a bit of a change from their standard coffee order. The balance of sweetness and floral aroma in the lavender latte is something that will stay with you long after you've finished drinking it.
Need an affordable espresso machine to make coffee for latte? Check out the blog post below and find your suitable tool among our 5 picks of the best espresso machines under 100 USD.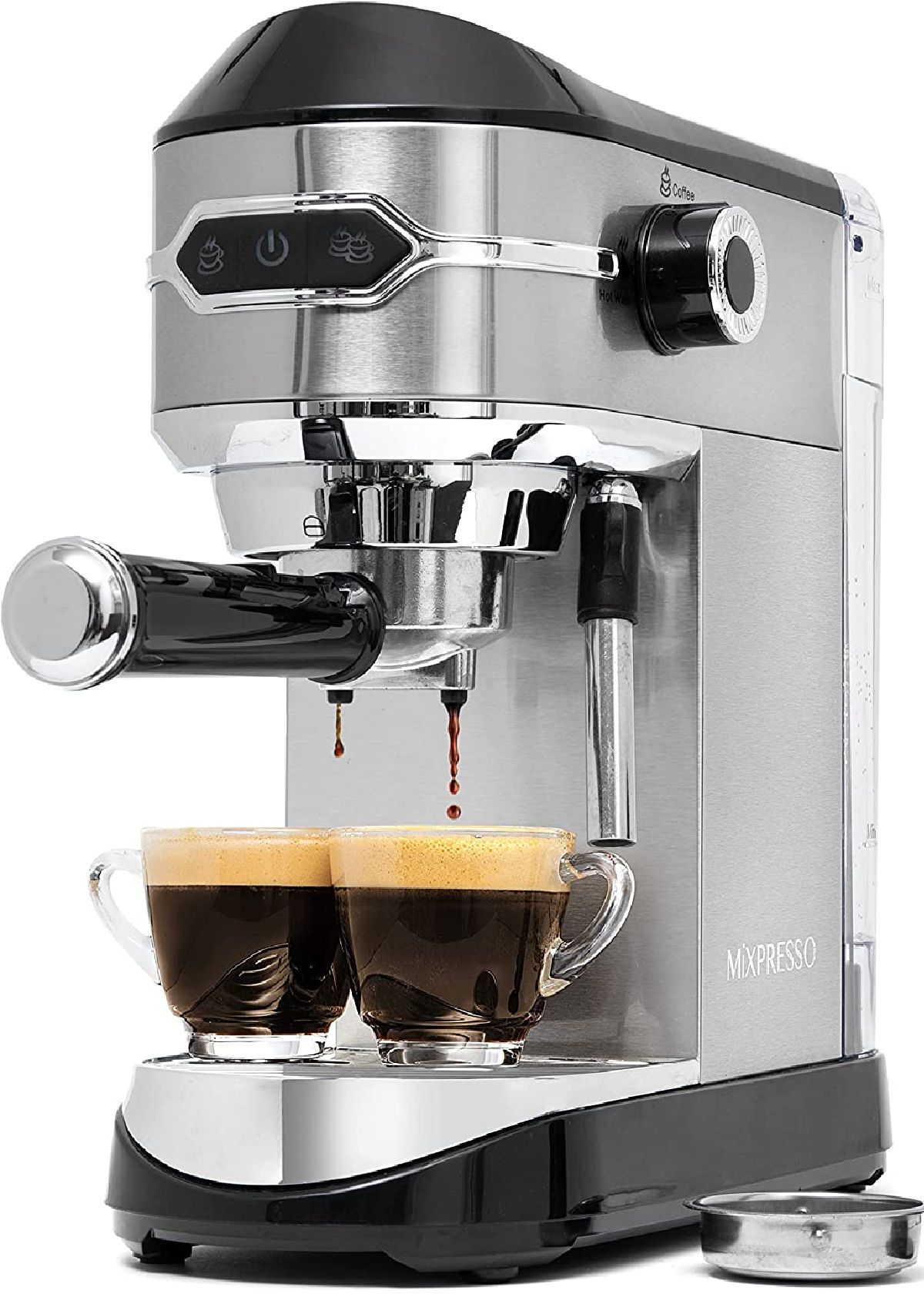 Put on some relaxing music, brew up a lavender latte, and sink into a comfortable chair. Your taste buds and your mind will thank you.
Catchy Finds