You're probably thinking to yourself, "Who in their right mind would want to bake a frozen chicken? Why would anyone need to know how to do that? Can you cook chicken from frozen?" ...
Well, there are actually quite many people out there who have questions about baking frozen chicken. And I thought it would be helpful to provide a step-by-step guide on how to do it. So without further ado, let's get started!
How To Bake A Frozen Chicken
Step One: Preheat your oven to 375 degrees Fahrenheit.
You're going to need to preheat your oven before you bake your frozen chicken. Otherwise, it's not going to cook evenly and you're going to end up with a dry, overcooked mess. No one wants that.
Step 2: Add spices & herbs.
This is totally optional, but I like to add a little bit of pepper, salt, garlic powder, onion powder, olive oil, and paprika to my chicken before baking it. It just gives it a little bit of extra flavor.
Step 3: Place your frozen chicken in a deep baking pan.
Again, this seems pretty self-explanatory, but it's worth mentioning because I've seen people try to bake their chicken on a shallow sheet pan and it doesn't work out well.
The juices from the chicken will just run right off the pan and onto the bottom of your oven, making for one smoky and messy situation. Trust me, use a deep baking dish.
Step 4: Cover your baking pan with aluminum foil & place it in the oven.
At this point, you might be thinking to yourself, "Why bother covering the dish if the whole point is to cook the chicken?" The answer is twofold.
First of all, covering the dish helps trap in heat so that the chicken cooks evenly all the way through.
Second of all, it prevents your oven from getting splattered with chicken juices when you go to remove the foil later on. No one likes cleaning up an oven full of grease and grime, so do yourself a favor and cover that dish!
Step 5: Bake your chicken for 60 minutes.
This might seem like a long time, but remember that we're dealing with raw meat here.
Step 6: Remove the chicken after 60 minutes & Add more ingredients.
Add the chopped vegetables of your choice (potatoes, carrots, beets, etc.)  & 1 cup of chicken stock. Add other spices such as thyme, parsley or oregano.
Put the baking pan back in the oven for an additional 70-80 minutes, or until the vegetables are cooked to your liking.
Step 7: Check the meat before removing it from the oven.
You want to make sure that the internal temperature of the chicken reaches 165 degrees Fahrenheit before removing it from the oven. Use a meat thermometer to check for doneness and then take it out of the oven when it's finished cooking.
Let it rest for 10-15 minutes before carving and serving. Enjoy!
There you have it! Now you know how to bake a frozen chicken like a pro. Just follow these simple steps and you'll have perfectly cooked chicken every time!
If you're looking for a chicken roasting pan, check out the below page. We've put together a list of five of the best chicken roasting pans so that you don't have to spend hours surfing around online! Now go forth and bake chicken like a professional chef; your family will thank you!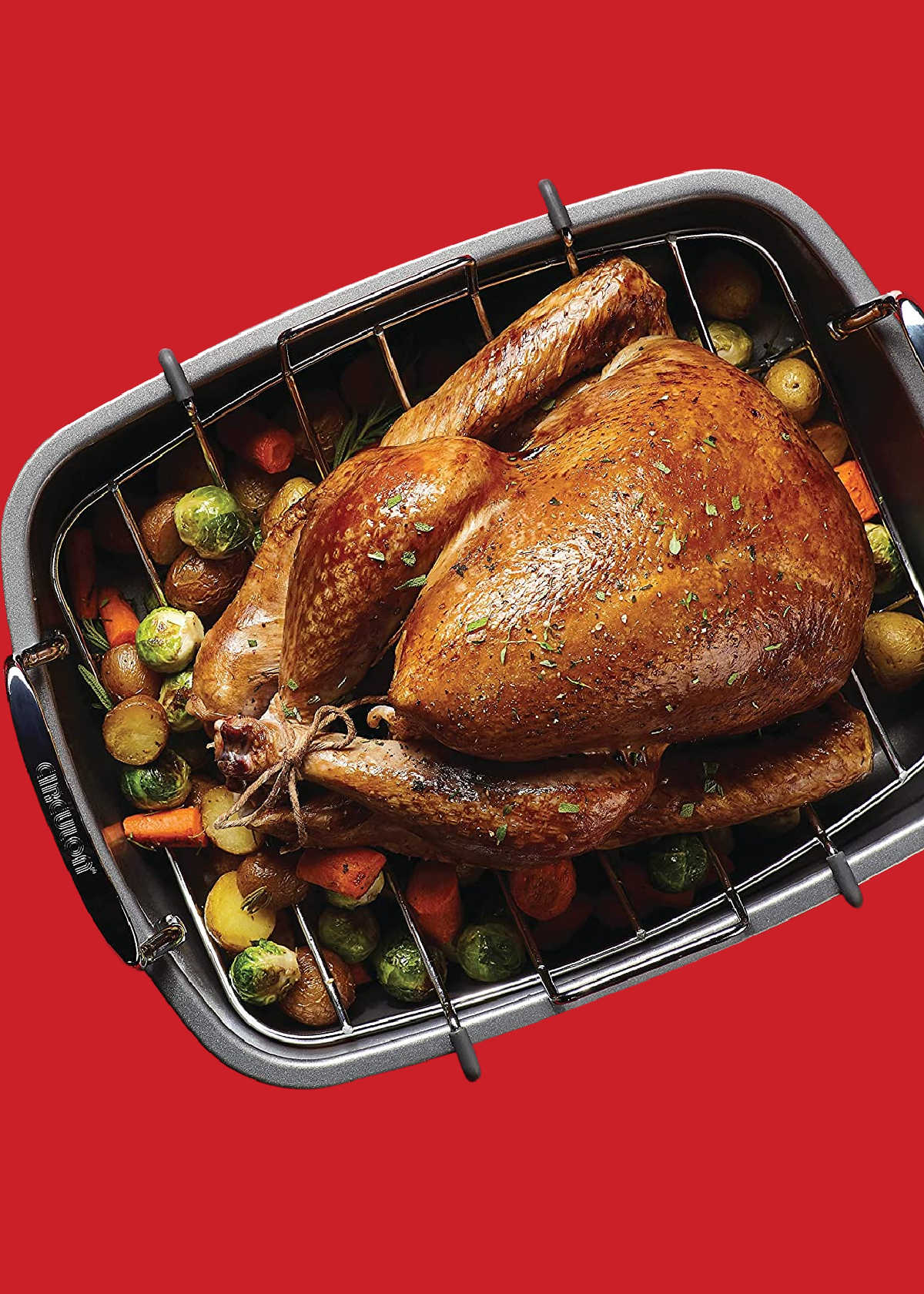 Happy baking!
Catchy Finds