Toasting bread, toasting bagels: no American household can do without. Besides, we all have our own definition of the "perfect toast".
Are you looking for a reliable toaster? The best small toaster? If so, you have come to the right place. In this blog post, we will review some of the best compact toasters on the market.
We compared different models, their features and prices, so that you can find the best toaster that meets your needs.
Whether you are looking for a compact toaster or one with extra features, we have you covered. So, let's get started!
How We Spotlight The Best Small Toaster
We researched many compact toasters and spotlight the top five best compact toasters based on their capacity (can it toast bagels? toast pops?), adaptability (thin sliced bread? thick toasted bagel? toasting shade setting?), design, simplicity of use (slide out crumb tray?), and budget.
Spot the perfect match for your kitchen with our catchy finds. Choose the one that's ideal for you, based on your culinary demands and style preferences.
👉
We participate in the Amazon Associates Program, if you buy a product with the links that we provide, we may receive a small commission from Amazon. There is NO additional cost to you!
---
Cuisinart Compact 2-Slice Toaster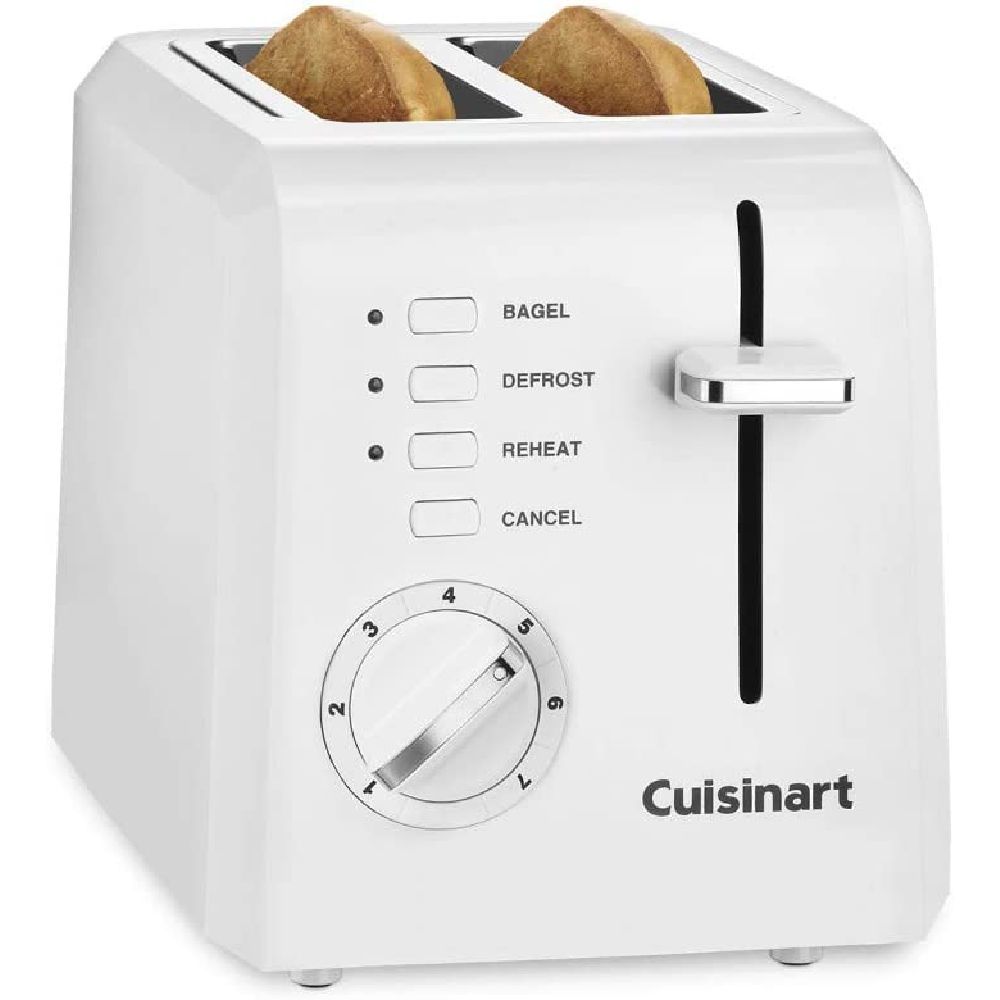 Best Choice For The Classic Design Lover
Cuisinart Compact 2-Slice Toaster
CHECK PRICE ON AMAZON
Why We Spotlight It
Is there anything more beautiful than a classic toaster? The Cuisinart 2 slice compact toaster is the perfect blend of form and function.
Its sleek, contemporary styling looks great at any angle, and it delivers powerful performance with reheat, bagel and defrost functions. Ideal for a small kitchen, or when you don't have too much counter space.
What Makes It Catchy
The Cuisinart is the best compact toaster to any countertop. This toaster is stylish, and it's packed with features that make it perfect for any household.
This toaster has all the functions you could ever want or need, including a bagel setting that only heats the top half of the bagel for a crispy top and soft bottom, just the way a bagel should be!
The wonderful browning offered by 7 shade control setting allows for customization of any piece of toasted bread, to get it just the way you like it.
Whether you like it light and crispy or dark and charred, this toaster has you covered. And with the high-lift carriage, it's easy to retrieve your toast without burning your fingers.
Things You Should Know
With 1.5-inch toaster slots, it can accommodate a wide range of items – from thick bagels to thin sliced bread. The slide out crumb tray makes clean up a breeze, and the cord wrap underneath the compact unit keeps cords out of the way.
Whether you're toasting normal bread or frozen bread, this compact toaster oven will do the job perfectly every time. And if you ever need to reheat your toast or bread, there's a function for that too, without any risk of browning or burning.
---
REDMOND 2 Slice Retro Toaster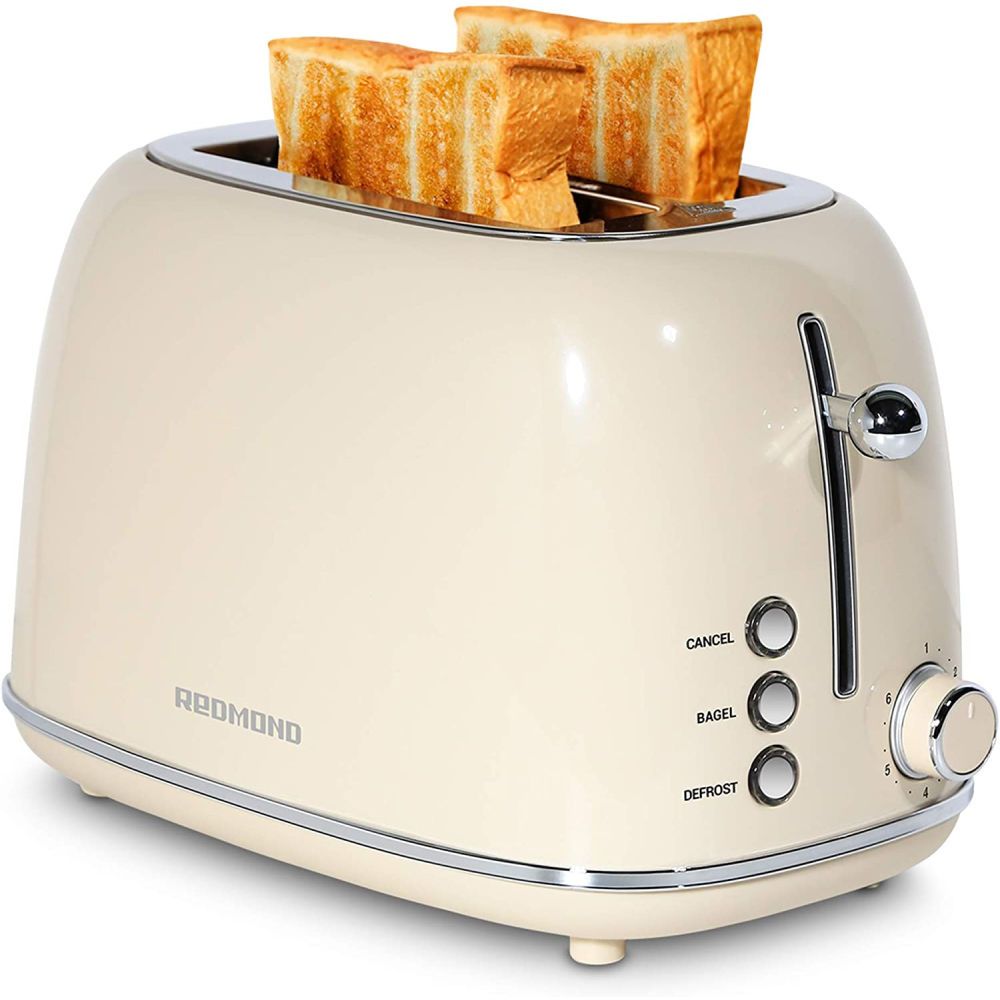 Best Choice For The Retro Style Lover
REDMOND 2 Slice Retro Toaster
CHECK PRICE ON AMAZON
Why We Spotlight It
The REDMOND Retro Toaster features simple controls with a browning control ranging from 1 (light) to 6 (dark), as well as three different settings for bagels, defrosting, and cancelling.
With its retro design, this toaster looks great in any kitchen. This stainless steel toaster has a sleek appearance and a small footprint, so it won't take up much room on the counter.
What Makes It Catchy
This toaster comes with food-grade 18/8 stainless steel casing, so you can be sure that it is safe and healthy to use. It also bakes quickly and evenly, and cools down fast. You can also choose from a variety of trendy colors to find one that suits your taste.
Things You Should Know
Simply plug in the socket, put in the bread, and gently press down the lever. In just a few minutes, you'll have delicious toast. With 6 different settings, you can customize baking your toast to perfection.
This toaster is easy to use and clean, with a removable tray to catch bread crumbs, cord wrap storage, and detachable pallets for easy storage.
---
BELLA 2 Slice Toaster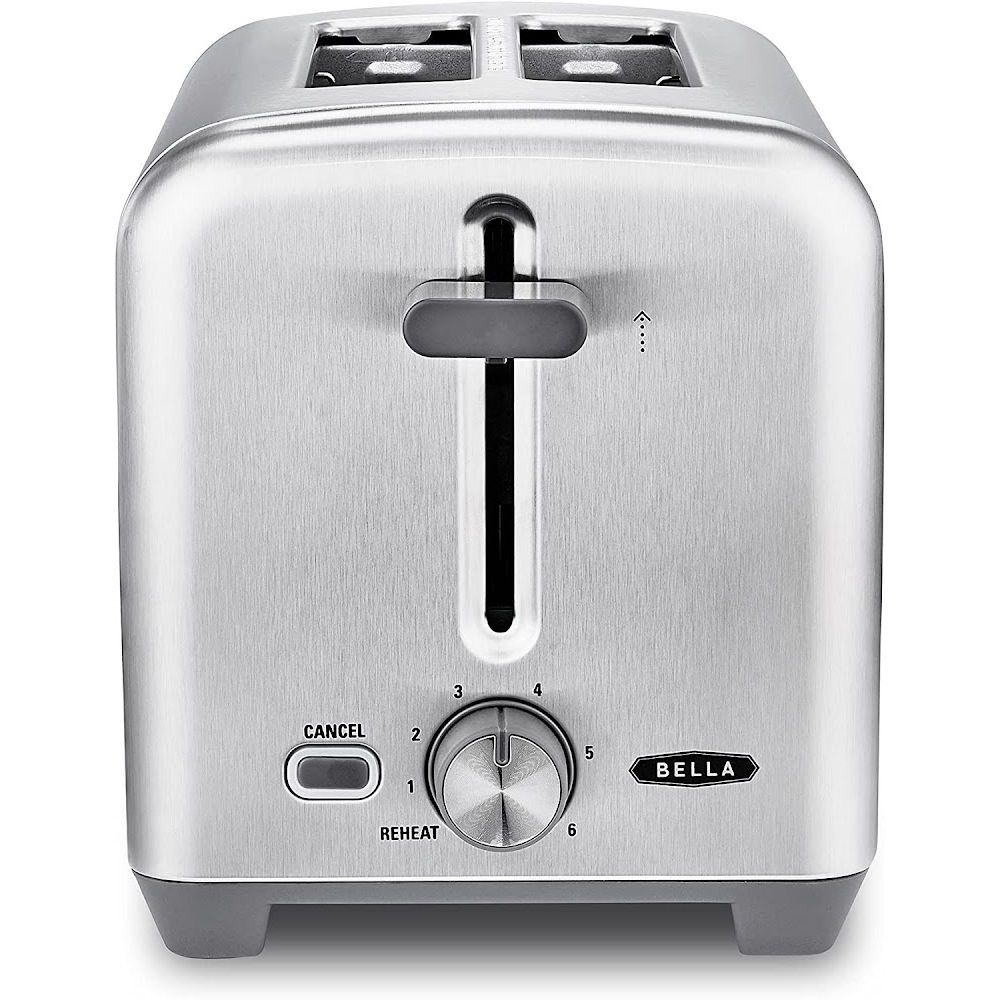 Best Choice For Its Economic Price
CHECK PRICE ON AMAZON
Why We Spotlight It
This 2 slice toaster can handle any size slice, whether it's a thick bagel or Texas Toast. Compared to other toasters, this compact toaster will comfortably fit on a limited counterspace. The extra-wide slots and self-centering guides make sure your bread is evenly toasted every time.
The durable plastic construction with stainless steel finishing will look great on your countertop.
What Makes It Catchy
The elegant brushed stainless-steel finish is sure to brighten up any kitchen, and the high-lift lever makes it easy to retrieve smaller items like English muffins.
This BELLA compact toaster also features reheat and cancel buttons for simple operation. It comes with auto-jam and auto-shut off features for safety.
Things You Should Know
This compact toaster with 750 watts of heating power can do it all! Plus, the built-in cord storage means that you don't have to worry about countertop clutter. The drop-down crumb tray makes clean-up a breeze!
---
Hamilton Beach 2 Slice Toaster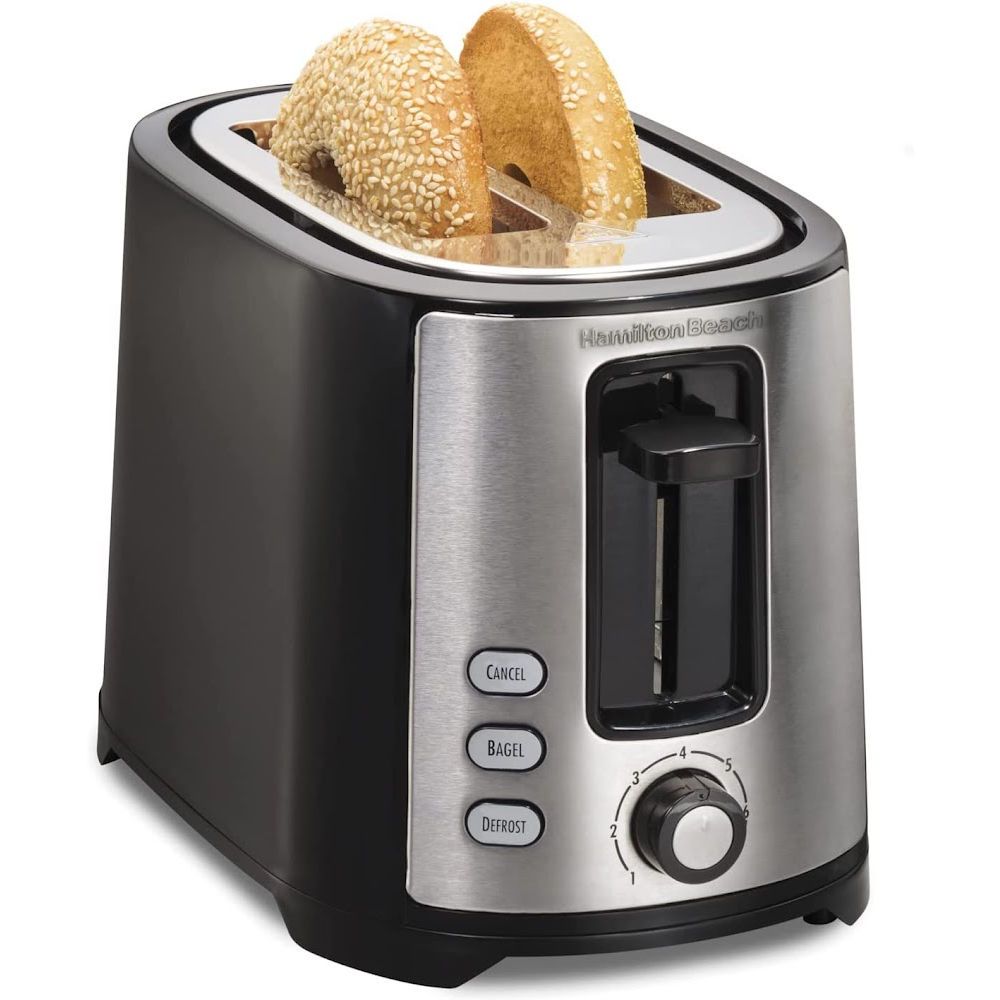 Best Choice For Its Simplicity Of Use
Hamilton Beach 2 Slice Toaster
CHECK PRICE ON AMAZON
Why We Spotlight It
The Hamilton Beach Toaster boasts wider slots that can accommodate even the largest of breads, as well as a handy bagel function that ensures your bagels are perfectly toasted on both sides.
Plus, with upgraded features like an easy-to-use dial and LED indicator lights, this toaster is sure to make breakfast time a breeze.
What Makes It Catchy
This Hamilton Beach compact toaster oven toasts bread, bagels, waffles, muffins and pancakes. It has a defrost mode.
The high-lift toast makes it easy to remove smaller items from the toaster. The bagel setting ensures that your bagels are perfectly toasted on the outside while warming on the inside.
Things You Should Know
With 7 toast shades to choose from, you can have your toast as brown as you like it.
With its drop-down crumb tray, it's easy to keep your countertop clean. The auto shutoff feature ensures that your toast will never be burnt. Whether you like your toast light and fluffy or dark and crispy, this Hamilton Beach compact toaster is perfect for you.
---
Cuisinart Countdown Metal Toaster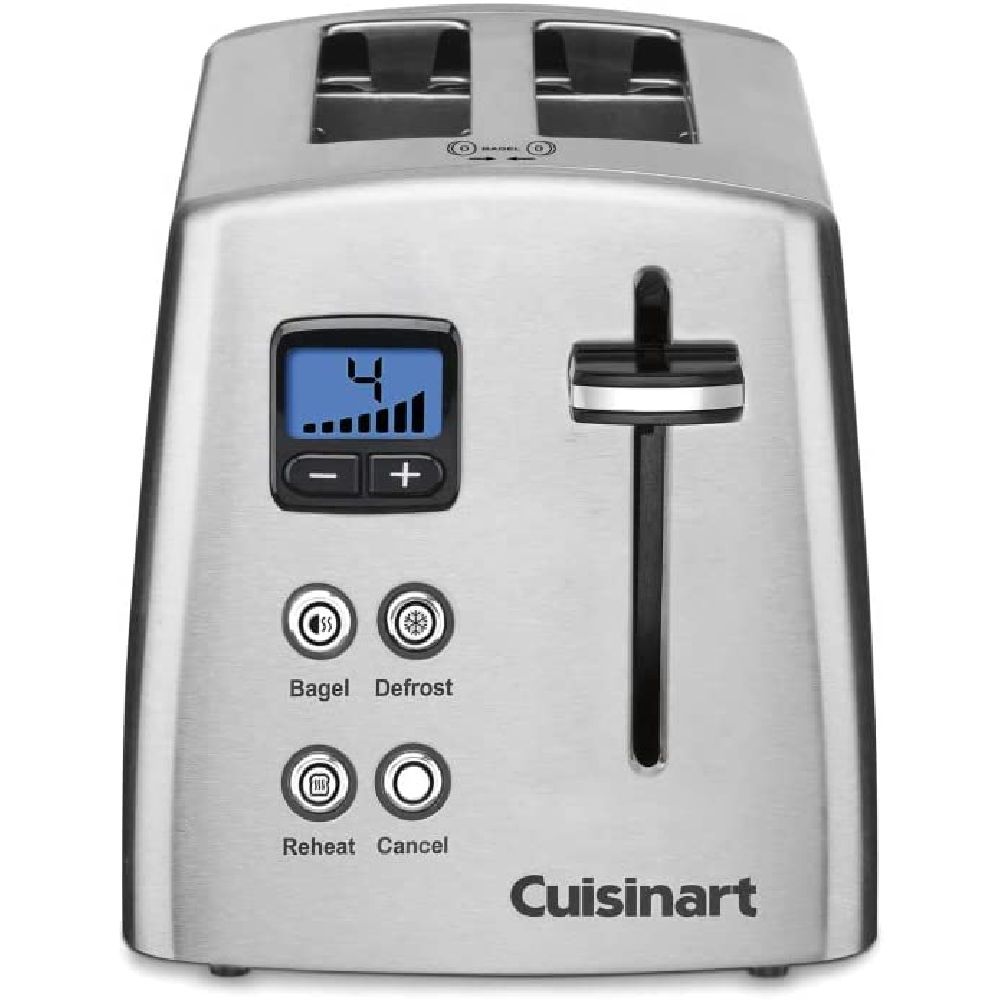 Best Choice For Its Versatility
Cuisinart Countdown Metal Toaster
CHECK PRICE ON AMAZON
Why We Spotlight It
This Cuisinart Toaster is a high-tech, beautifully designed compact toaster that combines innovation with user-friendly functions like a digital interface, several toasting choices, and count down timer.
Its compact design is perfect for small kitchens. The wide slots make it easy to toast a variety of items. And when your toast is done, the high lift lever pops it up for easy retrieval.
What Makes It Catchy
The Cuisinart Countdown Metal compact toaster is one of the most innovative and versatile toasters on the market today. With its seamless blend of digital technology and state of the art design, this toaster may not come cheap, but may well be the best compact toaster available.
This compact toaster has several toasting functions such as Toast, Bagel, Defrost, Reheat and Cancel.
Things You Should Know
With its bagel setting, this toaster will heat the upper half of the bagel only, resulting in a crispy top and a soft, chewy bottom - exactly how a bagel should be!
With seven different shade settings, you'll be able to find the perfect setting for any type of bread - from light and fluffy to dark and crusty.
The detachable crumb tray makes cleanup a breeze. It also has a cord wrap under the unit to conceal unsightly power cables when not in use.
---
Compact Toasters FAQs
There are many brands and models out on the market, so it can be hard to know which compact toaster will fit your lifestyle. We've put together this list of Frequently Asked Questions (FAQs) to assist your product searching. Read on!
What is a good basic toaster?
A toaster is a small appliance designed to toast bread by exposing it to radiant heat. Toasters can be used to toast various types of bread, including white bread, whole wheat bread, rye bread, and brioche.
There are many different brands and models of toasters available on the market, so it can be difficult to choose one that is right for you.
Some factors you may want to consider include the following:
Toaster size: How many slices of bread can the toaster accommodate? If you have a large family or entertain often, you may want a toaster that can accommodate four or more slices of bread.
Toasting settings: Does the toaster have multiple toasting settings? Some toasters have a light/dark dial, while others may have more specific settings such as bagel or defrost.
Ease of use: Is the toaster easy to operate? Some toasters have a lever that needs to be pushed down in order to start the toasting process, while others have a push-button start.
Ease of cleaning: Can the toaster be easily cleaned? Some toasters have a removable crumb tray that can be emptied, while others do not.
Price: How much does the toaster cost? Toasters can range in price from under $20 to over $100.
What are the best compact toasters?
There are a lot of great compact toasters for limited counter space on the market. Our personal favorite is the Cuisinart Compact 2-Slice Toaster. It has a sleek classic design, and it's got some great features like an adjustable slice width and a cancel button.
How do I choose a toaster?
When choosing a toaster, as many other kitchen appliances, there are several factors you should consider. The most important factor is the type of bread you will be toasting. What bread types do you want to bake in your toaster? Pastries? Bread? Muffins? Bagels? Some toasters are are good with bagels or English muffins, while others can easily handle thicker slices of bread.
You should also consider the size of the toaster. If you only have a small amount of counter space, you may want to choose a best compact toaster that doesn't take up too much room.
Other factors you may want to consider include features like auto adjusting bread guides, toast settings, shade settings that produce golden brown and uniform browning results, defrosting and reheating, and removable crumb trays.
What is a smart toaster?
A smart toaster is a toaster that has some sort of intelligence or circuitry that allows it to do more than just toast bread. For example, a smart toaster might be able to detect when a slice of bread is in the slot and start toasting automatically, or it might have a timer that can be set so that the bread is ready when you wake up in the morning.
In addition, many modern smart toasters come with built-in Wi-Fi capabilities, which means that you can control them remotely using your smartphone or tablet.
What to consider before buying a toaster?
There are a few factors you'll want to consider when choosing the most reliable brand of toaster for your needs.
First, consider the size and shape of your toaster. Some models are designed for spacy countertops, while others are compact.
Second, think about how many slice capacity you need. If you typically only toast one or two slices at a time, you don't need a large toaster.
Third, take into account your toaster use frequency.
If you plan to use it daily, look for a brand that offers reliable performance and long-lasting durability. Finally, compare prices to find the most affordable yet reliable model that meets your needs.
What is the best 2 slice toaster on the market?
There are a lot of great toasters on the market, but our favorite is the REDMOND 2 Slice Retro Toaster. It has some great features, like an automatic ejection system that pops out your toast when it's done, and a removable crumb tray. Plus, it comes in a variety of colors to match your kitchen décor.
Do I need a 2 or 4 slice toaster?
It depends on how many slices of toast you want to be able to make at one time. If you typically make more than two slices of toast at a time, then a four-slice toaster would be a better option for you. Do realize that a 4 slice toaster is large, a 2 slice is compact.
Is there a toaster that toasts evenly on both sides?
Toasters that toast evenly both sides of bread are available, but they are not as common as single-sided toasters. There are a few different mechanisms that can be used to toast both sides of bread at once.
Some toasters have two sets of heating elements, toast unevenly, one on each side. Others use a convection heating system to circulate hot air around the bread. Either way, getting even toast is possible, though it may take a bit of trial and error to find the perfect setting on your particular toaster.
If you're looking for an evenly toasting appliance, there are a few things you should keep in mind. First, read reviews before buying any appliance - this goes for anything from toasters to hair dryers.
Second, be willing to experiment with the settings on your toaster until you find the perfect combination.
Is a toaster oven better than a toaster?
A toaster oven is better than a toaster for a few reasons:
1) You can fit more food in a toaster oven.
2) A toaster oven cooks food more evenly than a toaster.
3) A toaster oven doesn't use as much energy as a full-sized oven.
4) A toaster oven doesn't take up as much space as a full-sized oven.
What are the disadvantages of a toaster oven?
There are a few disadvantages to toaster ovens. They tend to take up more counter space than an ordinary oven. Perhaps the biggest downside of toaster ovens is that they generally don't cook food as evenly as traditional ovens. This can lead to some areas of your food being overcooked or undercooked, which is definitely not ideal.
The Best Compact Toaster For You
We have spotlighted the 5 best compact toasters in the market and provided links so that you may learn more about their pricing to pick yours.
Now that you have seen our list of the best compact toasters, we hope that you are able to find the perfect one for your needs.
We hope this buying guide has been useful in assisting you in selecting the finest compact toaster for you.
You may also read other articles about other kitchen appliance reviews on our site.
Thanks for reading and happy toasting!
Catchy Finds