If you're looking to make an impression on your holiday guests, a beautiful tablescape can do the trick. But why settle for traditional red and green decorations when you can create something truly differently unique?
We suggest trying these three chic and elegant Christmas tablescape ideas for a modern take on the holiday season. Check them out!
What Does A Tablescape Include?
A tablescape typically includes a table runner, tablecloth, centerpiece, napkins, napkin rings, flatware, cuttery, glassware, and decorative elements such as candles, flowers, ornaments, or other objects.
What Are The Rules For A Table Centerpiece?
When choosing a centerpiece, you should keep in mind the size of your table and how much space is needed for guests to comfortably sit and enjoy their meal.
Your centerpiece should never be too high or obstruct the view of others around the table.
The best centerpieces are those that are balanced in terms of size and height.
Try to use items that will complement the Christmas tablescape design, such as candles, greenery, or florals.
Make sure to use colors and materials that will match the rest the other elements of the table setting.
If you plan to use a major object (such as a Christmas tree) as your centerpiece, be sure to leave extra room on the table for plates, glasses, and other items.
By following these rules, you can be sure to create a Christmas tablescape that looks picture-perfect!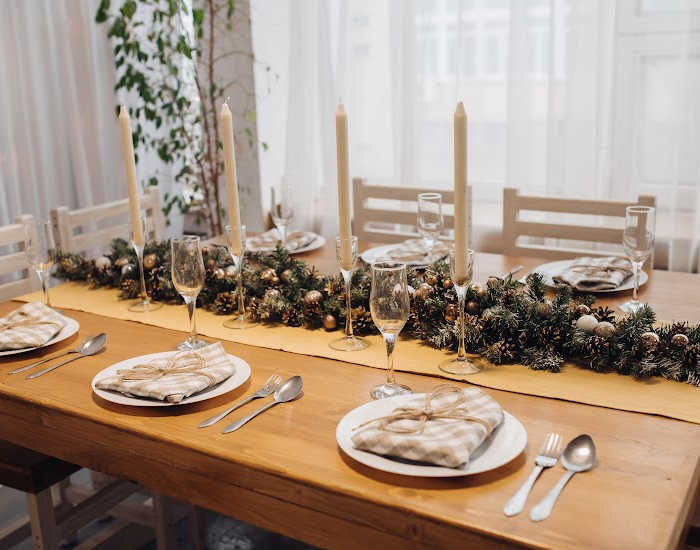 How Do I Make A Beautiful Tablescape?
The key to creating a beautiful tablescape is in the details.
Start with a thoughtful palette of colors and textures that reflect your style and set the mood for your event.
Then, layer on decorative elements like candles, cutlery, glassware, linens, and centerpieces that bring the design together.
Lastly, add personal touches like custom place cards, menu, photos, ornaments to make your tablescape truly unique.
Christmas Tablescapes Ideas
1. A Neutral-Colored Scheme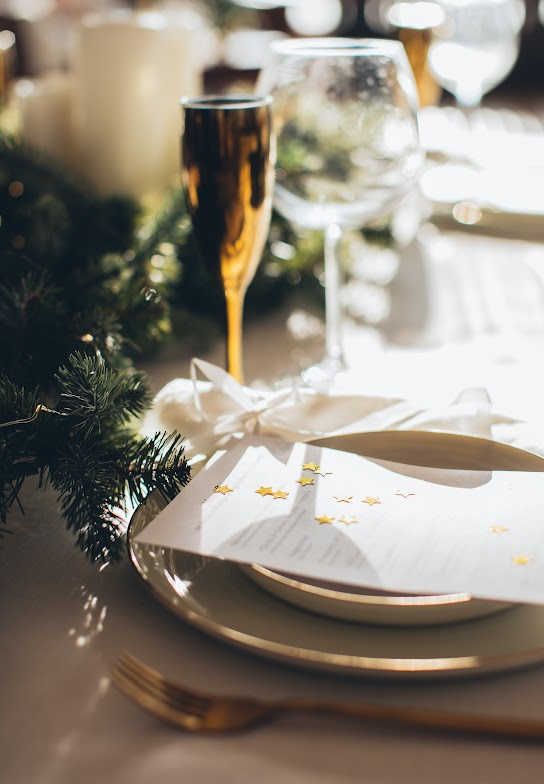 Elegance doesn't have to mean boring! Create a neutral color scheme with whites, grays, silvers, and golds to give your table a timeless look. A white or champagne color linen tablecloth is perfect as the base of your design. Fold a Christmas shape napkins to add a festive touch to the Christmas table.
Then add pops of silver or gold with cutlery and glassware. And don't forget the details—top it off with golden napkin rings, candles in golden candlesticks and small sprigs of greenery in metallic vases for an extra special touch.
2. A Modern Golden Scheme
Wanting to switch up your Christmas style this year? Try out a black and gold pairing for your color palette. With a basic black foundation, add in some shimmer with golden plates or golden cutlery.
Then add black dinnerware pieces along with simple glassware in either clear or gold varieties depending on what you prefer! Finally, top it off with some low-profile flowers or greenery.
3. Minimalist Glamour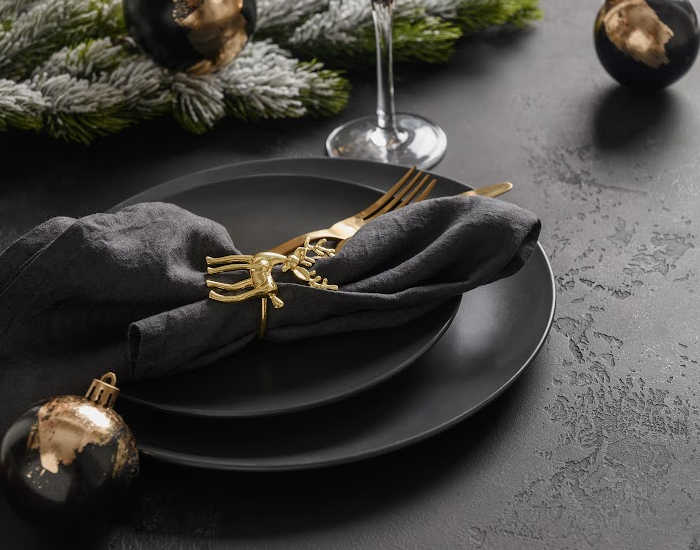 For those who want to keep things minimal yet elegant, try an all-black setting punctuated by subtle hints of gold. Begin by laying down a black or champagne linen tablecloth or runner—this will give the setting an air of sophistication while also adding texture to its all-black base.
Star-shaped dishes are always festive, so layer those on top of the solid-colored plates. Add mixed-colored glasses that incorporate both black and gold hues.
To add an interesting touch, include some golden sparkly ornaments and gold placemats. Additionally, use candles in black or gold votives for an extra layer of warmth and ambiance.
Tips & Tricks
Remember that white flowers and fresh greenery are a must-have for any tablescape. Choose seasonal varieties like cinnamon sticks, pine cones or magnolia leaves, green apples or little Christmas trees to give the setting an extra festive feel.
Also, experiment with different heights when arranging your centerpiece—elevated elements will add dimension and draw attention to the overall design.
Don't be afraid to mix and match materials like wood and stone with glass, metal, or ceramic pieces. This will add visual interest to your Christmas tablescape that your guests are sure to love!
Don't over-do it. Keep things simple and stylish—too much decor can take away from the overall look. A too-busy tablescape can also be distracting and overwhelm your guests.
If you need some more Christmas decorating ideas and learn how to set up a table for Christmas dinner in different ways, check out the video tutorial below for more Christmas tablescapes ideas.
With these tips & tricks in mind, you can be sure to set up an elegant Christmas tablescape that will leave your guests impressed!
No matter which style you choose, these three Christmas tablescape ideas are sure to impress your holiday guests this year! Get creative and explore different materials and colors to create something truly unique.
Need some inspirations with what Christmas dishes to cook? Check out our Christmas dinner ideas that are great for every family!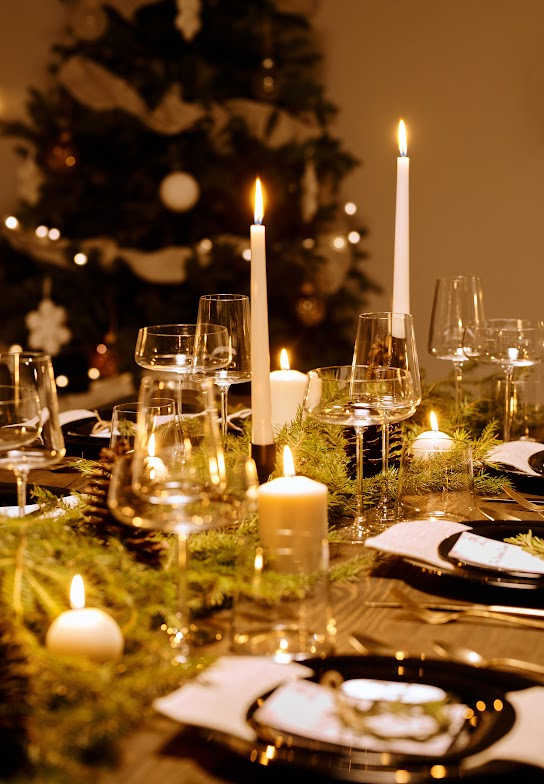 They all have a distinct elegance that is sure to set your table apart from all others at your gathering this season. So create a beautiful Christmas tablescape that's perfect for this festive season. Happy holidays!
Catchy Finds