Do you love cute things? Do you love cooking rice at home, and eat rice? If so, then you need a cute rice cooker in your life! Rice cookers tend to look boring. Perhaps a cute rice cooker might lift up the spirits! Remember cooking rice of the stovetop? If anything was boring, that was it.
There are so many rice cookers on the market these days, it can be hard to know which one is right for you. That's why we've put together this list of the best cute rice cookers available today.
We've researched out the cutest models and found the ones that we think may be perfect for anyone who loves cute things and wants to make perfect rice every time. Keep reading to learn more!
💡
We participate in the Amazon Associates Program, if you buy a product with the links that we provide, we may receive a small commission from Amazon. There is NO additional cost to you!
Catchy Finds' 6 Picks In The Spotlight






---
CUCKOO Micom 6 Cup Red Rice Cooker
What Makes It Catchy
Looking for a simple and versatile method to feed your family of four? This micom rice cooker has the ideal dimensions for your kitchen counter and includes 11 meal choices, so you may cook everything from white or brown rice, sticky rice and rice porridge, as well as options such as steam and multicook. One of the multicook options would be using a rice cooker as a slow cooker. Its 6 cup capacity results in 12 cups of cooked rice.
Craving sushi but don't know what to order? Make your own sushi. The Cuckoo rice cooker and warmer produces sticky, sweet, and savory rice dishes to tantalize your taste buds. Another advantage: the cooking algorithm is designed to automatically cook delicious rice so you can have an easy meal every time. You   will never face burnt rice, and your cooker will not dry out the rice.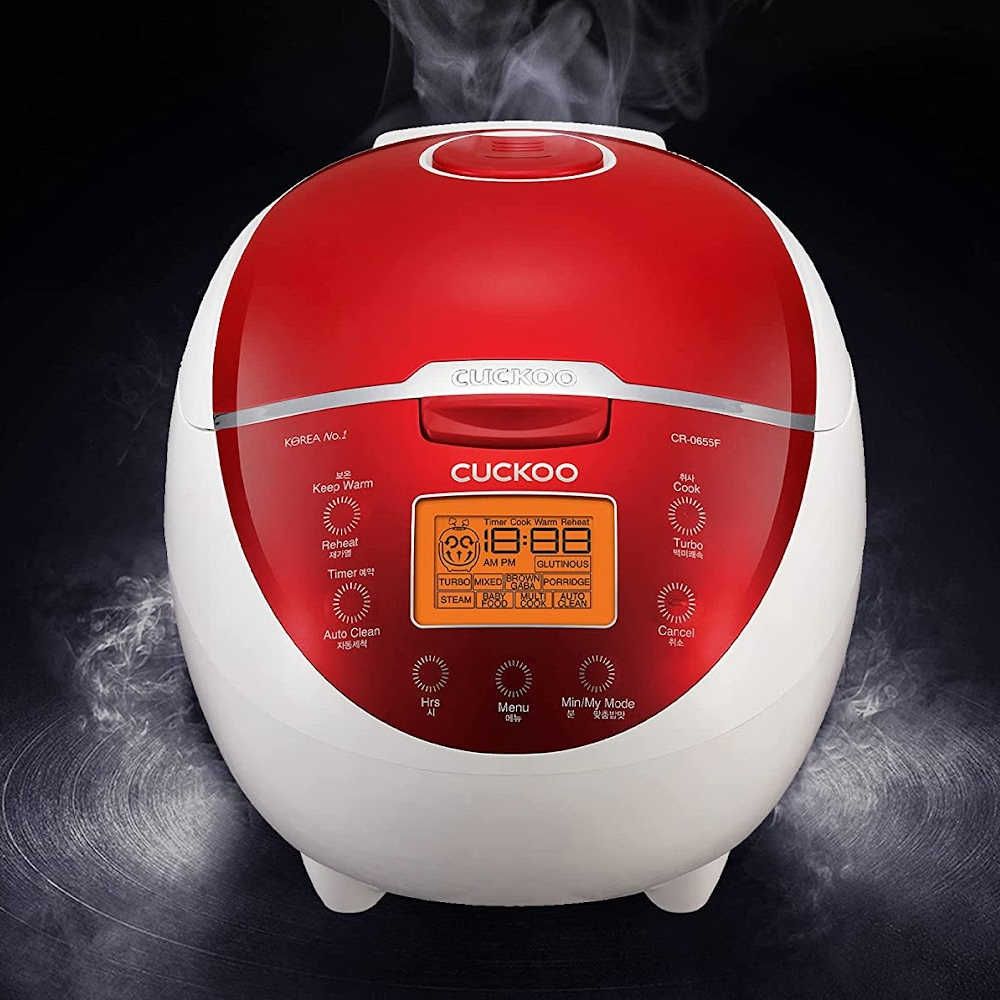 Things In The Spotlight
This appliance is amazing and definitely one of the best rice cookers you can find in its price range. With 16 pre-programmed rice settings, it takes the guesswork out of cooking all sorts of different types of rice so that you can get any flavor or texture you want.
The removable nonstick inner pot and detachable inner lid make this product easy to clean. In addition, the smart cooking technology will automatically detect food weight and adjust cooking time for perfectly cooked rice every time. This may well be the right rice cooker for you.
---
Zojirushi 5.5 Cup Hello Kitty Rice Cooker
What Makes It Catchy
Looking for a top-quality rice cooker that's also super cute? Look no further than the Zojirushi 5.5 Cup Hello Kitty Rice Cooker! This limited edition cooker features beautiful gold graphics of Hello Kitty, everyone's favorite little bow-wearing kitty.
But it's not just all looks - this rice cooker is also durable and easy to use, with one-touch operation and automatic keep warm function. Plus, the triple heater system generates ideal temperature for perfectly cooked rice every time.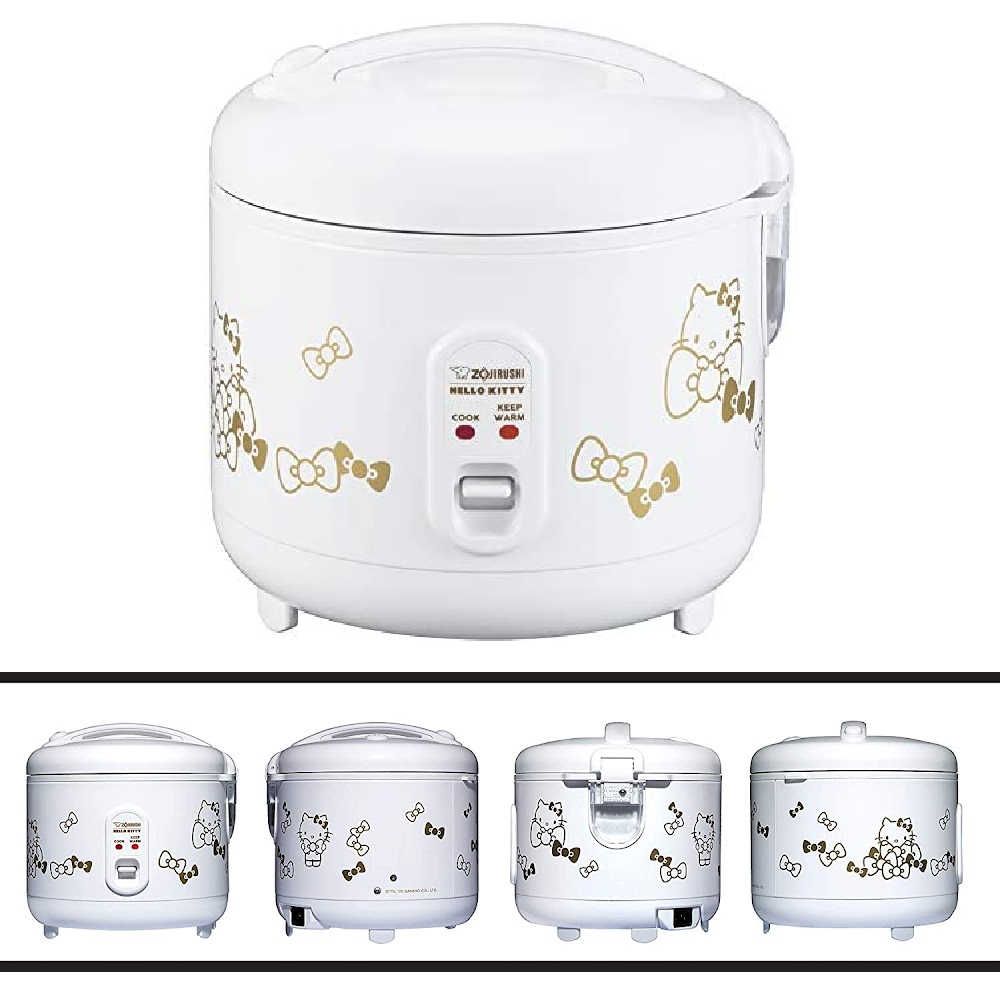 Things In The Spotlight
Rice is evenly cooked from bottom, sides and top of the pan. This top-of-the-line cooker features a detachable and washable inner lid, making it easy to clean. Plus, the nonstick coated inner pan ensures that your rice will come out perfectly cooked every time. All Zojirushi rice cookers come with a rice paddle and a measuring cup: this Hello Kitty cutie is no exception.
And with the hinged lid and easy-to-open handle, you'll be able to access your food with ease. So if you're a Hello Kitty fan (or know someone who is!), this Zojirushi rice cooker is a must-have addition to your kitchen.
---
Reishunger 3.5 Cup Digital Mini Rice Cooker
What Makes It Catchy
This small and efficient rice cooker uses groundbreaking 7-phase cooking technology to cook your rice to perfection, with full flavor and perfect consistency every time. As for rice, it cooks standard (medium-grain) white rice, long-grain white rice, brown rice, (short-grain white) sushi rice, congee (rice porridge) and crispy rice. Varieties that have become popular around the world.
Plus, it's super easy to use, with an intuitive menu selection and well-lit display. And if that's not enough, the Mini Rice Cooker also comes with 8 cooking modes, so you can use it to steam fish, vegetables or meat, or even bake cakes! It holds 3.5 cups of uncooked rice, so it produces 7 cups of cooked rice. So whether you're cooking for yourself or for a small group, the Reishunger has you covered.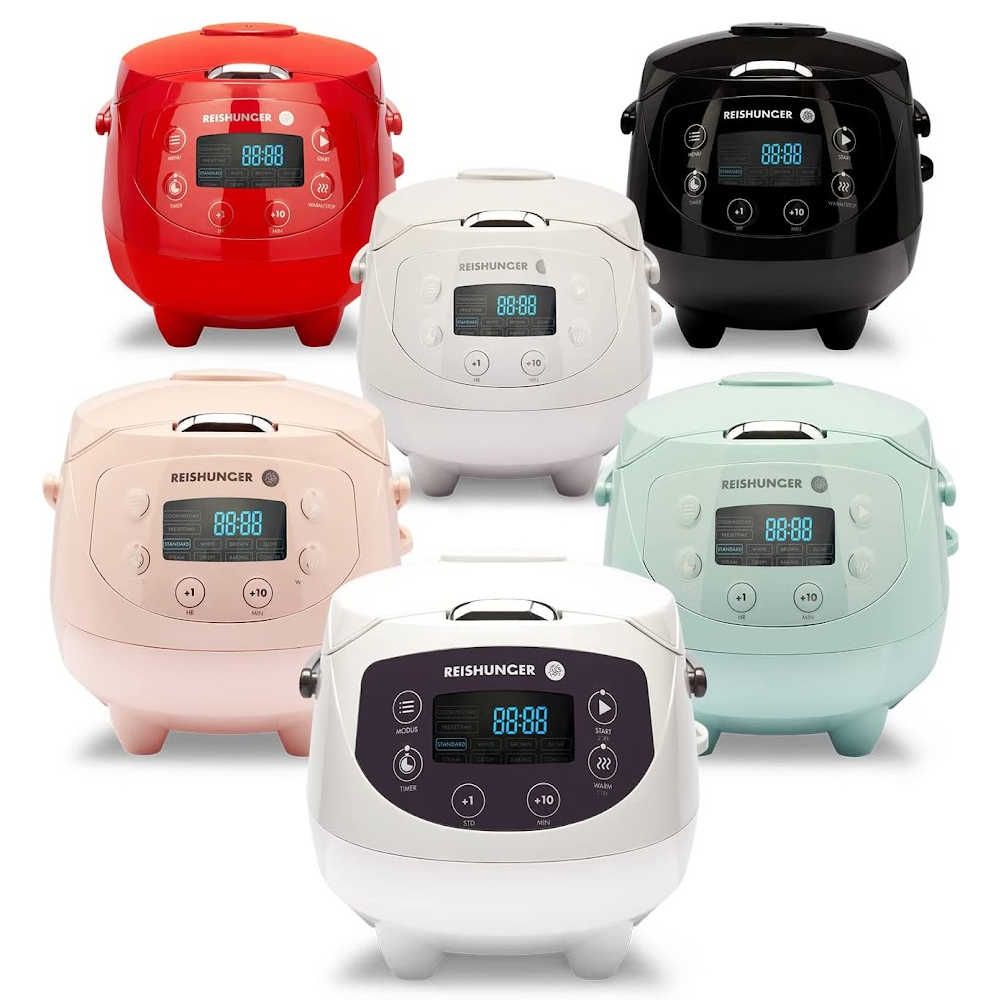 Things In The Spotlight
Reishunger is a German brand, founded by Asians. Its name means in German: "craving for rice". This high-quality rice cooker is made from stainless steel with practical handles and double, non-stick ceramic coating. The 3D heat distribution ensures evenly and perfectly steamed rice.
If a non-Japanese rice cooker would successfully compete with Japanese or Korean models,  Reishunger's affordable electric rice cooker would definitely belong to the category "best rice cookers of 2022". It comes in six colors. Plus, the high quality workmanship and easy-to-read LED display make this rice cooker last long and be super user-friendly.
And the best part? You can now plan exactly when our delicious rice will be on your table - up to 24 hours in advance. Simply set the desired time, add rice and water and press the start button.
---
DASH 2 Cup Pink Rice Cooker
What Makes It Catchy
This little two button rice cooker is super simple to use – just add water and press the cook button, and your meal - max. 4 cups of cooked rice - will be ready in less than 20 minutes. How much rice is always an item. Like, one cup of rice (uncooked) will get you two cups of cooked rice.
Plus, this Dash features a handy keep warm function to make sure your food always stays hot and delicious, and you'll never have to worry about overcooking or undercooking your rice.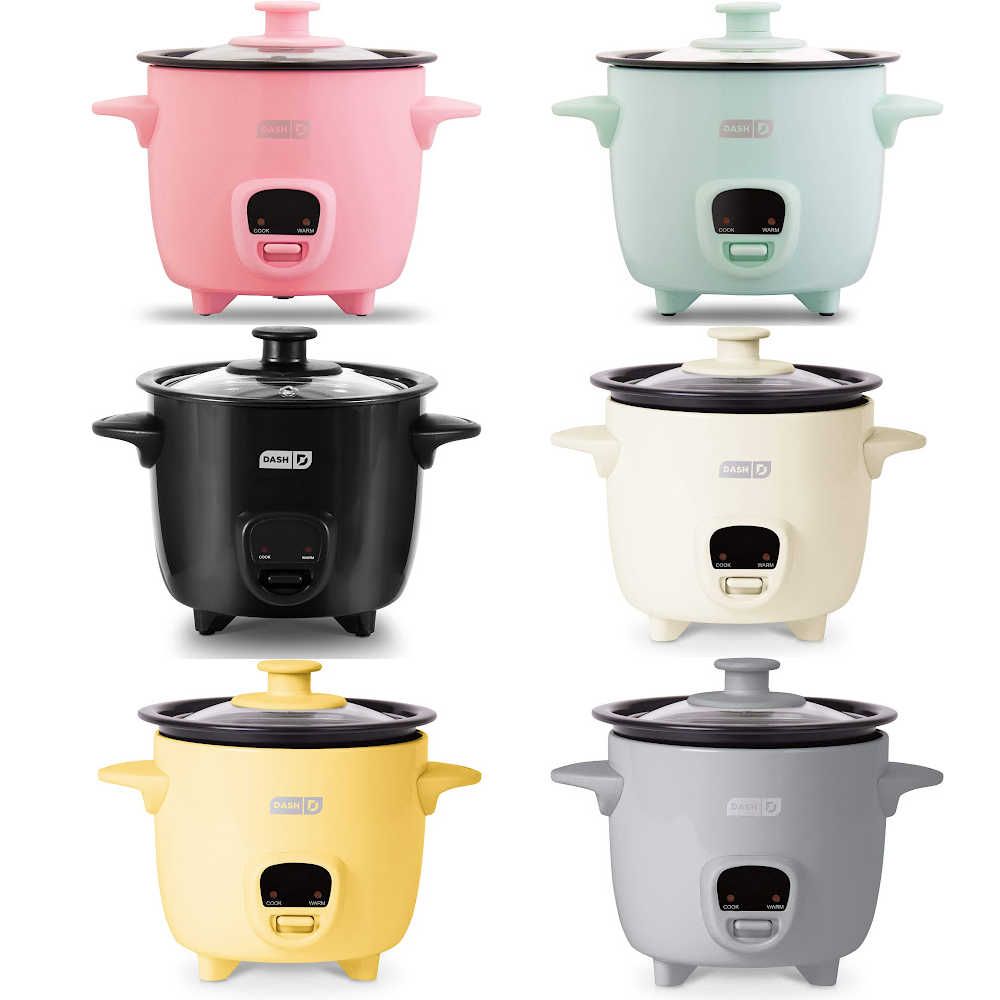 Things In The Spotlight
The 2-cup capacity is perfect for portion control, or individual quick and easy meals like breakfast, lunch, dinner, snacks or side dishes.
This small and compact rice cooker is perfect for anyone who lives in a dorm room, apartment, or RV. You can take it with you when you travel, as it's portable. One of the best small rice cookers, it's is available in a number of bright colors to complement any kitchen design scheme. One of the best rice cookers you can buy in this price category.
---
Aroma Housewares 3 Cup Black Rice Cooker With Steamer
What Makes It Catchy
This 3-cup rice cooker is perfect for making a variety of dishes, from hearty jambalaya to steamed veggies, soups, and of course, rice. Plus, the one-touch operation makes it super easy to use – just fill it up, power it on, and let it cook!
And when the cycle is done and your rice is perfectly cooked, the Automatic Keep Warm feature will kick in to keep your food at the perfect temperature until you're ready to serve.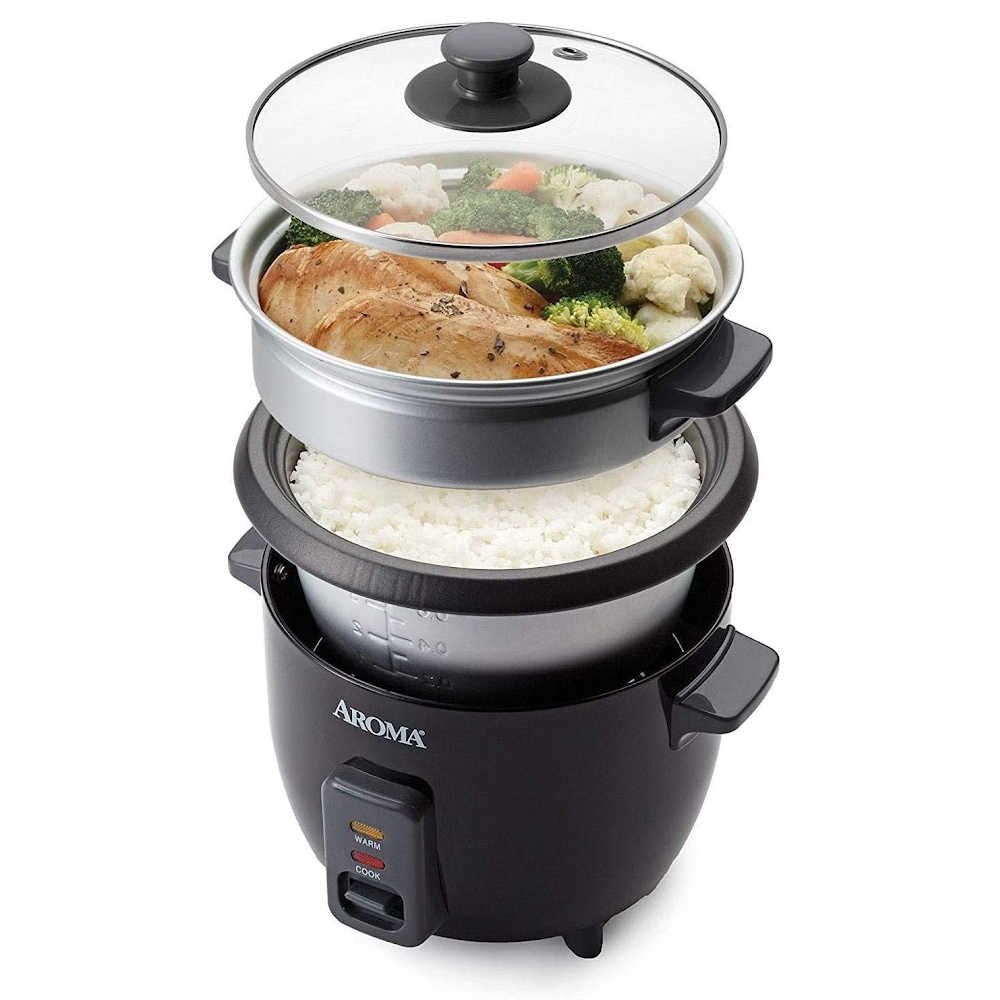 Things In The Spotlight
This Aroma rice cooker not only cooks rice perfectly, but also comes with a steam tray for simultaneous steaming. That means you can cook your veggies, poultry, fish, or any other meal while your rice is cooking below.
Talk about one pot cooking at its finest! And with a 6-cup cooked capacity, this best budget rice cooker is perfect for individual meals or side dishes. Plus, the included nonstick inner pot makes cleanup a breeze.
---
WHITE TIGER 1L Portable Rice Cooker
What Makes It Catchy
This portable rice cooker is both easy to use and efficient. It's perfect for busy office workers or families of two, as it can cook a variety of dishes in just 15 minutes.
With its updated keep warm function and indicator light, you'll never have to worry about overcooking your food. Whether you're looking to make rice, soup, oatmeal, cake, yogurt, pasta or dessert, this dedicated rice cooker is the perfect appliance for you.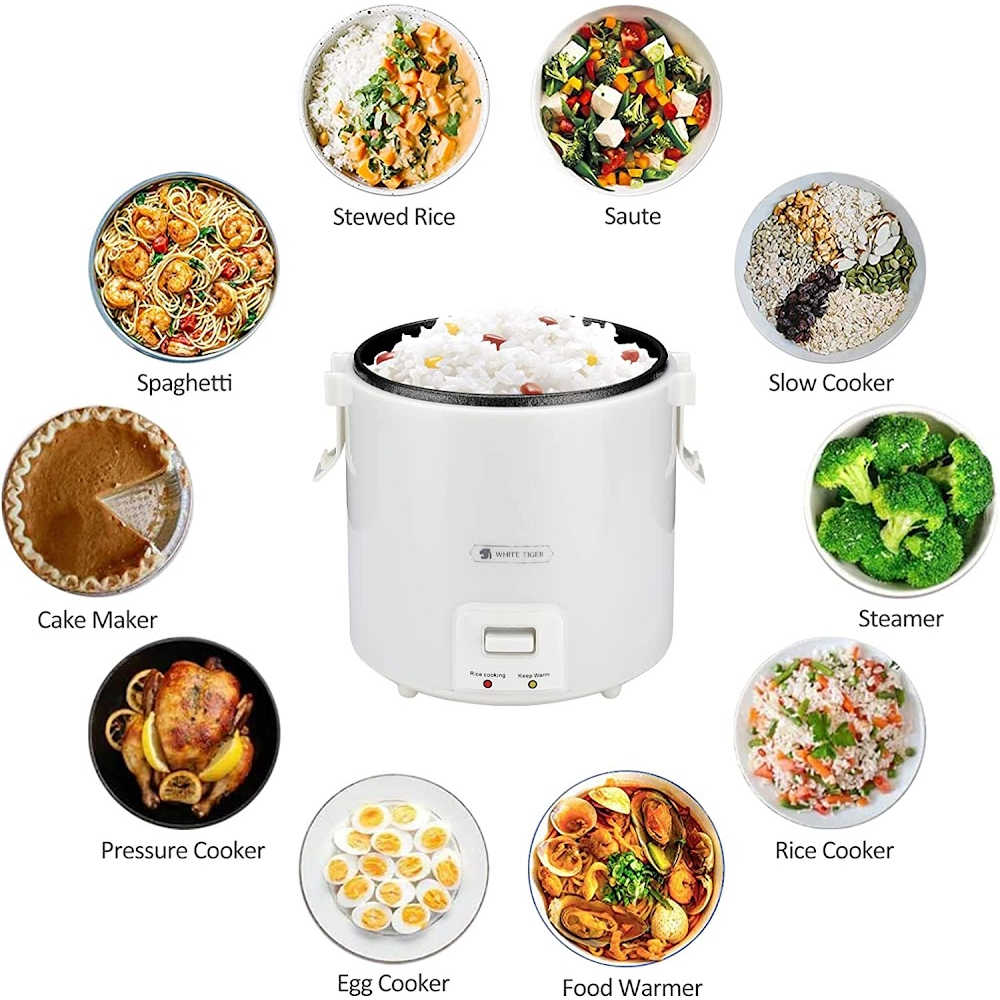 Things In The Spotlight
This little appliance takes all the guesswork out of cooking rice, automatically shifting to the warm setting once the cook cycle is complete.
Plus, cleanup is a breeze thanks to the dishwasher-safe cooking bowl and rinsing basket. The fashionable white color is sure to match any décor, and the compact size makes for easy storage.
---
Cute Rice Cooker FAQs
Whether you're a rice lover or not, there's no denying that this little kitchen gadget can be super handy. But with so many different models and brands on the market, it can be hard to know which one is right for you.
To help you out, we've compiled a list of frequently asked questions about rice cookers. So read on and find out everything you need to know about these nifty little devices!
What is meant by a "cute rice cooker"?
"Cute" means, attractive, especially in a dainty way; pleasingly pretty. Who doesn't like a cute baby? But the word cute is also applied to objects. And yes, it has become a term applied to kitchen appliances as well! A cute rice cooker is a pleasingly pretty rice cooker.
It's typically a small rice cooker, which appeals to some people's taste for "cuteness". So, it's a matter of personal taste. Still, the main thing remains: you want your rice right. And if it's cooked in a cute cooker, lovely!
What is the best rice cooker?
There are many factors to consider when purchasing a rice cooker. For some people, sleek, cute or industrial design is important while others might prioritize capacity or cooking time.
There are many different kinds of rice cookers on the market, such as electric, induction, or gas. Of course there are cheap and expensive rice cookers, and everything in between.
Do you want a simple rice cooker, or willing to explore the world of higher-end rice cookers? Most rice cookers will make rice, as well as other dishes. It can be a challenge to find the best rice cookers.
Below is a list of features to keep in mind when shopping for a rice cooker:
Cooking time: How long does it take to cook a pot of rice?
Capacity: What quantities of rice can it cook at once? Will you be cooking a lot of rice?
Design: Does it have a sleek and modern design or a more traditional one? - Is it aesthetically pleasing?
Ease of use: Is it easy to use? Does it have a lot of different settings?
Types of rice: Can it handle the different types of rice you plan to cook, or just white and brown rice?
Functionality: Can it do more than just make rice? Some rice cookers can also steam vegetables or cook other types of grains.
Warranty: Does it come with a warranty?
Last but not least, even the best rice cooker will disappoint, if you don't pay attention to the quality of the rice.
What is a good mini rice cooker?
As far as small or mini rice cookers go, there are a few things you should look for to ensure you're getting a good one. Note: a mini rice cooker can handle 2 cups of uncooked rice (4 cups cooked).
First, it should be able to evenly cook the rice so that it's not sticking to the pot or burning.
Second, it should have a tight-fitting lid to prevent steam from escaping and making a mess.
Third, it should be easy to clean so that you can quickly get it ready for your next batch of rice.
How big is a mini rice cooker?
A mini rice cooker is about the size of a large coffee mug, handles 1 cup of uncooked rice, which will become 2 cups of cooked rice. However, mini rice cookers that can handle 2-3 cups of uncooked, or 4-6 cups of cooked rice are also considered "mini". They have the size of a small pot.
They're perfect for small households or for people who want to cook smaller batches of rice. Some mini rice cookers come with a steaming tray, which allows you to cook vegetables or fish at the same time as your rice.
How long does rice take in a mini rice cooker?
In a mini rice cooker, it will take about 20 minutes for white rice and 30 minutes for brown rice. The cooking time may vary depending on the make and model of your mini rice cooker.
Always refer to your owner's manual for the specific instructions. When making rice in a mini rice cooker, be sure to rinse the grains well with cold water before adding them to the pot. This will help remove any excess starch and ensure fluffy, tender results.
What does "micom" mean?
Micom is a term indicating the appliance is monitored by a microcomputer. Modern rice cookers use this technology to use different ways of cooking for different kinds of rice.
Are rice cookers better than microwave?
There are many factors to consider when deciding whether a rice cooker or microwave is better for you. Below are some pros and cons of each option:
Rice Cooker Pros:
- Rice cookers are typically very affordable.
- They're simple to operate, with most models featuring just one button.
- Rice cookers produce perfect rice every time, with minimal effort on your part.
- Many come with other functions, like the ability to steam vegetables or make soup.
Rice Cooker Cons:
- They can be bulky, taking up valuable counter space.
Microwave Pros:
- Microwaves are much smaller than rice cookers and take up minimal counter space.
- They're easy to use, with most models featuring just a few buttons.
- You can make rice in the same pot that you'll use to eat it, which saves on (washing) dishes.
- Microwaves cook rice quickly, in as little as two minutes.
Microwave Cons:
- The quality of microwave rice can vary greatly, and it's often overcooked or mushy.
- You have to keep a close eye on it to prevent overcooking, which can be difficult if you're doing other things at the same time.
So, which is better? Ultimately, it depends on your needs and preferences. If you want perfect rice with minimal effort, go for a rice cooker. If you're short on space and want to cook rice quickly, and don't mind keeping an eye on the cooking process, a microwave oven is a good option.
How long do you cook 2 cups of rice in a microwave rice cooker?
There is not one definitive answer to this question as it will depend on the specific microwave rice cooker that you are using as well as the type of rice that you are cooking. However, we can provide some general guidelines to help you get started.
If you are using a typical microwavable rice cooker, they will usually have specific instructions on how to cook various types of rice. For example, basmati rice will typically take around 12 minutes to cook, while brown rice may take a bit longer at 20 minutes. Again, it is important to consult your user manual for more exact cooking times.
As a general rule of thumb, we would recommend starting with 2 cups of water for every 1 cup of dry rice.
Is it healthy to cook rice in electric cooker?
Yes. Rice cooked in an electric cooker is as healthy as cooking rice on the stove top. Rice cooker or rice on the stovetop: both methods of result in a nutritious, gluten-free main or side dish that is low in fat and calories and high in carbohydrates, thiamin, niacin, and vitamin B6.
Why are Japanese rice cookers better?
Non-Japanese rice cookers are usually limited. They cook rice. Maybe they have a brown rice setting. However, if you want a rice cooker for mixed rice or sticky rice, many non-Japanese cookers are unfit to handle with special kinds of rice. Japanese rice cookers are better because they feature different ways to make rice and can handle many kinds of rice, while the quality of rice they produce is better.
Japanese like rice - different kinds. Rice is an important part of the Japanese diet, and the Japanese have developed a number of techniques for producing the perfect pot of rice. One of these techniques is using a specialized rice cooker.
A good Japanese rice cooker will evenly distribute heat, which results in fluffy, evenly cooked rice. It will also keep the rice warm after it's been cooked, so it doesn't get cold and stick together.
Finally, a good Japanese rice cooker will automatically go into "keep warm" mode after cooking, so your rice will be ready to eat when you are. Several models have settings for specific types of rice, such as sushi rice. They may cost more, but a Japanese rice cooker is worth the investment.
What else can I cook in a rice cooker?
A rice cooker can cook a variety of things, including but not limited to, rice, oatmeal, quinoa, vegetables, and meats.
For example, if you want to make a simple vegetable dish, you can cut up your favorite vegetables (such as broccoli, green beans, or carrots), place them in the rice cooker with water or broth, and set it to cook. You can also make dishes such as congee (a type of rice porridge), risotto (an Italian dish made with arborio rice), or even brownies in a rice cooker.
Some rice cookers have steamer baskets that allow you to steam food items such as fish or chicken. This is a great way to cook your food without having to dirty another pot or pan. Plus, it adds an extra level of flavor to your dish.
So, if you're looking for a versatile kitchen appliance that can help you make quick and easy meals, consider investing in a rice cooker. You won't be disappointed!
What is the difference between a rice cooker and a steamer?
A rice cooker will cook rice. A steamer is a kitchen appliance used to cook vegetables and other food items.
A rice cooker has a heating element at the bottom that cooks the rice, while a steamer has multiple levels with compartments that hold the food and allow hot air to circulate around it, cooking the food.
Some people also use their rice cooker as a steamer by adding water to the bottom of the pot and placing their vegetables on a steaming tray - assuming their rice cooker has one.
Modern rice cookers, especially the Japanese and Korean, are programmed to use different ways to cook rice of different kinds right, and also, steam vegetables and other food items, however.
How long can you leave rice in a rice cooker?
In most rice cookers you can leave rice at least up to four hours. After that, the rice will start to dry out and become less cooked. Best is to put it in a container, save it in the fridge, and later, treat yourself to a delicious plate of fried rice. However, some rice cookers can keep rice warm for 8 - 12 hours.
What to do with leftover rice?
You can make fried rice.
Rice is a versatile grain that can be used in both sweet and savory dishes. One of the most popular ways to use leftover rice is to make fried rice. Fried rice is a quick and easy meal that can be made with ingredients that you have on hand, like eggs, cut veggies, sliced pieces of chicken or beef.
To make fried rice, start by heating oil in a pan over medium heat. First add the ingredients and cook until softened, about 5 minutes. Then add the cooked, leftover rice and cook, stirring frequently, for 5 minutes more. Stir in the soy sauce, salt, and pepper to taste. Serve hot. Enjoy!
Can I cook rice in an air fryer?
Yes, you can definitely cook rice in an air fryer! It's actually really simple and straightforward to do. Here's a quick and easy recipe for you to follow:
Ingredients:
1 cup of rice
1 cup of water
1 tablespoon of olive oil or vegetable oil
Salt (to taste)
Instructions:
Start by preheating your air fryer to 400 degrees F.
Add the rice, water, and oil to the air fryer and give it a good stir.
Season with salt to taste.
Place the basket in the air fryer and cook for 12-15 minutes, or until the rice is cooked through.
Once the rice is done, fluff it with a fork and serve. Enjoy!
What is better, an air fryer or rice cooker?
Rice cookers are better for cooking white rice, whereas air fryers are better for cooking foods with a higher fat content. Rice cookers make sure the rice is cooked evenly and thoroughly, whereas air fryers produce a crispy crust on the outside of the food.
If you're interested in the possibilities and features of air fryers, I invite you to check out our FAQ's on the air fryer products we have selected.
Can you cook eggs in a rice cooker?
It is possible to cook eggs in a rice cooker. However, it is important to note that the cooking time will be much shorter than if you were to cook them on the stove.
Additionally, the texture of the egg may be different than what you are used to. Nonetheless, if you are looking for a quick and easy breakfast option, cooked eggs in a rice cooker can be a good choice.
However, my advice: please keep it simple. Just cook your eggs in a regular sauce pan. Fill it with water until it covers the eggs. Boil: 10 minutes hard-soft, 12 minutes hard, 8 minutes soft-hard. Keep it simple.
How do you cook eggs in a rice cooker?
Here is a basic recipe for cooking eggs in a rice cooker:
Ingredients:
1 or 2 eggs
1/4 cup of water
Dash of salt (optional)
Nonstick cooking spray (optional)
Instructions:
Add the eggs and water to the rice cooker.
If you want, add a dash of salt.
Stir well.
Optional: For easier cleanup, spray the inside of the rice cooker with nonstick cooking spray before adding the eggs and water.
Cover and cook on the "white rice" or "quick cook" setting for about 12 minutes, or until the eggs are cooked to your desired doneness.
Take out the eggs (use a soup spoon), throw the water, and serve. Enjoy!
---
The Cute Rice Cooker For You
We hope you found this post helpful and that it has given you a better idea of what to look for when shopping for. Which one of these items is your favorite?






If you're still on the hunt for the perfect rice cooker, be sure to check out some of our other posts. But until then, happy cooking!
Catchy Finds