A smoothie can be a great way to start your day. It's a delicious and nutritious way to get some vitamin C, fiber, and other essential nutrients. But if you're looking for something special, why not try a banana mango smoothie?
This delicious combination of sweet and tart is sure to please any palate. Plus, it's easy to make. Read on for a few tips to get you started.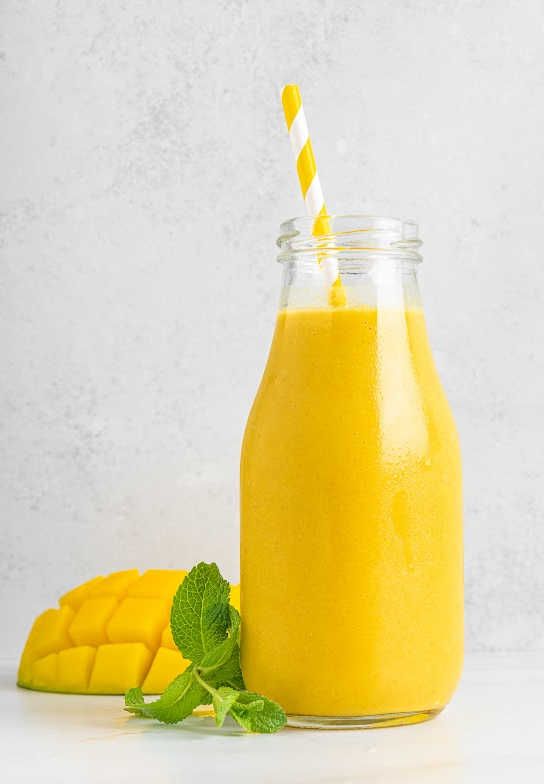 Mango Banana Smoothie
Ingredients
1 ripe mango
1 1/2 ripe bananas
1 cup of your favorite type of milk (almond, soy, coconut, oat, or cow's milk)
2 tbsp of honey
ice cubes (optional)
Instructions
First, peel the mango and slice it into small pieces.
Then cut the banana into slices as well.
Put the fruit in a blender with enough milk to cover it all up and blend until you have a thick, creamy texture.
Taste it and add more honey if desired.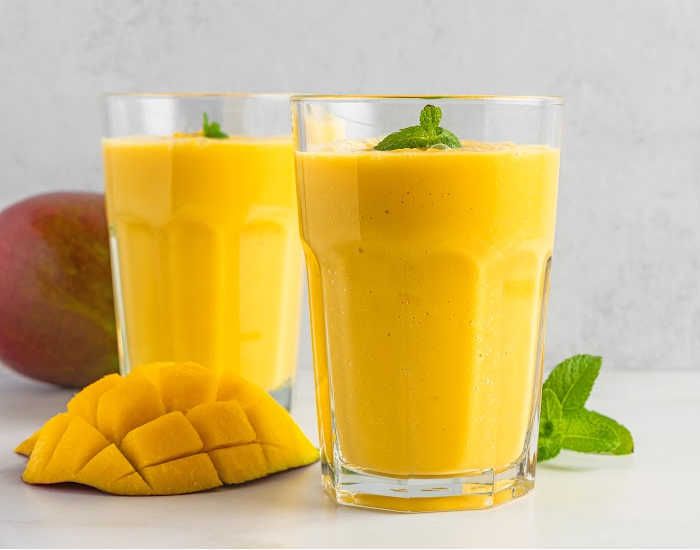 Banana Mango Smoothie FAQs
What fruit blends well with mango?
Pineapple, banana, peach, strawberry, and aloe vera are all great additions to a banana mango smoothie. Each of these fruits adds its unique flavor and sweetness. For a more tropical flavor, try adding some coconut milk or fresh lime juice to the mix.
What fruit blends well with banana?
Banana pairs nicely with almost any other fruit, including strawberries, and apples. For a more exotic flavor, try adding mango, papaya, kiwi, or pineapple. The banana brings a creamy sweetness to the smoothie that is balanced by the tartness of the other fruits.
Which fruits should not be mixed or combined?
Most fruits can be mixed but some combinations should be avoided. For example, bananas and avocados don't blend well when making smoothies. Additionally, bananas and grapefruit are not a good combination either.
Which fruits should not be mixed with milk?
Fruits like pineapple, kiwi, and oranges should not be mixed with dairy milk as these fruits can curdle the milk when combined. It's best to use a non-dairy alternative such as almond, oat, soy, or coconut milk for these types of smoothies.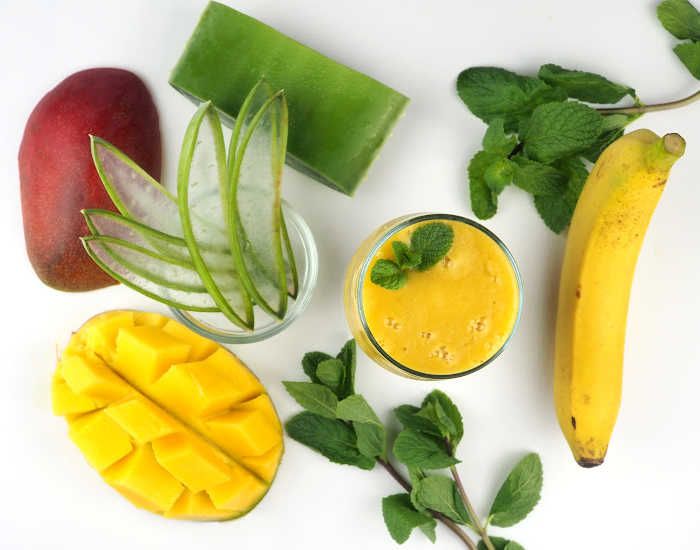 Tips & Tricks
The best part about this smoothie is that it can be tailored to fit individual preferences! If you like things a little sweeter, add more honey or agave nectar;
If you prefer something more protein try adding some Greek yogurt or nut butter! It's also great with fresh mint leaves sprinkled on top – whatever floats your boat!
A sprinkle of almonds or peanuts can instantly elevate your smoothie, adding a creamy texture and loads of protein.
For an added kick of flavor, add a teaspoon of ginger or cinnamon.
For vegan banana mango smoothies, substitute honey for maple syrup. Feel free to experiment with different types of milk, like almond, soya milk, or coconut milk, to find the perfect banana mango smoothie for you.
You can also opt for oat or banana milk for a creamier texture, and add oats into the smoothie to make it even more filling.
For keto banana mango smoothies, use coconut milk and sweeteners like stevia.
You can also add flaxseed, chia seeds, or hemp seeds to make your banana mango smoothie even more nutritious.
Need a blender to make banana mango smoothies? We've got you covered! Check out our selection of best glass blenders to find the perfect one for your needs.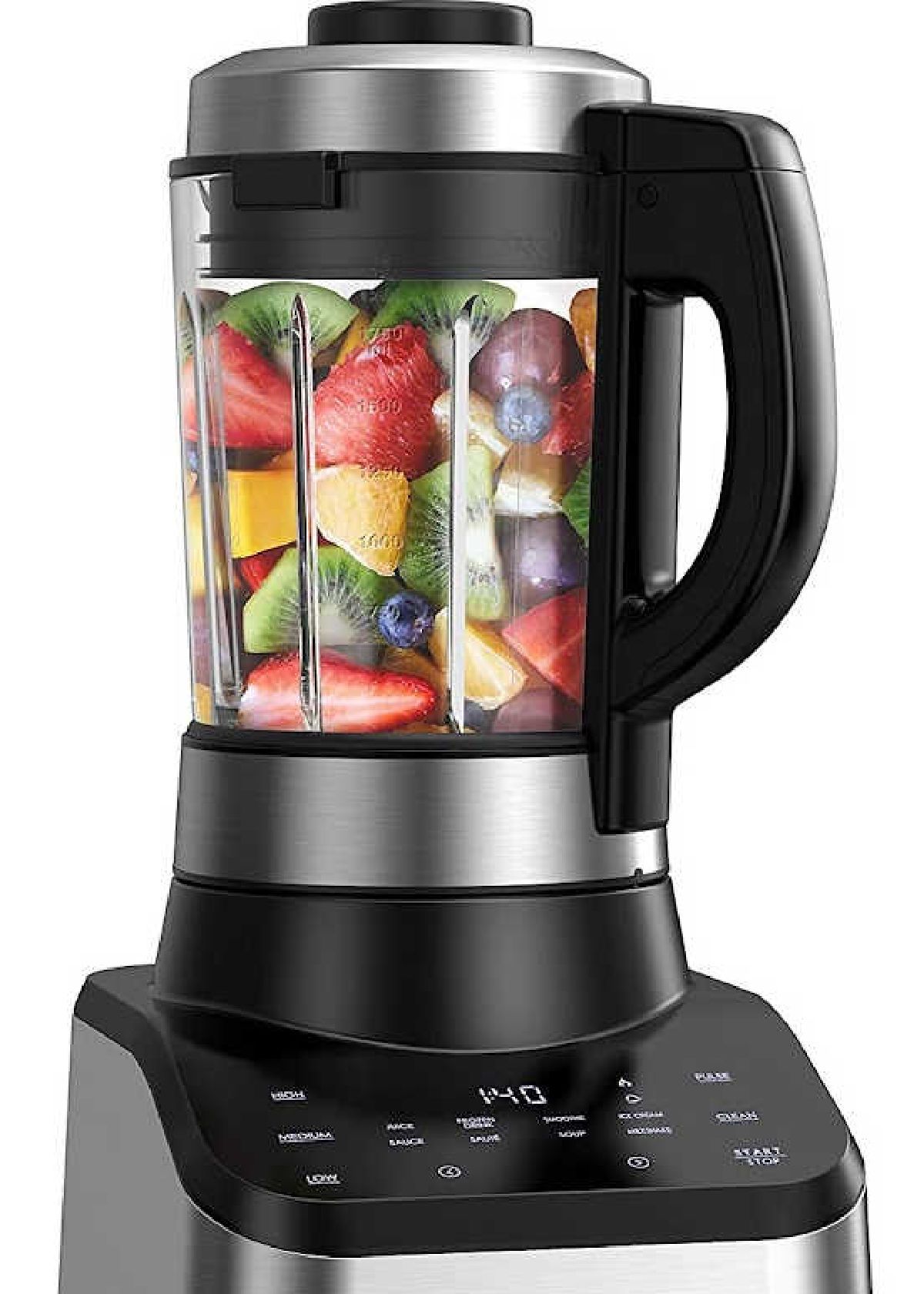 Banana mango smoothies are an excellent way to start your day. It's healthy, nutritious, and packed full of vitamins and minerals that will keep you energized throughout the day.
Plus there are endless possibilities when creating this delicious drink - so feel free to experiment until you find what works best for you! Happy blending!
Catchy Finds