Living in a small space has its challenges. One of the challenges is finding the appropriate storage solution for your groceries and beverages. A mini-fridge can be an excellent solution.
Mini fridges are compact, practical, and can fit in any room. Whether you want to keep your favorite drinks cold in your apartment, dorm room, living room, bedroom, garage, or even an outdoor patio, a small refrigerator is a convenient addition to any space.
In this guide, we will walk through 12 mini fridge ideas to help you maximize your small space storage while staying organized and stylish.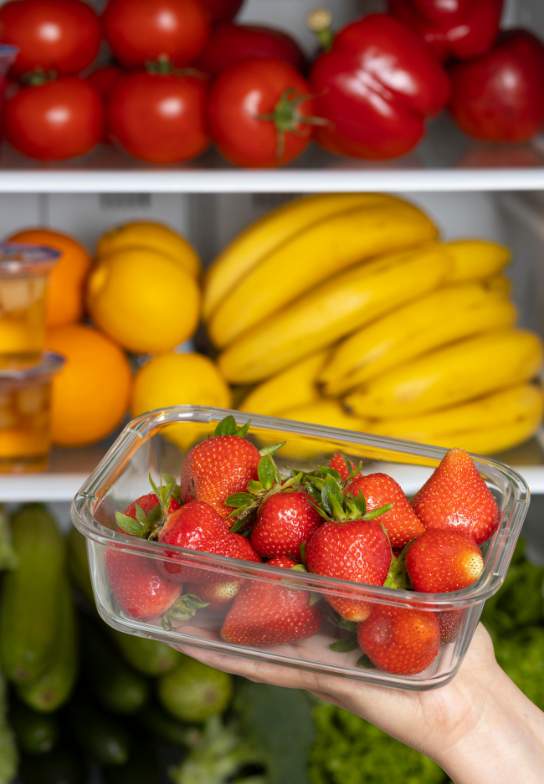 1. DIY Mini Fridge Ideas
If you enjoy DIY projects or want a cost-effective mini-fridge idea, you can transform a mini-fridge into a unique statement piece that reflects your personality:
You can use chalk paint to cover the fridge and personalize it with your favorite quotes or designs.
Another idea is to convert a small freezer into a fridge by adjusting the temperature controls.
Another idea is to build a mini fridge cabinet using a compact refrigerator as the base. This will provide extra storage and allow you to hide the fridge away in a stylish way.
These DIY mini fridge ideas are endless, and they can add a touch of creativity to your room.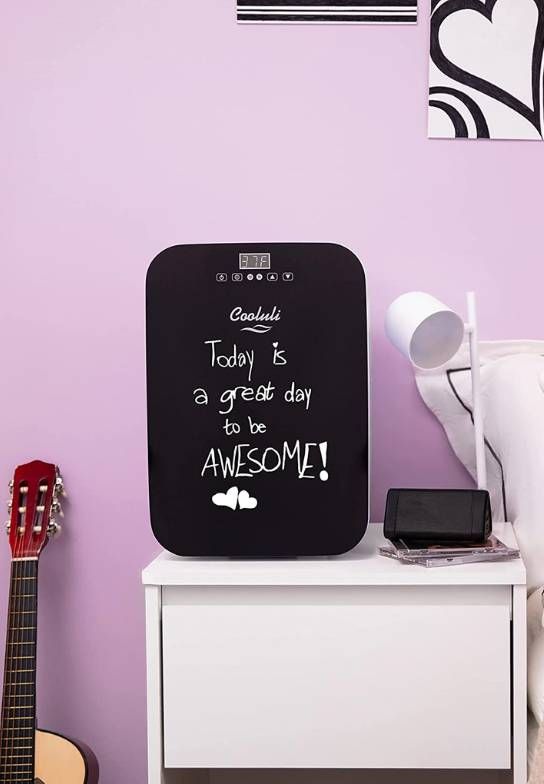 ---
A glass door mini fridge is a sleek and modern option that showcases your drinks and snacks while keeping them cool.
This type of fridge can transform your space and create a stylish statement.
You can choose among different sizes and colors to match your décor.
You can also add LED lights inside the fridge or near it to create a cozy ambiance in your room.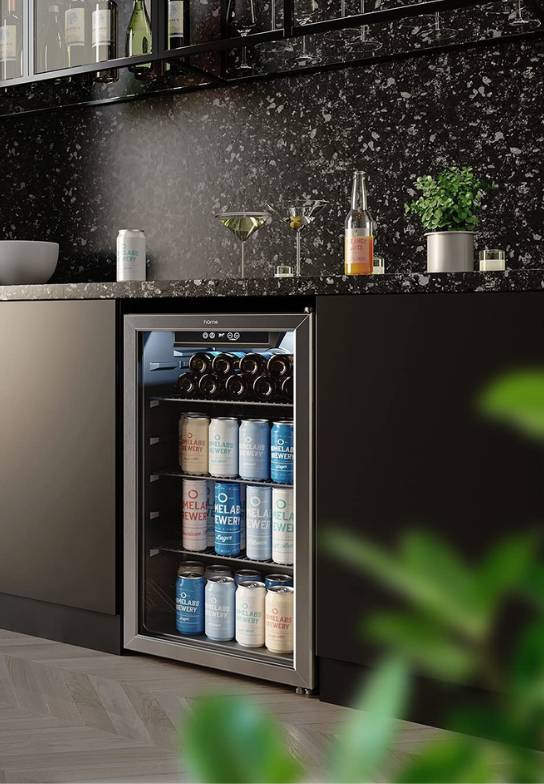 ---
If you have limited space and want to maximize your space, a built-in mini-fridge can be the perfect solution.
You can opt for a seamless blend or go for a contrasting panel to add an eye-catching element to your space.
A built-in mini-fridge can be customized to fit perfectly in your kitchen cabinets or an under-counter area.
You can choose among different sizes, and styles that match your décor, such as glass-door, drawers, tall fridges, or beverage coolers.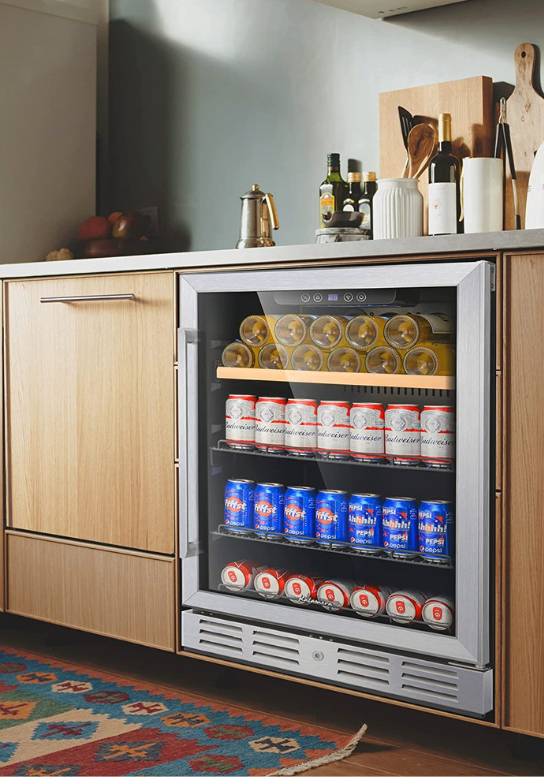 ---
Having a mini fridge in your bedroom can be convenient for many reasons, such as late-night snacks or chilled drinks while you binge-watch your favorite show.
You can choose a compact and silent fridge that won't disturb your sleep.
Opt for a freestanding mini fridge that fits under your nightstand or even go for a colorful one to add a pop of color to your room.
You can also add a table or a shelf near the fridge to store your favorite books, plants, or candles.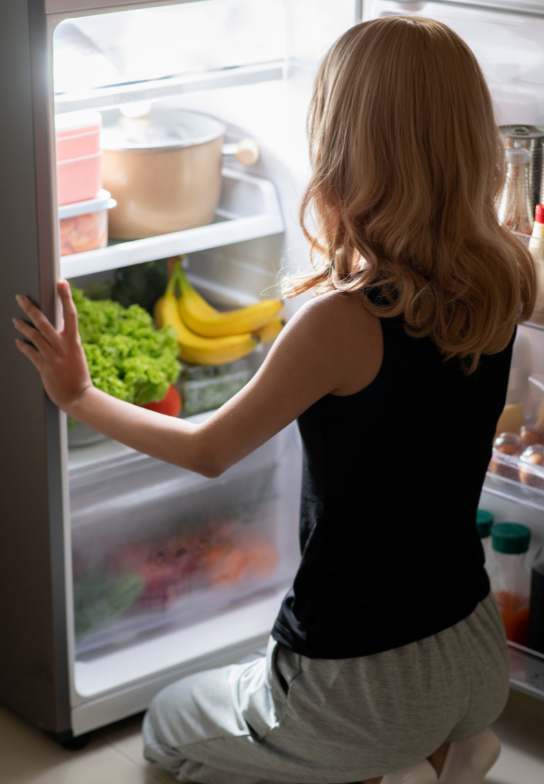 ---
A mini-fridge is an essential appliance for any home mechanic or workshop enthusiast, or "mancave dweller".
You can store cold drinks or snacks while working on your projects, which is not only convenient but can also improve productivity.
You can choose an outdoor fridge or an industrial type of fridge that is durable and easy to clean.
You can also add a magnetic board near the fridge to write down your to-do list or project plans.
Consider a fridge with a lock if you have children or animals that may want to get into your fridge.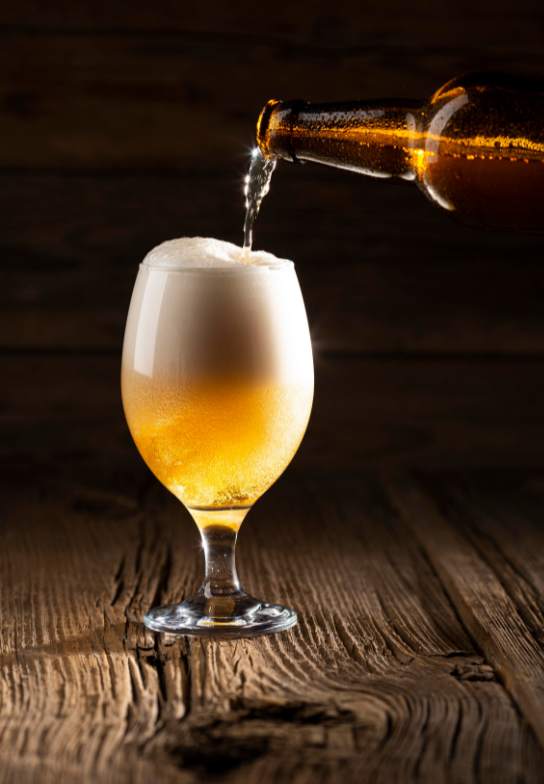 ---
If you enjoy hosting BBQ parties or spending time on your outdoor patio or backyard, a mini fridge can help create your outdoor kitchen.
Choose a weather-resistant mini fridge that can withstand extreme temperatures and different conditions.
You can also add an umbrella or gazebo near the fridge to create a shaded area while sipping your cold drinks.
Choose a model with sturdy wheels to make it easy to move around and move inside when it's the weather get bad.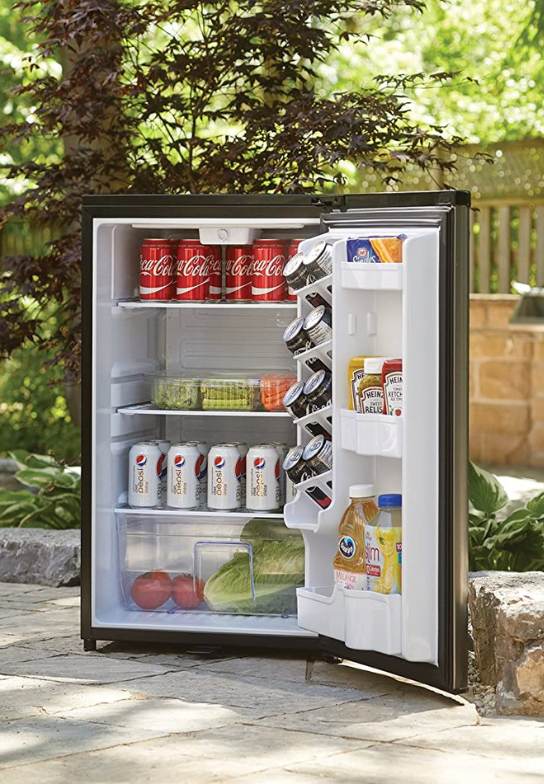 ---
If you have a small kitchen space, you can use a kitchen cart with a mini-fridge instead of a bulky refrigerator. Note: you will need to be close to a wall outlet, and be careful with the wire...
A kitchen cart with a mini-fridge can be useful as it acts as additional storage for groceries, utensils, or other appliances.
A retro mini fridge is perfect for adding a vintage touch to your space. Choose a pastel-colored retro design or go for a classic red design to add a pop of color to your space.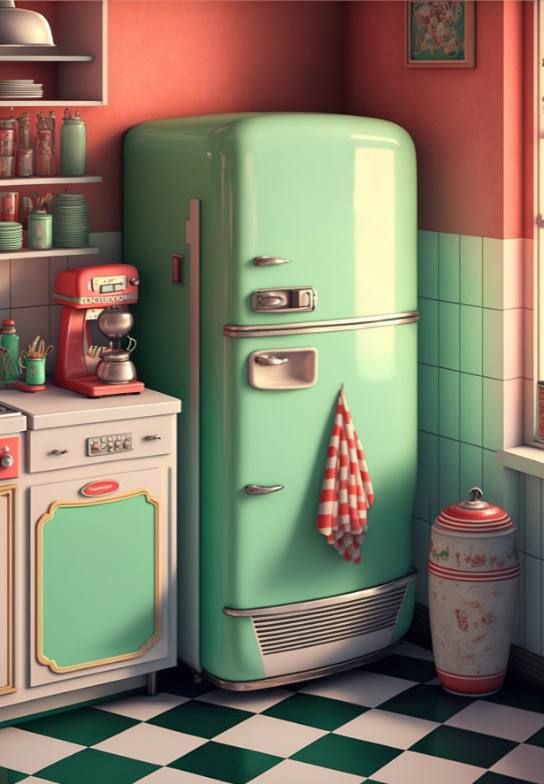 ---
A mini fridge can be a must-have item for college students and their dorm rooms.
Opt for a compact and affordable mini fridge that won't take up much space in your room.
In college dorm rooms, one can also add a colorful tapestry near the fridge to add some style and cover the blank walls.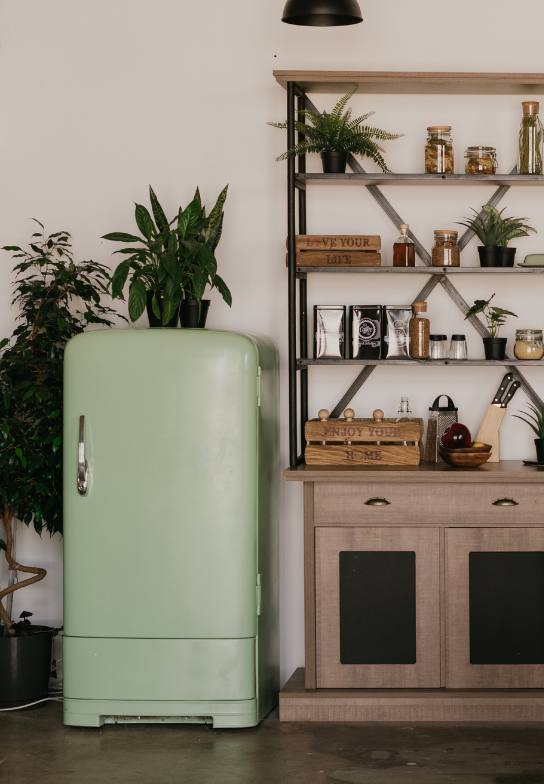 ---
A mini "office" fridge can also be useful in your office or home office.
You can store your lunch, snacks, or chilled drinks while focusing on your work.
Choose a sleek and modern mini refrigerator that matches your desk or office décor.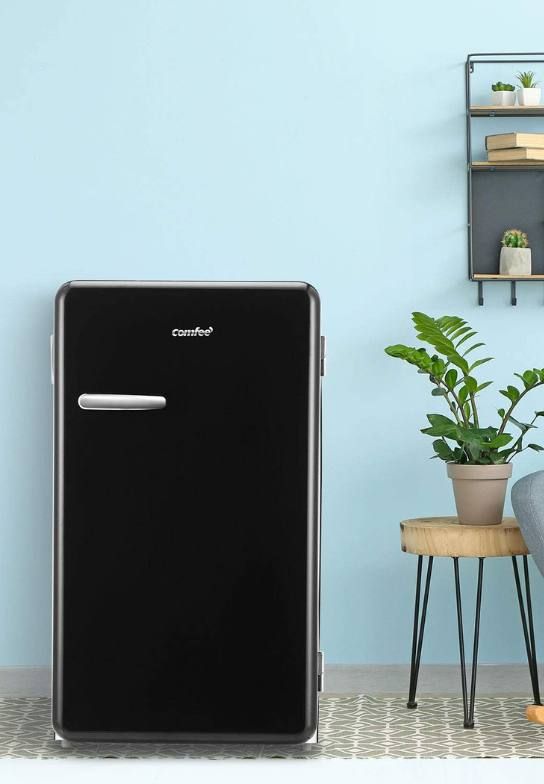 ---
10. Portable Mini Fridge Ideas
If you love to travel or camping, a portable mini fridge is a perfect addition to your lifestyle.
You could opt for a compact design that can fit in your car or even go for a rolling mini fridge that makes it easy to move around your space.
These portable fridges can store your skincare products, lunch, beverages, nursery items, or even medication while you are away from home.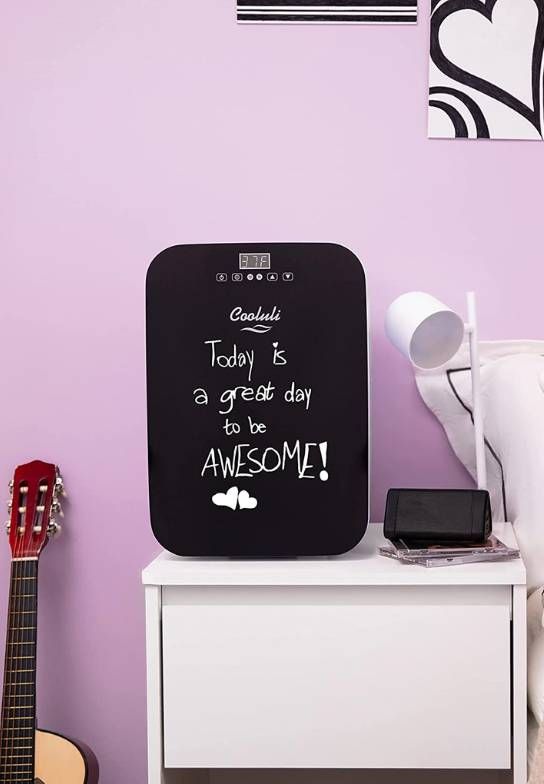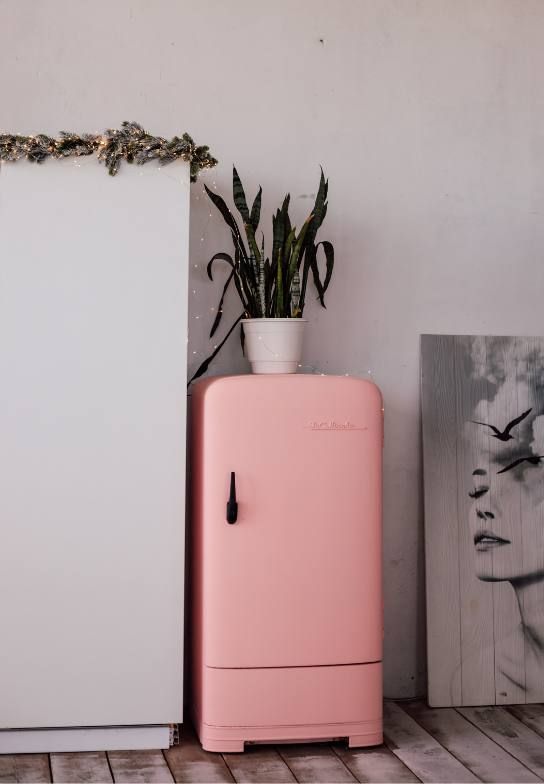 ---
A mini "wine" fridge is a perfect addition to any wine collector's kitchen or bar area.
You could opt for a design that through its glass door showcases your wine bottles or go for a wine fridge that keeps your bottles at the perfect temperature for serving.
There are multi-sized options available, from small countertop wine fridges to large upright designs. Choose one that fits your wine collection and adds a stylish touch to your kitchen, or use it as your bar fridge.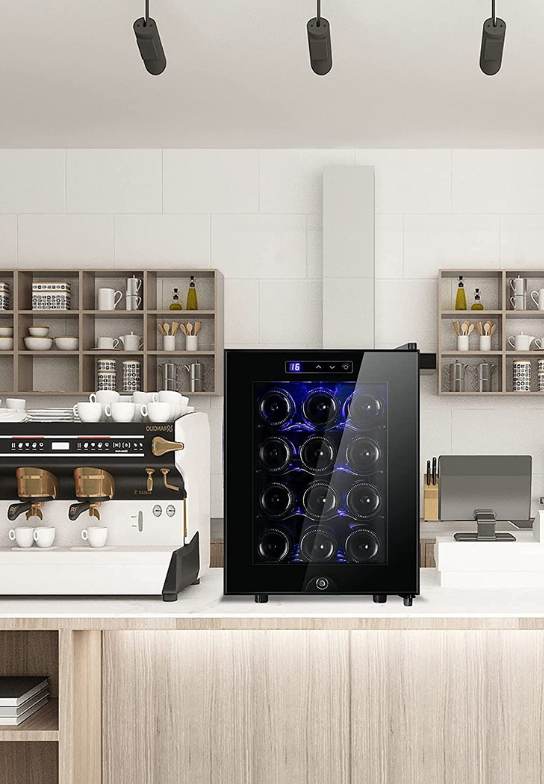 ---
A dual-zone mini fridge allows you to keep different types of wines at different temperatures.
You could opt for a design that showcases your drinks and wine collection at different serving or storing temperatures.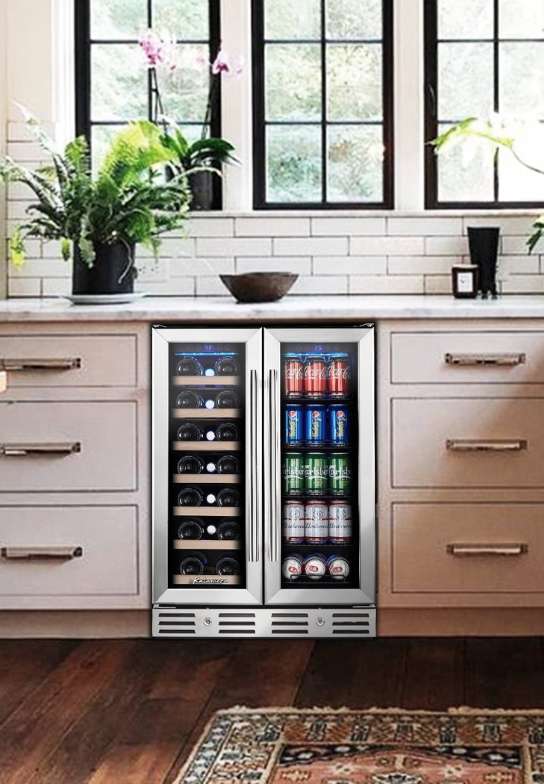 ---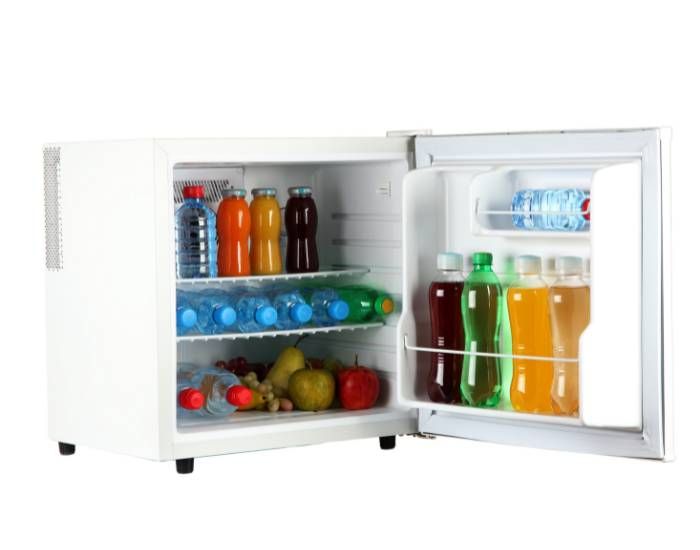 Tips & Tricks
Consider that the best mini fridges have glass shelves, door storage, an adjustable thermostat and interior light.
Of course, many ideas are also applicable to a full sized fridge. After all, the compact size of a mini refrigerator means it only has so much storage space.
Particularly when it has a small freezer compartment there will not be enough room to store taller items.
A mini-fridge can be a versatile and practical solution for (very) small spaces. With these 12 mini fridge ideas, you can choose the perfect type of fridge that suits your needs and style.
Now you can find the perfect mini fridge to complement your space and to meet your specific needs. Put your own spin on your mini fridge and make it a personal (or family) statement piece in your home, office, or dorm room.
Start exploring your options and find the perfect mini fridge for you!
Happy cooling!
Catchy Finds