Paella is traditionally made with rice, meat or seafood, and vegetables, but we're going to focus on the vegetable version today. This recipe is perfect for a weeknight meal because it's hearty and filling but doesn't take hours to make.
Plus, it's packed with nutrients from the various veggies. So set aside those In-N-Out cravings and let's get cooking!
Recipe For Vegetable Paella
A paella pan
1 cup short-grain Bomba rice
3 cups vegetable broth
1 yellow onion, diced
3 cloves garlic, minced
1 red bell pepper, diced
1 green bell pepper, diced
1 zucchini, diced
1 summer squash, diced
1 cup fresh (or frozen) peas, thawed
1 can (15-ounce) diced tomatoes
1/4tsp saffron threads
1 tablespoon olive oil
1 teaspoon smoked paprika
1 teaspoon dried oregano
1/2 teaspoon turmeric
1/4 teaspoon cayenne pepper
1/2 teaspoon salt
1/4 teaspoon black pepper
1/2 cup chopped fresh parsley leaves
Lemon wedges (for serving)    
How To Make Vegan Paella
Bring the paella pan on a medium heat. Add the oil and heat until hot.
Add the onion and garlic and cook until both are softened and translucent, about 5 minutes.
Stir in the bell peppers and cook for an additional 5 minutes.
Add the rice and cook for 1-2 minute longer.
Pour in the broth and tomatoes and stir to combine.
Add the saffron threads, paprika, oregano, turmeric, cayenne pepper, salt, and black pepper.
Stir to combine then bring to a simmer.
Simmer for 10 minutes then add the zucchini, summer squash, and peas.
Simmer until all the vegetables are tender and the rice is cooked through, about 15 minutes longer.
Stir in the parsley then remove from heat.
Cover with a cloth and let it sit for 5 minutes.
Serve warm with lemon wedges if desired.
This vegetarian paella is so good, even your meat-loving family will love it! Packed with flavorful veggies and rice, it's sure to be a hit at your next family gathering. Plus, it's easy to make and can be on the table in just under an hour. So what are you waiting for? Give this recipe a try!
Don't be afraid to experiment with other veggies, such as mushrooms, beans, artichokes, and green peas. The combinations are endless. You may get additional ideas from the Spain On A Fork's video below for a slightly alternate recipe.
If you want to make perfect paella, you need the right pan. But with so many types of pans on the market, how do you know which one is best? Check out our blog post below for a review of the 5 best paella pans available. We've done all the research to save you time and help you find your ideal pan.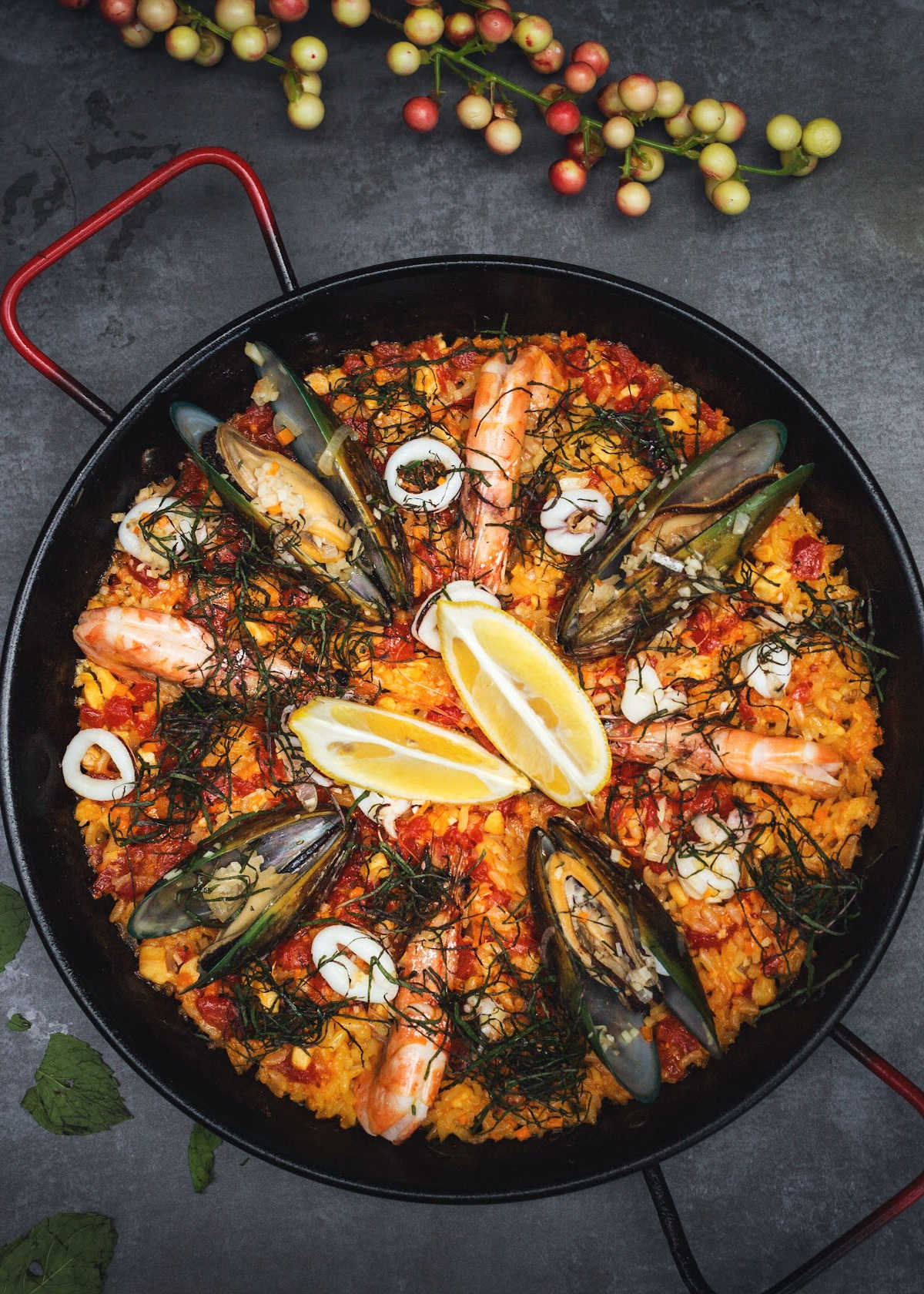 Happy cooking!
Catchy Finds