If you're looking for the best paella pan on the market, look no further!
We've done all of the research and testing so that you can make an informed decision about which one is best for you.
Below, we'll discuss our top five picks and why we think they're the best options available. Paella pan material ranges from carbon steel to aluminum. Most paella pans are either enameled steel pans or stainless steel paella pans.
So whether you're a professional chef or just starting out in your kitchen, read on to choose the best paella pan!
---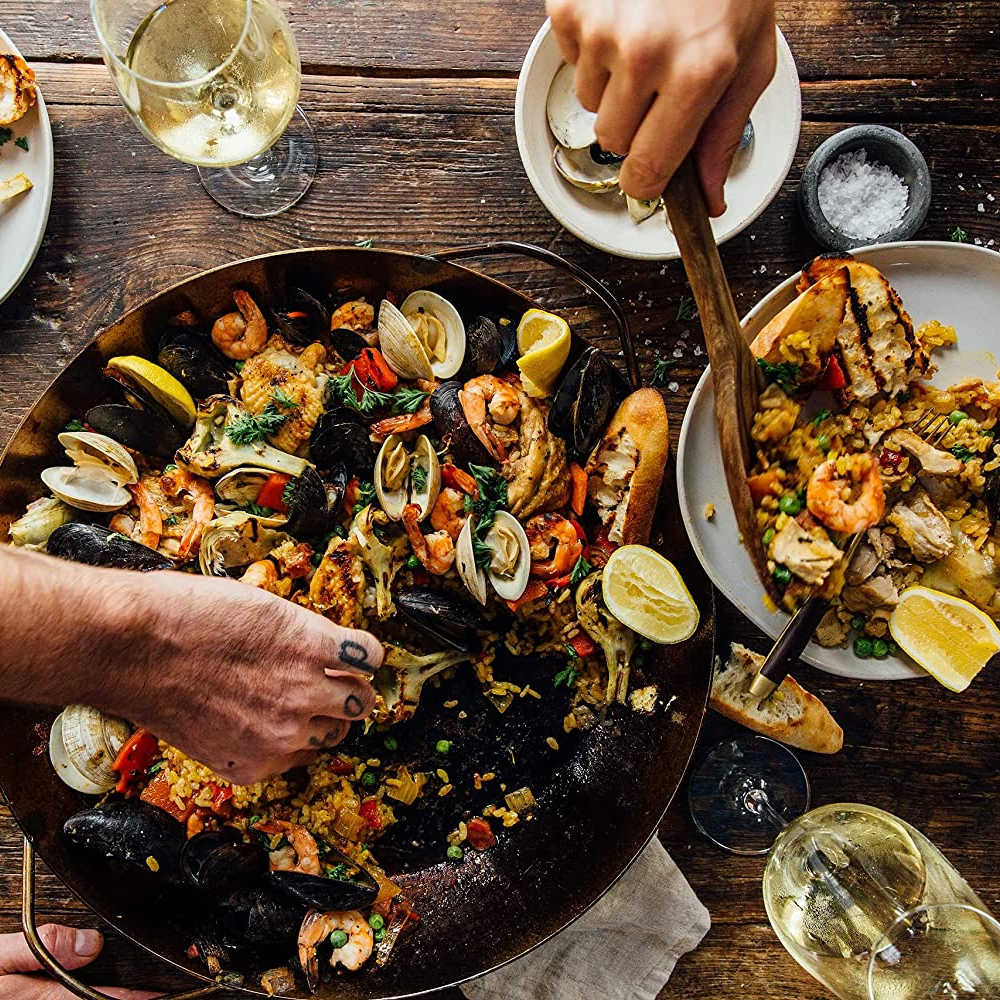 💡
This post contains affiliate links which means I may receive a commission for purchases made through links. I participate in the Amazon Services LLC Associates Program, if you purchase a product with the links that I provide, I may receive a small commission from Amazon. There is NO additional cost to you!
---
Catchy Finds' 5 Top Picks In The Spotlight




---
Matfer Bourgeat Black Steel Paella Pan
What Makes It Catchy
The Matfer Bourgeat Paella Pan is the best choice for its durability. Its two handles are welded to the pan's body for extra strength and security, like a traditional paella pan.
Its curved sides and wide shallow cooking design is perfect for sauteing meats and veggies before adding rice.
Like all carbon steel paella pans it can withstand and maintain exceedingly high temperatures. It can be used on all hob and stove types, including induction.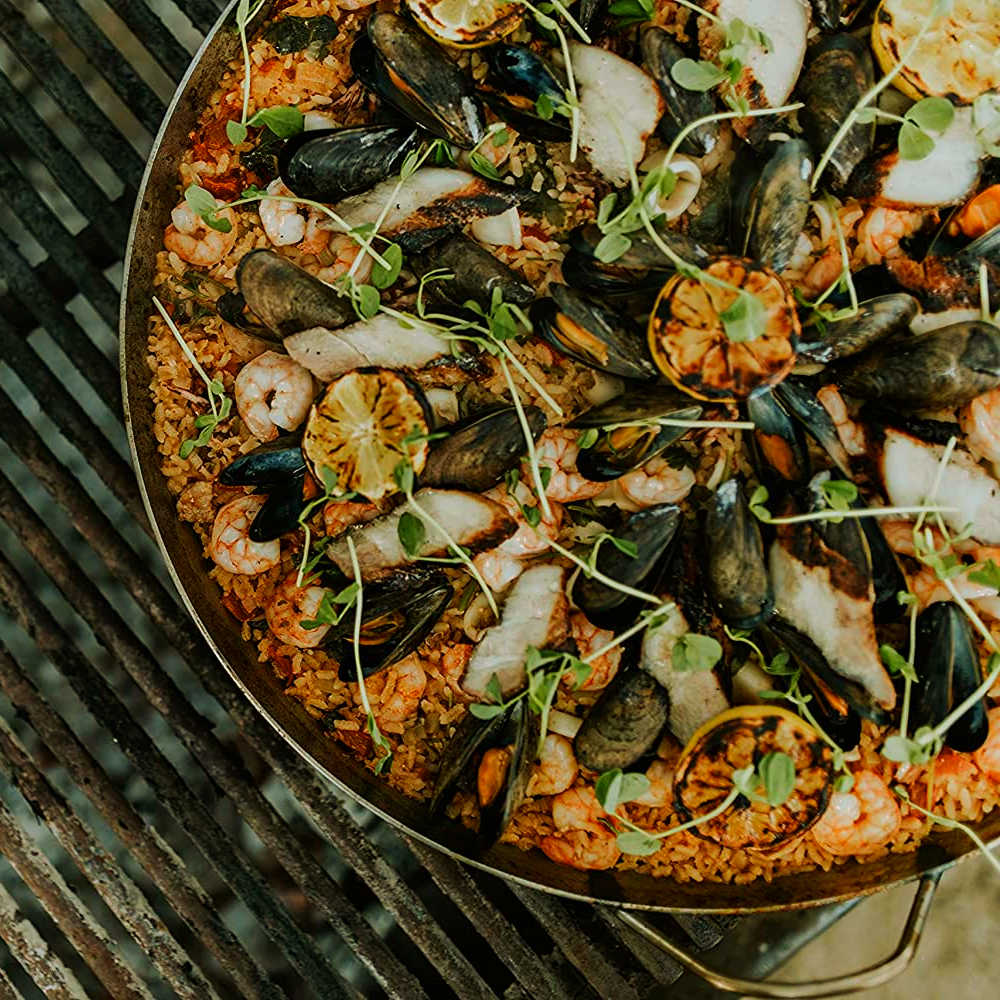 Things In The Spotlight
This French-made carbon steel cookware is made of black carbon steel. It's free of any harsh chemicals or coatings, and offers the natural nonstick properties of cast iron, but with more versatility and less weight.
The 15 3/4 inch large paella pan size also features excellent heat distribution and temperature control, preserving the vitamins and nutrients in your foods. Perfect for 6-8 servings, this Matfer Bourgeat high quality paella pan is a must-have for anyone who loves cooking paella, and favors traditional paella recipes.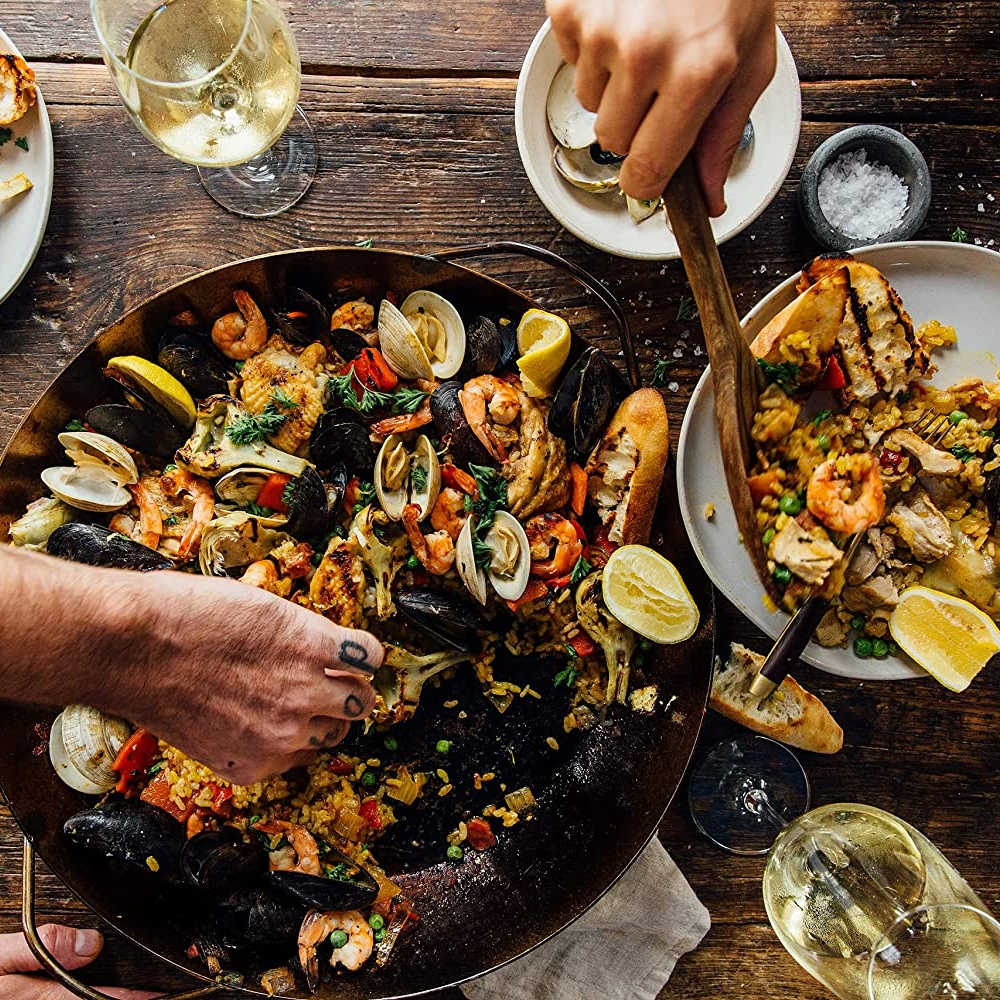 ---
Lodge Carbon Steel Pre-Seasoned Skillet
What Makes It Catchy
The Lodge skillet is perfect is made from carbon steel for browning and searing at high temperatures.
Made from 12 gauge carbon steel, this skillet heats quickly and retains heat evenly, making it a great choice for cooking at high temperatures.
Like all carbon steel pans, it's extremely durable, so you can enjoy many years of cooking with it. Additionally, this skillet is safe to use on gas, electric, induction stovetops, outdoor grills and open fires.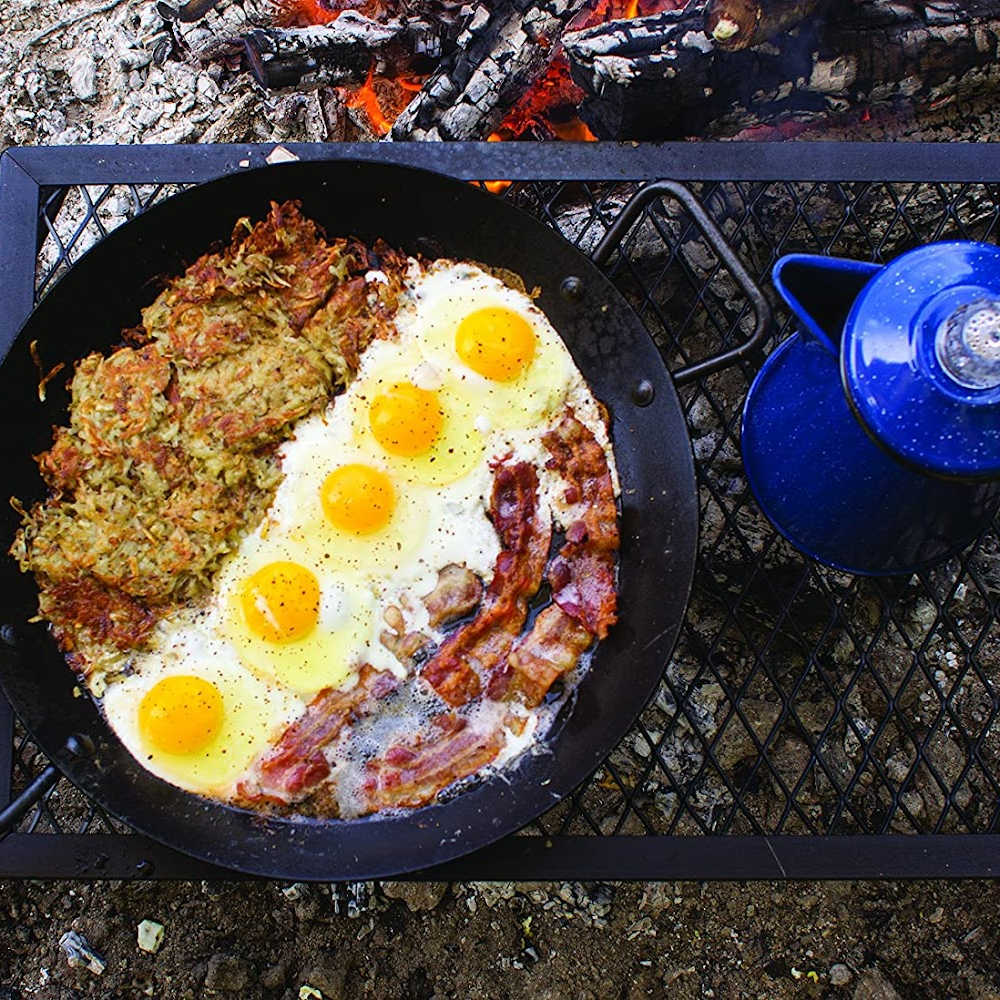 Things In The Spotlight
This 15-inch wide and shallow pan is made in the USA from high-quality carbon steel, and it's pre-seasoned with oil for a natural, easy-release finish that only gets better with use.
The skillet is also easy to care for - simply hand wash and dry immediately after use, then rub with cooking oil to keep it seasoned.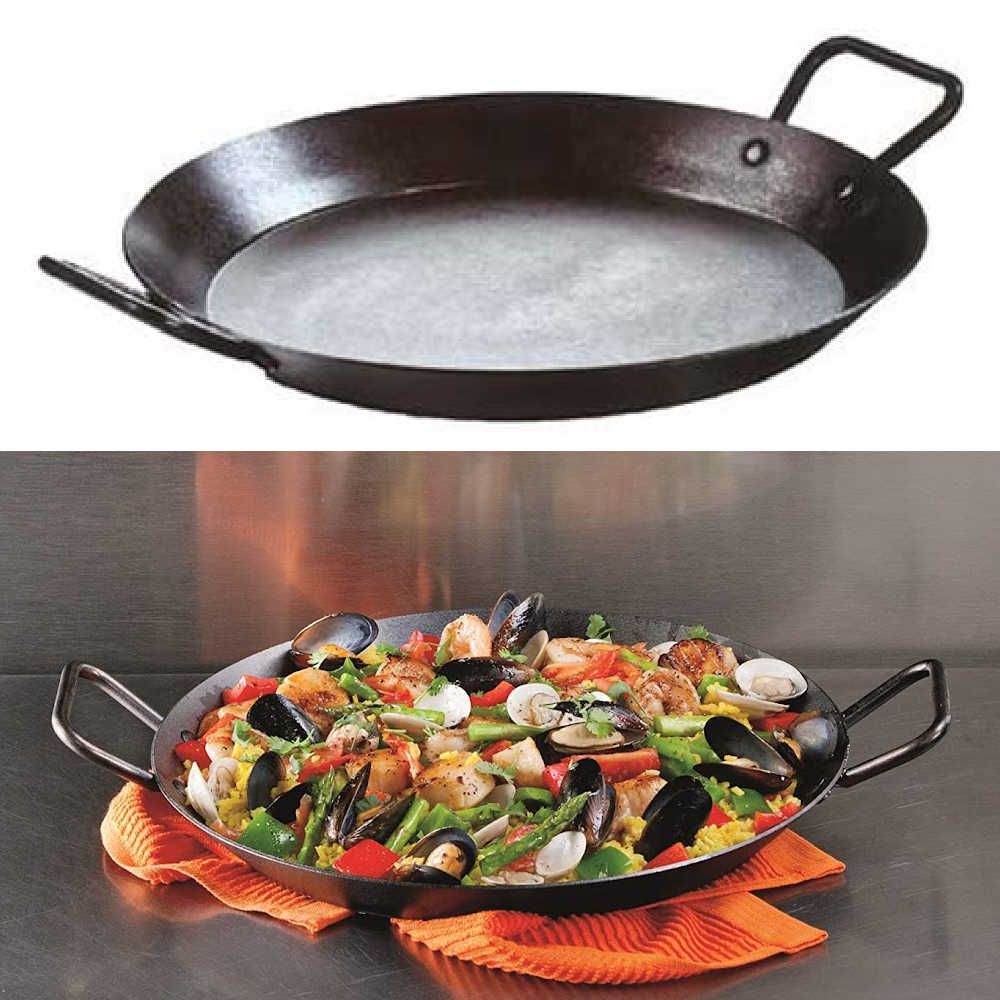 ---
La Paella Restaurant Grade Paella Pan
What Makes It Catchy
Looking to make authentic paella at home? You need the right tools for the job, and our La Paella Pan is just what you need.
This heavy-duty carbon steel pan conducts heat evenly and efficiently, so your paella will be perfectly cooked every time.
It's also built to withstand years of use, making it a great choice for both restaurants and home cooks who want to get the most out of their investment.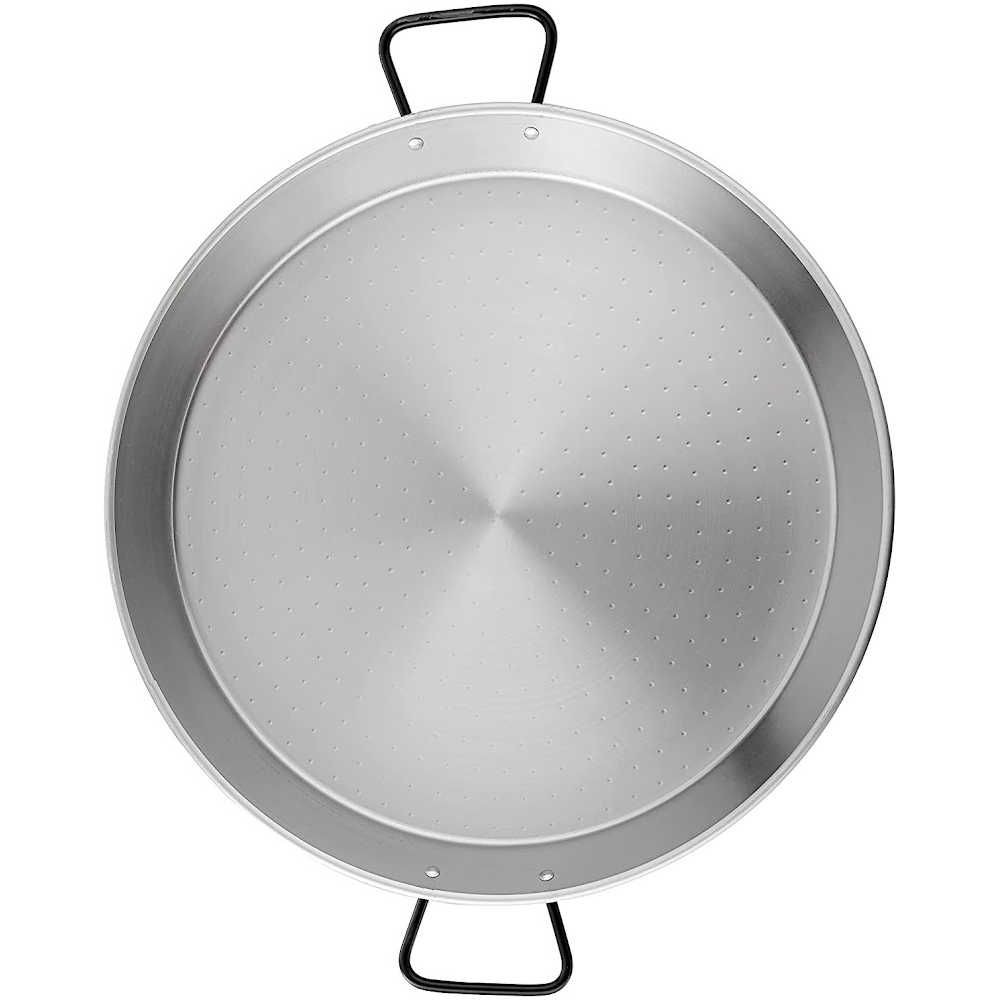 Things In The Spotlight
This Spanish made 18-inch pan is specially designed to fit over two closely spaced standard burners, or can be used on a paella burner or gas or charcoal grill. It's big enough to feed 6-8 people, so perfect for entertaining guests.
As it requires special maintenance, just be sure to follow the special care instructions to keep your pan in tip-top shape.
With La Paella, you can serve paella, bringing both taste and smell of Spain to your kitchen, or own backyard.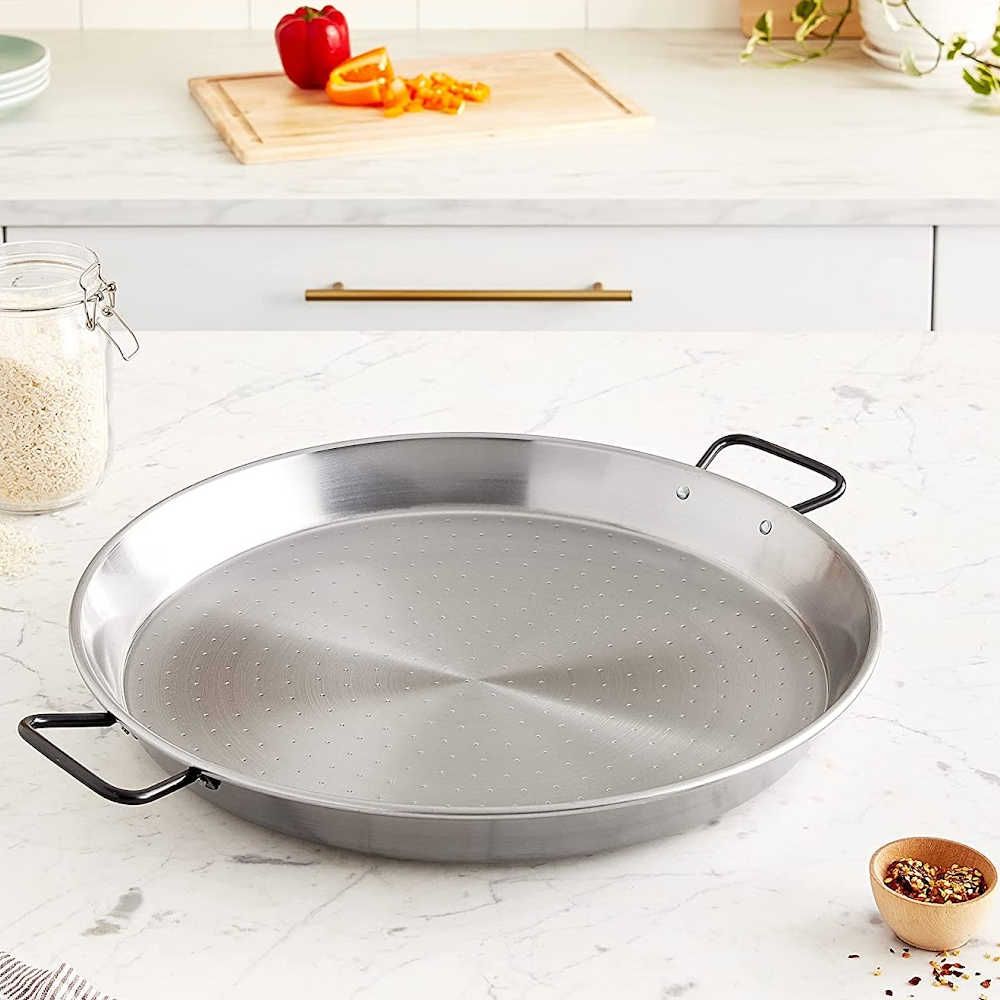 ---
---
Machika Enameled Steel Paella Pan
What Makes It Catchy
This affordable quality pan is made with premium enameled steel that conducts heat quickly and evenly, ensuring perfect results every time.
The thin, lightweight material is not only durable but also heats up quickly, so you can enjoy your delicious paella in no time.
Plus, the innovative hammered dimple technology ensures even cooking and a perfectly crispy bottom.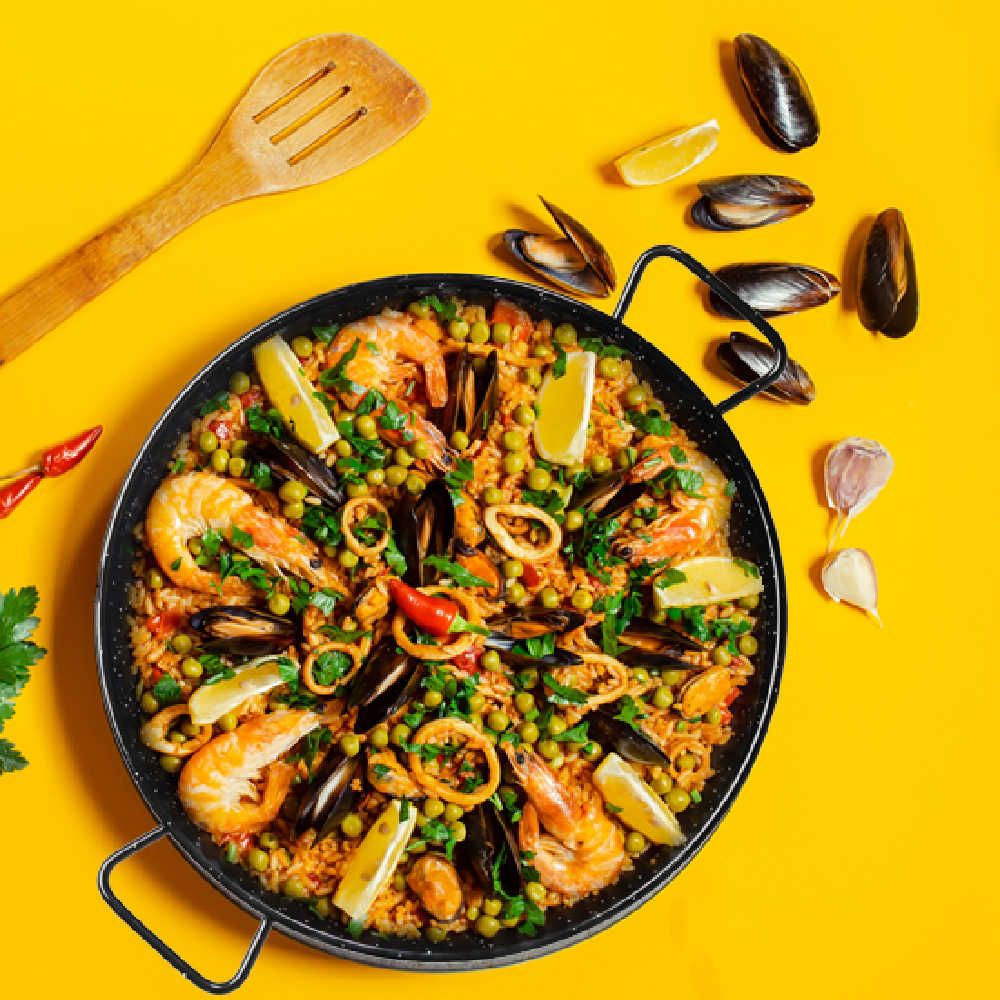 Things In The Spotlight
The Machika enameled steel pan is the perfect way to cook an authentic Spanish paella. This carbon steel pan is imported from Spain and is made by Garcima, the leading manufacturer of paella pans since the 1920s.
The pan is 15 inch in diameter and serves 8 people. It is made of enameled carbon steel for easy maintenance and has a beautiful enameled finish that will be the center of attention at your next gathering.
For serving paella and an authentic Spanish experience, look no further than the Machika.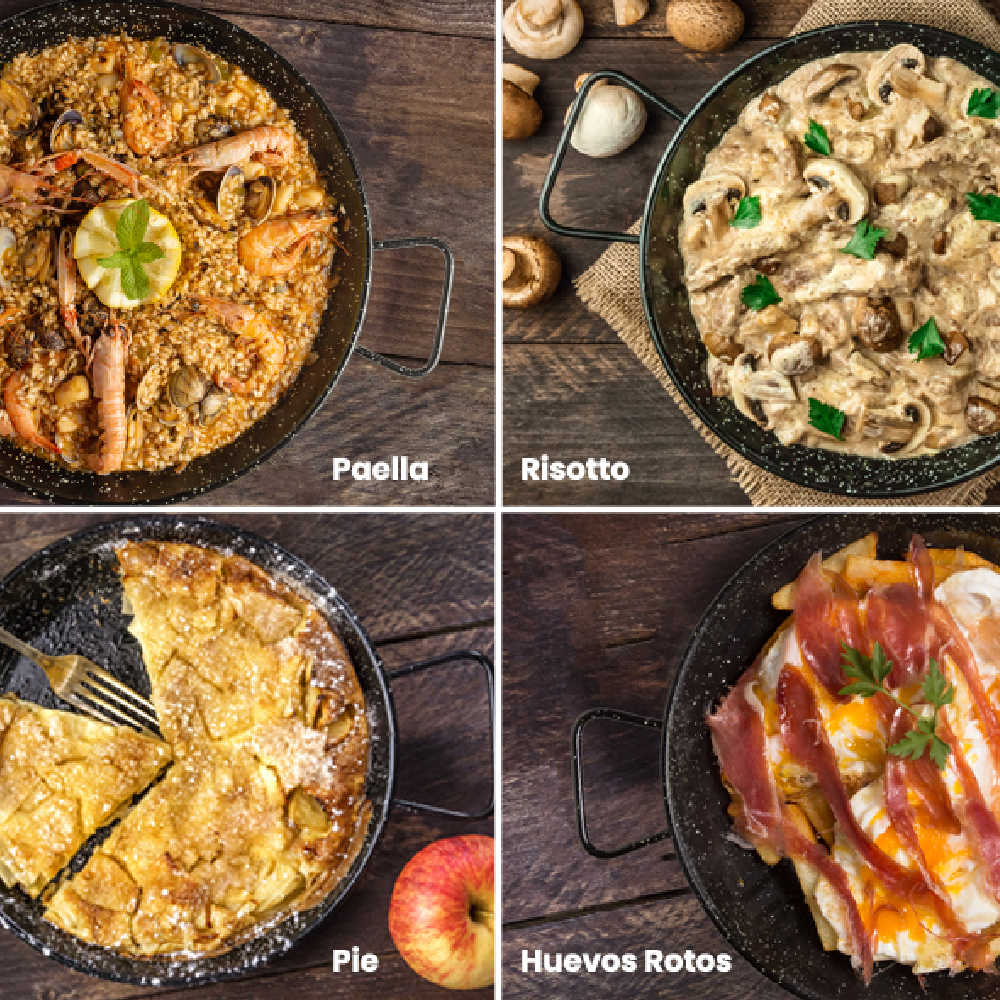 ---
Vaello Campos Enamelled Steel Paella Pan
What Makes It Catchy
The Vaello Campos Enamelled Steel Paella Pan is the best choice for its value for money.
Made with high quality materials in Valencia, Spain - traditional home of paella, these traditional Valencian paella pans made from enamelled steel are a must-have for anyone who loves to cook and serve paella.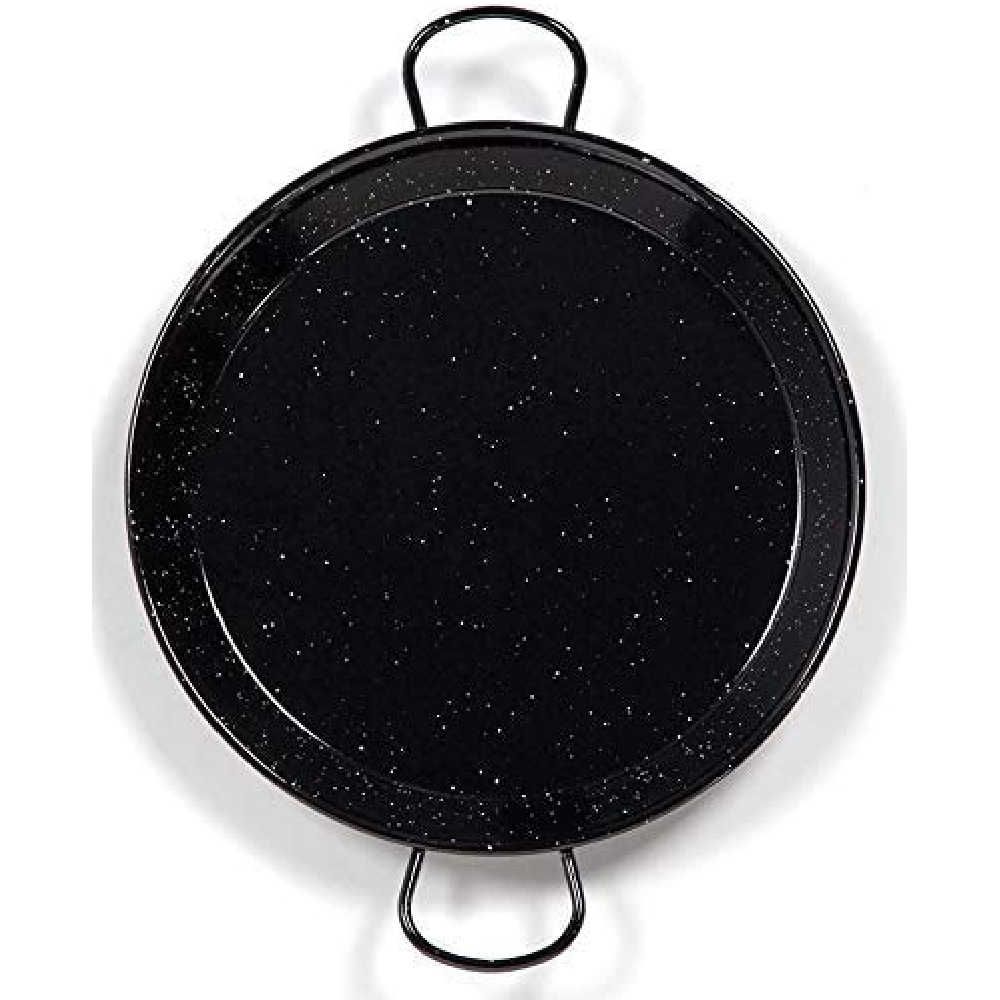 Things In The Spotlight
Over the last fifty years, La Valencian has supplied consumers with a varied selection of high-quality goods. Traditional pans, casseroles, grills, and other items are steadfast pals of top chefs and cooks who prize passionate cuisine, cooking on a gas stove, an open flame, or on charcoal grills.
This carbon steel skillet has two handles and is built to provide maximum cooking comfort. It's simple to clean and maintain.
With a diameter of 15 inch (38 cm), this durable pan is perfect for cooking individual servings or large portions for family and friends - say, 6-8 people.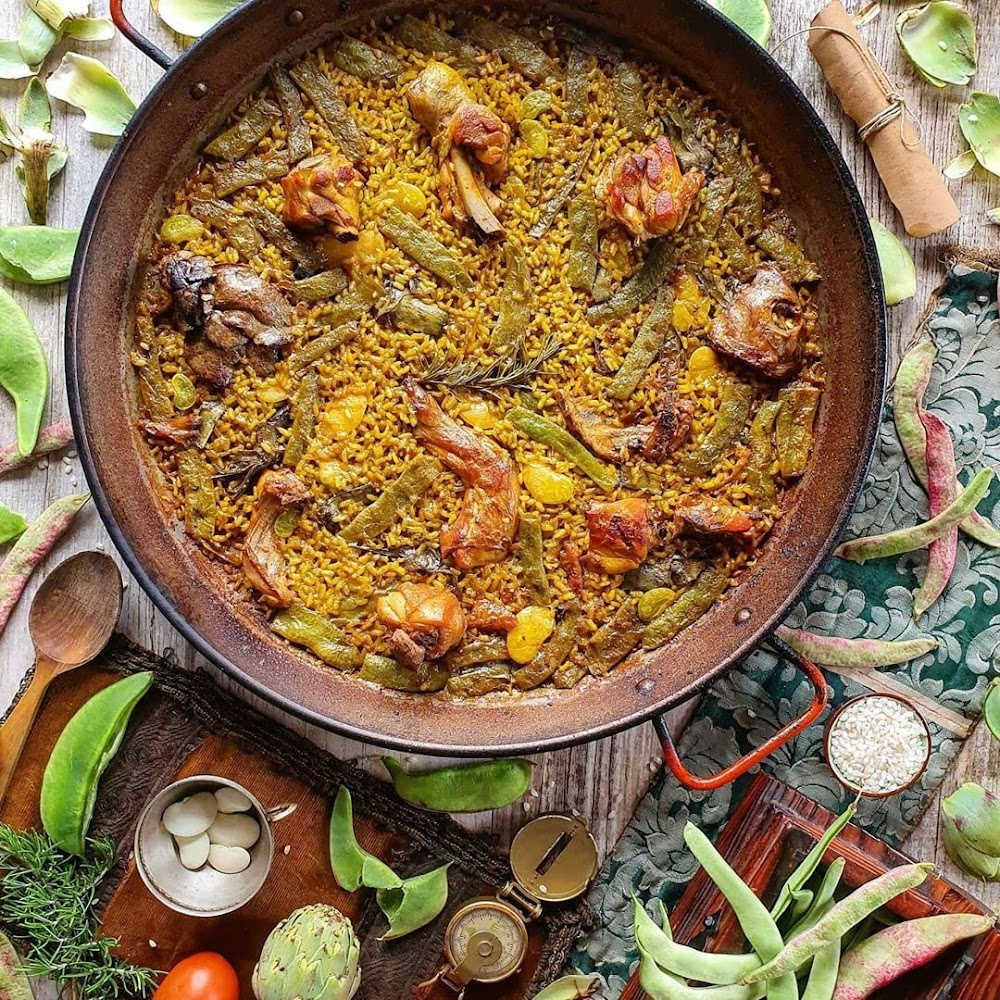 ---
Paella Pan FAQs
When it comes to cooking the most popular Spanish dishes - paella, there are always questions that come up time and time again. What's the best way to cook this? How do I make this dish? What's the difference between this and that?
We've found and answered some of the most common questions below. So, if you're curious about how to choose or use a new paella pan, keep reading!
What is a paella pan?
A paella pan is a wide, shallow, round Spanish cooking pot with a flared rim. It is typically made of carbon steel or aluminum and has a long handle. Traditional paella pans are used to make the world famous Valencian dish called paella. The authentic traditional paella pan sizes range from 12-20".
What is the paella pan called?
If you're talking about the traditional Spanish dish, paella, then the pan is called ... a paella pan.
Paella is a rice dish that originates from Valencia, Spain. It's typically made with chicken, seafood, and vegetables. The word paella comes from the old Valencian word for pan, which was "patella."
Of course, if you're simply looking for a general term for the type of pan that's used to make paella, then you can just call it a large frying pan or a square skillet.
Quality paella pans have shallow sides so that the ingredients can lay flat in the pan and cook evenly.
What is the best kind of paella pan?
There is no one-size-fits-all answer to this question, as the best kind of paella pan depends on the type of paella you're making.
If you're looking for a classic paella with rice, chicken, and seafood, then a wide, shallow pan is ideal. If you're looking for a vegetarian version or a paella with more ingredients, then you'll need a deeper pan.
In general, it's best to use enameled steel paella pan. An aluminum or stainless steel pan needs to be pre-seasoned with oil. Cast iron pans are also popular for making paella, but they require more maintenance and can be difficult to clean.
How many different kinds of paella pan are there?
There are a few different kinds, but the two most common ones are the round paella pans and the rectangular paella pans.
The round one is more traditional and typically used for making smaller batches of paella, while the rectangular one is better for making larger batches.
There are also pans that have a convex bottom which makes it easier to get a nice crispy crust on your paella.
How many different materials of paella pans?
There are five primary materials used to make paella pans: aluminum, cast iron, carbon steel, enameled (carbon) steel, and stainless steel pans. While there are other materials on the market, these five are the most commonly used.
Aluminum: is the lightest of the three metals and heats up quickly, making it ideal for those who want to get their paella on the table fast.
It does have some drawbacks though – it doesn't hold heat as well as the other options so your paella may not have that crispy socarrat on the bottom that is so desired. However, if not properly seasoned, aluminum can give your dish a metallic flavor.
Cast iron: is a heavy-duty option that will last you a lifetime if properly cared for. It heats evenly and slowly, so it's best to start cooking your paella over low heat and then turn it up to medium-high towards the end.
The best part about cast iron is that it retains heat well, so your paella will stay warm long after it's been taken off the stove.
Carbon steel: holds heat better than aluminum but is also more susceptible to rusting if not properly cared for. It's lighter than a cast-iron pan. A great option for those who want to get that crispy socarrat (the paella's caramelized bottom layer) but don't mind putting in a little bit of extra effort to maintain their pan.
Enameled steel: the heaviest of all, it takes the longest to heat up. However, it does retain heat well and won't rust like carbon steel. If you're looking for a low-maintenance pan, enameled steel is the way to go. Many cooks prefer enameled steel paella pans.
Stainless steel: a stainless steel paella pan may be heavy, but it heats well and evenly, is usually nonstick. It seems to "win ground".
What is the best size paella pan?
The best size paella pan depends on how many people you're trying to feed. A regular 12 inch paella pan can feed about four people. So, if you're feeding a group of eight, you'll need a 24 inch paella pan or two 12 inch.
When it comes to shape, the most common paella pans are round or rectangular. Round pans are more traditional and typically used for making smaller batches of paella, while rectangular pans are better for making larger batches.
There are also pans that don't have flat bottom but a convex one, which makes it easier to get a nice crispy crust - soccarat - on your paella.
How many people does a 10 inch paella pan serve?
A smaller pan, the 10 inch will serve 2-4 people, depending on how hungry they are.
How many people does a 15 inch paella pan serve?
A medium sized pan, 15 inch paella pan can serve about 6-8 people. If you're serving large portions, you might be able to get away with serving 4-6 people. If you're looking to feed a lot of people, though, you might want to consider getting a larger size paella pan.
How many people does a 20 inch paella pan serve?
A 20-inch paella pan should serve enough paella for 10 people. Keep in mind that the amount of food you'll need to feed everyone will depend on how much everyone eats. Serve this dish with some tasty Spanish tapas for an authentic experience!
What is the best rice for paella?
The best rice for paella is Bomba Rice. It is a Spanish short grain rice that is specially designed for paella. It has a high starch content which gives it a sticky quality that helps to thicken the sauce and keep it from drying out.
What ingredient makes rice yellow in paella?
The main ingredient that makes rice yellow in paella is saffron. Saffron is a spice derived from the crocus sativus, a flower. It has a unique flavor and aroma, and is often used to color food yellow or orange.
What is the best way to cook paella?
There are a few general tips that can help you make the perfect paella.
Use a best paella pan. A traditional paella pan is a wide, shallow pan that is specifically designed for making paella. The reason that a paella pan is the best way to cook paella is because it cooks the rice evenly and prevents it from sticking to the bottom of the pan. It also allows you to easily brown the rice on the bottom of the pan, which gives the paella a nice crispy crust.
It's important to use the right type of rice. Traditionally, paella is made with short-grain rice, which has a higher starch content and will stick together more than long grain rice. This is what gives paella its signature creamy consistency. Just be sure not to overcook the rice or it will become mushy.
Next, do not skimp on the saffron! Saffron is an integral part of paella, and it not only gives the dish its beautiful yellow color, but also its unique flavor. Be sure to use good quality saffron and add it early on in the cooking process so that it has time to infuse its flavor into the dish.
Finally, be patient! Paella is not a quick dish to make, but it is definitely worth the wait. Once you've added all of your ingredients and brought the dish to a boil, reduce the heat and let it simmer until the rice is tender and cooked through.
This usually takes about 15-20 minutes. In Valencia they had us wait for 30 minutes, but oh my! It was super delicious, with fresh Valencia orange juice on the side. No leftover paella.
Do I really need a paella pan?
Yes, you do need a paella pan! A good paella pan is an essential piece of equipment for making the perfect paella.
Most traditional paella pans are versatile: perfect for making other Spanish dishes like fideua and arroz negro. So if you're serious about cooking up some authentic Spanish cuisine, then this versatile pan is a must-have in your kitchen arsenal!
Is a paella pan cast iron?
Cast iron paella pans are a popular choice because this material distributes heat evenly. Pay attention to the nonstick surface: some cast iron and carbon steel paella pans come with a enamel coating, which helps to prevent sticking and makes cleanup a breeze.
However, material for paella pans can also be stainless steel or aluminum, like cast iron and carbon steel known for even heat distribution. Whichever type of pan you use, be sure to choose one that is the appropriate size for the number of people you will be serving. For example, a 12-inch pan should feed 4-6 people, while a 16-inch pan will accommodate 8 diners.
When it comes to preparing paella, the key is to cook slowly and patiently so that all the ingredients have a chance to meld together and the rice is cooked to perfection. With a little practice, you'll be whipping up delicious paellas like a pro in no time!
How do you season a carbon steel paella pan?
Before you can start cooking with your carbon steel paella pan, you need to season it first. This will help create a non-stick surface and prevent rusting. Seasoning is easy to do, and only requires a few simple steps:
1. Wash the pan with hot, soapy water and a stiff brush. This will remove any manufacturing oils or residues that may be on the surface.
2. Dry the pan thoroughly with a clean cloth or paper towel.
3. Place the pan on the stove over medium heat and allow it to heat up for several minutes.
4. Pour about 1 tablespoon of vegetable oil into the pan, tilting it so that the oil evenly coats the actual cooking surface. Let it dry.
Can a paella pan go in the oven?
Yes, a paella pan is a frying pan, and oven safe. However, you'll need to be careful not to overheat the pan, as this can cause it to warp or even burst. Ideally, you should bake your paella at a temperature of no more than 350 F.
What gives paella its flavour?
Paella is a popular Spanish dish that is made with rice, vegetables and seafood. It is typically flavoured with saffron, which gives it its distinctive yellow colour.
Other common ingredients include onions, garlic, tomatoes and peppers. Paella is usually cooked in a large pan over an open fire. This allows the flavours of the ingredients to blend together and create a tasty meal.
What is the secret to a good paella?
There really isn't any one "secret" to making a good paella. Rather, it's a combination of using good quality ingredients and following a few simple steps.
Start with a good paella rice. This is an important foundation for your dish, so don't skimp on quality here. Then, add saffron, sauté your aromatics (onion, garlic, etc.) in olive oil until they're nicely yellow. Add the rice and cook it for a minute or two before adding your broth.
Bring the broth to a boil and then reduce the heat to low, cover the pan, and let it simmer until the rice is cooked through. This will usually take about 20 minutes.
Once the rice is cooked, remove the pan from the heat and let it sit for a few minutes to absorb the flavours. Then, add your seafood and/or vegetables and let it cook for a few more minutes.
And that's it! With these simple tips, you'll be able to make a delicious paella that your family and friends will love.
Should paella have a crispy bottom?
There are different schools of thought on this topic, but the general consensus seems to be that a crispy bottom is not essential for a good paella. In fact, some people believe that it's actually undesirable because it can make the rice sticky and oily.
That said, there are many - me included - who feel that soccarat, a crispy bottom is an essential part of the dish and think that it adds flavor and texture. So it really comes down to personal preference.
If you're looking to create a crispy bottom, there are a few things you can do: use a wide pan so there's more surface area for the rice to cook on, make sure the oil is hot before adding the rice, and don't stir too much once it's in the pan.
With a little practice, you'll be able to create a paella that is perfect for your taste.
The Best Paella Pan For You
So, what's the verdict? Out of these five best paella pans, which one is your favorite?
If you found this post helpful, be sure to check out some of our other kitchen appliance reviews. We've got everything from blenders to coffee makers covered, so you can find the perfect piece of equipment for your home kitchen.
Thanks for reading!
Catchy Finds