Coffee with Irish cream is one of those fancy, grown-up drinks you treat yourself to at a café.
In this post, we'll give you the showdown on what Irish Cream is, why it's great for coffee, and how you can make the perfect Irish Cream coffee in your kitchen. So, grab a bottle of Irish cream from your local store, and let's start concocting!
What Is Irish Cream?
Irish cream is a blend of Irish whiskey, cream, vanilla, sugar, or other sweeteners, flavored with hints of Irish herbs and spices. Although it's only been around since the 1970s, this creamy liquor has become a staple for coffee, hot chocolate, and other cozy winter drinks.
One of the things that make Irish cream so popular is its versatility. You can enjoy it on its own, in cocktails, cakes or desserts. Because it has a sweet, creamy flavor, it pairs especially well with coffee.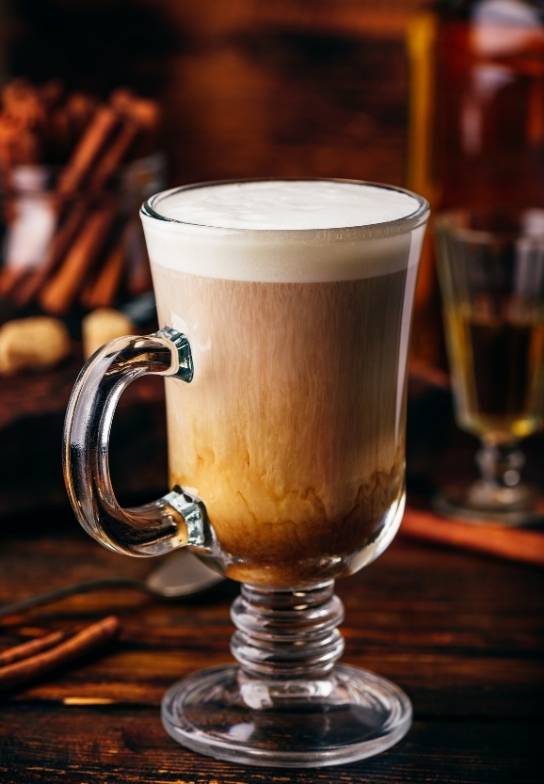 Coffee With Irish Cream
The combination of coffee and Irish cream is one you'll love. Rich, creamy Irish cream lends its signature sweetness to the deep, bold flavor of the coffee. Together, the two form a perfect balance – smooth and full-bodied but not too heavy or cloying.
Drinking coffee with Irish cream is the perfect way to turn an ordinary cup of joe into a luxurious treat.
When it comes to Irish cream, there are a few notable brands to look out for.
Baileys is the original Irish cream-based liqueur, and it's one of the most popular. It's an indulgently sweet and creamy blend of flavors, boasting hints of vanilla, chocolate, and a distinct fruitiness derived from the unmistakable taste of quality Irish whiskey.
Saint Brendan's is another good option, which is a little more affordable. It's an opulent blend of milk chocolate, Irish whiskey, and sweet cream for a luxuriously creamy texture that lingers on the palate with a silky finish.
Emmets is a delightful concoction of sweet honey, deep caramel, and toasted cocoa beans blended seamlessly into an exquisite Irish cream liqueur. One sip will have you utterly enchanted by its heavenly smooth texture.
Five Farms is one of the popular brands of velvety Irish cream that has a milky chocolate caramel hue, with its aroma reminiscent of butterscotch and marshmallow mixed in sweet cream and hints of whiskey.
Kerrygold is a high-quality option for those looking for something a bit more upscale that offers a more intense flavor. With unparalleled creaminess, this liqueur stands out against other cream-based drinks. Its strong chocolate flavor is authentically delectable and infused with sweet notes of caramel and vanilla for a truly unique taste.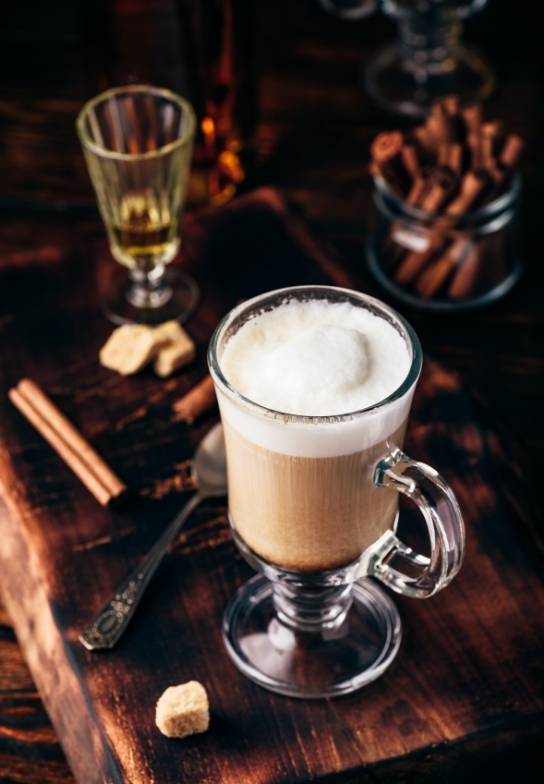 How To Make Irish Cream Coffee
Now that you have a brief history of Irish Cream, let's get to the fun stuff: making the coffee!
Ingredients
Freshly brewed strong coffee or espresso
Irish Cream (Bailey's or any of your favorite brand)
Whipped cream or chocolate shavings
Sugar or another sweetener
Instructions
Brew your coffee as your preferred method. A medium to dark roast coffee works best with Irish cream, but you can use any roast you prefer.
Add 1 oz of Irish cream to your coffee. The amount you add depends on how strong you like your coffee and how boozy you want it to be.
If you'd like your coffee a bit sweeter, add sugar or another sweetener to taste.
Stir in the Irish cream until it's fully blended with the coffee.
Top your coffee with a dollop of whipped cream chocolate shavings if desired.
Enjoy your delicious Irish cream coffee!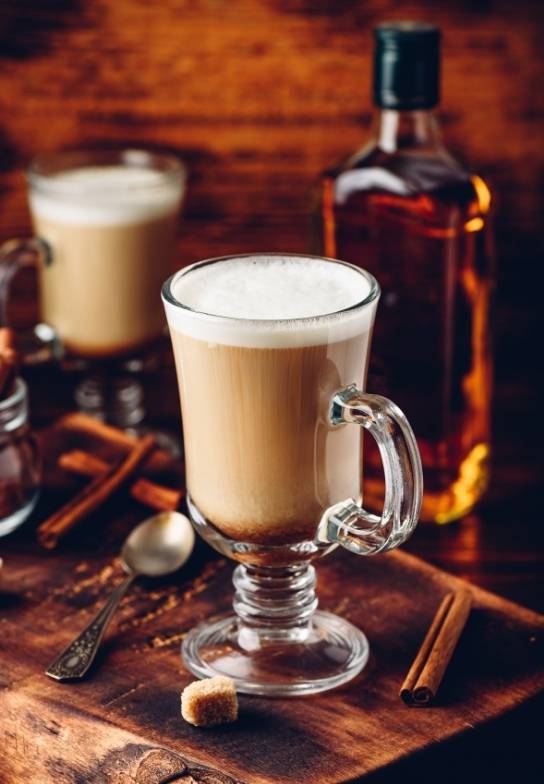 Irish Cream Coffee Variations
Feeling adventurous? Here are a few variations on the classic Irish Cream coffee recipe:
Salted Caramel Irish Cream Coffee: Add a drizzle of salted caramel syrup to your coffee before adding Irish Cream and whipped cream.
Irish Mocha Coffee: Add a spoonful of cocoa powder to your coffee before adding Irish Cream.
Spiced Irish Cream Coffee: Add a sprinkle of cinnamon or nutmeg to your coffee before adding Irish Cream.
Kahlua Irish Cream Coffee: Swap out the Irish cream for Kahlua for a coffee with a hint of chocolate and vanilla.
Irish Cream Coffee vs Irish Coffee
It's important to note that Irish cream coffee and Irish coffee are not the same things. While both are delicious drinks that combine whiskey and coffee, they differ in their ingredients and preparation.
Irish coffee is made with just three ingredients – hot coffee, sugar (or sweeten syrup), and Irish whiskey at 40% ABV (alcohol by volume)
Irish cream coffee requires at least four ingredients – coffee, sugar (or sweeten syrup), whipped cream, and Irish cream at 15% - 20% ABV (alcohol by volume).
So, Irish cream coffee is lighter and sweeter than Irish coffee, making it a great choice if you're looking for something a bit more mellow.
Additionally, Irish cream coffee is a cold drink, while Irish coffee is often served hot.
Tips & Tricks
Add a splash of your favorite liquor to give your Irish cream coffee an extra kick.
Experiment with different types of brewed coffee and different flavors of Irish cream for a unique twist and create your unique spin.
Make your coffee ahead and store it in the fridge for a quick, cool pick-me-up.
You can also make a non-alcoholic version of Irish cream coffee for the kiddos! Just omit the Irish cream liqueur and enjoy your coffee with sugar, whipped cream, and chocolate shavings.
Irish cream coffee is an indulgent and creamy beverage that can be easily customized with your favorite flavors.
Need a quality espresso maker? Check out the blog post below and find your favorite coffee gadget among the top picks of best espresso machines under 500 USD.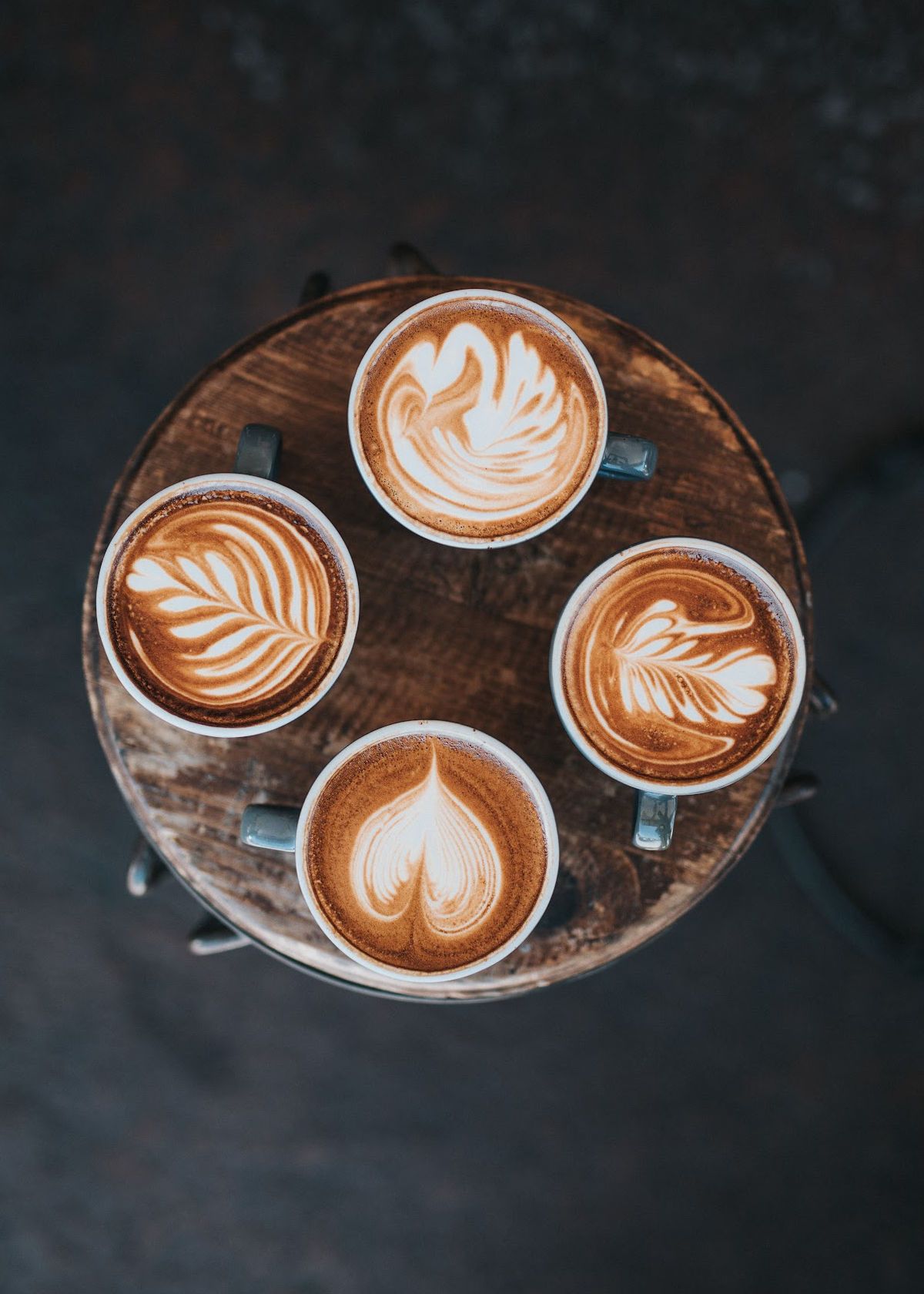 Whether you're looking for a boozy pick-me-up or a fun, non-alcoholic treat for the kiddos, this coffee is sure to do the trick. Enjoy!
Catchy Finds