Wonder how a toaster oven works? From its heating elements to the temperature control mechanism, there are several components that make up this appliance.
You may be aware that toaster ovens do much more than just toast bread! It is a convenient and compact appliance that is much more versatile than a traditional toaster.
In this guide, we'll go through the various functionalities and settings of a toaster oven, as well as how to properly clean and maintain it. Let's take a closer look!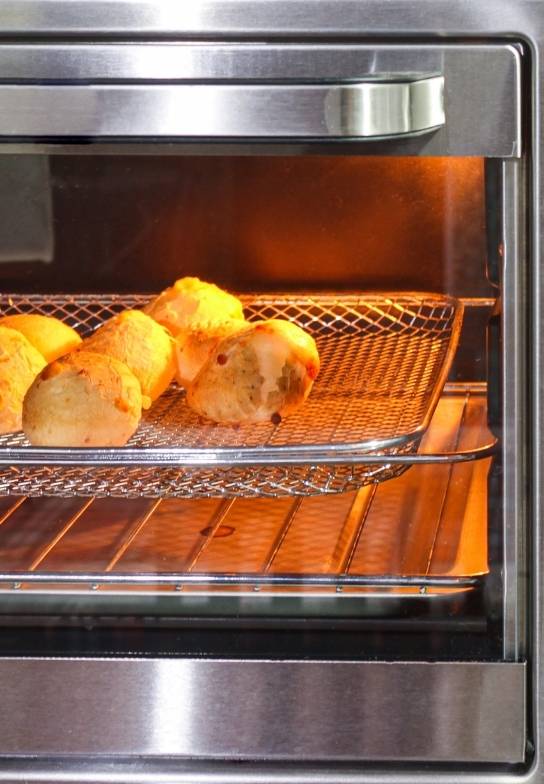 With its various functionalities and settings, a toaster oven can be used for toasting, baking, broiling, and roasting. Convection toaster ovens can do air frying.

The heating elements, temperature control mechanism, and additional features work together to ensure even cooking and efficient functioning.
---
How Does A Toaster Oven Work
1. Heating Elements
Toaster ovens consist of 2 main heating elements: the upper and lower coils.
These coils are responsible for heating up the appliance to the desired temperature.
The coils need to be preheated before use to ensure even cooking.
The heating element in a toaster oven is typically made of metal and may use a convection fan to circulate the hot air.
Heating elements are made of metal wires that heat up when an electric current flows through them.
Toaster ovens use one or two heating elements to cook food.
---
2. Temperature Control Mechanism
The temperature control mechanism in a toaster oven controls the temperature inside the appliance.
It works by regulating the heating elements to maintain the desired temperature.
This mechanism is usually located towards the front of the toaster oven and may feature adjustable dials or digital settings.
Toaster ovens typically have a temperature range of 150-500°F.
Once the desired temperature has been set, the toaster oven will use the heating elements to maintain that temperature throughout the cooking process.
Most toaster ovens come with a thermostat that senses the temperature inside the oven and adjusts the heating elements accordingly.
When the oven chamber reaches the specified temperature, the heating elements will turn off, and when the chamber becomes too cold, the heating elements will switch back on.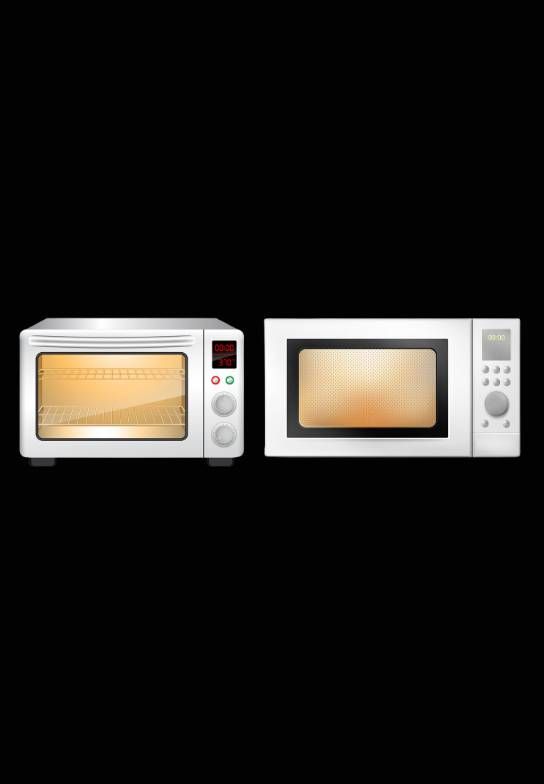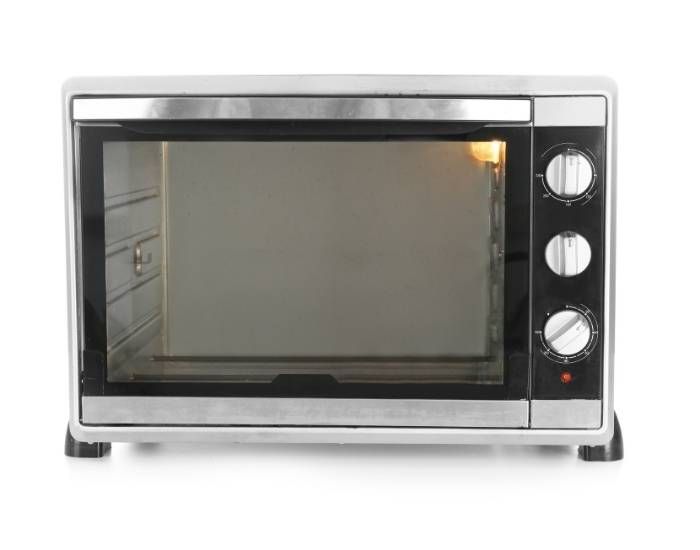 ---
Versatile Functionalities
1. Toasting Functionality
Toaster ovens also have a dedicated toasting functionality, which is similar to a regular toaster. One difference: in a toaster you toast on both sides simultaneously, in a toaster oven one side at the time.
They allow you to toast multiple (6-8) slices of bread at the same time, bagels, pita bread and English muffins.
The heating elements are set to a specific temperature. Some toaster ovens also have a "bagel" setting to toast the cut side of the bagel.
When toasting, the heating elements at the top heat up while the bottom ones remain off. You can adjust the heat, to ensure your desired brownness.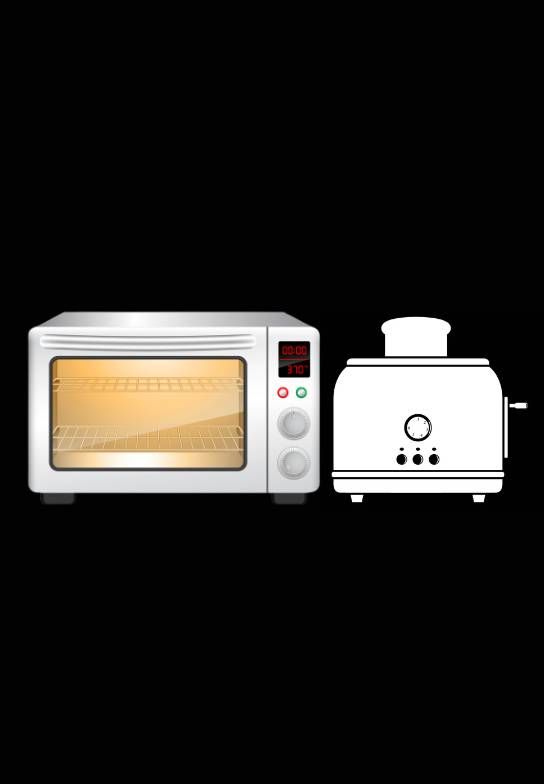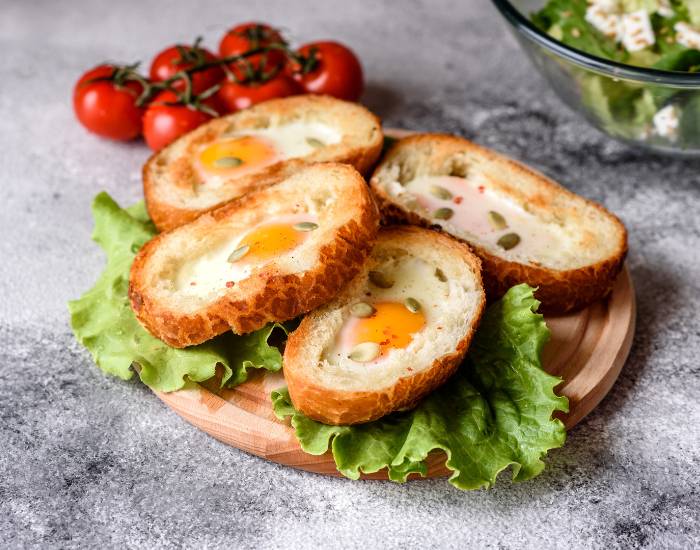 ---
2. Baking Functionality
One of the primary functions of a toaster oven is baking.
Unlike the traditional ovens, the toaster oven has the advantage of faster pre-heating and heating due to the smaller space.
Place your baking pan on the middle cooking rack. The heating elements will then cook the food evenly from both the top and bottom.
Larger toaster ovens are also equipped with two or more racks, allowing you to bake multiple items at once.
With the use of the heating elements, the bake setting and temperature control mechanism, you can bake various dishes, ranging from cookies to pizza.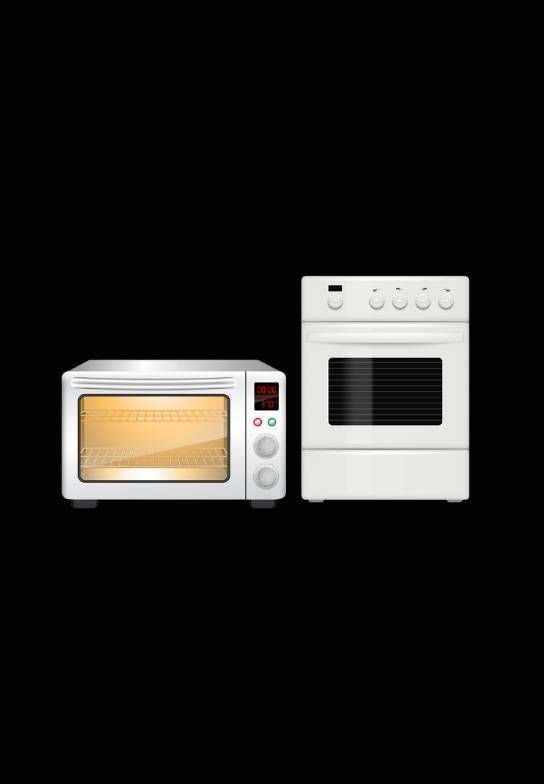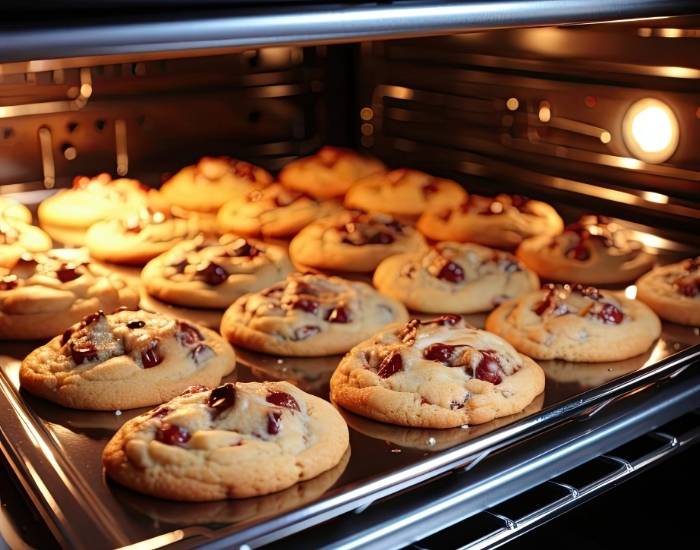 ---
3. Broiling Functionality
Many toaster ovens also have a broiling function that allows you to cook meats, seafood, and vegetables quickly.
To ensure even cooking, it is important to preheat the oven before use and adjust the temperature if needed.
When broiling, the heating elements at the top of the toaster oven heat up while the bottom ones remain off.
The food will cook quickly and the top surface will be nicely browned and crispy on the outside while juicy inside.
The broil setting can also be used to quickly melt cheese or toast bread slices to a nice golden brown.
Broiling in a toaster oven takes less time than baking as heat is applied directly from the top heating elements.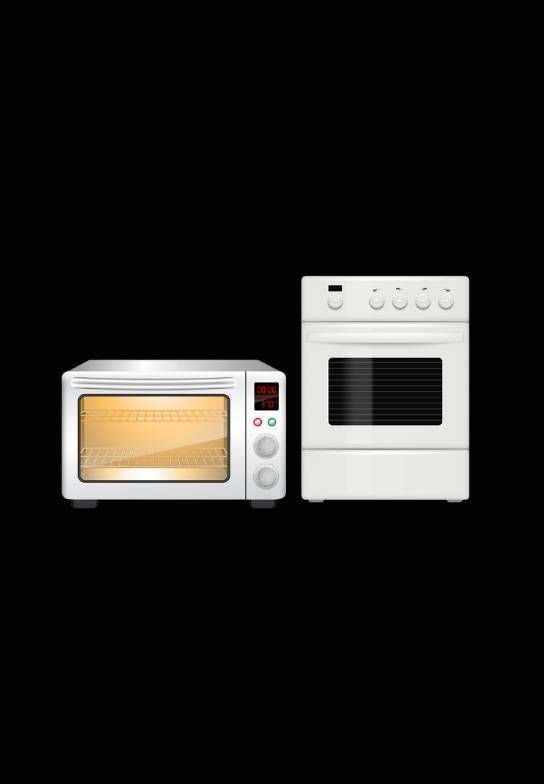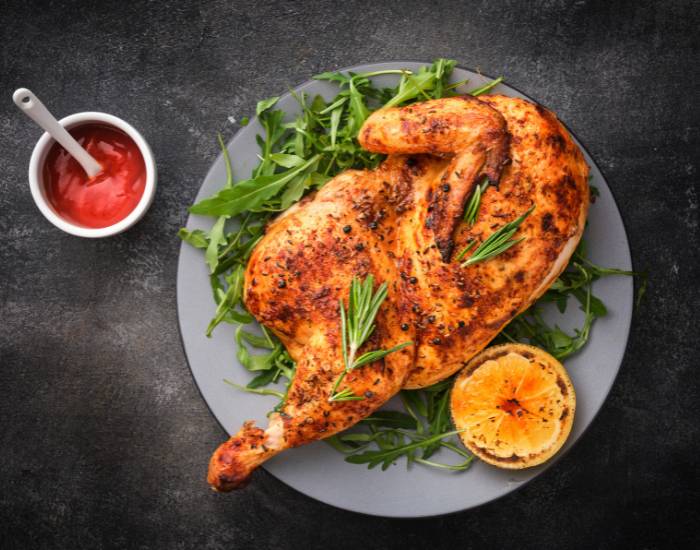 ---
4. Roasting Functionality
Many toaster ovens also come with a roasting setting for cooking larger pieces of meat, poultry, and fish.
The heating elements will heat up the interior of the toaster oven which is then used to cook the food.
To roast in a toaster oven, preheat the appliance and place your food on a rack in the middle of the oven.
Adjust the temperature as needed and set a timer to ensure that your food is cooked through.
Roasting in a toaster oven takes less time than baking or broiling, as it uses direct heat with no air circulation.
This helps to keep all of the moisture inside the meat for succulent and flavorful results.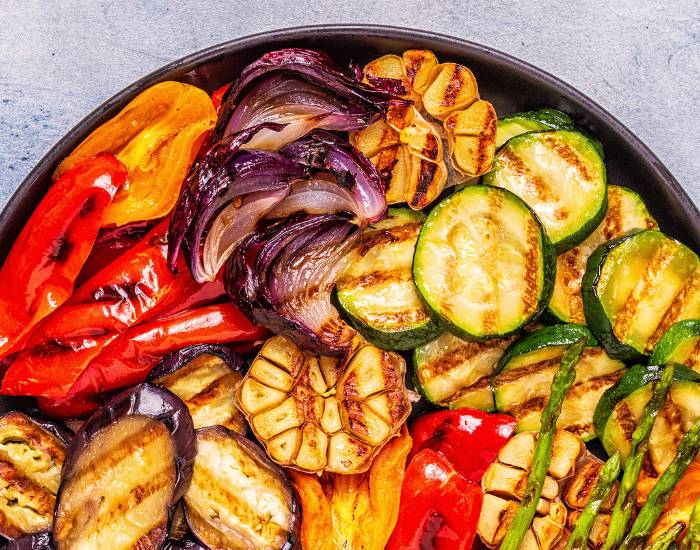 ---
5. Air Frying Functionality
Some high-end toaster ovens also come with an air frying setting as a combo.
This setting uses a convection fan to circulate hot air to cook food quickly and evenly.
The process of air frying is similar to deep frying, except that instead of using oil for cooking, a toaster oven uses hot air.
Air fried foods are healthier than deep fried foods as there is little to no added fat or oil.
The air frying setting in a toaster oven helps to reduce cooking odors, making it ideal for small kitchens with limited ventilation.
Air frying can be used to cook various types of food such as chips, vegetables, chicken wings, French fries, etc.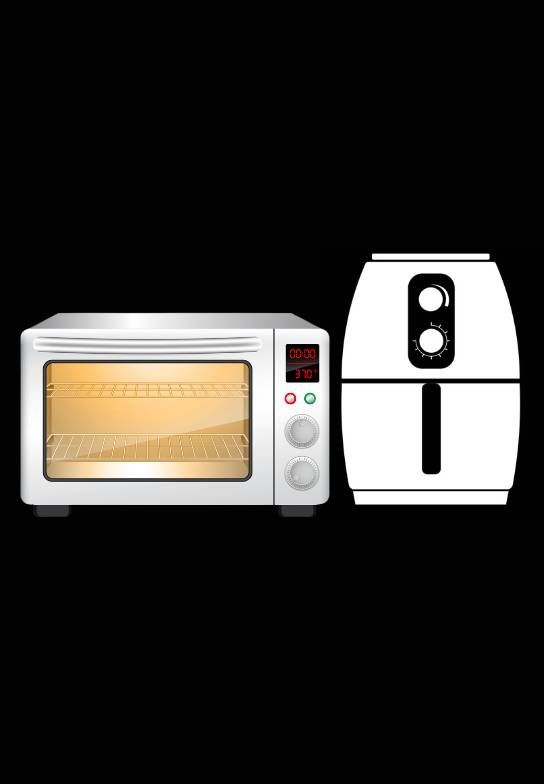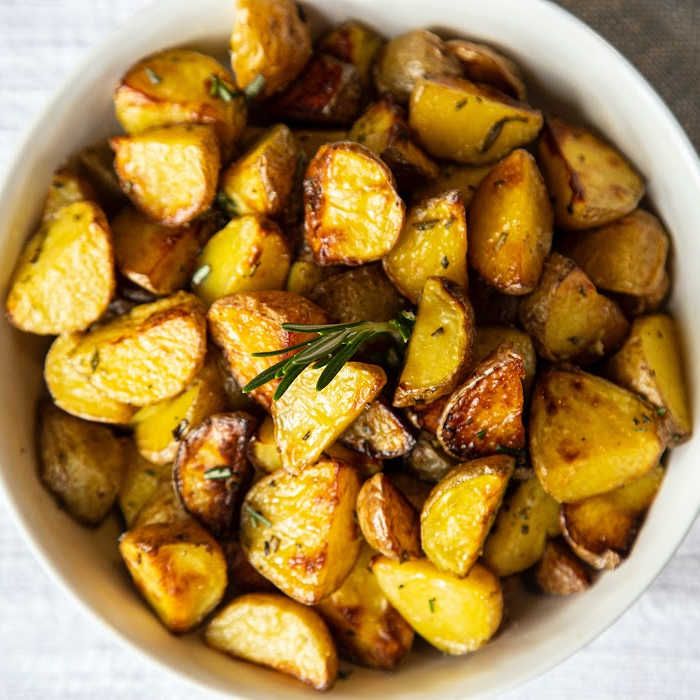 ---
Additional Features & Settings
The available features of a toaster oven can differ based on its model. Some commonly encountered ones that you might find:
Convection Cooking: Certain toaster ovens use convection oven technology,  employing a fan to evenly circulate hot air within the oven, simulating air frying. The results are fast and the cooking is much more evenly, making it perfect for roasting and baking.
Rotisserie Cooking Function: Like a conventional oven, some toaster ovens come with a rotisserie function that allows you to cook poultry and larger cuts of meat while rotating them on a spit.
Preset Cooking Functions: Many toaster ovens come equipped with convenient pre-programmed settings tailored for specific foods such as cookies, pizza, and bagels. These presets optimize both cooking time and temperature, effectively removing any uncertainties when it comes to preparing various dishes.
Timer and Auto Shut-Off: With a timer feature, you can effortlessly set the precise cooking or toasting time. Once the timer hits zero, the toaster oven will automatically shut off, preventing any risk of overcooking or burning.
Temperature Probe: High-end toaster ovens are equipped with a temperature probe, allowing you to monitor the internal temperature of your food. This feature, rarely found in a traditional oven, proves particularly beneficial when cooking meat to achieve your desired level of doneness.
Removable Crumb Tray: Toaster ovens typically come equipped with a convenient removable crumb tray positioned beneath the heating elements. This tray effectively gathers any wayward food particles or crumbs that might accumulate while cooking, facilitating cleaning.
Multiple Cooking Racks: Premium toaster ovens often feature multiple cooking racks, providing the convenience of preparing multiple dishes at once or adjusting the cooking space to accommodate different food sizes.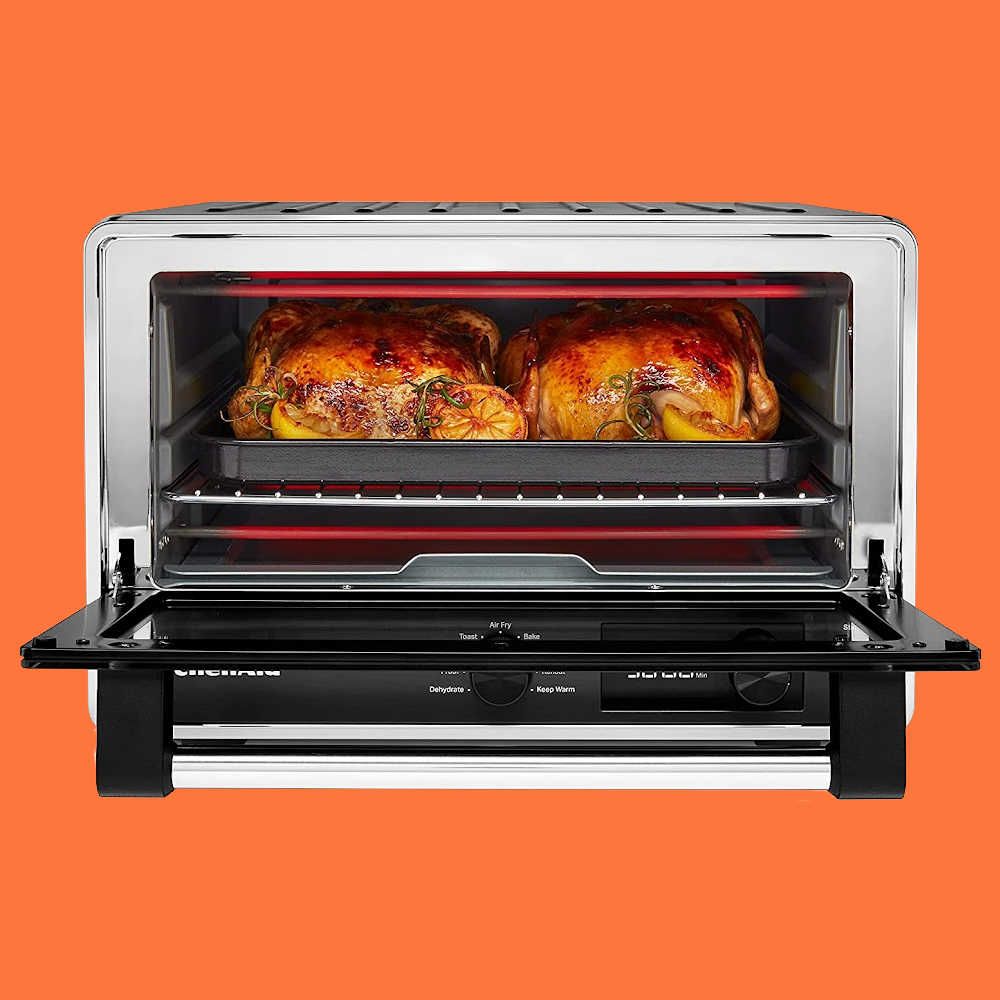 ---
---
Cleaning & Maintenance
Like any other kitchen appliance, toaster ovens require regular cleaning and maintenance to ensure proper functioning.
It's important to never submerge the toaster oven in water or use harsh cleaning agents that could damage the heating elements.
Unplug the appliance and allow it to cool completely.
Check the crumb tray regularly and empty it to avoid fire hazards.
Remove the racks and crumb tray, and wash them with soap and warm water.
Use a damp towel or sponge to wipe down the inside of the toaster oven to remove any stuck-on food, avoiding the heating elements.
Make sure to clean the exterior of the toaster oven with a non-abrasive cleaner or a mild detergent and a clean cloth.
To prevent build-up and odor, it's best to clean the toaster oven after each use.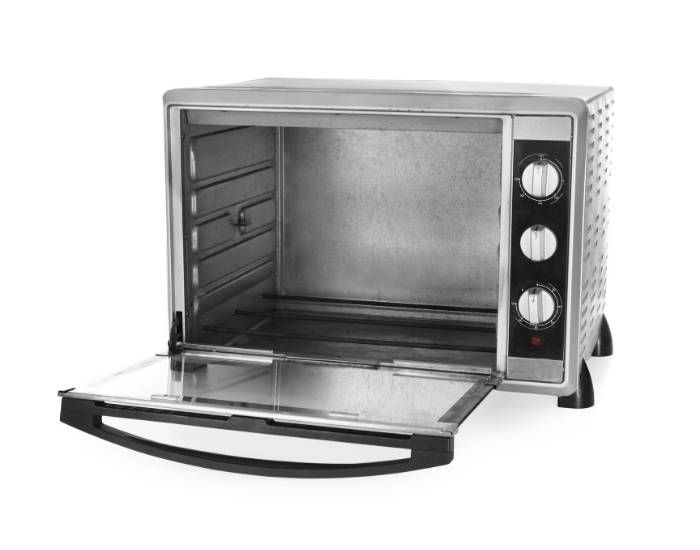 Toaster Oven's Operations FAQs
Here are some frequently asked questions about toaster ovens.
Why use a toaster oven instead of a regular oven?
A toaster oven is a countertop oven: great for small spaces as they don't take up much counter space and are more energy-efficient than regular ovens.
Additionally, toaster ovens heat up faster and can be used for quick tasks such as warming leftovers or melting cheese on a sandwich.
All in all, investing in a quality toaster oven can be very beneficial for those who don't need it for larger baking tasks.
Certain features such as convection technology or air frying make toaster ovens a more versatile kitchen appliance that can be used for a variety of cooking and roasting tasks.
How long to cook in a toaster oven vs a traditional oven?
Generally, toaster ovens take less time to cook than regular ovens as they use direct heat and little to no air circulation.
When baking, you can usually reduce cooking time by 25%, or for broiling, reduce the temperature by 25% and look out for signs that food is cooked through.
However, it's always important to follow the directions of your recipe as timing and temperature may vary depending on the dish you are preparing.
When roasting in a toaster oven, it's important to keep an eye on the food while cooking as the higher temperatures mean that it can burn easily.
Setting a timer is also recommended so that you don't run the risk of overcooking or burning your food.
Do toaster ovens heat from top or bottom?
Most toaster ovens use both top and bottom elements to heat food.
The position of the heating elements can vary depending on the model, but typically one element will be located at the top of the appliance and one at the bottom. This allows for quicker cooking time and even browning of foods.
Certain models also come with an interior fan that further circulates the hot air within the oven, ensuring that food is cooked evenly on all sides.
By combining top and bottom heat elements with convection technology or an interior fan, toaster ovens are a great way to get delicious results when roasting and baking.
Do toaster ovens get hot to the touch?
Toaster ovens get hot to touch, similar to a conventional oven, so it's important to exercise caution when handling them and avoid touching any of the heating elements.
It is also important to keep the appliance away from children for safety purposes.
Additionally, you should always make sure that there is ample ventilation around the toaster oven to avoid any fire hazards.
Take the necessary precautions when opening the door of a hot toaster oven and always allow the appliance to cool before touching it.
Use oven mitts or pot holders when handling the toaster oven, racks, pans or its components.
Make sure to read the manufacturer's instructions for proper use and safety guidelines.
What is the snowflake button on the toaster?
The snowflake button on a toaster oven is defrosting mode.
This setting is used to defrost frozen food quickly and safely without having to use the microwave oven, providing a healthier alternative with better results.
When using this setting, the heating elements will alternate between low and high heat, allowing for even thawing of food throughout.
The snowflake button also works well when reheating leftovers that need to be defrosted before cooking.
---
In conclusion, a good toaster oven is a convenient appliance that can be used for a wide range of activities. Its heating elements, temperature control mechanism and additional features and settings make it an indispensable part of your kitchen.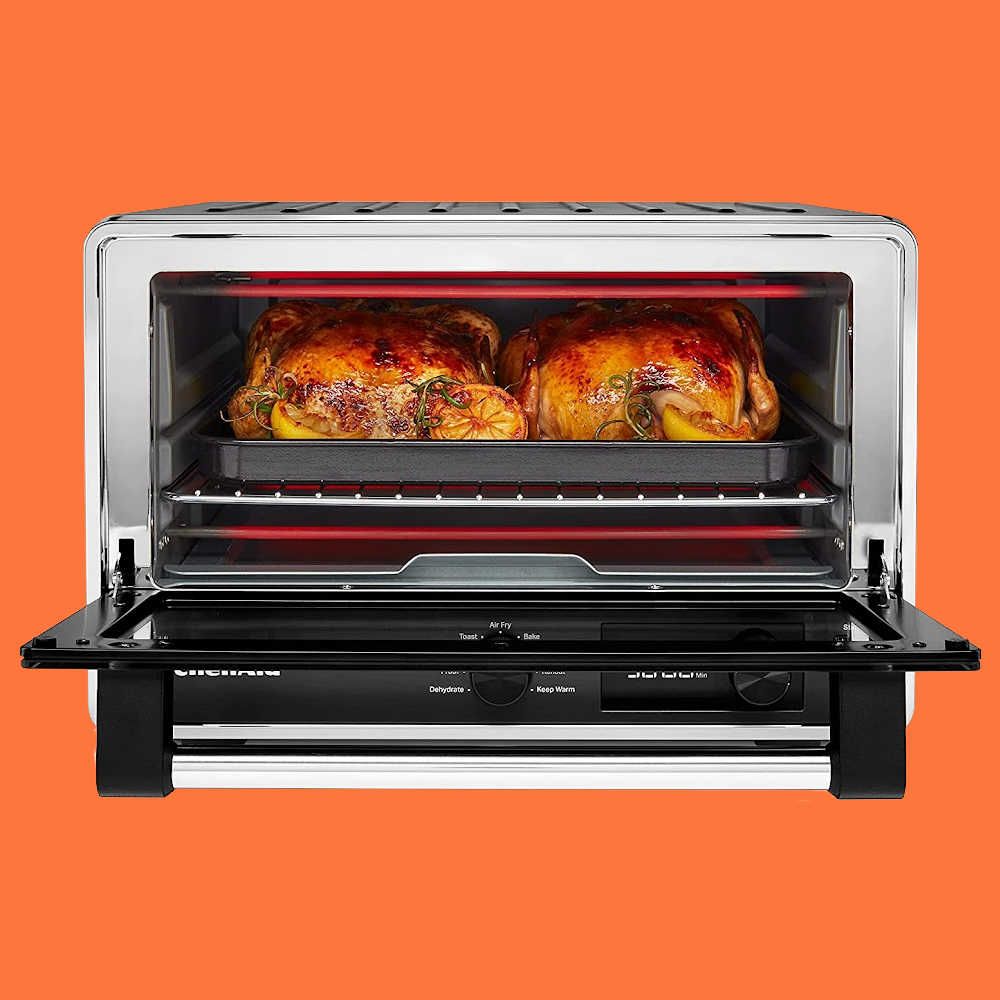 With proper cleaning and maintenance, your toaster oven is sure to last you for years to come.
Catchy Finds
---