There are many different types of woks on the market, but if you're looking for the best electric wok, you've come to the right place!
In this blog post, we will review some of the best electric woks on the market and help you decide which one is best for you. We have researched at many different electric woks, and chose five to be our "best electric woks".
Whether it's an affordable electric wok, a dishwasher safe wok, or one with cooking temperature control (heat settings), a non stick coating or a stainless steel base, with or without a tempered glass cover, we've got you covered!
We'll discuss features, and what makes each electric wok unique. So whether you're a novice cook or an experienced chef, read on to find the best electric wok for your needs!
💡
We participate in the Amazon Associates Program, if you buy a product with the links that we provide, we may receive a small commission from Amazon. There is NO additional cost to you!
Catchy Finds' 5 Picks In The Spotlight





---
NUWAVE MOSAIC Induction Base with Carbon Steel Wok
What Makes It Catchy
The NuWave Mosaic Induction Base with Carbon Steel Wok is the perfect choice for anyone who loves to cook homemade stir-fries, fried rice, and more. The Mosaic's 14-inch carbon steel wok is perfect for those who want an easy to season wok pan with a nonstick surface, with excellent heat retention.
The digital controls are simple to use, and the response is immediate. Temperature adjustment allows you to go from 100°F to 575°F in 5°F increments with three wattage settings of 600, 900, and 1500 watts.
Wok hei, the specific blend of aroma and taste of Chinese dishes, is possible with this these temperature settings, and the combination of carbon steel and induction. The NuWave successfully blends the traditional wok with 21st century, energy-saving technology, making precise cooking reality.
The unique material and curvature of the wok allow it to reach the ideal stir-frying temperature in less than a minute. The wok includes a tempered glass lid, and an comfortable silicone handle that remains cool to the touch while cooking.
Things In The Spotlight
With induction technology, you'll get even heat distribution and precise temperature control, making it easy to cook a variety of dishes.
The Mosaic's induction base was designed specifically for the carbon steel wok, ensuring that the curvature of the wok and the base are cosmetically consistent.
This means that the total surface of the wok comes in contact with the induction surface, ensuring that every part of the wok heats up quickly and evenly every time.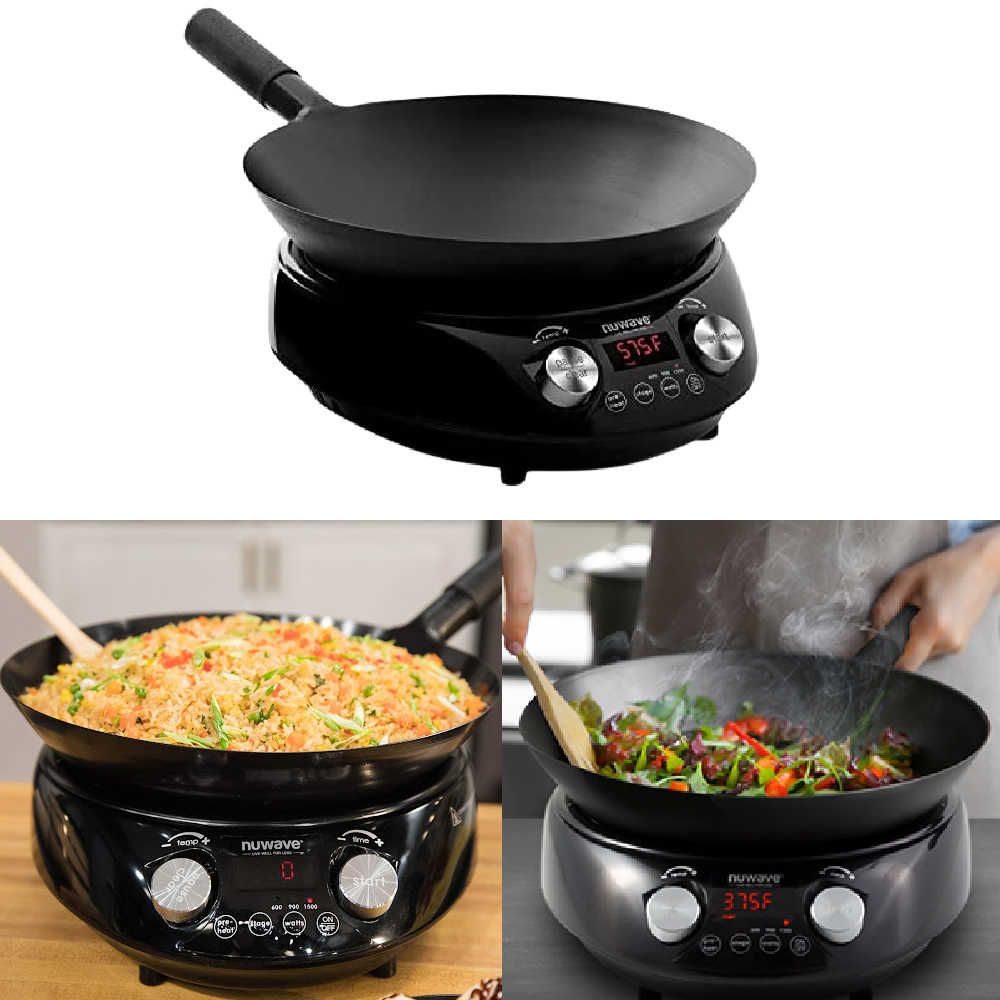 ---
Breville Stainless Steel Electric Hot Wok
What Makes It Catchy
The Breville Electric Hot Wok is perfect for those who want to cut down on oil but still enjoy delicious, flavorful meals.
This large capacity, 6 qt. stainless steel electric wok has a butterfly heating element which cooks food more evenly by distributing heat up the high wall to 425˚F, allowing you to stir fry and deep fry your Asian dishes with ease.
With its large cooking surface and high-wall design of this die cast wok bowl, the Breville Hot Wok is perfect for feeding a crowd. And cleanup is a breeze with the removable non stick cooking plate.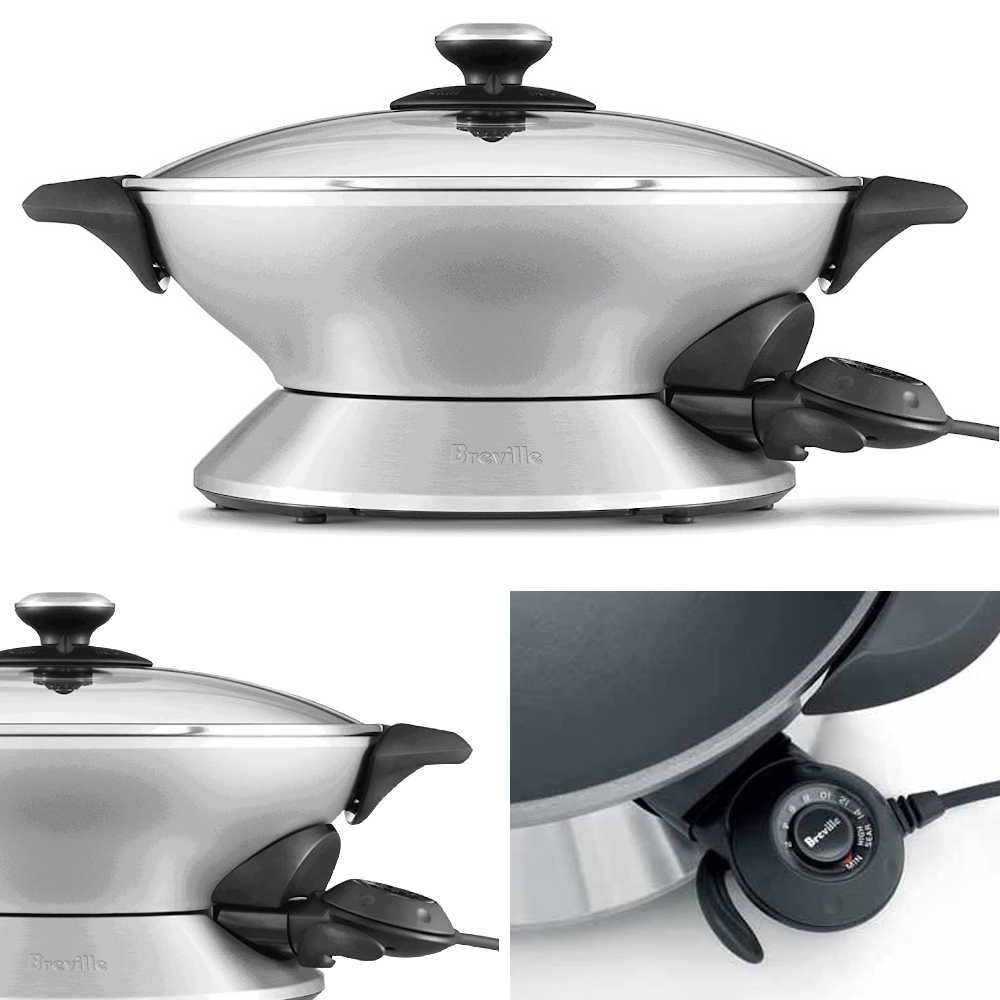 Things In The Spotlight
In terms of design, the Breville Bew600XL Hot Wok has a certain retro character, due to its shape and its color. However, it's not a traditional wok: you're looking at 21st century technology. The bowl of this stainless steel electric wok has a quantanium non-stick coating, which means you need less oil to cook, and cleaning the pan is a breeze.
Additionally, the 1500 watt butterfly heating element has 15 heat settings, allowing precise heat control. This ensures that your food will be cooked evenly and at the perfect temperature every time. Its stainless steel base stabilizes the durable stainless steel body of the wok.
Perfect for large families or groups, when you're done cooking, simply take off the removable temperature control probe and toss it in the dishwasher. Both bowl and lid are also dishwasher safe. The Breville hot wok may well turn out to be the best overall electric wok.
---
VonShef Electric Wok
What Makes It Catchy
Made from durable, heavy duty cast aluminum, the wok heats up quickly and evenly, so you can cook your food to perfection every time.
This wok has a non stick surface coating that prevents food from sticking and enables healthy little-to-no-oil cooking.
Ideal for cooking up large portions of delicious Asian-style dishes, the 14 inch size and 7.4 qt (5L) large capacity is perfect for family meals or entertaining guests.
Things In The Spotlight
The adjustable temperature control feature means you can fry, stir-fry or even steam your ingredients – whatever cooking method you prefer, the VonShef Electric Wok can do it. Its shape allows you to use it as a hot pot.
What's more, the wok comes with a tempered glass lid with a silicone rim, so you can keep an eye on your food as it cooks.
And when you've finished cooking, the cool touch handles make it easy to lift the lid and transfer the wok to your dining table.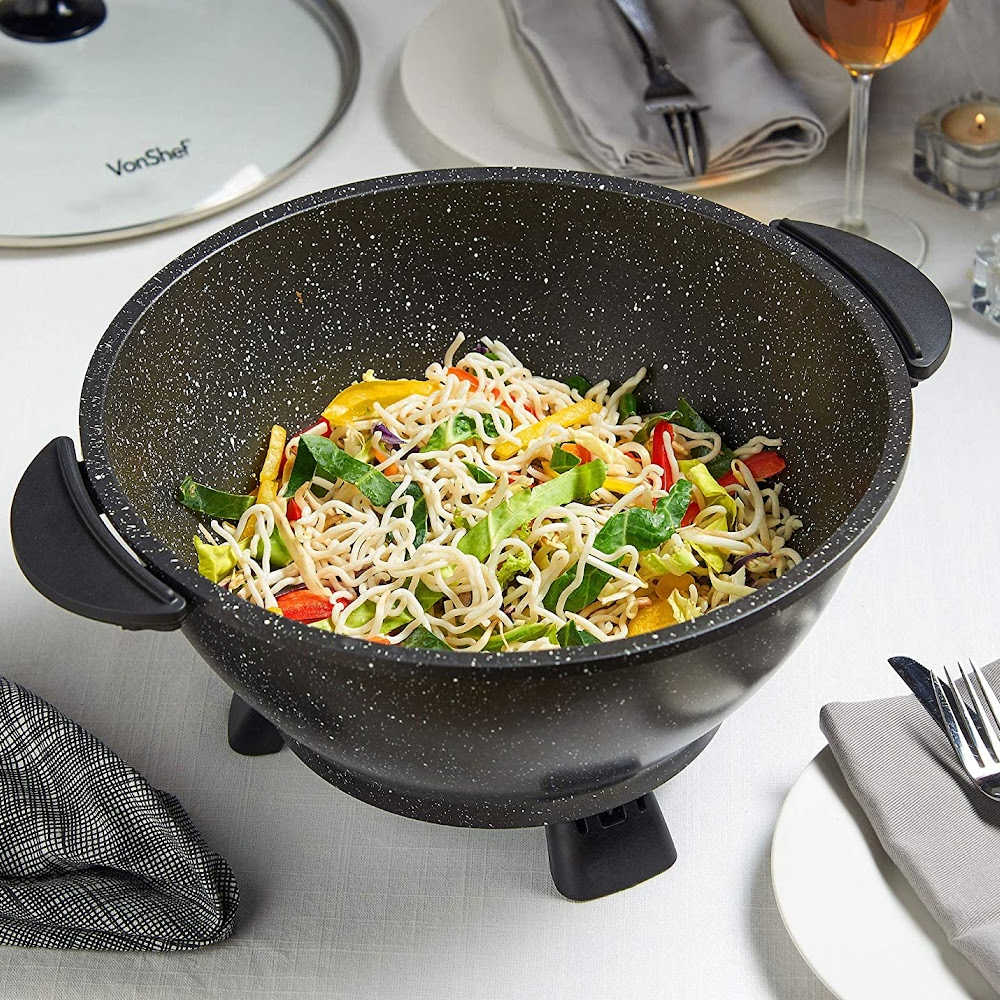 ---
Aroma Housewares Electric Wok
What Makes It Catchy
This 5 qt wok is made of durable cast aluminum and features a nonstick coating, making it a dream to cook with. The cool-touch base and handles make it easier and safer to use.
Apart from its base and heating element, the electric skillet, with its glass lid and steam vent, is dishwasher safe, and can easily be disassembled and detached from the base for quick and easy cleanup.
Whether you're looking to stir fry food, cook a delicious meal or simply want an easier way to cook, the Aroma Housewares Electric Wok is perfect choice.
Things In The Spotlight
This wok has a cast metal construction. It is perfect for those who want to make delicious meals quickly and easily, thanks to its rapid heating capabilities and its rotary dial for effective temperature control.
Plus, the lid is designed with an adjustable steam vent that allows you to regulate the moisture levels while cooking, giving you the perfect results every time. The wok comes with long cooking chopsticks, a steam rack, and a tempura rack, which allows you to make some of the finest seafood dishes in Asian cuisine.
The classic dome-shape lid is perfect for any type of stir-fry, saute or simmer! The wide, convex curve allows for excellent heat circulation for any dish you throw its way.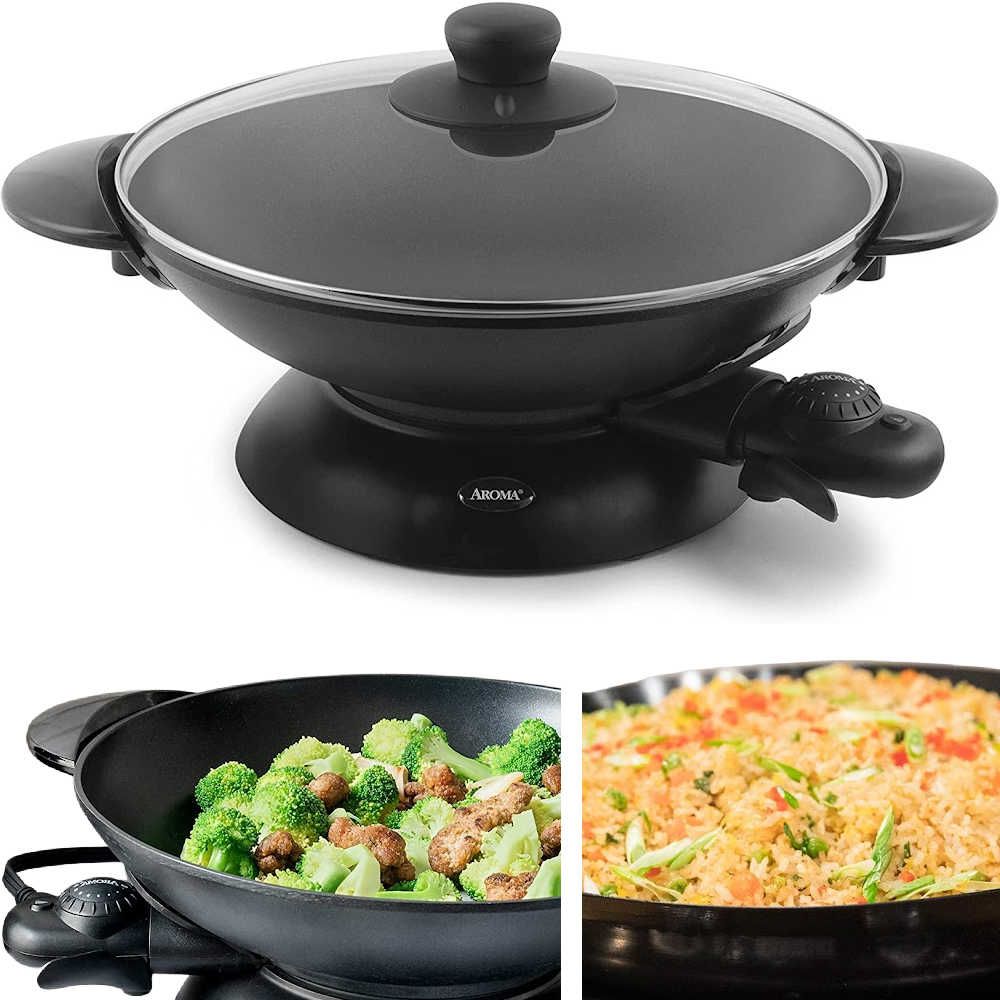 ---
Oster DiamondForce Electric Wok
What Makes It Catchy
If you're looking for an electric wok that offers great value for money, the Oster DiamondForce Electric Wok is the perfect choice.
It features a reinforced nonstick cooking surface infused with tiny diamonds,  that is built to last. The wok comes with a tempered glass lid with a cool-touch knob, making it safe and easy to check on your food as it cooks.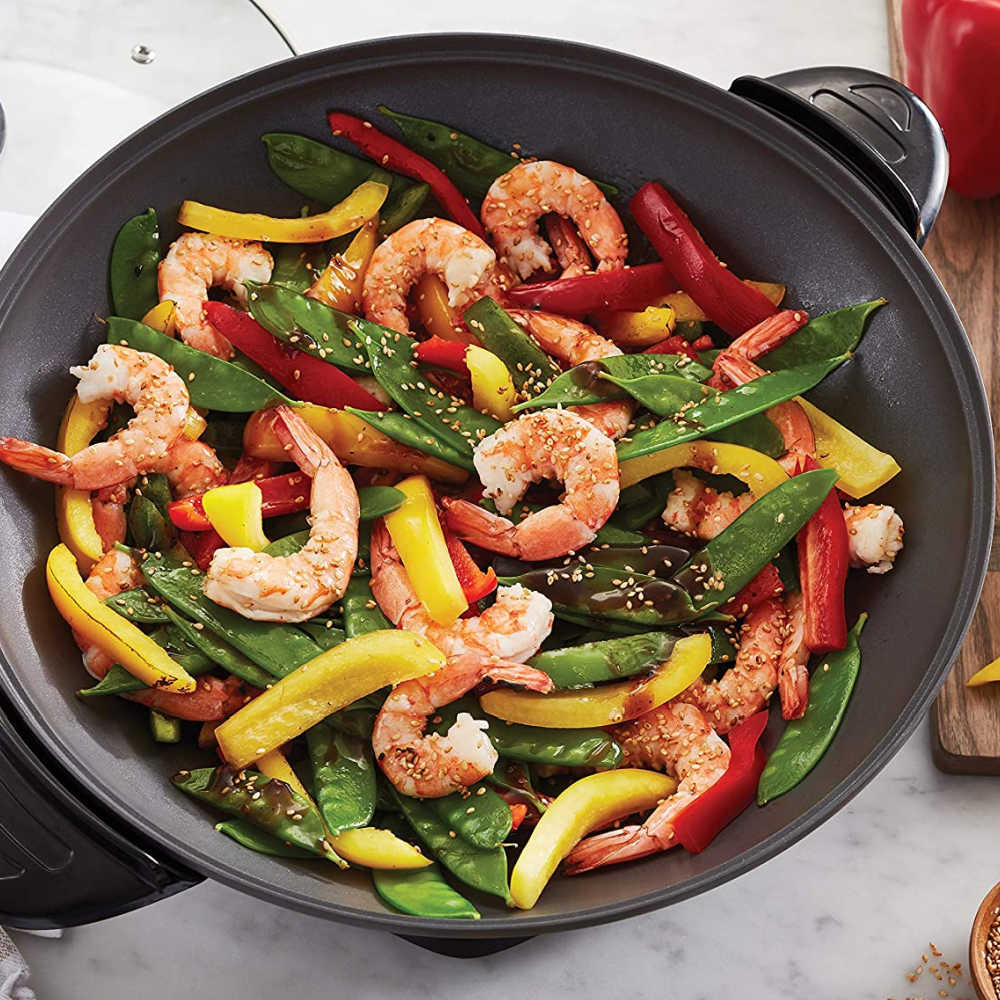 Things In The Spotlight
This wok has a decent 4.7 qt. capacity, making it perfect for stir fries, mussels, and more. The removable temperature probe lets you check and adjust the temperature for cooking a variety of foods.
Additionally, the cool-touch handles on the side of the wok make it easy to carry around the kitchen. Whether you're whipping up a quick stir-fry or a hearty stew, this wok with glass lid is sure to become a staple in your kitchen.
---
Electric Wok FAQs
Buying an electric wok needs some careful consideration before taking the plunge. Do realize an electric wok is a stovetop wok with a difference: it is or has its own stovetop, so you don't rely on a regular stove top.
That's why we've put together this list of Frequently Asked Questions (FAQs), about electric woks. We hope this will help make your decision easier! So, without further ado, let's get started!
What is the point of an electric wok?
An electric wok is a great way to cook because it evenly distributes heat and prevents sticking. This is a perfect tool for stir-frying, which requires quick cooking at high temperatures.
The wok's round bottom also allows you to move the food around easily. They come with a tempered glass lid, most feature nonstick coating, heat control, cool touch handles and dishwasher safe parts.
Unlike a wok for gas, they don't need a wok stand. They are great for batch cooking, as the temperature settings allow consistency.
Are electric woks worth it?
Electric woks are worth it, and the best electric woks are definitely worth it! They're a great way to cook food quickly and evenly without having to use a lot of oil.
But their main advantages are their versatility, and features such as heat settings, glass lids, and dishwasher safe parts. The best electric woks combine traditional qualities with 21ste century technology.
They come in a variety of different sizes, so you can find one that's perfect for your needs. And since they're electric, they're easy to use and clean up. Plus, they're a great way to save energy and time in the kitchen.
How do I choose an electric wok?
When choosing an electric wok, consider the following factors:
Size of the wok: the size of the electric wok should be determined by the size of your cooking area. If you have a small kitchen, choose a small electric wok.
Power output: most electric woks have a power output ranging from 1,000 to 2,000 watts. Choose an electric wok with a higher wattage if you want to cook foods quickly.
Design: some electric woks come with built-in rings that allow you to cook with less oil. Others come with removable inserts that can be used on the stovetop. Consider which design would be best for your needs.
Price: Electric woks range in price from $50 to $200. Choose the best electric wok for your budget and needs.
What kind of wok do Chinese chefs use?
Most Chinese chefs use a carbon steel wok. It is a convex-shaped pan that is made of thin metal.
The sides of the wok are flared, which allows the chef to easily toss food while cooking, and apply all their wok cooking techniques. Carbon steel woks are lightweight and conduct heat quickly, which makes them ideal for stir-frying.
Another type of wok that Chinese chefs use is called a cast iron wok. These woks are heavier than carbon steel woks and take longer to heat up.
However, they retain heat better and can be used for cooking at higher temperatures. Cast iron woks are often used for deep-frying or for cooking over an open flame.
Whatever type of wok you choose, make sure that it is the right size for your stove. Woks come in a variety of sizes, so you should be able to find one that is a perfect fit.
Can you stir fry on an electric stove?
Yes, you can stir fry on an electric stove. In fact, many people prefer to stir fry on an electric stove because it heats more evenly than a gas stove.
To stir fry on an electric stove, you will need a wok or a large frying pan that is specially designed for stir frying. You will also need to heat the pan over medium-high heat before adding oil.
Once the oil is hot, add your ingredients and quickly stir them around until they are cooked through. be sure to keep stirring so that the ingredients don't burn.
How do you cook vegetables in a electric wok?
You can cook vegetables in an electric wok by adding oil to the wok and heating it until it is hot. Add the vegetables and stir-fry them until they are cooked.
Which is better flat or round bottom wok?
There is no definitive answer to this question as it depends on your own cooking preferences and techniques.
Some people find that a round bottom wok is better for stir-frying, while others prefer the flat bottom wok for tasks such as deep frying.
Ultimately, it's up to you to decide which type of wok works better for your own cooking style.
Which is better electric or stove-top wok?
There really is no "better" option when it comes to electric or stove-top woks - it all depends on your personal preferences and needs.
If you do a lot of stir-frying at home, then an electric wok may be a good investment since it will heat up quickly and evenly, making the cooking process easier and faster, especially when they feature adjustable temperature control.
On the other hand, if you rarely use a wok or only need one occasionally, then a stove-top model will probably suffice.
Most electric woks come with a tempered glass lid (sometimes with a stainless steel rim), while most stovetop woks don't have one. The best electric woks blend the qualities of a traditional wok with the fruits of modern technology, from nonstick coating to heat settings.
You will discover that professional wok chefs around the world have different opinions on this issue. Their arguments range from efficiency to pure preferences in taste and flavour, and disputes about whether wok hei can be achieved with induction. (Oh yes, it can!)
Some people also prefer the authentic taste that comes from cooking with a traditional, well-seasoned carbon steel wok over an electric one. There's really no right or wrong answer here - it all comes down to what you like and what works best for you.
Which is better, an electric wok or a gas stove top wok?

There isn't really a definitive answer to this question since it ultimately comes down to personal preference. Some people prefer electric woks because they are easier to use and clean, while others prefer gas stove top woks because they think the food tastes better.
If you're looking for an electric wok, there are a few things you should keep in mind.
First, make sure that the wok is made of durable material like cast iron or steel.
Second, look for an electric wok that has adjustable temperature settings so you can control how hot the surface gets.
Third, choose an electric wok that comes with a complementary steamer basket - this way, you can steam vegetables or cook rice at the same time as stir-frying your protein of choice.
As for stove top woks, the most important thing is to find one that fits snugly over your burner. You also want to make sure that the wok is made of a material that conducts heat well, like carbon steel or cast iron.
And finally, be sure to season your wok before using it for the first time - this will help create a non-stick surface and prevent the food from sticking to the wok.
So, which is better? Ultimately, it comes down to personal preference. This buyer's guide intends to help you find your way to the best electric woks on the market.
How much does a good wok cost?
A wok is an important piece of equipment in any Chinese kitchen, and a good wok should last you for many years if properly cared for. With that said, a good quality wok will usually set you back anywhere from 50 - 200 US$.
The more expensive electric woks feature heat settings, a glass lid and non stick coating. Of course, you can find cheaper options out there, but they likely will not withstand the high heat needed for proper "wok hei" wok cooking.
Additionally, lower quality woks might not be made from materials that distribute heat evenly, meaning your food could end up unevenly cooked.
So while it might be tempting to save a few bucks by opting for a cheaper model, in the long run it's worth it to invest in a quality wok that will serve you well for years to come.
What is best brand for quality electric wok?
There is no one "best" brand for quality electric woks. However, some brands are better than others, and it's important to choose a high-quality electric wok if you want one that will last and perform well.
Some factors to consider when choosing an electric wok include the materials from which it is made, the size of the wok, its weight and durability of the materials, the power of the heating element, temperature settings, non stick coating, ease of use, and the warranty. It's also important to read reviews from other consumers to get an idea of how well each brand performs.
Some of the better brands for electric woks include Aroma, Breville, NuWave Mosaic, VonShef, and Oster.
Why do chefs use carbon steel pans?
Carbon steel pans are popular among chefs for a number of reasons.
Firstly, carbon steel conducts heat better than other materials, so it can be used to achieve a wide range of textures, from super crisp to silky smooth.
Secondly, it's durable and easy to care for – with proper seasoning, a carbon steel pan will last a lifetime.
And finally, it's relatively inexpensive compared to other high-end cookware options.
So if you're looking for a versatile pan that will help you take your cooking to the next level, carbon steel is definitely worth considering!
How do I know if my wok is carbon steel?
First, you should determine if your wok is carbon steel. Carbon steel is a type of metal that is composed of iron and carbon. It is less expensive than stainless steel and has a tendency to rust if not properly cared for.
Stainless steel, on the other hand, does not rust and is easier to clean. To test your wok, try rubbing a magnet on the bottom of the pan. If it sticks, then your wok is made of carbon steel.
If you determine that your wok is made of carbon steel, then you should season it before use. Seasoning a wok helps to create a natural non-stick surface and also prevents it from rusting.
To season your wok, simply heat it up on the stove until it is smoking hot, then rub some cooking oil onto the surface. Allow the wok to cool, then repeat this process a few more times. After seasoning, your wok will be ready to use!
Is carbon steel wok better than cast iron wok?
There are pros and cons to both carbon steel woks and cast iron woks. Carbon steel woks are lighter in weight and tend to heat up more quickly than cast iron woks.
However, carbon steel woks also require more care and maintenance than cast iron woks (e.g., they need to be dried after each use and must be seasoned before use).
In contrast, cast iron woks are heavier in weight and take longer to heat up but can last longer than carbon steel woks if cared for properly.
Is carbon steel wok better than stainless steel wok?
There are a few key differences between carbon steel and stainless steel woks that make the former a better option for cooking.
For starters, carbon steel woks conduct heat more efficiently, meaning that food cooked in them transfers heat better and cooks evenly.
Additionally, carbon steel woks are less likely to stick than their stainless steel counterparts, making them ideal for stir-frying and other techniques that require constant movement.
Carbon steel woks also develop a natural patina over time that helps to season the pan and make it even more non-stick. Ultimately, if you're looking for a versatile and durable wok that will perform well for years to come, carbon steel is the way to go.
What does wok hei mean?
Wok hei means in Cantonese, "wok breath", or aroma from the wok. It refers to wok cooking techniques. For example, when stir frying in a hot wok (think up to 300˚F) at some point it will release a specific flavour and create a specific taste.
This is when wok hei is achieved. When certain Chinese meals require searing heat, the cook will recognize achievement of wok hei, and know the dish is ready.
---
Best Electric Wok For You
The five electric woks that we've reviewed are all excellent choices for your kitchen. All of them have different features and benefits, so it really depends on what you're looking for in an appliance.
We hope that our reviews have helped you narrow down your search and that you find the perfect electric wok for your home. Which one of these five is your favorite?
Be sure to check out our other blog posts for more appliance reviews.
Thanks for reading!
Catchy Finds