Do you find chopping vegetables to be a tedious task? That's why it's important to have tools that can help make cooking easier and faster. That such tool is a vegetable chopper.
This kitchen gadget is essential for anyone who loves to cook, and it makes chopping vegetables a breeze. A good food chopper can quickly and easily chop vegetables into small pieces, which is perfect for salads, side dishes, and more.
There are many different types of vegetable choppers on the market, so it's hard to decide which one is the best to pick. In this blog post, we will review our top 4 picks of the best vegetable choppers and help you to quickly decide which one is right for you!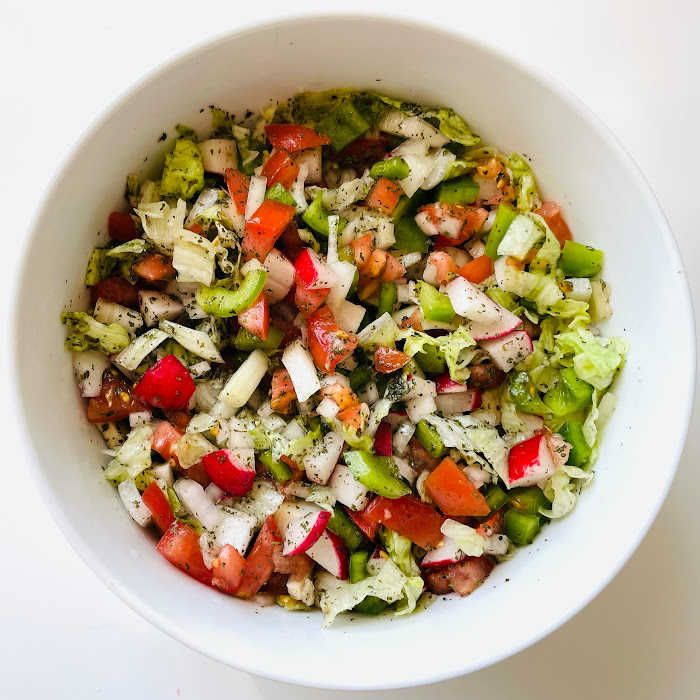 What Is Better? Manually Chopping Food vs. Using A Vegetable Chopper?
Pro chefs prefer manual chopping, as it gives them more control over the size of the pieces. However, they usually have advanced knife skills when it comes to choosing and using the proper knives, and most often prefer to use their considerable chopping skills over using a food chopper.
(But I have seen one of their apprentices smuggling a manual chopper into the kitchen, and use it when the boss wasn't looking.)
As a home chef, you take great pride in creating the perfect chop, and you're always on the lookout for ways to improve your technique. When you watch the below clip where a seasoned pro do his food chopping routine, you watch in awe, and wish you'd have their skills.
And for those who don't have knife skills, they'll need a chopping assistant. Checking on to learn more about these handy gadgets!
👉
We participate in the Amazon Associates Program, if you buy a product with the links that we provide, we may receive a small commission from Amazon. There is NO additional cost to you!
4 PICKS IN THE SPOTLIGHT




---
Fullstar Vegetable Chopper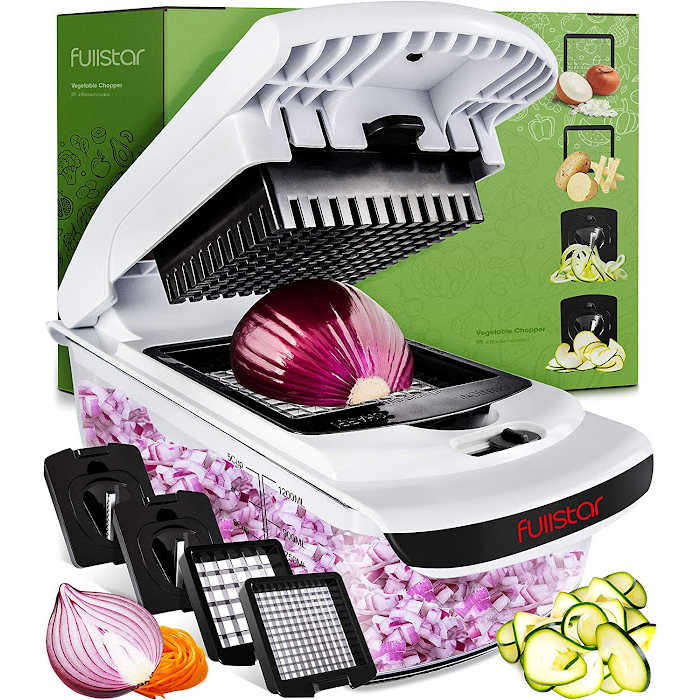 What Makes It Catchy
Safely slice, dice, chop and cut fruits and vegetables
Razor sharpness for crisp, smooth cutting and grating
Clever design makes food preparation a breeze - spend less time in the kitchen, more time enjoying your meal.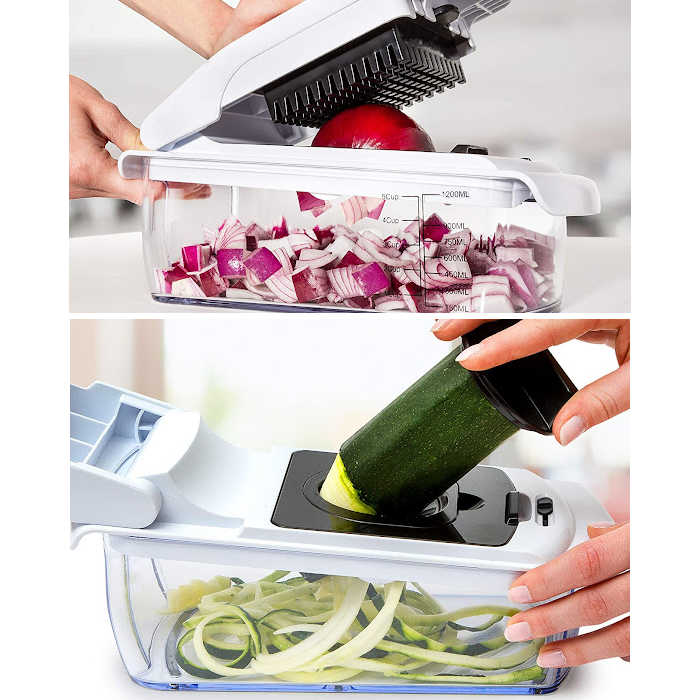 Things In The Spotlight
This 7-piece set comes with 4 interchangeable blades that let you julienne, chop and slice vegetables with ease. The built-in chop lid lets you cut foods directly into the 1.2L collection tray without the mess of a knife and cutting board. Its parts are made from BPA free plastic.
Plus, the rust-resistant, heavy-duty 420 stainless steel blades retain their razor-sharpness for crisp, smooth cutting and grating. And the soft grip handle with rubberized TPU enhances leverage while the non-skid base ensures stability during use.
---
Mueller Vegetable Chopper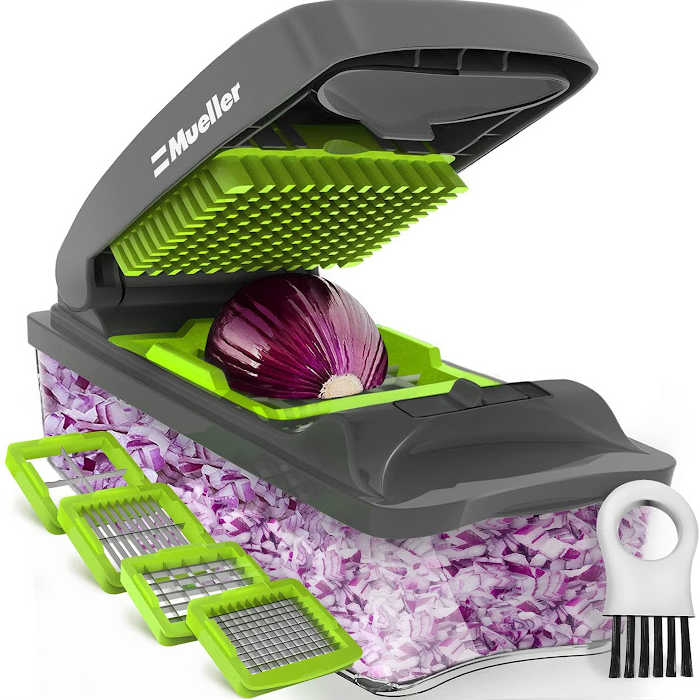 What Makes It Catchy
Easily chop vegetables and cheese
Minimize onion vapors
Get the perfect diced veggies every time - without all the tears!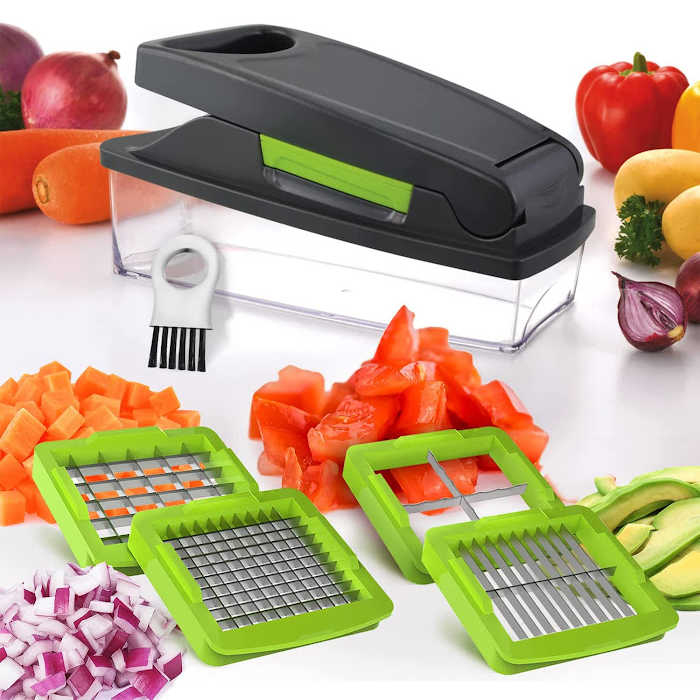 Things In The Spotlight
Looking for an easy to use chopper that is durable and of superior quality? Made from professional grade, heavy duty reinforced food grade ABS, the Mueller chopper is guaranteed to withstand even the most vigorous chopping.
Plus, with the chopping ability of 4 ultra-sharp German 420-grade hardened stainless steel discs, you can easily chop or dice even the hardest vegetables or cheeses with just one easy motion.
And, if you're concerned about onion vapors causing tears, this chopper features a storage container that reduces those vapors and minimize irritation.
---
NutriChef Electric Food Spiralizer Slicer Chopper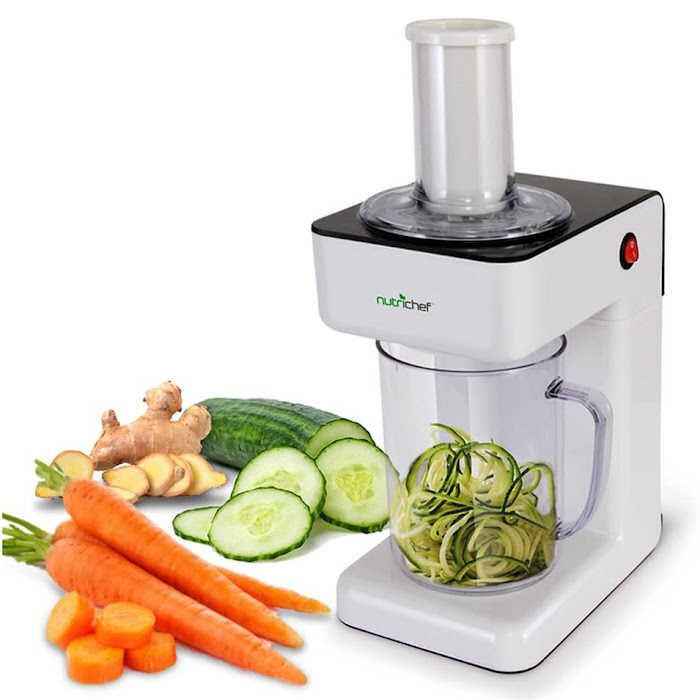 What Makes It Catchy
Easily spiralize vegetables for salads and more.
Comes with three different blades for different cuts.
Get your kids to eat their vegetables without a fight.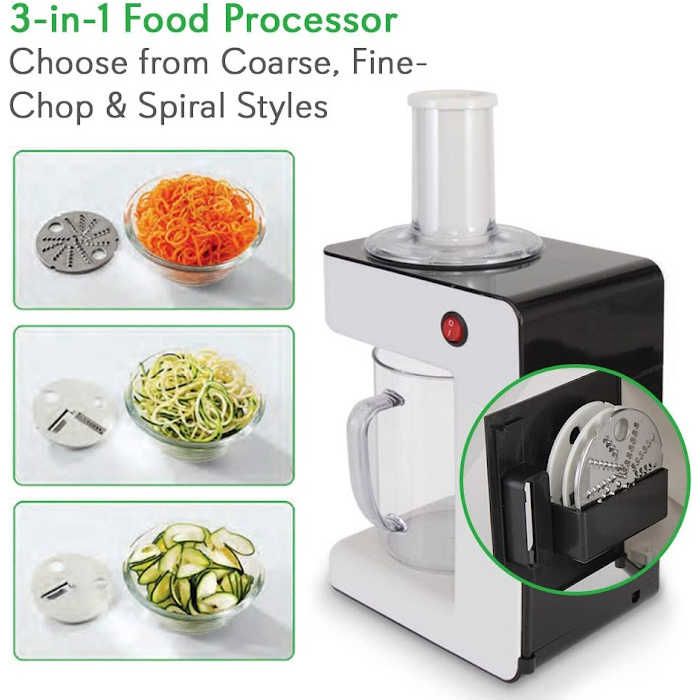 Things In The Spotlight
With its simple electronic plug-in design and 3.3 ft power cord length, the vegetable chopper is actually a mini food processor. It's safe for placement on any countertop, and its size will allow limited storage space.
Just choose one of the 3 included cutting blades - coarse, fine chop, or spiral style - and start creating some amazing dishes. The beaker lets you collect all the cut vegetables so they're ready to serve or cook. And when you're done, all the parts are removable from the main unit for easy cleaning.
Whether you're making a healthy salad or some delicious pasta, this spiralizer will make meal time more fun. And because it's easy to use, even the kids will love helping out in the kitchen.
---
Proctor Silex Electric Vegetable Chopper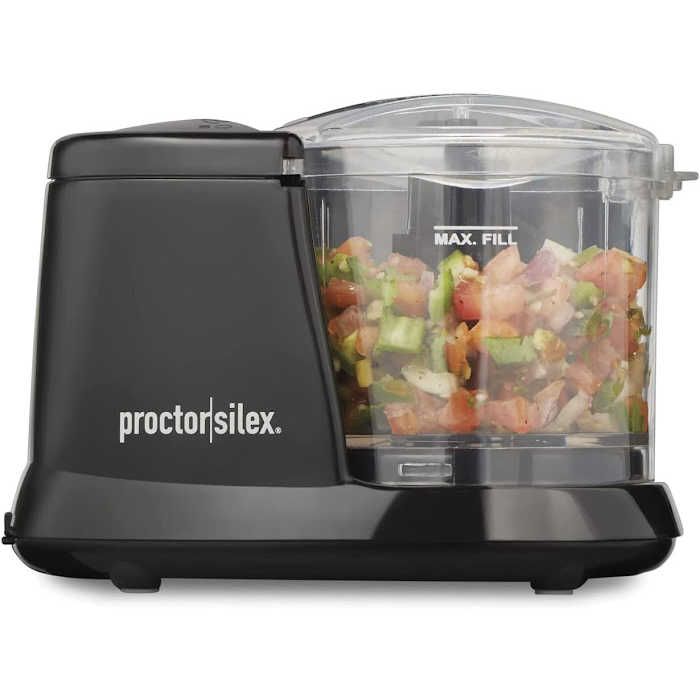 What Makes It Catchy
The small 1.5 cup capacity is perfect for everyday tasks.
You can easily customize the texture of your food with the mini chopper's simple pulse speed control.
Be more efficient and feel like a culinary master with this nifty little gadget.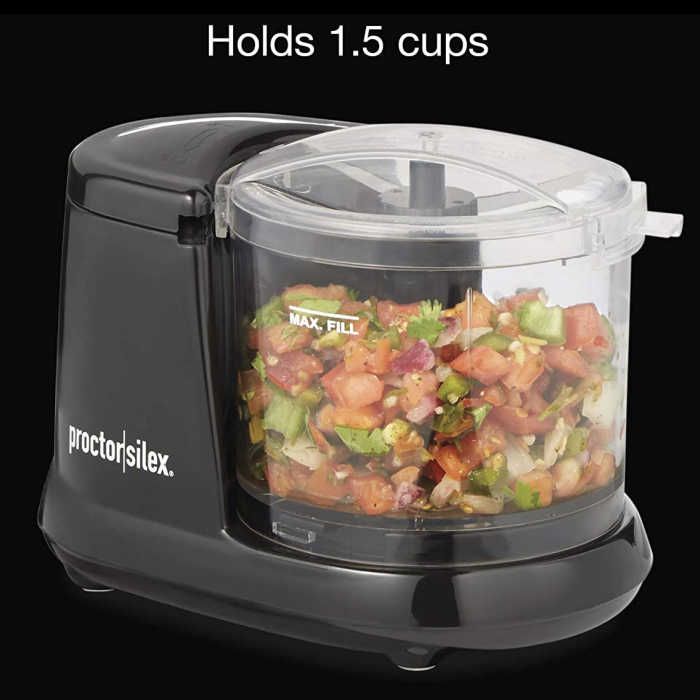 Things In The Spotlight
The Proctor Silex Electric Vegetable Chopper is a mini food processor for everyday tasks. This 1.5 cup food chopper is ideal for dicing vegetables, chopping onions and garlic, making salsa, pureeing baby food, emulsifying your favorite sauces, and much more.
The stainless steel blades effectively cut through all kinds of ingredients, from carrots, cheeses, onions, fresh herbs and garlic, to nuts for your favorite dessert.
Whether you want a smooth vegetable puree or chunky bits of onion and peppers for your salsa, you can easily customize the texture of your food with the mini chopper's simple pulse speed control.
The bowl, lid and removable blades are all dishwasher safe. In fact, this machine belongs to the category of mini food processors, that can do a multitude of kitchen tasks. And when you don't need it, its size makes it an easy storage.
---
Vegetable Chopper FAQs
You know you're a true connoisseur of greens when you can't help but get excited about the process of chopping vegetables. The sound of the knife slicing through fresh produce is like music to your ears.
Whether you are preparing a carrot or chicken salad, a big glass bowl with a rich salad and multiple greens, you want to decorate dinner plates with lovely looking cucumber slices or just to dice onions without your eyes getting irritated, a good quality chopper is the way to go.
If you're looking for answers to some of your burning questions about vegetable chopping and food choppers, we've got you covered! We'll be addressing some of the most frequently asked questions about using vegetable and food choppers, so that you can master this appliance once and for all!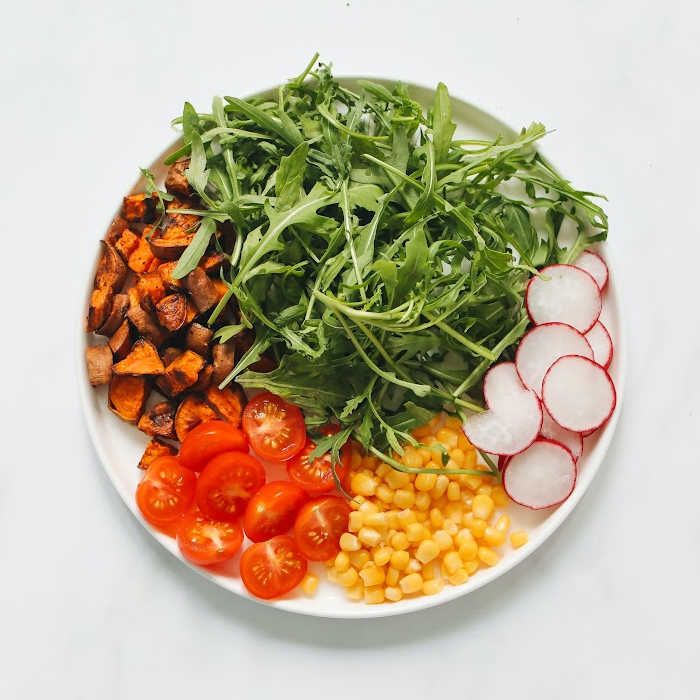 Is there a difference between a food chopper and a vegetable chopper?
No, there isn't a difference. Both names refer to the same kitchen appliance. However, you can use this chopper for chopping some kinds or fruits as well, so the term "vegetable" chopper is slightly misleading.
So when people speak of manual vegetable choppers or electric vegetable choppers, manual choppers or electric choppers, they are talking about manual or electric food choppers. All we're interested in, are the best food choppers.
Is a vegetable chopper worth it?
There are a few factors to consider when deciding if a vegetable chopper is worth it. One is how often you will use it. If you only plan on using it once or twice, then it may not be worth the purchase.
However, if you think you will use it multiple times a week, then it may be worth the investment. And an electric chopper might even be a better investment. The good ones can manage harder foods, like carrots and even nuts.
What are food chopper blades made of?
They are made of stainless steel. Note: stainless steel will not remain "stainless" forever. After use, the blades must be cleaned and dried thoroughly, to prevent rust. Most modern choppers are dishwasher safe.
Can you chop carrots in a chopper?
For carrots and other hard vegetables (like root veggies), you are better off with a food processor, or with a high powered blender. In many vegetable choppers you can chop soft to medium-hard veggies, like any greens, onions, cucumber, tomatoes, and even (peeled) eggs.
However, some top of the range manual and also, electric vegetable choppers have enough power and are so well constructed, that they can handle carrots, uncooked potatoes and even nuts.
What is the difference between a food chopper and a food processor?
Many recipes require chopped food, and fine chopping requires a skill not every home cook has.
Manual food choppers are designed to chop relatively small amounts of soft to medium hard vegetables (including boiled potatoes); the small ones are hand-held devices used for chopping onions, peppers, radish, unboiled potatoes, and cucumber.
Electric choppers can often handle tougher foods, like carrots, uncooked potatoes, and even nuts. Electric food processors can do more: chopping, shredding or slicing many kinds of foods.
What is a better investment, a food chopper or a food processor?
There is no definitive answer to this question as it depends on individual preferences and needs. Some people may prefer the ease of use and smaller size of a food chopper, while others may find that a food processor can do more tasks and has more features.
It also depends on your love for cooking. Enthusiastic home cooks will prefer a food processor, while the home cook who wants to keep it simple, will prefer a food chopper. Ultimately, the best investment is the one that meets the specific needs of the individual.
How do you chop vegetables easier?
Use a cutting board and a sharp knife. However, the easiest way is to use a food or vegetable chopper, or if you really want to get serious as a home cook, get a food processor.
What is the best small food processor to buy?
The best small food processor is the Breville Sous Chef. It has 12 and 16 cup models. An alternative that comes close is the Braun Multifunctional Food processor.
What food processor does Jamie Oliver use?
Jamie Oliver uses a Breville food processor. It's definitely a great food processor. But remember, Jamie's undoubtedly getting paid for showing of the Breville. On the other hand, he wouldn't use it if he considered it to be a bad food processor.
Which manual chopper is best?
There is no definitive answer to the question what the best manual chopper is, as each person's needs and preferences will be different. Some factors you may want to consider when choosing a manual chopper are the size of the chopper, the type of blades it has, and how easy it is to use.
What do you use a mini food chopper for?
A mini chopper is used to chop up a limited amount of soft or medium hard foods, like onions, tomatoes, cucumber and cooked potatoes. It's great at chopping garlic. It saves time and (in the case of onions) teary eyes.
Remember to put a wooden or hard plastic plate underneath. Rinse it afterwards with clean water, to remove any food residue. A mini food chopper is great for food prep, including anything from chopping onions and garlic to dicing fine herbs for a salad dressing. It's undismissable for anyone who doesn't have much time for cooking.
Are electric vegetable choppers any better than hand choppers?
Electric vegetable choppers are much more efficient than hand choppers. Dicing vegetables and some other foods becomes so much more quickly and easily.
There are several electric models on the market. Several have extra features, and in fact become mini food processors. The 1.5 cup Proctor Silex food chopper is an example.
Other examples are the 3.5 cup food chopper made by KitchenAid, its KFC3516ER model, and the 4.3 cup NutriChef Electric Food Spiralizer Slicer Chopper, model PKESPR26.
How do you use a vegetable cutter / food chopper?
A food chopper is a kitchen utensil that is used to chop food. Most food choppers are handheld devices with either a cylindrical or rectangular grater. The food is placed below the chopper and the grater is either rotated (cylindrical grater) or pushed (rectangular grater) to chop the food.
Always make sure there is either a cutting board underneath, or a tray or bowl to catch the chopped vegetables. Most food and vegetable choppers come with trays.
How do you use a chopper for onions and tomatoes?
A chopper can be used to chop onions and tomatoes by placing the onion or tomato in the chopper and pushing the button to chop. A great little tool for quick meal prep that will save you from setting up your full sized food processor. Don't forget to put a cutting board or tray underneath to catch the diced foods.
How do you clean a food chopper?
It's vital to thoroughly clean vegetable choppers / food choppers after use. First, consult the instruction manual that comes with your chopper.
Before you start: wear protective gloves: chopper blades are very sharp. Then, remove the blades from the food chopper. Soak them in hot, soapy water for a few minutes. Next, scrub the blades with a toothbrush to remove any food residue. Finally, rinse the blades and dry them with a towel.
Are there any dangers involved in using a vegetable chopper?
Yes. Always be aware both electric and manual food choppers have multiple blades - multiple extremely sharp blades. 5 tips:
Do not wear a loose tie or scarf or loose jewelry when chopping.
Keep long hair in a ponytail or under a cap.
Keep it away from your kids.
If you own a manual food chopper, be careful with your fingers.
If you own an electric food chopper, keep its cord away from the stove, or too close to the sink.
---
The Best Vegetable Chopper For You
Which one of these 4 picks is your favorite vegetable chopper?
No matter which vegetable or food chopper you choose, we hope that this post has given you a better idea of what to look for when shopping. There are so many great options out there and it can be overwhelming trying to decide on just one.




Be sure to check out some of our other posts on kitchen appliances - we've got plenty of great tips and tricks for making the most of your space.
Happy chopping!
Catchy Finds