Roasting peppers in a toaster oven is a quick and easy way to add flavor and depth to your dishes.
Not only does this technique bring out the natural sweetness of the peppers, but it also adds a slight smoky flavor to any dish.
In this blog post, we will
Show you a step-by-step guide for how to roast peppers in a toaster oven;
Talk about the different types of peppers you can use;
Share 8 roasted pepper recipe ideas, and suggest side dishes to pair with your peppers.
Let's get started!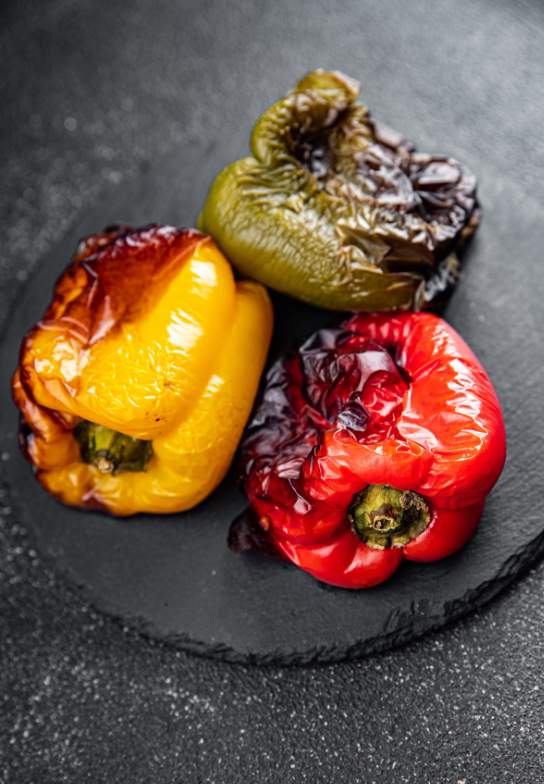 ---
How To Roast Bell Peppers
To roast bell peppers, you just need a little prep work, first get the ingredients and the equipment ready. Then follow the instructions for making oven roasted peppers:
Ingredients
3-4 large bell peppers or 8 Jalapeño peppers (red, yellow, or green)
Olive oil
Salt and pepper
Garlic (optional)
Equipment
Baking sheet
Parchment paper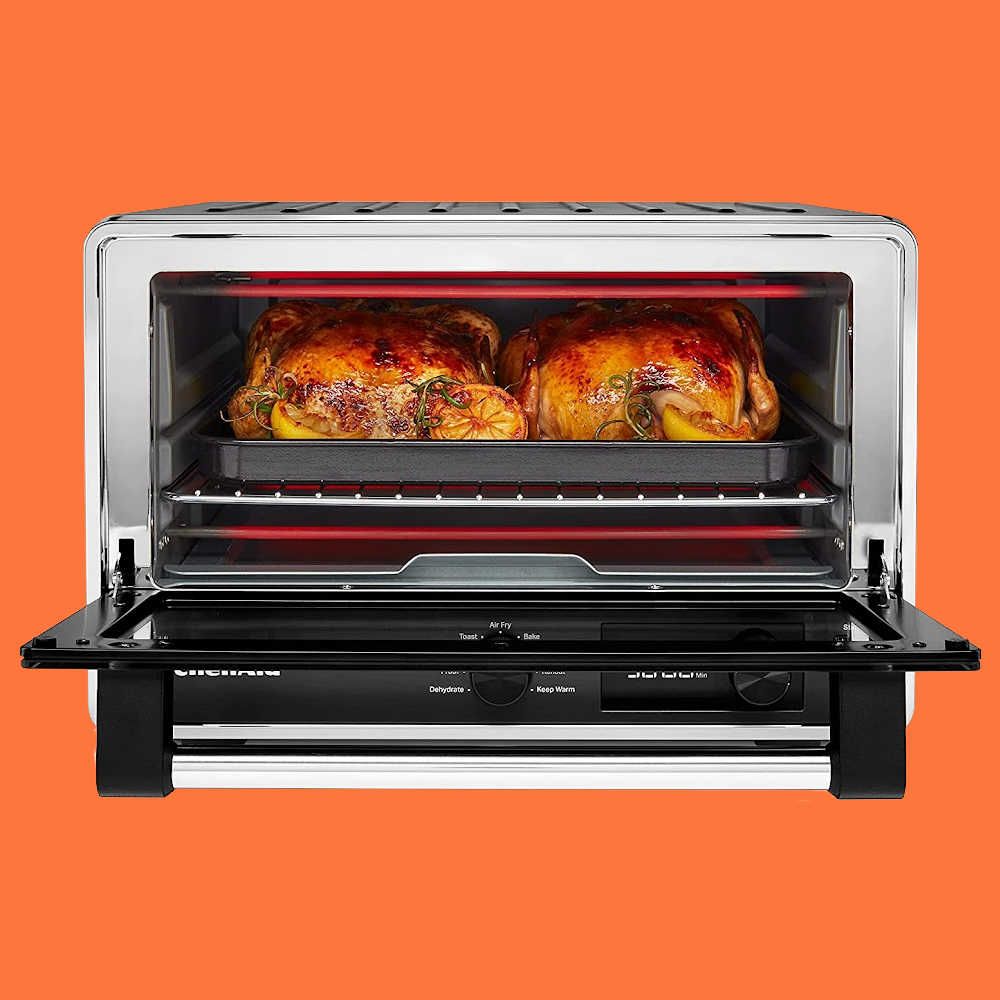 Instructions
Preheat your toaster oven to 400°F (200°C).
Line the toaster oven's tray with a baking sheet.
Cut the peppers in half and remove the seeds and stems.
Wash the peppers and pat them dry.
Place the peppers skin-side up on the baking sheet lined with parchment paper.
Brush each pepper with olive oil and sprinkle with salt and pepper.
If you like, add thinly sliced garlic to the peppers.
Roast the peppers for 20-25 minutes, turning them over every 5 minutes until until the skin is charred and the flesh is tender.
Remove the peppers from the toaster oven and let them cool for 5 minutes.
Peel off the skin, scrape out the seeds.
Slice the peppers into thin strips or small pieces.
Serve and enjoy!
---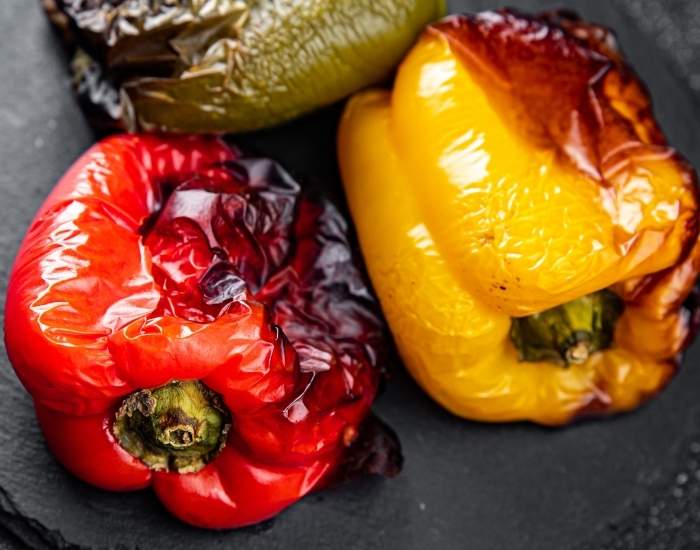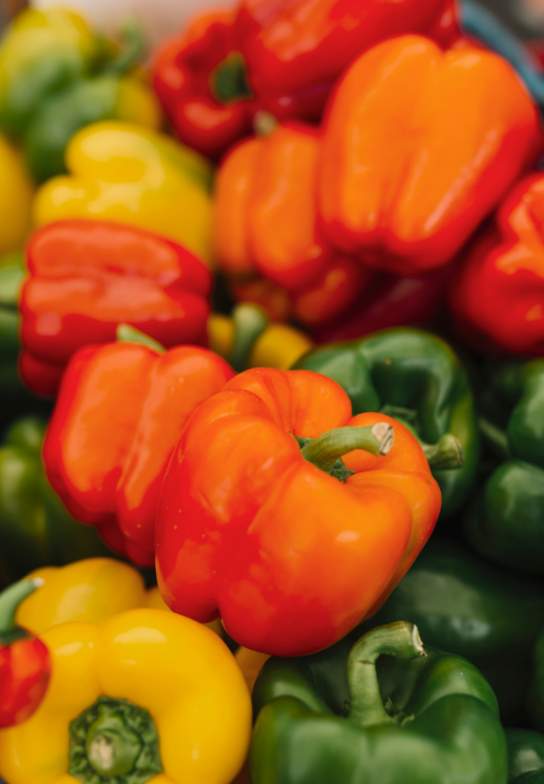 ---
Different Types Of Peppers
You can use any type of pepper from the grocery store for roasting, but some common varieties to try are bell peppers, Anaheim peppers, poblano peppers, and jalapeño peppers.
Note: don't confuse these peppers with chili pepper ("hot chili") or black pepper (spice). However, all the peppers below belong to the same genus ("Capsicum") as chili pepper.
Bell peppers: green, yellow, and red bell peppers are the most popular for roasting because they are sweet, mild, and easy to find.
Anaheim peppers: these are long and narrow green peppers that are slightly spicy, and have a more complex flavor than bell peppers.
Poblano peppers: these are medium-sized, dark green peppers with a slightly smoky and mild spicy flavor.
Jalapeño peppers: these small chili peppers are medium to hot in spiciness and are great for adding a kick to your dish. They come in multi-colors. If you remove the seeds, they can be used in recipes that call for a milder pepper.
---
8 Roasted Pepper Ideas
Here are 8 roasted pepper recipes that are easy to make and extremely delicious:
1. Roasted Pepper Dip
Blend roasted peppers, olive oil, garlic, cream cheese, sour cream, and seasonings in a food processor.
Serve with crackers or crusty bread for dipping.
2. Roasted Pepper & Saffron Rice
Cook saffron rice according to package instructions.
Stuff the peppers with diced tomatoes and the cooked rice.
Roast in a toaster oven.
Serve hot with a side of grilled vegetables.
3. Roasted Pepper & Tomato Salad
Mix roasted peppers, cherry tomatoes, olive oil, balsamic vinegar, salt, and pepper.
Serve as a side dish with grilled chicken or fish.
4. Roasted Bacon-Wrapped Stuffed Pepper
Cut peppers in half and remove the seeds.
Stuff each pepper with a mixture of cream cheese, bacon, garlic, and herbs.
Wrap each stuffed pepper with a piece of bacon and roast in a toaster oven.
---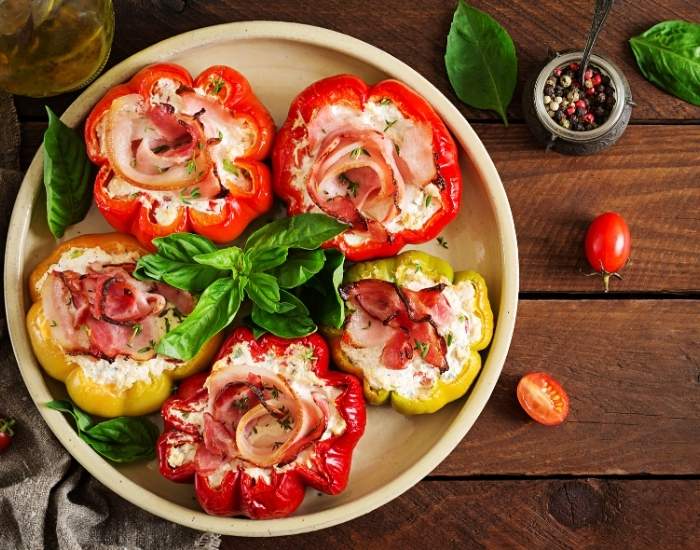 5. Roasted Pepper & Feta Omelette
Roast the pepper as the basic method above.
Once ready, dice into smaller strips, set aside.
Heat olive oil in a non-stick skillet over medium heat.
Add beaten eggs and stir gently until they begin to set.
Cook the omelette, place on the plate once it's ready.
Stuff the omelette with crumbled feta cheese, roasted peppers, and fresh herbs.
6. Roasted Pepper & Feta Cheese Bruschetta
Toast slices of bread in the toaster oven.
Mix roasted peppers, feta cheese, olive oil, garlic, salt, and pepper.
Spread the mixture over the toasted bread and serve as an appetizer.
7. Roasted Pepper & Goat Cheese Risotto
Make a classic risotto and add roasted peppers and crumbled goat cheese on the top.
Serve as a main dish with a side salad.
8. Roasted Stuffed Chicken Pepper & Feta Cheese
Stuff bell peppers with a mixture of minced chicken, feta cheese, garlic, olive oil, and seasonings.
Roast in the toaster oven until the chicken is cooked through.
Serve as an entrée with roasted potatoes or polenta.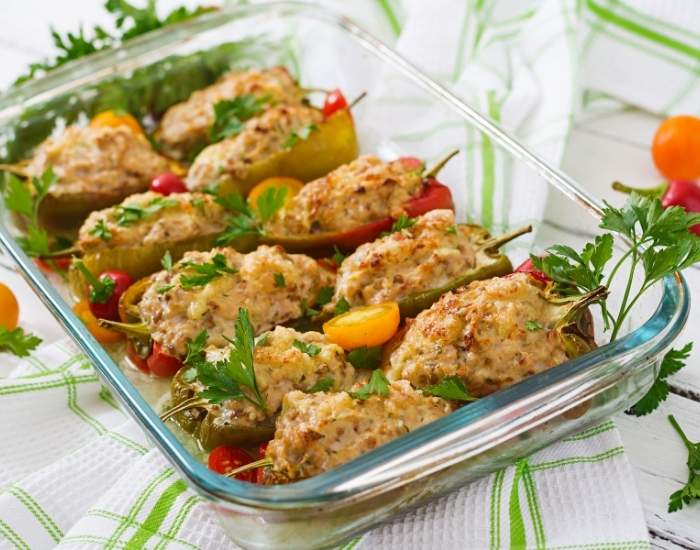 👉
Not getting enough? Find more
sweet pepper recipes
with avocado pepper quesadillas and sweet pepper pasta sauce in our linked article.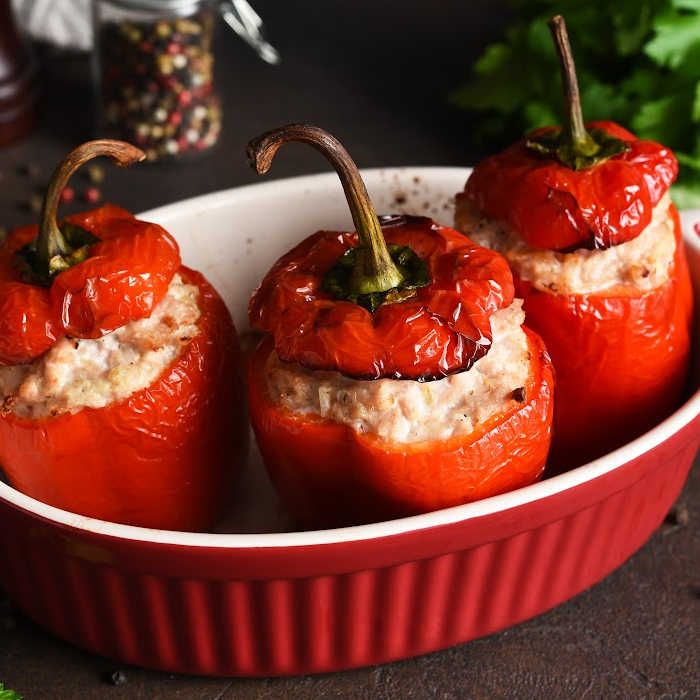 ---
Side Dishes Pairing Well With Roasted Peppers
Roasted peppers are versatile and can be served alongside any number of dishes. Here's a list of some of our favorites: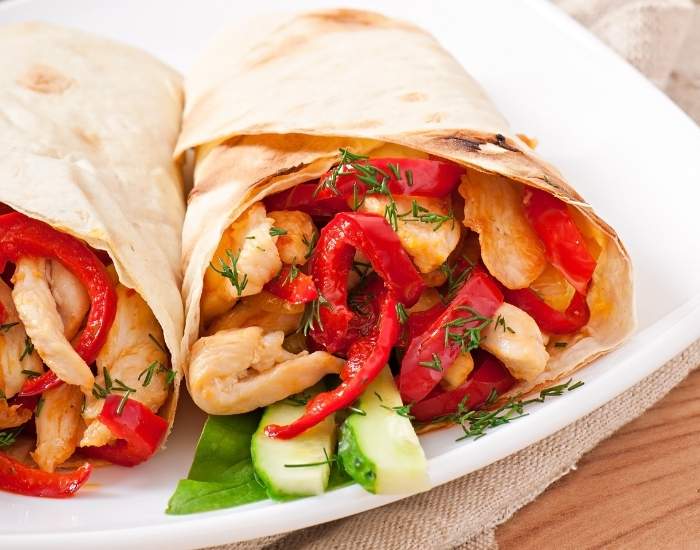 Roasting Bell Peppers FAQs
Here are some common questions about roasting peppers in a toaster oven:
Are roasted bell peppers healthy?
Roasted bell peppers are full of fiber and vitamins A, C, B6, and K. They also contain calcium, iron, magnesium, potassium, phosphorus, and antioxidants that can help protect your cells from damage.
For those watching their sodium intake, bell peppers are naturally low in sodium and a great way to add flavor to dishes without adding salt.
How do I char peppers in a toaster oven?
To char peppers in a toaster oven, preheat the oven to 400°F (200°C). Line the baking tray with parchment paper and place your washed and dried peppers on top.
Roast for 15-20 minutes, turning them over every 5 minutes until charred skin and the flesh is tender. Finally, remove from the oven and let them cool before serving.
Do roasted bell peppers need to be peeled?
You don't have to peel bell peppers after roasting, but it will make them easier to eat and digest. To remove the skin, let the roasted peppers cool for a few minutes before peeling off the charred layers with your fingers or a small knife.
Can I leave the skin on while roasting peppers?
You can roast peppers with the skin on. The skin will soften and become easier to peel off once it's done roasting.
Do I need to use parchment paper while roasting?
Parchment paper isn't necessary, but it does help keep the peppers from sticking to the baking pan and makes for easier cleanup.
Do peppers get spicier when roasted?
Some peppers can become spicier when roasted. This is because the roasting process breaks down the cell walls of peppers and releases the capsaicin – the compound that gives them their spicy kick. If you want to reduce the spice level of a pepper, remove the seeds before roasting.
How long does it take to roast peppers?
It takes between 15-20 minutes to roast peppers. You can test for doneness by lightly pressing the pepper with tongs or a fork, if it yields easily then it's done.
The exact time will depend on the type of pepper being roasted and the desired level of charring. Whole peppers will take longer to roast than small ones.
How do you know when peppers are done?
You'll know peppers are done roasting when the skin is charred and the flesh is tender. You can also test for doneness by pressing lightly with tongs or a fork – if it yields easily then it's done.
Can you roast peppers on tin foil or aluminum foil?
You can roast peppers on foil. However, it's not recommended as aluminum foil is not non-stick and the pepper may stick to the foil when roasting. It's best to use parchment paper for easier removal after roasting.
Can you roast peppers in a microwave?
You can roast peppers in a microwave. However, this method will produce a softer pepper and not as much charring.
Microwave for 3-4 minutes until the skin is blistered and charred. Rotate the pepper halfway through cooking time to ensure even heating. Finally, let cool before serving or using in recipes.
Is it safe to roast peppers on gas stovetop?
You can roast peppers on a gas stovetop. Place the peppers directly over the flame and use long-handled tongs to turn them regularly until they are charred all around. Be sure to have good ventilation when roasting peppers on a gas stovetop.
How do I store roasted bell peppers?
The best way to store roasted bell peppers is to place them in an airtight container and refrigerate. They should keep for up to 5 days, or you can freeze them for several months. To reheat, simply thaw and warm in the oven or microwave as needed.
What is the difference between yellow, red and green peppers, besides their color?
Red peppers are in fact ripened green peppers. Yellow peppers are "halfway" ripened. Red peppers taste somewhat sweet, green peppers slightly bitter or grassy.
Yellow peppers taste "in the middle": a bit bitter, a bit sweet. Compared to roasted red peppers, roasted green peppers taste distinctly different.
What is the difference between black pepper and chili pepper?
Black pepper is a spice, member of the genus "Piper". Chili pepper belongs to the genus "Capsicum". The taste of black (or white) pepper is released when you bite it. Chili pepper is red, and makes food taste hot.
Tips & Tricks
Add other vegetables like onion, garlic, and mushrooms to your roasted peppers for an extra flavor boost.
For a smoky flavor, add smoked paprika or chipotle powder to the peppers before roasting.
Roasted peppers are perfect for making homemade sauces and dips.
Use roasted peppers in Mexican dishes like enchiladas, fajitas, tacos, and burritos.
Make a flavorful soup by blending roasted bell peppers with tomatoes, other vegetables and spices.
---
Roasting peppers in a toaster oven is an easy way to add flavor and depth to your dishes. Experiment with different types of peppers and try out our recipes to see just how versatile this ingredient can be.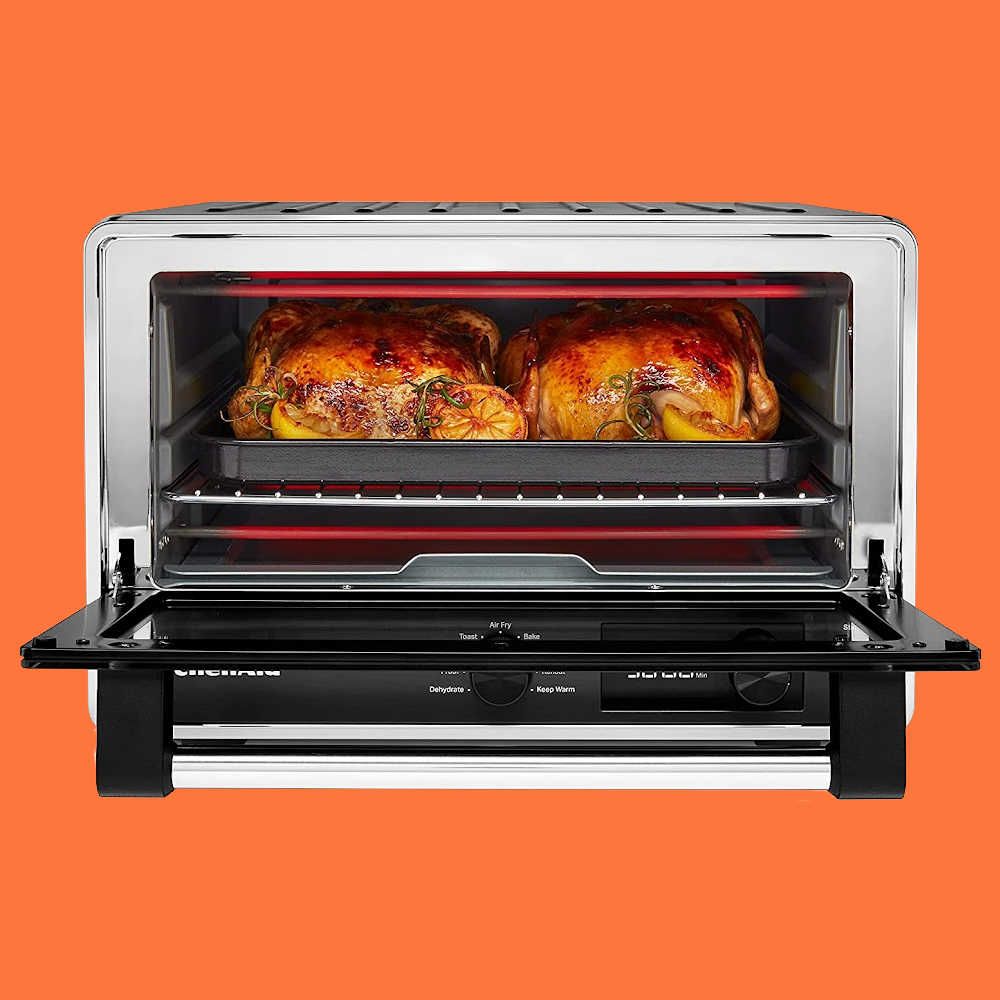 We hope you've found this guide useful. Don't forget to pair roasted peppers with a delicious side dish for a truly complete meal!
Happy cooking!
Catchy Finds
---